Top 5 Accounting Tools for Startups
The use of accounting software or tools is always beneficial for startups to improve and track the financial health of their businesses. But it is also challenging for young firms to shortlist a single or few accounting tools in this regard.
That is why this article shares one of the best accounting tools for startups with their features and pricing details.
Top 5 Accounting Tools for Startups
Here are the top accounting tools that startups can consider using: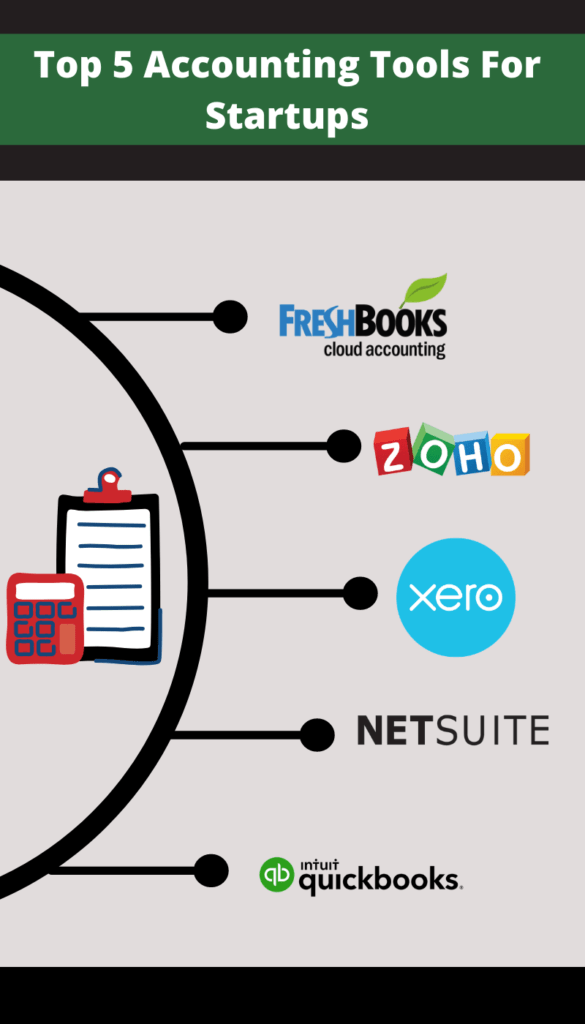 FreshBooks is an eminent cloud-based accounting tool that was made public in 2003. This accounting software is the primary choice of small and medium-sized businesses because of its smart financial properties.
Features
This accounting software enables businesses to generate invoices rapidly, send emails and online payment invoices. Indeed, companies can also receive online payments and track them through this software.
The double-entry accounting system of this tool shows all analytics from profit & loss to tax predictions.
Entrepreneurs can give platform access to accountants, contractors, basic employees and business partners.
Automated bank reconciliation, transaction tracking and third-party app integration are also some advantages of using FreshBooks.
Pricing
It offers three paid plans: Lite, Plus and Premium. The charges of its Lite plan start from $15/month.
QuickBooks is another reliable accounting tool for startups that permits users to create invoices or conduct other accounting tasks from any device. Yes, this is cloud-based accounting software, and more than 4.5 million worldwide customers trust it.
Features
Startups can organize all of their expenses in a single place to evaluate the taxes. Moreover, GST and VAT could also be evaluated with this tool.
This tool keeps entire data secure through its bank-level security and cloud storage.
Multi-currency support, inventory management and detailed insight reports are also credible features of this accounting software.
Pricing
QuickBooks offers a free trial, but Simple Start is the primary one that only costs you $16 per month.
With 3 million global users, Xero is an ideal accounting tool for startups. This software offers a variety of financial tools to meet the different needs of your businesses.
Features
Young companies can create quotes for their customers in a very professional manner with this tool. These quotes could be issued from both web and mobile applications.
It supports around 160 currencies of the world, so you can efficiently deal with your international clients and suppliers.
This cloud-based platform could seamlessly manage inventory, files, contracts, and bank connections.
Pricing
The monthly fee of its Starter program begins from $22. However, Standard is its most popular plan that costs the users $35/month.
Zoho is also a big name that aids businesses in several online activities, and Zoho Books is one of them. This accounting software confers a complete financial toolkit to SMEs and startups to perform accounting-related tasks.
Features
With Zoho Books, startups can generate 50+ business reports to support different ventures.
This tool also enables businesses to categorize and set up bank transactions. For sure, when companies import their bank data with this tool, they don't need to add banking data manually.
You can conveniently integrate this software with apps like PayPal, Stripe and Square to rapidly perform transactions.
Pricing
If your business revenue is more than 50k USD per year, then you can utilize Zoho Books' features free of cost. Withal, the monthly fee of its Standard plan is $10.
Although NetSuite is a complete package that confers ERP, HR, and CRM support to startups, but its accounting features are very reliable. It is an all-in-one accounting tool that complies with GAAP, ASC 606, SOX and many other compliances.
Features
To enhance efficiency, it eliminates all unnecessary spreadsheets and repeated data. This function improves the financial data accuracy while using this software.
With the help of its General Ledger, startups can approach excellent visibility about audits and transactions. Similarly, its tax management characteristics provide all details about the sales, VAT and consumption taxes.
SuiteAccountants, real-time metrics and cash management are also exciting features of this accounting tool.
Pricing
This platform provides annual licensing, and startups would probably have to pay these fees. However, this yearly licensing fee varies from company to company. You can contact the NetSuite sales team to know about their pricing structure.
Conclusion
This article discusses one of the best startup accounting tools with their core features and pricing models. Though this guide shares the regular pricing structure of these accounting tools but many of them are also offering end of the year discounts nowadays.
Ready to discover more startups tools? Please read Top 60+ Tools For Your Startup.
FAQ
What are the best accounting tools for startups?
– FreshBooks
– QuickBooks
– Xero
– Zoho Books
– NetSuite