BaaS – Make an App 10x Faster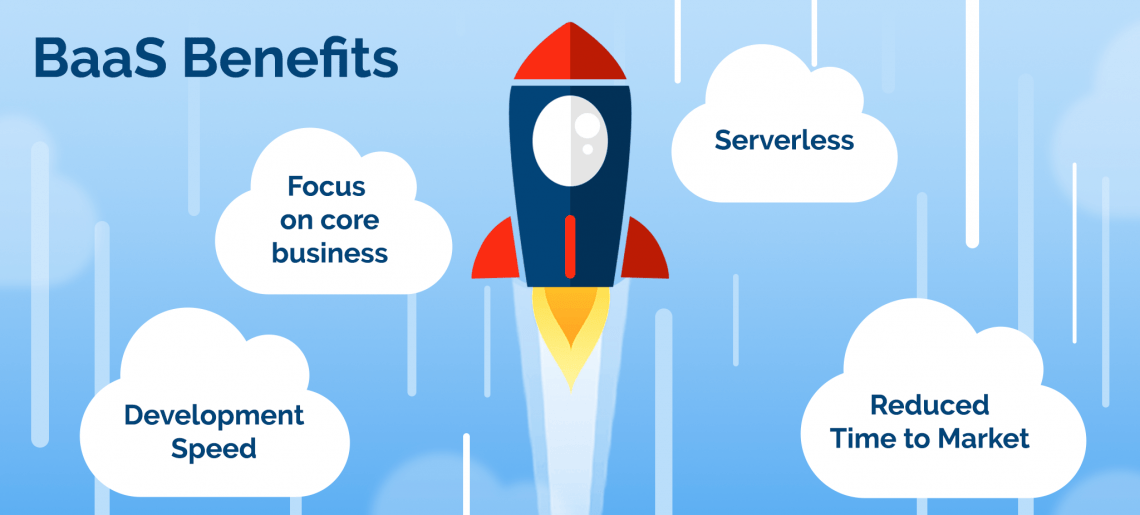 BaaS or Backend as a Service or mBaaS refers to a platform that allows developers to focus on the frontend of app or website development. The platform automates the backend part of the development and offers cloud infrastructure. Through this service, you no longer need to maintain an in-house team to manage the responsibilities of running servers. Instead, a third-party takes over this duty.
Apart from reducing your responsibility, the BaaS platforms provide special tools that enhance backend code, increasing the speed of development. With BaaS, you can readily implement features, such as social media integrations, APIs, file storage, push notifications, file storage, and much more.
Listed below are some topics that you will learn more about through this article.
What is Backend as a Service?
How a BaaS adds value to your project?
Project examples running on a BaaS
Why you need to use BaaS?
When you should use BaaS?
Benefits and disadvantages of using backend platforms as a service
Features of BaaS
Comparing the various BaaS providers
How does BaaS add value to your project?
It is natural for new developers to wonder whether they need the assistance of a BaaS platform. Read on to know how such services can add value to your project, transforming it completely. For instance, mBaaS frees up critical resources, allowing them to concentrate on developing the frontend part of the program. Listed below are some of how opting for BaaS during development can help.
It saves crucial time for developers
Developers generally have a considerable hourly rate. mBaaS platforms allow you to cut costs on skilled labor
It offers a range of services that prove useful to your development process
It allows you to focus on the core business portions of the website/application, perfecting them for your consumers
Types of projects are suitable for BaaS development
Listed below are some web and mobile applications that you can easily design with the help of BaaS – Backend as a Service.
Chat and Messaging Apps
Please read the article How to Create an App Like WhatsApp to know more of how a BaaS will benefit you for this purpose.
Social Network Apps
Please read the article How to Make a Facebook Like App to know more of how a BaaS will benefit you for this purpose.
Hotel Apps
Please read the article How to Make a Hotel App to know more of how a BaaS will benefit you for this purpose.
Gaming Apps
Please read the article How to Scale a Game using a BaaS to know more of how a BaaS will benefit you for this purpose.
Cab hailing apps
Please read the article How to Make an Uber like App to know more of how a BaaS will benefit you for this purpose.
Supermarket apps
Please read the article How to create a supermarket app to know more about how a BaaS will benefit you for this purpose.
Why do you need to use BaaS?
While such service providers help you solve many minor issues with development, when speaking in broader terms, BaaS assists in resolving two critical problems with development.
It helps in the scaling and management of cloud infrastructure
It hastens the backend development procedure drastically, by automating major portions of the development
Why you need to use Backend as a Service can be further categorized into technical and business reasons
Business reasons to utilize BaaS
As a business operator, these platforms are ideal as they help your employees become more productive. Furthermore, it allows you to outsource cloud management duties. If you are a small to medium-sized concern, BaaS offers significant benefits to you, lowering your project cost-effectively. To understand just how much you can save using backend outsourcing solutions, you need to consider that decent backend developers cost around $80,000 to $90,000 a year. With Backend as a Service provider, you can save a huge part of this cost.
Another advantage is the increased speed at which your application/website hits the market. If you undertake in-house backend development, your developers would require considerable time to get ready for launch, limiting your ability to capitalize on the market demand for the program.
Therefore, using BaaS has the following benefits for businesses.
Decreasing the time to market for your website or app.
Outsource the management of cloud infrastructure
Smaller teams for development since you need to assign fewer in-house backend developers to the project
Save money and overall cost for the development
Technical reasons to utilize BaaS
You may struggle to find good and dependable backend engineers. If you do find one, they generally charge high salaries. This is why when companies find a decent developer who can code backend, they should be assigned in the development of high-value code. Utilizing them to program boilerplate and repetitive codes for the program is a waste of their time and your money.
Another huge advantage of using BaaS – Backend as a Service platform is that it allows front-end developers to stick with the coding and development of the frontend, instead of wasting their time with backend technicalities. This process also results in a better user experience for your future consumers.
Here are the major technical benefits of opting for mBaaS.
Greater priority on frontend development
Exclusion of useless stack setups.
Developers do not need to waste time with run-of-the-mill coding.
Encourages the standardization of the coding environment
Frees your in-house backend developers to exclusively produce high-value codes.
It offers valuable features, such as data storage, authentication, and search functionalities.
BaaS allows app cloning for testing purposes
Pre-existing backup and security settings
When should you use BaaS?
After understanding what is Backend as a Service, you need to know the perfect time to use these platforms to maximize the potential of your application. Listed below are three common times when the presence of BaaS platforms can be helpful for developing companies.
Creating a Minimum Viable Product or MVP
Non-mission critical apps for Enterprise applications
Stand-alone applications requiring a limited number of integrations.
If you are developing a program similar to these three, using a BaaS platform should be a no-brainer.
Benefits and Limitations of BaaS
Like most other tools of development, Backend as a Service also has two sides to its applications. Let us take a look at the benefits of using BaaS first, before moving on to the disadvantages.
Benefits of Baas – Backend as a Service
Enhanced speed of development
Reduced cost of development
Serverless development with no need to manage the infrastructure
For a complete list of benefits, please read here.
Limitations of Baas – Backend as a Service
Limits flexibility when compared to custom coding the backend
Limited scope for customization in comparison to custom backend
Lock-in by vendors for closed source platforms.
Common features of Backend as a Service
Backend as a Service platforms includes certain useful features that developers can deploy in a variety of applications and websites. Listed below are some features of these services that you must know of.
User authentication
Management of data
Email verification
Integration of social media platforms, such as Facebook, LinkedIn, and others
Push notifications
CDN and cache
Cloud Code Functions
Logs
Geolocation
Infrastructure options
Read BaaS Features to know more.
The foundation of every BaaS is a robust infrastructure. Backend as a Service is divided into three distinct layers in most cases. To know more about the architecture, read on.
The first layer for BaaS comprises the database servers and acts as the base for the service. Each database servers contain at least two separate servers that can replicate data and create backups for easy retrieval of information.
The application cluster is present in the second layer. Housing several servers, this layer is responsible for processing requests effectively. Even though the number of servers fluctuates every day, depending on the requirements, the auto-scaling feature allows these fluctuations without human intervention.
The third and final layer is responsible for connecting the servers of the app to the Internet. It boasts of CDNs and load balancers.
Who must use BaaS?
Baas – Backend as a Service is a completely technical offering designed primarily to aid website and app developers. Those who do not belong to a technical background are likely to face immense difficulty while using the platform. Here are some people who commonly utilize BaaS services.
Frontend developers who possess limited knowledge regarding backend coding
Backend developers looking to speed up the development procedure
Engineers who do not want to waste time with repetitive and low-value coding often outsource the development to Backend as a Service provider.
Best Backend as a Service companies
Now that you have a brief idea about Backend as a Service, here is an in-depth list containing the names and brief overview of the best BaaS providers in the market.
Back4App
The following features make Back4App one of the most desirable BaaS and mBaaS providers in the world.
GraphQL
Realtime database
Database management
SDK integration
Social login
Geo queries
User management
Cache
CDN
Live queries
Back4App is based on open source technology stacks, with stacks covering Postgres, NodeJS, MongoDB, and Parse Server. Apart from the open-source stacks, this BaaS platform also implements additional features to improve general functions and performance. The inclusion of dashboards further simplifies handling the process.
Another vital aspect of the platform is its scalability. Several large-scale apps are presently running on Back4App, along with applications with limited scope. The impressive architecture of the platform is part of the reason why it is so reliable and a good backend solution.
Back4App offers a free plan to those who are looking to minimize their cost of development. Moreover, you can try the services for free before choosing to pay for premium versions. Paid plans, on the other hand, start at just $5 per month.
You can avail of the following benefits when utilizing Back4App to reduce backend development hassle.
Easy to use: Developers can quickly grasp the various functions and start building an app on the platform in just minutes.
Significantly flexible: Depending on your needs and requirements, you can customize the code versions.
CDN or Content Delivery Network: Back4App can distribute your app automatically around the world, except in China. The company is currently working on offering application support in that nation, as well.
Hosting: Companies can choose from a variety of hosting options. Aside from offering a truly serverless approach, customers needing a dedicated instance can demand the same with the platform.
GraphQL: providing the most advanced API query language, this special language allows data retrieval through a single request. Predictability is a large part of this data retrieval as well.
Support: Back4App offers round the clock support. If you face difficulties with the platform, you can reach out regarding the same 24/7. Depending on your budget, you can opt for one of the support levels.
These are some of the veritable reasons that make Back4App a top choice for many app development companies.
Parse
Another open-source framework that has found favor among developers is Parse. On Github, the platform has acquired more than 15 forks and 30k stars. The goal of Parse as BaaS – Backend as a Service is to offer a faster way of creating mobile or web applications. The framework for this platform supports swift development cycles with the help of stacks that include Libraries & SDKs, Node.JS's API server module, app management systems using an effective Dashboard, and several other documentation and adapters.
Although originally hosted by Facebook, the social networking company stopped support for this technology in 2017. Today, developers need to self-host the tech or use hosting services specially designed for the functionality. The best part of using Parse is that it is completely free of cost. The only expense while using it is hosting the available framework.
Listed below are some of the advantages of using the Parse framework.
Simple interface – It offers an easy learning curve, allowing developers to understand its applications faster. For smaller projects, you may just need an hour to learn the various facets of the framework.
Managing data – Writing a few lines of code on the platform can help you achieve a lot, including data type specifications, locations, queries, pictures, and much more. The Parse platform allows searching, handling, updating, and filtering of the content using a web-based data browser.
Flexible code – Due to the open-source nature of the framework, Parse offers great flexibility. Developers can freely customize and adapt the platform as per their needs.
Multiplatform support – Parse allows you to code and develop applications for multiple platforms due to the presence of several SDKs. Whether you are making a program for the web or mobile devices, this framework is equally suitable for each one.
Customize code – Through the vastly useful cloud coding functionality, developers can freely change their codes using Javascript. This results in better all-round support for the finished application.
GraphQL – The availability of the most advanced query language for APIs results in complete data retrieval with just one call. Moreover, the recovered data is predictable, as well.
These features make the Parse framework so popular with developers, reducing the hassle backend coding.
Apple Cloudkit
Cloudkit is Apple's closed-source BaaS – Backend as a Service. This platform can only be used to develop iOS applications, as it supports native SDKs for that specific operating system only. Launched in 2015, Cloudkit is the choice for all iOS application developers. Some of the services that this structure offers include file storage, authentication, and others. While the framework manages the backend, it allows other developers to focus primarily on the app's frontend.
In essence, Cloudkit acts as a data store with iCloud authentication and API support. However, it is still not as feature-rich as many other BaaS providers on this list. Moreover, the price for service is quite high, as Apple charges $10 per request.
One of the only advantages of Cloudkit is that it offers native SDKs for the iOS platform. Native apps tend to run smoother, faster, and improves the overall performance. It also enhances the user experience.
AWS Amplify
As the name suggests, this platform belongs to Amazon Web Services and comprises of an open-source library. Through this framework, developers can create serverless and scalable applications. Backend coding using AWS Amplify can integrate iOS, Android, web front ends, and React Native. Amplify's features contain Notifications, Analytics, APIs, storage, AR/VR integration, and much more. While a free tier is available, most production companies opt for Pay-As-You-Go subscriptions for the framework.
Listed below are some advantages of using AWS Amplify.
The Content Delivery Network or CDN is easy to use, simplifying the integration with CloudFront for global deployment.
Through Atomic Deployments, your app retains functionality even when the process for construction crashes.
GraphQL Transform features simplify the development process further, enhancing its time to market.
Firebase
Unlike Parse and Back4App, Firebase is a closed-source framework. Google acquired the service provider in 2014. Since then, the BaaS – Backend as a Service provider has offered efficient backend solutions to several developers, speeding up the development process further. Some features of Firebase are
Hosting
Authentication
Real-time database
Analytics
A free tier is available if you want to try out the basic features of the platform. However, paid plans start at just $25 per month.
Since 2016, Google has invested heavily in building the functionalities of the Firebase framework. They focus on building on the following factors.
Analytics Service – Firebase will soon offer a complete analytics report regarding application usage, monitoring the performance, Google Analytics, automated testing, and crash reports. Through such analysis, you can easily determine the areas where your app needs to improve.
Development tools – These tools look to accelerate the development of your mobile application. Some of the features include user authentication, database, storage, cloud functionality, machine learning, and much more. With Cloud Firestore, developers can synchronize data across different devices, give data a structure using documents or collections, sync query, and online or offline information.
Growth and improvements – Due to the integration of a service known as AdMob, firebase allows easy implementation of advertisements within applications. Other forms of growth tools the platform offers include dynamic links, messaging, and A/B testing.
Before picking Firebase as you preferred BaaS, here are some advantages of using the platform that you should be aware of.
Due to the absence of a real-time database, apps created through this service can include messaging services similar to Facebook's Messenger and WhatsApp.
Machine learning is another unique feature available in Firebase. Using pre-existing APIs, developers can implement impressive features in their applications, such as text recognition, face recognition, and scanning.
AdMob allows you to monetize the created program through in-app advertisements. It grants your app access to the global ad network maintained by Google.
These unique and useful features make a compelling case for Firebase. Since many developers are looking for extra services, this platform has shown immense growth in recent years.
Kuzzle
Launched under the Apache 2 license, Kuzzle is an open-sourced mBaaS platform. The support for JavaScript SDK simplifies customization for your application's backend. However, the service is not cheap by any means. Be prepared to shell out $1200 a month to use the Kuzzle Backend as a Service.
The paid version includes some useful features, such as an on-demand sandbox and other utilities. However, one major problem is that developers can either opt for the free version or the advanced paid version. There is no middle tier for those seeking better features without incurring a substantial cost.
It is also important to remember that paid plans for Kuzzle start at $1200, meaning there are higher-priced plans available as well.
Kinvey
Obtained by Progress Software in 2017, Kinvey is a BaaS platform greatly suitable for enterprises. Through serverless designs, the framework allows you to host enterprise apps. Kinvey provides most of the features common to other backend services, such as database, push notifications, authentication, geolocation, and more.
The free version of the app is limited to 100 users only. However, the company is pretty aggressive in its pricing. The enterprise tier of the platform will cost your organization $24000 a year or $2000 per month.
Still, the following benefits make using Kinvey worthwhile to app developers.
Operational Tools related to Intelligence – The framework offers an analytics report, helping you improve your program. The platform also offers HIPAA compliant applications related to healthcare.
Kinvey offers round the clock support and helps to developers using its platform
Since it mainly caters to enterprises, Kinvey has several key integrations, such as SAP, Salesforce, Microsoft Active Directory, Workday, and Oracle.
Depending on your company's scale of operations and revenue, you need to determine whether these benefits warrant $24,000 a year for BaaS – Backend as a Service.
Backendless
One of the first companies to offer BaaS, Backendless, has been present in the market for a very long time now without funding from ventures. You can avail of two types of hosting from the vendor – online hosting or local framework hosting. You can try out the services using a limited-period free hosting. Paid plans start at $15 per month.
Here are some advantages of using Backendless that you must consider.
Specialized standalone versions that you can run locally on your servers. The same can also run on any cloud platform of your choice.
24/7 support means your developers can seek help at any time of the day or night.
An attractive cache feature is available irrespective of whether you choose cloud or server hosting.
The lower cost, combined with the reputation of Backendless, makes it a good choice for newer developers or companies.
Conclusion
Every application must have a frontend, backend and API to function properly. While developers can afford to spend a great deal of time optimizing the frontend for the application, the same cannot be said for the app's backend. Often, the backend remains neglected, leading to faulty app functioning after release. Therefore, to prevent such hassle and reduce the time for development, BaaS – Backend as a Service platforms have become crucial today. It can effectively reduce your budget for development, allowing you to deploy the finished product sooner for consumer use.
What is a BaaS?
BaaS or Backend as a Service or mBaaS refers to a platform that allows developers to focus on the frontend of app or website development. The platform automates the backend part of the development and offers cloud infrastructure.
What are the key BaaS features?
– User authentication
– Management of data
– Email verification
– Social media integration
– Push notifications
– CDN and cache
– Cloud Code Functions
– Logs
– Geolocation
– Scalable Hosting
What are the main BaaS providers?
– Back4app
– Parse
– AWS Amplify
– Firebase
– Kuzzle
– Kinvey
– Backendless