Back4App's Flexible Hosting Plans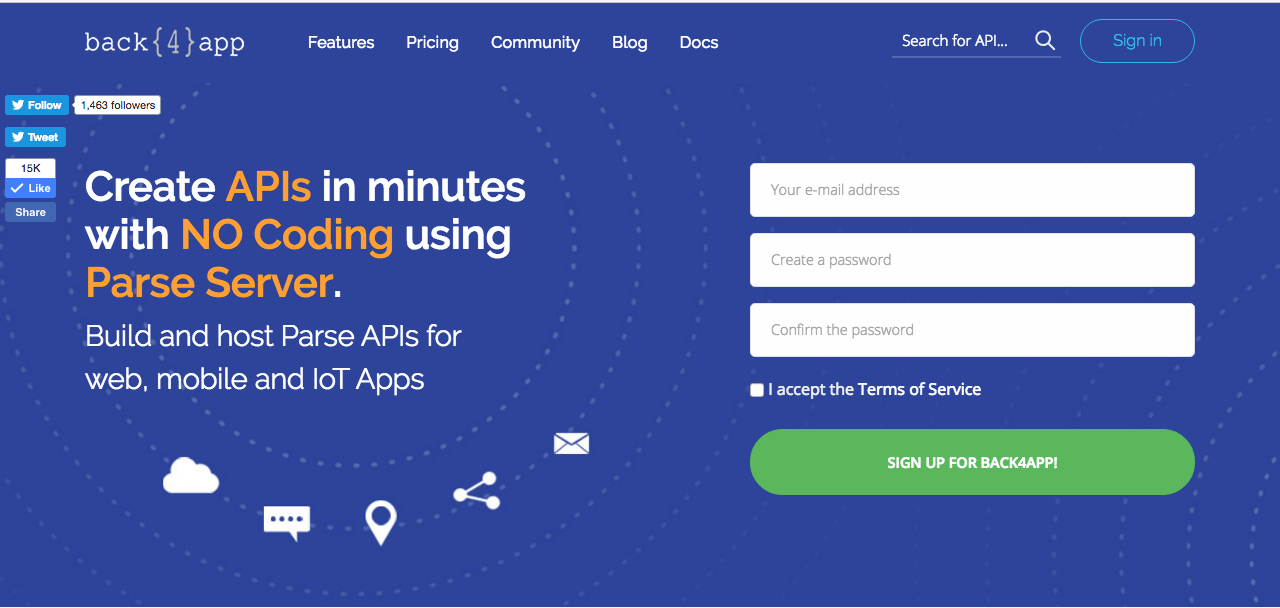 The number and range of developers and enterprises taking advantage of Back4App's resources continue to increase. The highly competitive nature of the API development business compels them to seek out the fastest and most cost-effective API creation and storage solutions. They soon learn how Back4App's offers them the flexibility, excellent value and advanced security other solutions cannot match.
Access to Back4App's extensive range of hosted and ready-to-use APIs frequently cuts development time by an amazing 80%. This is a sufficient reason in its own right to explain the platform's rise to prominence. Freedom from the costs of resource bandwidth, maintenance and hardware expenses also bring significant savings that add to the appeal of Back4App's solutions.
Interest in Back4App's also received a major boost following Facebook's decision to close their Parse BaaS platform in January 2017. Back4App allows developers to migrate an app from a Parse developer platform to Parse Server in just five minutes without any coding.
Pricing Plans to Suit Each Client
Now the Back4App's website is easier than ever to navigate, so visitors quickly find the features and information of interest to them. Major revisions of Back4App pricing plans and service packages offer API creation and development solution that meet a much wider range of client needs.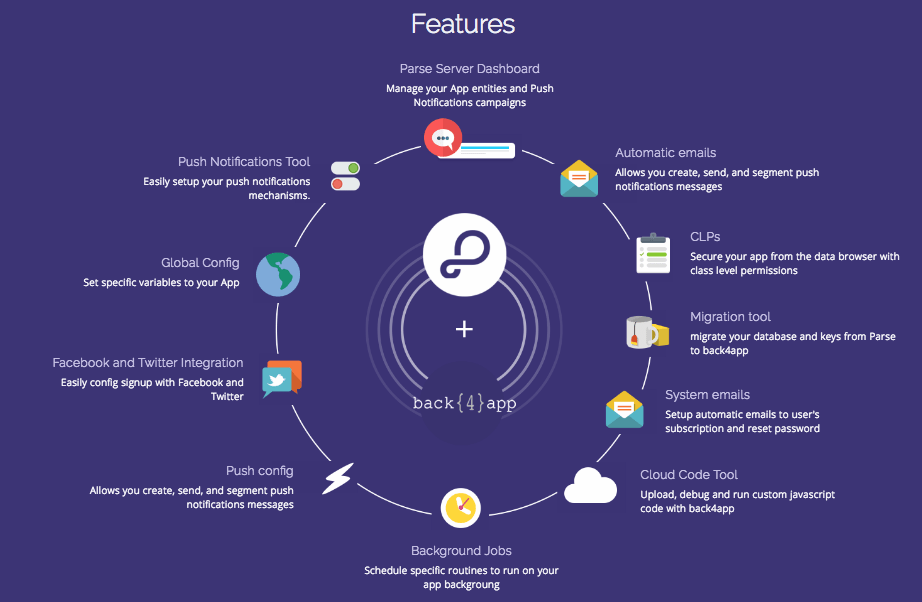 Demands for database storage and other API resources obviously vary from business to business. Within the same enterprise requirements also change as the concerns proceeds beyond the start-up stage to become a growing enterprise, and eventually a well-established firm. In their early stages, enterprises need low priced hosting plans with modest storage capacities. Later on, their demands increase in line with the expansion in business activities. Developers with an eye for the future know they must avoid getting tied into stiff service packages that before long cease to satisfy their needs. Back4app extends to them the freedom to take a service package that is easily changed in line with developments in their requirements.
Business Size and Growth Stage Demand Highly Flexible Plans
The Back4App's team focuses on flexible service packages. Their new dedicated hosting packages are specifically designed to provide clients with their optimum storage needs, and allow them to easily upgrade, downgrade and cancel as they wish.
For example, a new enterprise is unlikely to require much more than 1.5 GB database storage or10 GB file storage. They should easily be able to manage with 30 logins, save, query and other API requests per second up to a maximum of 100 K requests per month. Back4app's basic shared hosting plan offers these features for under $5.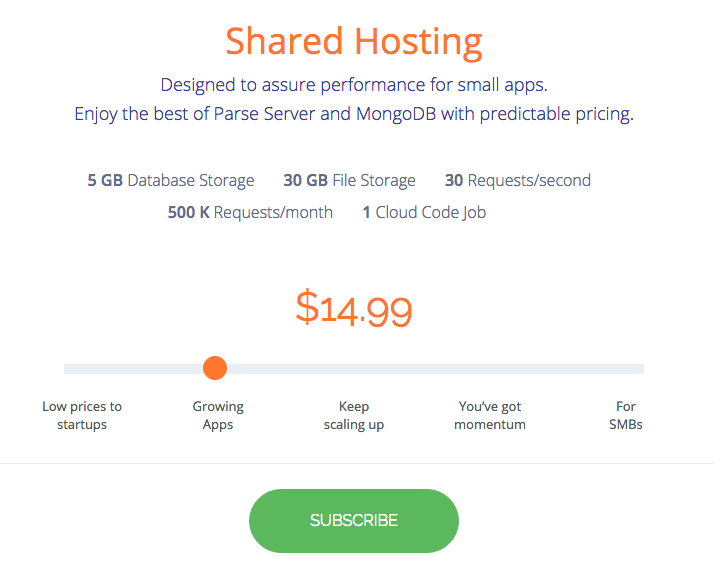 Once an enterprise grows into a medium sized business its demands on API resources multiply. Back4app responds to these change requirements with a plan that gives a generous 80 GB database storage plus 250 GB file storage, and support for 40 requests per second and 100 M requests per month.
Today Back4app allows clients to choose one of three plans for managing their own servers in a dedicated server on the back4app cloud. These options include Parse server plus back4app frameworks from 2 x m4.Large to 4 x m4.xLarge, and access to Mongo DB database servers from 3 x m3.Large up to 9 x m12.Large. All of these plans also include support for database optimization, backup and other value-added features.
A Specially Tailored Plan for Your Business
What happens if none of the new standard Back4app plans match your specific API development or enterprise requirements? If you find yourself in this situation, ask about one of Back4app's customized plans. The platform supports customized client plans for specific client needs. For example, by prior arrangement clients could get a higher storage allowance than the standard plans provide. For your special API storage and usage requirements, a customized Back4app plan provides an excellent solution.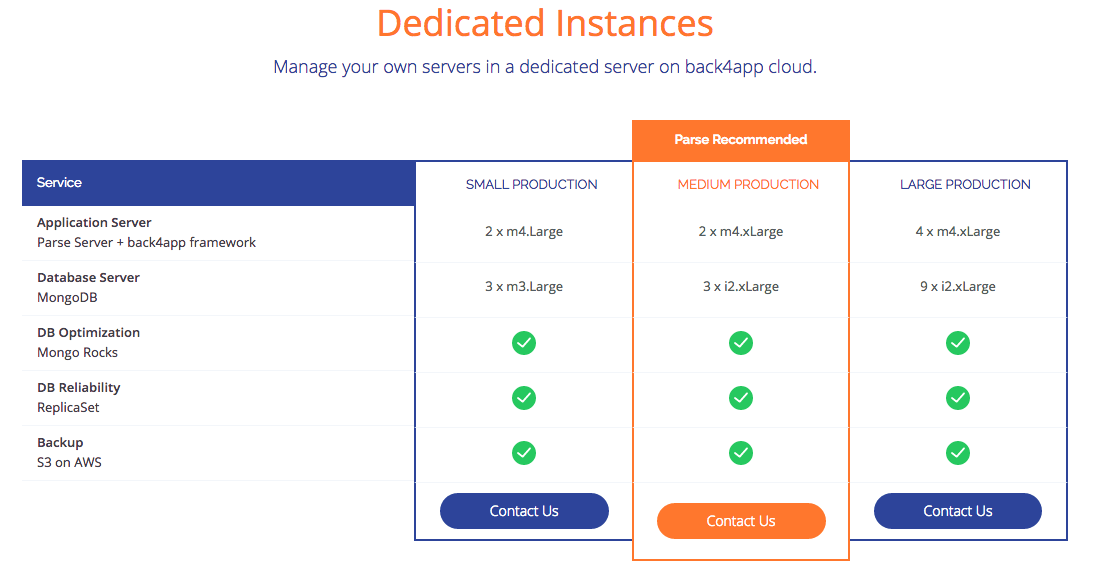 Why does Back4app offer flexible hosting plans?
As it is an obvious fact that Database storage and other API resources demands vary application to application or even business to business. Not only this, within one organization application resource needs also change from early stages to the growing stages. To fulfill every users' needs back4app is offering flexible hosting plans.
What to do if none of the standard plans are matching my needs?
If none of the standard back4app plans are matching with your enterprise or API development requirements then still there is no need to be worried about. Because back4app's custom plans are available to fulfill your needs. Back4app's customized plans are meant for specific clients' needs.
What shared hosting service plan is offering?
Shared hosting plan is meant to assure effective performance of small applications. This predictable pricing plan will include:
-30 GB file storage 
-1 Cloud job 
-30 requests every second 
-500 k monthly requests
-5 GB db storage. 
-This offering can let you enjoy the best of MongoDB and Parse Server on the go.