Best Low Code App Builders
The use of low-code app builders is growing rapidly among individuals and businesses. A survey report of Statista foretells that the market revenue of low-code development platforms would reach 47.31 and 65.15 billion USD by 2025 and 2027, respectively.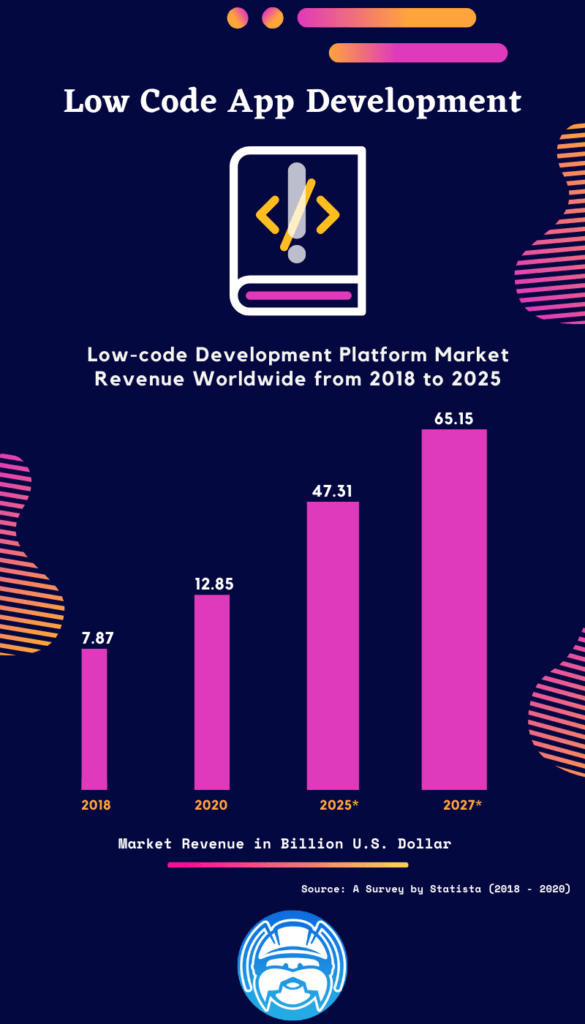 This revenue was only 12.85 billion USD in 2020. This trend shows that businesses and individuals prefer low-code app building solutions compared to complex scripting solutions.
However, if you are also one of these startups or companies that are looking for low-code app builders, then you must read this guide. Surely, this article is going to present the pros and cons of low-code application building and the best low-code app builders comprehensively.
What is Low Code Development?
Low-code app development is an approach to build, deploy and publish applications using click & edit or drag & drop building blocks or components.
Such app development platforms require less coding and confer features like visual builders, templates, ready to use APIs or code snippets, architecture blocks and built-in connectors.
Appy Pie, Zoho Creator, Appian and Back4App are known low-code app builders that help in making applications with inferior scripting skills.
Low Code Advantages
The Low-code approach is associated with numerous benefits, but this section is going to discuss the core advantages of low-code development.
Speeds Up Development Process
Definitely, time is money. Especially if you are thinking of launching or updating your application in this fast era of competition, it is vital to understand the importance of time.
Low-code development surely speeds up the development process. The features of low-code app builders allow the users to edit the templates quickly, update the data in real-time and confer hands-on publishing because of their connectivity with launching platforms like Google Play Store or Apple Store. This quick creation process also enhances the speed of the Go to Market (GTM) approach.
In the same token, low-code development is less expensive than traditional app development where code is involved. First of all, businesses don't have to hire big teams of custom frontend and backend developers. Instead of paying thousands of dollars to these developers, businesses just have to invest a small amount in these low-code builders.
Similarly, low-code builders also reduce the app maintenance cost and burden. It takes time when it comes to maintain the setups of applications and identify the bugs in the script. However, most maintenance with low-code builders is automatic, and their ready-to-use editors also have fewer errors.
Usually, traditional app developers need an experience of years before they start building an application for a large enterprise or SMEs. Withal, it is quick and easy to start your app development career by using low-code builders. You just need to sign up there and can initiate building an app within a few steps.
In conventional app development, it is challenging to create prototypes. But luckily, low-code app builders have made it easy. Agile approaches like functions to build a DevOps team and joined development is helping a lot in this regard.
Best for Citizen Developers
Nowadays, almost every business needs an app to show its online presence, but available developers can't handle all of these projects. That's why people with no or fewer coding skills are preferring low-code app builders. Such individuals are also known as citizen developers.
Low Code Disadvantages
Here are some limitations of low-code development.
Although low-code builders confer pre-built functionalities but these features are not flexible enough. Developers cannot customize the functionality of those elements according to their problems because they do not have complete control over them.
Instead of using a complete component, developers might feel more relaxed by using design templates and writing their own functionality at the backend.
No Control on Source Code
Developers cannot take security measures on their sides because of no control over the source code. There are chances of security breaches because you entirely depend on the app builder.
The limitations of ready to use elements are always there. Low-code app builders do not provide the complete authority to users to develop applications or modules from scratch.
It means that developers will have to face problems when they need to add a very new feature in their application that does not exist in the app builder.
Could Be Expensive & Time Consuming
Whenever we talk about low-code app builders, we think it will save the cost of development by saving time and effort. But in the case of highly complex applications, low-code app builders might cost more. It is because developers will be hardly able to customize the application according to their logic. That may cause problems for them.
Instead of buying a low-code app builder, if you have hired a team of developers, then they might complete an application in less time by customization and efficient logic building.
Challenging to Deal with Data Problems
By using low-code app builders, data might not be stored properly. Low-code app builder provides you with the opportunity to use pre-built components that might not be storing the data in a structured manner.
It may cause problems to developers when they have to retrieve data for different business decisions or data recovery in future.
Don't Offer Complete Customization
Rigid templates of low-code app builders may add limitations to your development. You cannot completely change a template as you can do in the other app development methodologies. Sudden changes in the application might not work properly as the applications developed in low-code app builders are not purely dynamic.
The behaviour of apps might be dynamic, but the development process of the applications is static, and you cannot customize the process. You are also not able to divide backend and frontend tasks separately in many cases.
Top 10 Low Code App Builders
Are you a startup, citizen developer or big enterprise and searching for the most effective low-code app builders? If yes, then you must consider our suggested options.
Back4app
Buildfire
Zoho Creator
Appian
Fabapp
Genexus
Appy Pie
Appinstitute
Apphive
Thunkable
Keep reading to know more about each platform and the discover the best low code app builder.
1. Back4App
Back4App is one of the best options as a backend low-code builder. You need to write less code for developing an application by using Back4App. It empowers the development of applications for companies to save time & effort.
Core Features
Real-time Queries — Instead of running queries repetitively, Back4App provides the feature of Real-time queries, which means the user will always be up to date. Users will not have to refresh the page or any button to fetch the latest data to get recent information. Real-time data will be displayed to users on an application using Real-time queries.
Notifications — Back4App provides you with a dashboard where you can send verification emails and push notifications to the users within a few clicks. You can also send notifications at specific times using cloud functions by triggering them.
GraphQL & REST APIs — Back4App creates GraphQL and REST API methods automatically for all the database operations. The developer can call those methods instead of creating all database functionalities from scratch. It saves a lot of time for the developers by creating CRUD operations for all database tables.
Cloud Code Functions — You can write functions in JavaScript at the server-side to add business logic to your application. Moreover, you can run those functions as API calls, database triggers or scheduling a job to be done.
2. BuildFire
BuildFire is one of the most useful and powerful low-code app builders for Android & iOS. Businesses can build custom mobile apps in a concise period of time using this amazing app builder platform. They can develop custom functionality using developer SDK with an effortless and easy to use interface.
Core Features
Developer Mobile App — BuildFire provides the features that save the time and effort of the developer. Developer Mobile App helps the programmers to test the application quickly without building their own app.
BuildFire UI Components — There is a gallery of pre-built components available in this low-code app builder platform. It speeds up the development where developers can create applications by using ready-to-use components of BuildFire.
Command Line Interface — BuildFire provides the command line tools where you can speed up and streamline your development. You can run commands that you need regarding development and maintenance.
Targeted Push Notifications — You can send push notifications and other alert messages to specific users using this Push Notification feature of BuildFire. You can specify the users to target the right audience.
3. Zoho Creator
Among the top low-code app builders, Zoho Creator is one of the most appealing tools. It helps to build, integrate and extend applications by writing very little code. Regardless of the complexity of the requirements, you can develop your applications easily and in very little time by using this amazing low-code app builder platform.
Core Features
Build Applications Visually — Zoho Creator provides the feature of building the UI without writing any HTML or XML script. You can just drag and drop elements along with their functionalities to build your app as per your needs. Businesses can save a large amount of time and effort using the drag and drop feature of Zoho Creator.
Automate Your Tasks — You can automate a lot of tasks by scheduling them using the amazing characteristics of this low-code app builder. You can perform multiple tasks at the same time with a few clicks.
Coders can also send push notifications to the user by automating them. Indeed, programmers can automate sending application requests and approvals without the manual approval of each application every time.
Control User Access — Businesses can manage and specify the access of the users on this platform. They can maintain the user roles by using this feature of Zoho Creator. It is easy to permit users' access according to their roles. Moreover, enterprises can also see which data is edited by which user so they can trace it if any mishap happens.
4. Appian
Appian is a cloud computing company that was founded in 1999. It provides a powerful low-code app builder. This low-code automation platform helps in building enterprise apps and workflows efficiently where you can maximize the resources and save your time. You can build applications by drawing workflow diagrams on Appian.
Core Features
Visual Design Tools — Appian allows you to build powerful and beautiful applications using visual design tools. You can design your application very quickly and easily using this feature of this outstanding low-code app builder.
Data Integration — You can connect data easily without having any concern about where the data belongs. Developers also do not need to migrate or connect data to the application whether it exists on cloud, RDMS or legacy systems.
Internet of Things — Appian helps you to connect your IoT devices to your business applications. This feature is beneficial when you are developing a complex application that needs to interact with hardware devices.
UI Frameworks and Templates — You do not need to design anything from scratch. The pre-built UI templates are available in Appian that you can use to design applications easily in less time.
5. Fabapp
Fabapp is another one of the credible low-code app builders that come with a free tier. By using Fabapp, you do not need to have any extensive coding skills to build an application.
Surely, Fabapp provides a very easy and intuitive app editor where you can add and update the functionalities of your application efficiently.
Core Features
Drag and Drop Elements — With Fabapp, you can add elements to your applications with drag and drop elements. There are prebuilt components available in the editor, and you can drag and drop them in your app. You do not have to spend time in writing codes. It is an effortless and quick way of building an application.
CRM Dashboard — CRM dashboard is provided by Fabapp, where you can do all user-related tasks. You can analyze the information regarding the users and send customized messages to them. It is also seamless to use this dashboard on your PC, tablet or laptop because it is responsive for a better customer experience.
Multiple Resources & Services — You can develop web pages, forms and many other things without writing any code. You can also add a push notifications feature to your applications according to your requirements.
6. Genexus
Genexus is another good low-code app builder where you can develop applications easily with low-code and artificial intelligence support. Genexus provides the technology-independent approach to build applications without writing code for every functionality.
Core Features
GXflow — Genexus is designed to simplify the development of your workflow application through various features. GXflow takes charge of access control, task execution and management of each user's task.
Knowledge Manager — Knowledge manager is the feature of Genexus that is used to interchange the objects amongst the knowledge bases. It helps in exporting a set of objects from one knowledge base and importing those objects into another knowledge base.
Native Mobile Generator — It is a beneficial function of Genexus which is used to design apps with high UI/UX for Android and iOS. It generates online and offline native apps and synchronizes them with the central server.
GXtest — Testing is one of the most important parts of application development. GXtest is a powerful feature of Genexus that is used for quick and easy testing of the application.
7. Appy Pie
Appy Pie is another one of the best no code app builders where you do not need to write code for app development. Appy Pie allows you to develop mobile apps, web apps, task automation, chatbots and live chat applications rapidly without coding. You do not need to write code, even for complex functionalities.
Core Features
Appy Pie Design — Appy Pie provides the graphic designing feature to help in building attractive mobile apps or websites. Even if you do not have a basic understanding of designing, Appy Pie design helps you create interactive app designs efficiently.
Chatbot Integration — Chatbots are very helpful in applications and websites to answer the queries of the users. Appy Pie provides chatbot integration for the customers. You can add a chatbot to lighten the burden of the customer support team by automating the conversation with users. Appy Pie also provides the feature of Live Chat which is helpful when the bot cannot answer the question. Then your representative will be able to take over the conversation.
Cross-Platform Mobile Apps — Businesses can develop native and cross-platform mobile applications on Appy Pie without writing code. Cross-platform mobile apps will be able to work on both Android and iOS systems.
8. AppInstitute
AppInstitute is a software company in Nottingham, England, that provides low-code app building opportunities. This low-code app builder provides the features to develop and launch your applications in just a few steps. You need to pick up a template, edit the content and publish your app.
Core Features
Messaging Centre — AppInstitute provides a chat function for app users. You can talk to your individual user by utilizing the chat module of AppInstitute, where you can send attachments.
App Promotion — This low-code app builder platform doesn't only help in development but also helps in the success of the application. It provides enough resources to promote the application for its successful journey.
Prebuilt Templates — Many prebuilt templates are available in AppInstitute for all kinds of businesses that can be customized instead of designing it from scratch. It also aids the naive ones to design attractive app designs for a better user experience.
App Analytics — App Analytics is the feature of AppInstitute that can be used to keep track of the app's performance. It helps in monitoring the usage and downloads of your application by users. You can also connect it to Google Analytics for advanced results.
9. Apphive
Apphive is another one of the most useful app builders that was initially launched in 2016. It provides a list of elements that can be added to the application through just drag and drop. You do not need to write any code for the design or functionality of those elements.
Core Features
Choose a Template — You can take an easy start by choosing an attractive template from the Apphive gallery. Luckily, you do not need to design the app from scratch by using this low-code app builder.
Drag & Drop — If you want to add any element, you can easily add it to your app by dragging and dropping. You do not need to develop that element.
Realtime View — By using Apphive, you can have a look at the application in seconds after making changes to it. It also provides a real-time preview of applications to the developer.
10. Thunkable
Thunkable is another reliable low-code app builder, mainly if you are willing to design native apps. You will just need to create a project and get 3 cross-platform applications for different operating systems. It provides extraordinary features to design and develop applications without any code.
Core Features
Cross-Platform — Whenever you create a project on Thunkable, it creates 3 different applications at the backend for 3 different operating systems. It provides native Android, iOS and web applications for your project.
Drag & Drop — You can simply design and develop your application using this low-code app builder's drag and drop feature. You do not need to write scripts or code for functionalities of any element.
Animations — Thunkable provides this amazing feature of animations for your applications. You can add beautiful animations to your application by using its animation feature.
Conclusion
Are you creating an application with little or no scripting skills and looking for a low-code app builder?
If yes, then you must consider our mentioned one of the best low-code app builders. Howbeit, it is important to understand that you should shortlist any builder if it meets your requirements.
FAQ
What is Low-Code development?
Low-code app development is an approach to build, deploy and publish applications using click & edit or drag & drop building blocks or components.
What are the benefits of Low-Code?
– Speed
– Low costs
– Easy to start
What are the best Low-Code app builders?
– Back4app
– Buildfire
– Zoho Creator
– Appian
– Fabapp
– Genexus
– Appy Pie
– Appinstitute
– Apphive
– Thunkable