Top 5 Alternatives to Caspio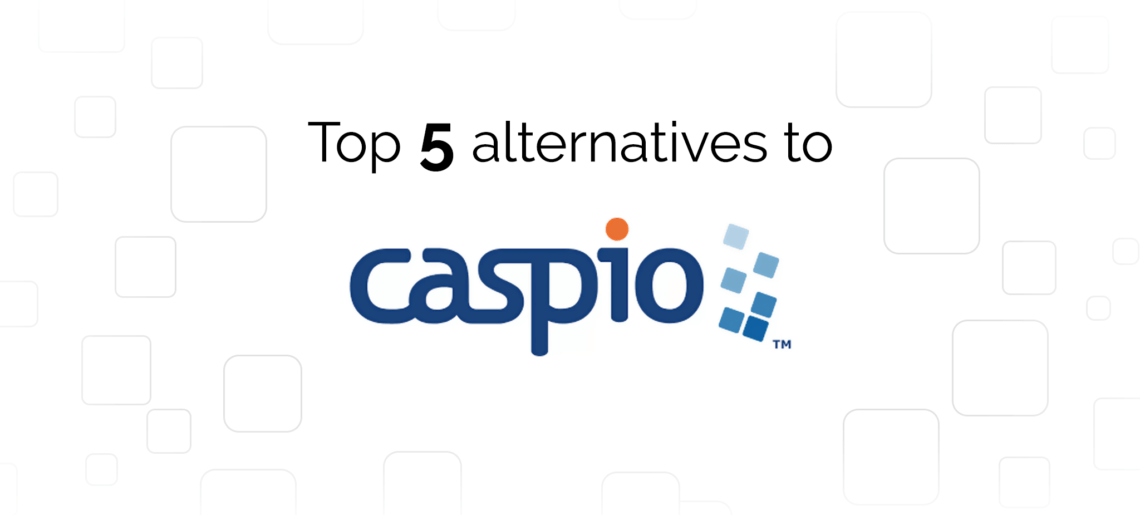 Caspio is a cloud-based software for building other applications without using coding. Hence, if you want to create anything online, this software can help you in all stages of complexity, rendering the procedure of app creation hassle-free. Ever since its inception, the software has been used to create and power millions of apps suitable for the media, health care, nonprofits, education, churches, consulting as well as the government. The software allows step-by-step construction with advice and tutorials as well as data analysis when the app is running. This lets you work on the long-term success of your app as the information you receive from data analysis helps you understand what your app is doing wrong or right. Then, you can make the necessary changes.
Even with its advantages, the solution is not free from limitations and you may want to look for alternatives to Caspio. This blog introduces you to 5 alternatives to Caspio.
Back4App
Back4App is an open-source backend, which helps you implement important backend components, such as database, file storage, server infrastructure, APIs and others. It includes contemporary features like push notification,  backup routines, cloud storage, etc.
Want to know more about Back4App features? Click here.
Features
Its properties are database graphical interface, Graphql, and Rest APIs, class-level permission, cloud code tool, automatic emails, push configuration, global configuration, and Twitter & Facebook incorporation among others.
Benefits
It's open-source and has no vendor lock-in.
It offers ample storage options.
The service provides facilities like logs viewer, real-time database access and others.
It can scale solutions according to your needs
Pricing
| | |
| --- | --- |
| Free Trial | Yes |
| Starter | $5/month |
| Basic | $25/month |
| Standard | $50/month |
| Pay as you go | $100/month |
| Dedicated Servers | $250/month |
Airtable
An all-in-one collaboration software for the food industry and restaurants, Airtable can be adapted to businesses of all types. It has a centralized database to assist teams to work seamlessly and with enhanced efficiency.
Features
The main features of Airtable, one of the most well-known Caspio alternatives, include customized views, customized fields, relational database functionality, forms management, and email integration.
Benefits
Easy to Use – Thanks to the drag-and-drop tools, users can easily manage columns and rows. You can quickly hide fields, change the order of data and sort records. A customized dashboard of information allows you to access information even if your team members are accessing the same database
Familiar sharing space – The software features columns and rows to be configured for simple to the most complicated relational database dynamics. Also, you can add comments, notes, discussions, and records.
Pricing
| | |
| --- | --- |
| Free Trial | Yes |
| Free | $0 |
| Plus | $10/user/month (billed annually) |
| Pro | $20/user/month (billed annually) |
| Enterprise | Contact vendor |
Zoho Creator
Zoho Creator, one of the leading Caspio competitors, is used to create custom apps for businesses. It aids in collecting data, making personal workflows and setting up their rules to boost their success. Equipped with a series of user-friendly features and a huge set of tools, Zoho Creator does not demand much technical knowledge to work on.
Features
The software is apt for all types of businesses, irrespective of their size and features. It has interactive dashboards, integration, and API as well as reminders. It also has smart reports, notifications, collaboration tools amongst others.
Benefits
High security – Zoho Creator offers high-end security and protection to its users with regular data backup.
Community access – With this Caspio alternative, you can take part in a community of independent software developers and vendors, thus achieving knowledge and expertise on some relevant domains.
Easy to use – Easy to install, the software is convenient for people with little or no training in programming.
Accessible – Being cloud-based, all the data and operations are easily accessible on mobile devices, allowing team members to work from remote locations.
Pricing
| | |
| --- | --- |
| FREE TRIAL | Yes |
| Basic | $10/user/month billed yearly |
| Premium | $20/user/month billed yearly |
| Ultimate | $35/user/month billed yearly |
The File Maker Platform from Apple
Create an app to share files easily with Apple's File Maker Platform, with minimum insight into coding. Available on PCs, Apple devices, Windows machines and from a web browser, it can manage assets of your company like contacts, inventory, invoices and more.
Features
The platform displays quick find, quick reports and customizable themes for the ease of developers. Other features include but are not limited to highlighted script errors, ESS adapter, external SQL data connection and more.
Benefits
Start quickly – This alternative to Caspio is easy to implement and set up without any idea of coding. Pre-built templates help businesses to build a robust app for internal use to manage assets and data in one place.
Secured data – Full supervision of the admin on users' roles and permissions allows access to controlled data.
Built-in Reports – Your charts, dashboards, and built-in reports give your company an idea about your assets.
Team sharing – You can save and share files with your team members anywhere, anytime.
Import data – Source files and data to other solutions with the File Maker to save time.
Pricing
| | |
| --- | --- |
| Free Trial | Yes |
| Individuals | $540/one-time payment |
| Teams (Cloud) | Contact vendor |
| Teams (On-Premise) | From $900/annually |
VisionX
VisionX is a low code development platform to help you create your whole desktop, web and mobile application. You can add your custom code and integrate it with the present systems. As it uses Java open-source frameworks, it is a Caspio alternative open source. The combination of the massive possibilities of Java and the ease of low-code make the development effective and uncomplicated.
Features
The platform comes with advanced features for enterprise management like user-specific profiles & filters, client, user & role management, database transactions, app performance monitoring, flexible authentication, automatic GUI testing, etc.
Benefits
You can build desktop, web and mobile applications.
Since it comes with complete Java source, vendor lock-in is absent and everything can be customized as per your needs.
You can create and manage your business workflows right from project management to human resource processes.
Pricing
| | |
| --- | --- |
| Free Trial | Yes |
| Starting Price | EU249.00/month/user |
Conclusion
Online database applications are the in-thing, and if you want to do make them as a layman, you need to have knowledge and access to low-code development platforms. Why wait to take your business to the zenith of success if you need more than Caspio offers? Choose from the end-to-end Caspio competitors to create flexible and customizable apps.
Do you like this article and want to know more about backend as a service companies? Please read here.
General FAQ
What is Caspio?
Caspio is a cloud-based software for building other applications without using coding.
What are the Caspio alternatives?
The list includes Back4App, Airtable, Zoho Creator, and more.