Database Publishing Software
The Database Hub Software project on Back4app was launched to help people to Publish any data they want on the web(Xls, CSV, complete databases) and also consume/use data from others. Also, we wanted to provide an option for people to benefit each other from working together to acquire more complete and accurate data by working together on a Data project using the Databse HUB.
Although the journey was never easier. Because we have been working pretty hard on the feedback of users to transform the HUB into a Database Publishing Software Platform to share and use Data. Now we are happy to see how users are connecting with the ready Data with just a few clicks and using these to their analysis, to make queries, into their spreadsheets, and into their Applications.
However, if you have any Sheet, SpreadSheet, data table, dataset or database you have found useful and want to make that open to the community then here, we have a simple to follow guide for you in this regard.
How to publish your Data using the Database publishing software?
Once you have created and populated your database on Database Hub. Now it's time to share it with the hub community.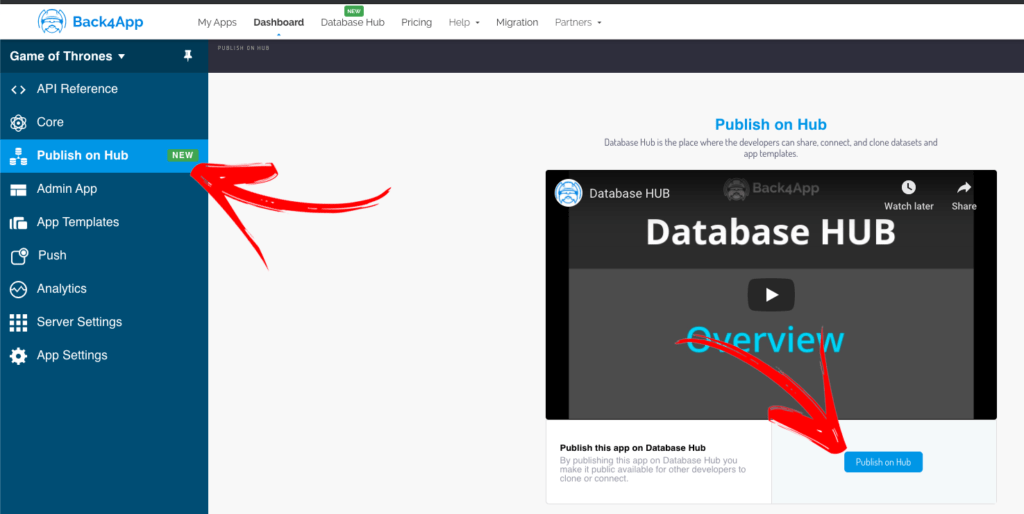 Go to the main HUB page and click over +Database Button(on the top right);
Then Click on + Get Started and create your account.
After that, you will be redirected to the Main Dashboard;
Now its time to Upload/Create your Data. You can find more details on How to Upload your Data here or How to Create your Database here.
Now you can Publish your Database. For this, you will find a "Publish on Hub" option on the vertical menu bar of the main dashboard.
Click on this button and then click on publish on the hub.
Check the I understand the terms and conditions of the database hub option on your screen.
Click on publish. And it is done. You will see a success window.  
You'll see the url generated to your public database. Check the image below.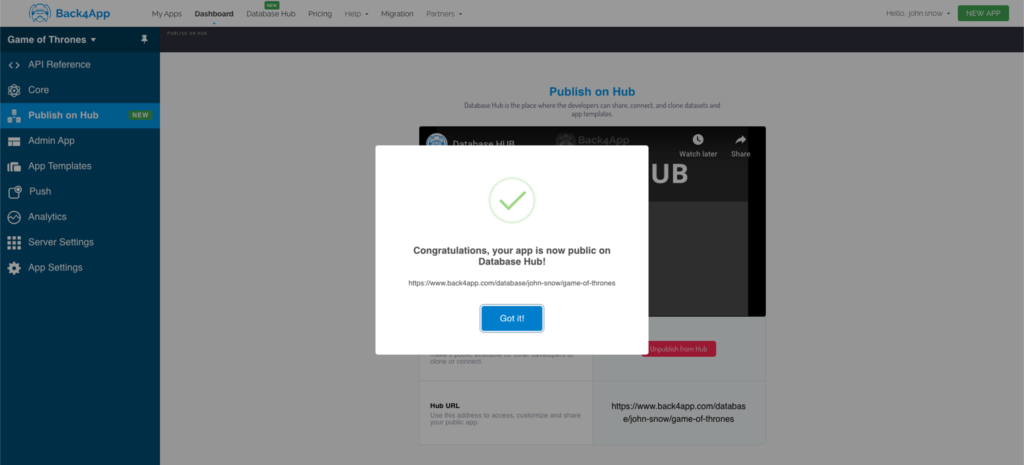 For a detailed Guide visti our blog: How to Publish a Database

Back4App Team
How to add a collaborator to your project?
However, if you want someone to collaborate into your project then you have to follow the steps given below: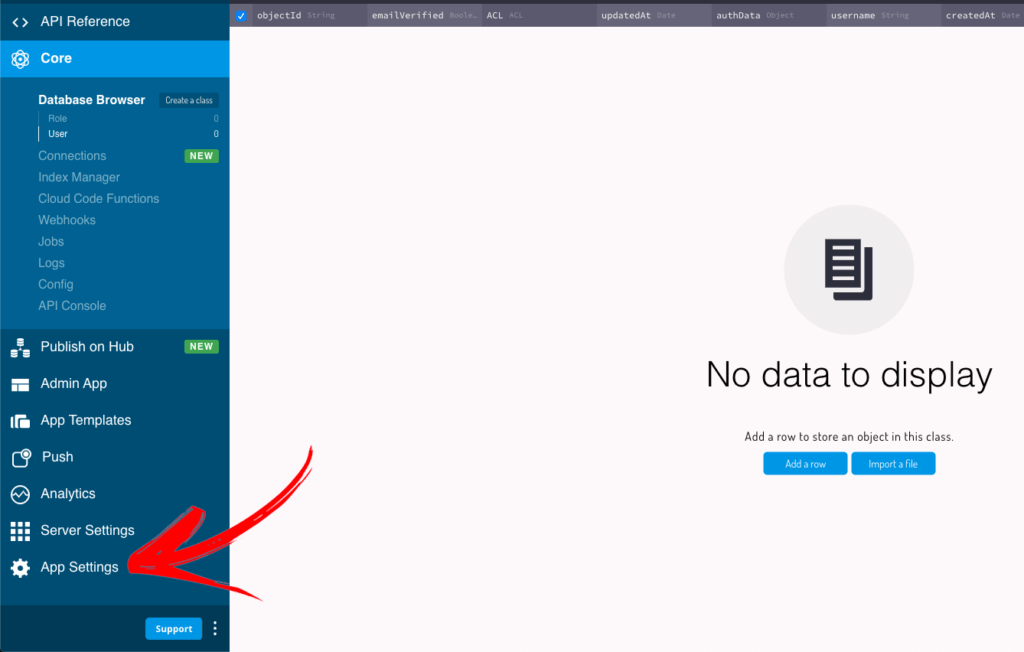 Open the Back4App Main Dashboard;
Now go to App Settings->General, at the bottom of your vertical menu bar.
At Collaborators Section you have to add email address of the collaborator.
Click on Add.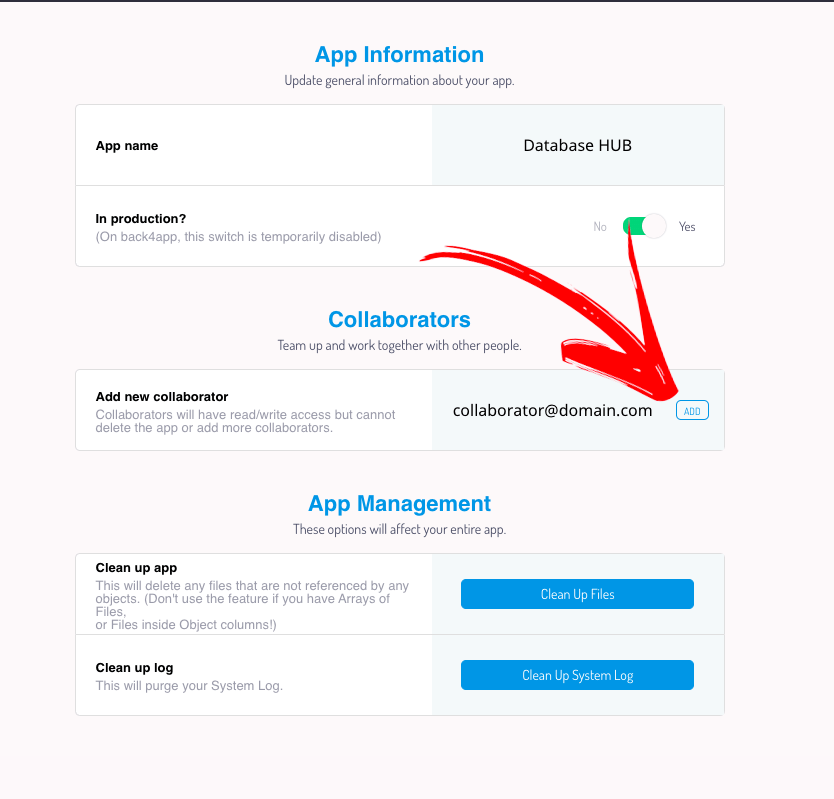 Now this collaboration can work with you on this project.
For more details please check How to Add Collaborators to my Data Project.
Reasons to Publish your Database
Sharing your application with others can result in more accurate, more complete and better data. All participants working together can yield higher returns than the initial investment they made.
Help others to not reinvent the wheels and let them utilize your work as their starting point to make that better. Sometimes, you have a work that you will not use anymore, but throwing it on a wall to see the results can be a better option for that. Other people can use, adapt and change that with full freedom and you can observe the surprising results with ease.
If your database is going to become a standard then you can have the benefit to ask people for contribution. This will ultimately increase innovation and can promote emerge of new products rapidly.
Making your database public can give you an opportunity to connect with an external pool of qualified people.
If you are an instructor, teacher, or professor you will get an opportunity to share your completed projects with the students. So that they can clone it and use it to learn more in your class.
Final Words
Open-sourcing your Data is not an act of charity here. It can bring numerous ways to benefit yourself. So, being a part of this pool can be a smart move for you. Various users are publishing their own created tables, sheets, datasets, databases preferring to share their own work with others via our Database Publishing Software. They are collaborating with others to create better and more precise databases that can be useful to various other developers too. You can also see other users opening their issues to find out effective solutions.