Firehose.io Alternatives: Top 5 Competitors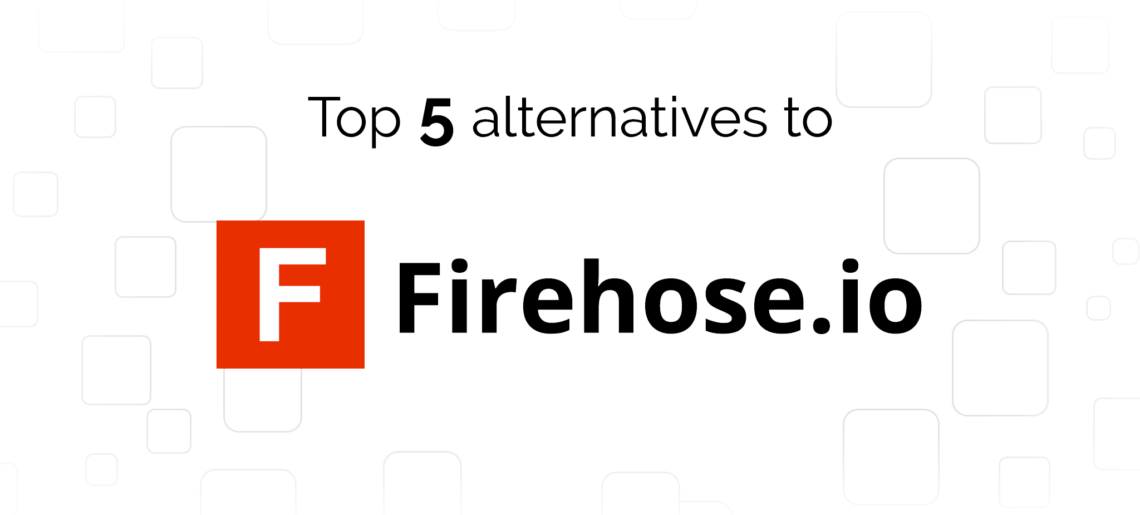 Another project of Amazon's Amazon Web Services (AWS), Firehose is designed to help stream data into data lakes, stores, and analytics tools. Firehose is one of the best options to enable analytics onto major business intelligence tools and dashboards. Firehose is like a complete package when it comes to streaming and handling data related to analytics.
But if for some reason, you are unable to use Firehose.io, or don't really like using it, here are some Firehose alternatives that you should know about:
Firehose.io: Top 5 Competitors
Back4App
Back4App is built on top of Parse platform, and most other applications & social media applications should be compatible with any application built on this backend. Developers shouldn't have any problems integrating social media handles onto this application, because most social media applets are already compatible with Parse. Back4App is very popular and offers analytics features too. Though the main purpose isn't analytics, it is still a powerful alternative to Firehose.io.
Here are some features of Back4App:
Features & Benefits
App Migration
Backup and Recovery
Web-Based Management Tools
Expert Support
Amazing Reliability
The free model also available
24/7 Monitoring and Alerting
Automated Scaling of Applications based on Parse server
Want to know more about how Back4app can help you speed up app development? Read the article Back4app Features.
Firebase
Firebase is one of the better alternatives to Firehose, because it provides features that are not available in other similar platforms. Firebase is not only reliable, but it is also a good backend that provides both analytics, and offline synchronization. Developers who are looking to develop a powerful application, but do not wish to spend too much on multiple tools can invest in Firebase, and still expect good results. A key reason why Firebase is so good, is because it is backed by Google itself.
Here are some features of Firebase:
Features & Benefits
Analytics through Google
In-app messaging
A/B Testing – for phones with the new partition system.
Cloud messaging
Prediction & offline work environment
Potential AdSense support/Easier to implement
Cheap, and reliable.
Socket.io
Socket.io is better than most other Firehose competitors, mainly due to the fact that it offers real-time analytics. It is extremely easy to implement and has been out for so long that you could probably find fixes for everything you are facing, through a meager Google search.
Socket.IO is very popular, and there are a lot of applications that rely on Socket.IO to provide real-time features.
Here are some features of Socket.io:
Features & Benefits
Multiple underlying transports
Live detection and maintenance
Reconnection in case of errors
Real-time analytics
Easy addition of features
Easy integration
Pusher
Pusher is a development tool that is used when there are multiple developers working on a single project. Pusher is not only reliable but also offers a free account. You can use pusher to easily implement analytics into your application, without having to mess up too much code.
Here are some features of Pusher that makes it one of the best alternatives to Firehose:
Features & Benefits
Flexible
Easy integration
Access authentication
Live user lists
Real-time analytics
Parse
Little should be said about Parse because most backends are actually based on this open-source backend. Parse is extremely powerful and has a lot of features that many backends are trying so hard to implement. It might actually be the best among Hood.ie alternatives.
Some of the many features of Parse are:
Features & Benefits
Data modeling
Real-time notifications
Push notifications
File system handling
Social media login & integration
Extremely potent
Fast & easy to implement
Popular issues handled on Stack Overflow
Conclusion
These are the best alternatives to Firehose.io in our opinion. You should not be looking for other Firehose.io alternatives, because these 5 should be more than enough.
What are the best alternatives to Firehose?
– Back4app
– Firebase
– Parse
– Socket
– Pusher