Top 10 Graphic Design Tools for Startups
Graphic design tools are crucial for young businesses to build logos, social media images, flyers and infographics. Though there are several graphic design applications and software available online but startups should always pick the most reliable ones.
Thence, this article shares a list of the top graphic design tools that startups can trust and use for their projects.
Top 10 Graphic Design Tools for Startups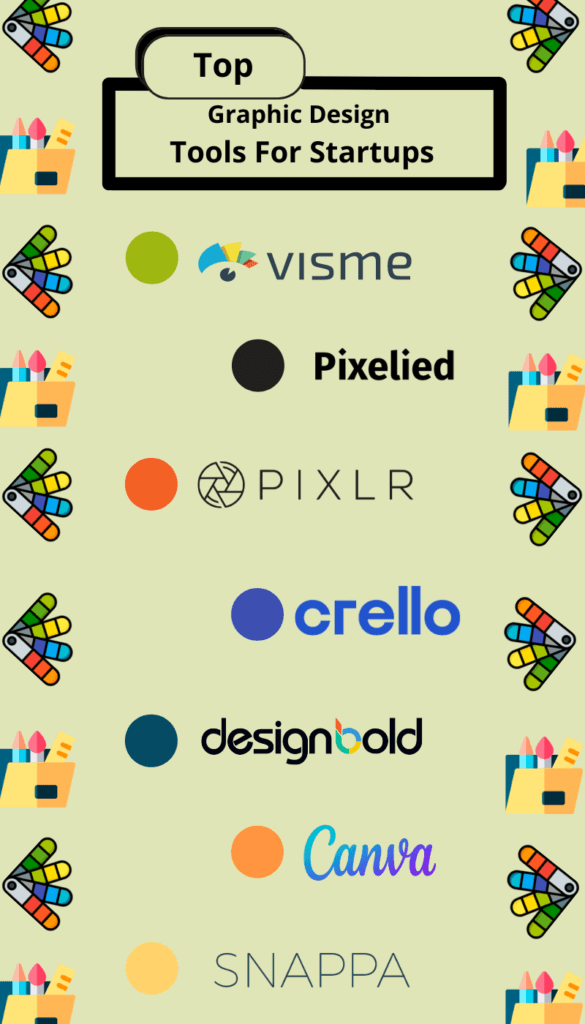 Canva is one of the prominent and free online graphic design tools for startups. This graphic design tool could be used on web browsers, and businesses can also download it for Windows, Mac, iOS and Android. With Canva, startups can quickly design social media content, business cards, logos, flyers and custom prints without any expertise.
Features
Suitable for Teams — This tool enables the teams to create designs by using any device in any region of the world. Luckily, real-time collaboration is possible without complicated signups.
Templates — Canva provides a variety of templates to its users, and most of them are free to use. Probably, the library of Canva Pro consists of 400k+ paid video, email, presentation, infographic and social media templates.
Drag & Drop Features — The best thing about Canva is its drag and drop property. You can add text animation and customize templates within a few clicks only.
Pricing
Canva is entirely free to use for young businesses with 250k+ templates. However, the monthly fee of Canva Pro is $119.99/month with 610,000+ free and paid templates and 100 million premium images.
Visme is not only a graphic design tool, but it also comes with a claim of a complete workshop. Around 12.3 million customers are using Visme globally. The primary clients of Visme are IBM, Zurich and Unilever.
Features
Templates — With 1000s of appealing templates, Visme is an ideal tool to make presentations, infographics, business cards and social media content.
AutoSave — This tool allows businesses to autosave their work. So, teams don't need to worry about work loss.
Pricing
Visme is free to use up to 100 MB storage and limited templates. The monthly charges of its Personal and Business plans are $15/month and $29/month, respectively.
If you are an admirer of Adobe graphic design products as an entrepreneur, then you can consider using Adobe Creative Cloud Express. This free to start tool is best to create flyers, short videos and social graphics. By the way, Adobe Spark was its former name, and currently, it is known as Adobe Creative Cloud Express.
Features
Easy Conversions — Users can smoothly convert their videos into GIFs and JPGs into PNG files and vice versa.
Instant Resize — You can also rapidly resize your images or videos.
Pricing
With 2GB of data storage, it is free to use Adobe Spark. Withal, the monthly cost of its Premium plan begins from $9.99/month.
Crello is another reliable graphic design tool for startup companies that Vistaprint has recently acquired, and its new name is VistaCreate. With 50,000+ design formats, it is definitely an easy-to-use platform for young businesses.
Features
Speech Bubble — Businesses can conveniently include speech bubbles in graphic designs to enhance their significance.
Brand Kits — Indeed, VistaCreate is an excellent source to make brand designs, including logos, flyers and business cards.
Pricing
VistaCreate is free to use up to 1 million creative assets. The monthly fee of its Pro plan is $10.
Snappa is another valuable graphic design tool that confers thousands of ready-to-use templates and royalty-free images to its users. It is known to build social media and advertising banners.
Features
Background Remover — Young companies don't need to pay graphic designers or use Photoshop to remove backgrounds because it is possible with Snappa.
Photo Editing — It offers around 5,000,000+ high quality and free images to use that could be edited within a few clicks only.
Pricing
The Starter plan of Snappa is free to use, but its Pro, and Team programs cost monthly $10 and $20 respectively.
This is an excellent tool if your team is in search of a trustworthy online photo editor. In this regard, it offers advanced overlays, frames, filters and much more.
Features
Photo Collage — This collage maker enables the teams to use 2 to 20 plus photos to design a collage.
Photo to Art — It only takes a few clicks to convert your image into classy art.
Pricing
Fotoram.io is an entirely free to use graphic design tool that doesn't even ask for registration from users.
DesignBold is also an online graphic design tool that businesses can utilize for presentations, social media content and ad creation. Anyone from anywhere could use this cloud-based platform.
Features
Suitable for Banners — It is the right place to create engaging banner ads. In this regard, you will find numerous banner templates here.
Stock Image Library — Its library of royalty-free images also impresses the businesses.
Pricing
Although it offers a free plan, but its yearly charges start from $179.88.
Photopea is an ideal solution to make illustrations, vectors, web and raster graphics. This tool was initially made public in 2013, and now, it is available in 41 different languages.
Features
Browser Support — This tool is easy to use with all renowned browsers, including Opera, Chrome, Firefox and Edge.
Similarities with Adobe Photoshop — You can definitely use it as an alternative to Adobe Photoshop because of its familiar features.
Pricing
Photopea is a freemium graphic design and photo editing tool.
Pixelied is another free tool that around 15K brands are practicing. The presence of millions of stock images and thousands of templates makes it a perfect option for startups.
Features
Editing Tools — You can find advanced editing tools like emojis, text, animation, snow and sparkle.
Pricing
With 3 monthly downloads, Pixelied is free to use. However, it costs $97 for lifetime usage.
Pixlr is also a good graphic design tool that basically provides 2 products: Pixlr X and Pixlr E. For the simple design, you can use its X version, and for advanced editing, Pixlr E is the best choice.
Features
Animations — To grab more attention from the audience, users can benefit from its fantastic animation features.
Collage Maker — Indeed, it is the best at making photo collages.
Pricing
It confers three plans to users. The first one is entirely free. The other two are Premium and Creative Pack, which cost $4.90 and $14.99 every month.
Conclusion
This article gives a profound analysis of the top graphic design tools with all the necessary details. Hopefully, startups will benefit from this guide.
FAQ
What is Graphical Design?
An art where experts build visual content to communicate messages.
What are the benefits of Graphical Design?
– Increase viewers on content
– Better branding
– Build trust
What are ten of the best Graphical Design tools for startups?
– Canva
– Visme
– Adobe Creative Cloud Express
– Crello
– Snappa
– Fotoram
– Design Bold
– Photopea
– Pixelied
– Pixlr