Kii Alternatives: Top 5 Competitors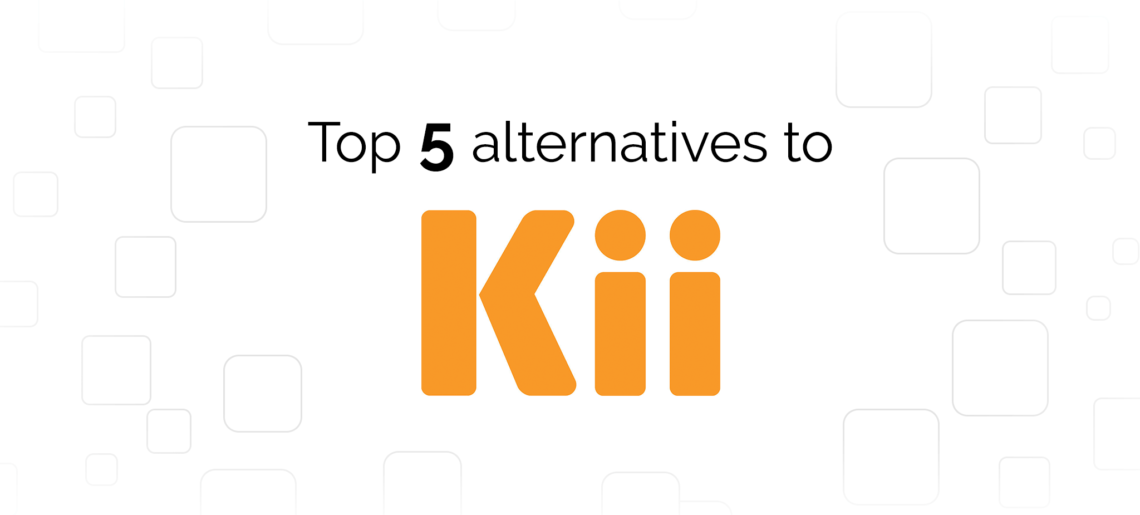 Kii is a backend solution that comes with the highest performance and can provide you highly optimized and powerful solutions for the faster and efficient application development process. This is an amazing platform that can speed up your development process and can let you manage IoT initiatives more effectively.
Top 5 Kii Alternatives
Here are top Alternatives to Kii which you should know:
Back4App
Back4App is a one-click platform that provides easier, simpler, and effective platform which can help the organizations and developers to access all of the essential backend components including file storage, APIs, server infrastructure, databases and much more than these. Back4app is a worth considering solution for quicker app development processes.
Features
REST API
GraphQL API
Real-time database
Email and user authentication
Geo Queries
Email verification
Benefits
Smooth migration process
Around the clock support
Highly optimized storage and security features
To know more about Back4pp, please read here.
Firebase
Firebase is an amazing backend platform that can let you generate next-generation applications in the best possible way. It can help you to craft unmatchable user experience by focusing more on frontend services. This is an all in one solution which you can consider for your ease.
Features
Real-time database
File storage providence
Email authentication
Built-in security features
Benefits
Easier to use hosting
A huge community of developers to support
Scalable and flexible services.
PubNub
Pubnub is one of the most amazing data stream networks which also comes with an easy to use and highly secure application programming interface for Web, IoT, and mobile solutions. Most amazingly, this platform can help you to scale your services up to hundreds and thousands of devices within no time while ensuring latency worldwide. It contains above 70 SDKs due to which it is easier to connect with devices in real-time.
Features
Built-in resilience
Message Queue
Stream Filter
Powerful add-on features
Benefits
Reliable, scalable and secure platform
Save your precious time and resources
Open-source platform
A higher level of scalability
Nakama
This is an open-source yet real-time server to manage application and game development in a more effective way. This can help the developers to own their infrastructure and build highly competitive applications within no time.
Features
Open-source codebase
Social network integrations
In-app real-time chat
Real-time gameplay
Benefits
Effective for developers
Libraries which can play fine with existing applications
Standalone server
Parse
Parse is one of the most popular Node.js based open-source application development platform which can help the developers to manage application development processes in a highly effective and efficient way. it can help developers to accelerate development processes and will keep them away from backend management stress.
Features
Data modeling
Email notifications
REST APIs
Real-time notifications
PUSH notifications
Social integrations
Benefits
Easier to use platform
Comprehensive app stack for efficient application management processes.
Reduced application development costs.
Get more time to focus on other core activities.
Conclusion
Here are some of the best and highly amazing Kii competitors which you can count on. All of these solutions have their own range of features and benefits. You can easily choose one of them which you find more feasible and effective for your application. So, have a look at the above-mentioned overviews and choose the best as per your needs.
Would you like to have more information about backend solutions? Please read What is a BaaS.
What are the best alternatives to Kii?
– Back4app
– Parse
– Firebase
– Pubnub
– Nakama