Kony Quantum Alternatives: Top 8 Providers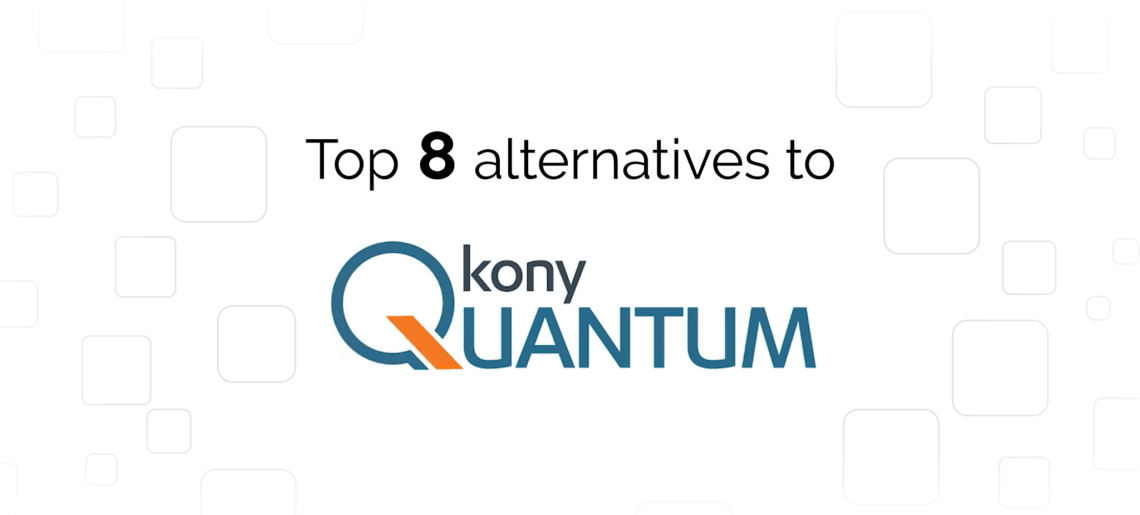 Top 8 Kony Quantum Alternatives you must know
Tony Quantum, previously Kony App Platform is one of the leading low code platforms which has the ability to enable businesses or developers to develop enterprise-level applications without even compromising on user experience, innovation, and security. From the visual editing to streamline updates and deployment. Kony Quantum can bring the best of what application development platforms can bring for the developers to work smarter, faster and at scale.
Well, we understand that the digital world is changing with every day and amazing Kony Quantum competitors are coming in the market to benefit the developers and businesses in the best possible way. Here we have brought some best Kony alternatives for you.
Here are some of the best Kony App Platform Alternatives which are better for you to know:
Back4App
Back4App is an amazing open-source solution that can offer multiple integrations and tools which are designed to help developers to implement needed functionality into applications to built them faster and better. Even more, Back4App is also offering the best hosting solutions to manage development processes more effectively. Most amazingly, it can also play the role of a centralized hub for APIs and backend.
Features:
Data management dashboard
Logs viewer
Real-time database
Transfer App
Clone app
Private cloud options
Want to know more about Back4app's features? Please access: Back4App Features
Benefits
Smoother migration from parse
Numerous features
Optimized storage
Flexibility and scalability
Multi-tenancy
Appian
This is known as the market leader currently in the Case Management software Business Process Management. This is an enterprise-grade application development solution that is integrating work automation along with social capabilities, data management, and native mobility seamlessly. This can let businesses handle entire data, documents, and processes in a single environment.
Features
BPMN process solutions
Out-of-the-box Integration
Native process repository
Built-in enterprise mobility
Real-time management tools
Social collaboration
Aggregated process history
Task Management
Benefits
Instant deployment for the newly built set of solutions
Performance view of the company
Increase in task management with increasing workers efficiency
Cost-reduction
A flexible and scalable platform that can ensure out of the box integrations more effectively and efficiently.
Firebase
Firebase is one of the most effective BaaS solutions which has been developed into a next-generation application development platform. It has the ability to allow its users to craft more innovative solutions which can bring fantastic user experience in the best possible way. Firebase is working as datastore, server, and API at the same time saving its users from the stress, of managing backend services.
Features
Real-time database
Email authentication
Password authentication
File storage providence
Easy to use hosting
Built-in security features
Social media integration
Benefits
A complete host for various useful services.
Multiple features which you can easily mix and match to get the required functionality
It contains effective analytical solutions to get help in decision making.
AWS Amplify
AWS Amplify contains a complete toolkit that can be used to manage backend services more effectively. The entire toolset is perfectly designed to make it easier for the developers and organizations to manage backend more effectively and efficiently. It can also help in building serverless applications that are capable of being integrated with the JavaScript-based frontend. Even more, it comes up with a massive library which makes the developers able to connect backend with frontend easily.
Features
Geolocation
API
Push notifications
Real-time database
Email marketing
Benefits
Declarative API to manage various cloud operations
Easier to manage and use
It can let you manage cloud-powered applications.
Scalable with Amplify services
Kuzzle
It is an amazing pre-built platform that can help to unify and power amazing solutions for IoT, web and mobile applications. It cont,ains a unique proposition and allows rapid time to market. It is perfect for the developers who are looking for the best opportunities to get more return on investment in the best possible way.
Features:
Real-time Geofencing
Data management
Advanced search
Real-time data sync
Offline management
Benefits
Effective and efficient ready to use backend services
Free version available
Flexible services
Best for innovative solutions.
Outsystems
It is one of the highly used and most popular Rapid Application Development options which has the ability to provide, environment, and services to the developers that are essential to build, manage and deploy applications. Developers will certainly love this easier to use platform which can help them to build or make changes more efficiently.
Features
Full access control
Real-time reporting
Real-time monitoring
Permission management
permission management
Integrated version control
Benefits
More modern environment for application development
Offers the edge required to build, manage and deploy applications
Perfect to cater to the needs of every type of employee in the best possible way.
Zoho Creator
This is an amazing online application builder that can enable developers and organizations to manage the development of specific web-based tools. It contains an effective array of customization gears including easier to use intuitive and drag and drop interface. It can also set the required rules to propel the business further.
Features
Customer Portal
Integration and API
Multi-Language Support
Workflow Builder
Custom and smart Reports
Interactive Dashboards
Benefits
Drag and drop interface
Feature-rich platform
A huge host of tools
highest security standards to ensure data safety
Mendix
This is an effective IT management application platform that can help individuals, organizations and government agencies in achieving their digital goals more effectively. This can help companies and individuals a more effective solution to convert their innovative ideas into real-life applications. So, that they can accomplish their tasks in a more efficient and effective way.
Features
Centralized App Governance
Model-Driven Development
Public/Private App Stores
Enterprise Integration
Benefits
Easier drag and drop interface
Social collaboration has become easier to manage
1 click deploy option for quick deployment
Conclusion
These are some of the most amazing Kony Alternatives which are certainly going to be effective for you. However, when it comes to choosing the best option for you then you can easily go with the one which is suiting your project needs in a more amazing way.