Linode vs Vultr
Are you on the lookout for an affordable and easy-to-use cloud host? When it comes to selecting an inexpensive virtual private server, two cloud providers come to mind – Linode and Vultr.
They provide exceptional services and guarantees a great user experience for the end-user. Below you will find a detailed comparison between these two VPS providers to help you choose the right cloud hosting for your business or project.
What is Linode?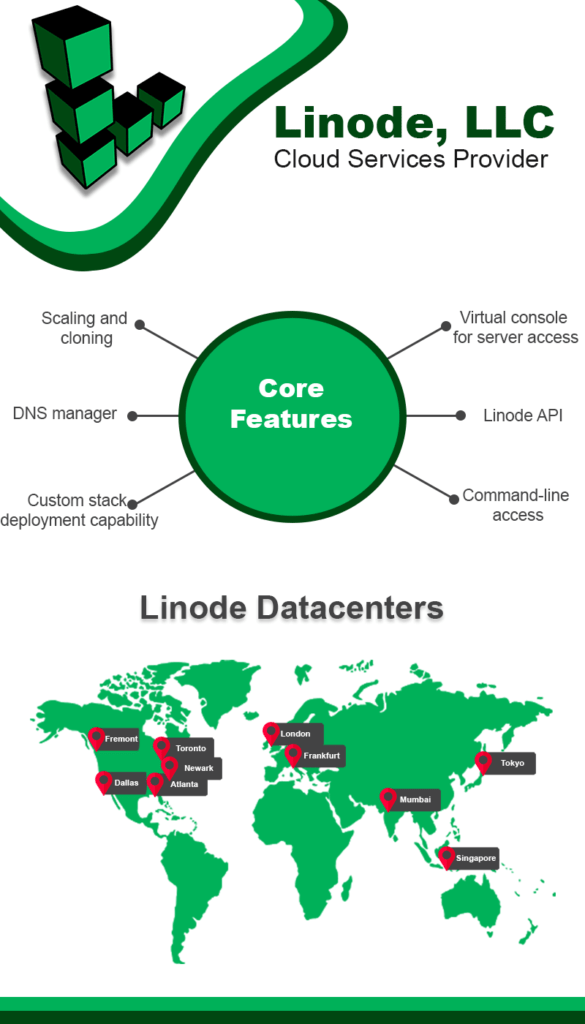 Linode, LLC is a Philadelphia-based privately-owned American cloud hosting company that provides VPS (virtual private servers). It specializes in lightning-quick and high-performance SSD Linux servers.
Christopher Aker launched the company in 2003, and Linode has grown a lot since its inception. By 2008, Linode made the switch to ZenUML visualization from UML, and a year later, data backup service was introduced too.
Today, Linode is a multinational company with data centers in Japan, England, Germany, and Singapore. It endured security breaches in 2012 and 2013, which led to the company enhancing its security measures.
The VPS company now focuses on cloud hosting and hosts renowned clients like Accu Radio and The Onion. They serve thousands of Linux customers, and the number continues to increase year on year.
Linode Pricing
Linode doesn't have any surprise bills, sudden lock-ins, and the pricing is the same across all of its data centers. For 1GB, you can start from $5/month and go up to $480/month for 96GB. If you choose the standard plan, the service can go up to 192GB RAM. Linode also provides advanced plans – CPU or Dedicated GPU plans.
You can test the platform by availing of its 7-day free trial period.
Linode Key Features
Guaranteed server uptime of 99.99%
Simple and easy-to-use control panel
Full IPV6 support
Quick launch and API access
Upgrade to managed hosting available
Award-winning customer support
Command-line access
DNS manager
Custom stack deployment capability
Scaling and cloning
Recovery mode is also known as Rescue mode by Linode
Virtual console for server access
Dedicated CPU
GPU compute for AI
Object storage and block storage
Linode Advantages
Affordable cloud computing and no hidden fees because Linode has a flat pricing model.
Several tiers of support are offered to resolve issues.
Linode's powerful API allows developers to set up Linode server, handle tasks in Cloud Manager, manage network IP addresses, open support tickets, deploy Kubernetes cluster, manage Linode storage, and so on.
Eleven data centers across the globe enable developers the choice of selecting the datacenter that is closest to their target audience, and therefore, reduce latency and make sure a smooth experience
Linode offers better in-house monitoring, and this can even be added to servers.
Better segmenting or grouping of servers is possible if managing more than one.
What is Vultr?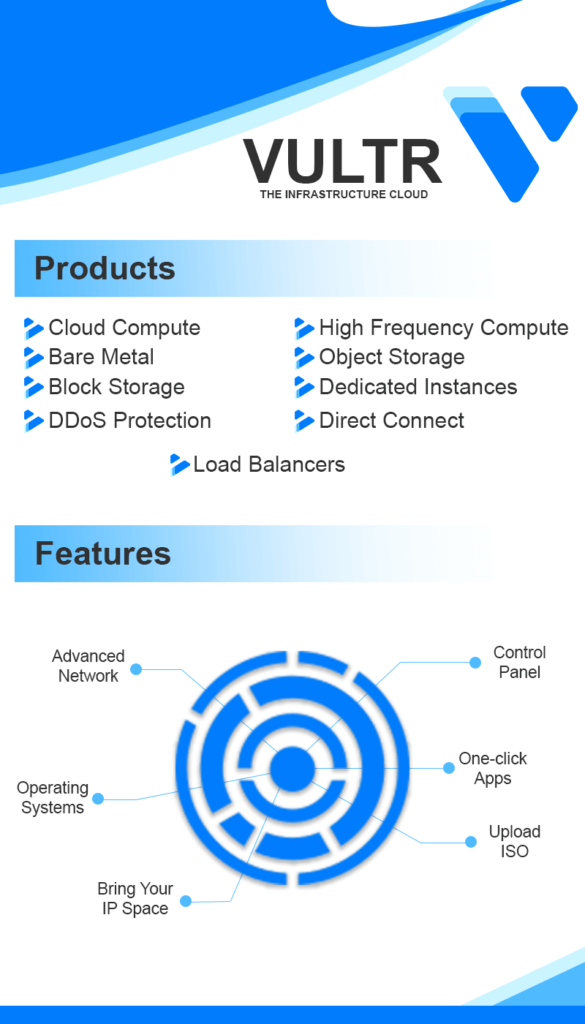 Vultr is one of the leading providers of high-performance solid-state drive (SSD) cloud servers, and it boasts of a global footprint. It is mainly targeted at developers and businesses with an aim to simplify the overall deployment process. Vultr is striving to create the most efficient and reliable hosting service and hopes to achieve this by providing a standardized platform for all users.
David Aninowsky founded Vultr in 2014. The team behind Vultr were also the brains behind GameServers.com and Choopla.
With more than 5 years of experience, Vultr has emerged as one of the most sought-after and trusted cloud hosting brands in the industry.
Vultr Pricing
Vultr conducts its pricing plans on an hourly basis, and you will pay for what you use. The monthly limits are capped at twenty-eight days, and you will never pay more than 672 hours per month. You can begin using Vultr by paying only $2.5 a month, and when you sign up, you'll get $5 to try their platform.
Vultr Key Features
Seventeen strategically placed data centers across the world that allows developers to launch a clod environment close to their target audience.
One-click apps enable you to quickly launch game servers, WordPress blogs, and more with a single click.
Local administrator or root and out-of-band console access is given to all virtualized and bare metal compute instances.
No long-term contracts and you only pay for what you use.
Vultr natively supports an extensive range of Windows, Linux, and BSD distributions.
Upload ISO or mount ISO on your cloud servers using virtually unlimited Operating System options.
Dedicated instances where developers can rent a fraction of a dedicated server.
Block storage option so that you never lose data.
Dedicated IP addresses can be altered.
Outstanding speed as the deployment system typically complete spins in less than a minute.
Top-of-the-range security.
Vultr Advantages
Great performance as Vultr guarantees 100% network uptime.
Offers an amazing range of high-quality cloud products which include Cloud Compute, Block Storage, Bare Metal Simplified, and Dedicated Cloud
Flexible pricing enables developers to pay only for the resources that they want and they are billed on an hourly basis of resource use at a certain rate
A clean and simple interface and control panel for users to efficiently manage their products. Additionally, the control panel offers a lot of flexibility and information on the servers or instances.
Great infrastructure and fast processors make sure that a lot of work is handled easily and effectively.
Quick account activation within 60 seconds.
Global data centers across 4 continents that act as load balancers.
Fantastic customer support, along with helpful guides and FAQs that help resolve issues quickly and clear doubts. Besides internal support, there is a vibrant digital community that can be used by developers of all experience levels.
Linode vs. Vultr | Comparison Table
| | | |
| --- | --- | --- |
| | Linode | Vultr |
| Headquarters | United States | United States |
| Year Founded | 2003 | 2014 |
| Founder | Christopher Aker | David Aninowsky |
| Data Centers | 11 | 17 |
| Employees | 226 | 25 |
| Alexa Ranking | 5091 | 17118 |
| Trustradius Score | 8.6 | 7.3 |
| Uptime Guarantee | 99.99% | 100% |
| Pricing | Starts at $5 per month | Starts at $2.5 per month |
Conclusion
Both Linode and Vultr offer exceptional features and advantages to developers.
While Linode has been around since 2003, Vultr has recently joined the ranks in 2014. These hosting companies are constantly coming up with updates to help businesses and developers.
Go through the offerings of each of the platforms and make your decision based on your specific requirements and budget.
FAQ
What is Linode?
Cloud provider founded by Christopher Aker in 2003.
What is Vultr?
Cloud provider founded by David Aninowsky in 2014.
What are the differences between Linode and Vultr?
– Linode has 11 data center locations
– Vultr has 17 data center locations
– Linode has 226 employees according to LinkedIn
– Vultr has 25 employees according to LinkedIn
– Linode has 8.6 score according to Trustradius
– Vultr has 7.3 score according to Trustradius
– Linode pricing starts at $5 per month
– Vultr pricing starts at $2.5 per month