Top 10 Marketing Tools for Startups
Marketing is conventionally considered the heart of any business. Although it is equally helpful for companies on all stages but startups can't access potential customers without an appropriate marketing approach.
Indeed, startups should pick the best marketing strategies to boost sales, enhance brand awareness, attain and retain customers and much more.
However, it is challenging for young companies to decide about using distinct marketing tools. That is why we are sharing one of the best marketing tools for startups with their essential features and pricing policies.
Top 10 Marketing Tools for Startups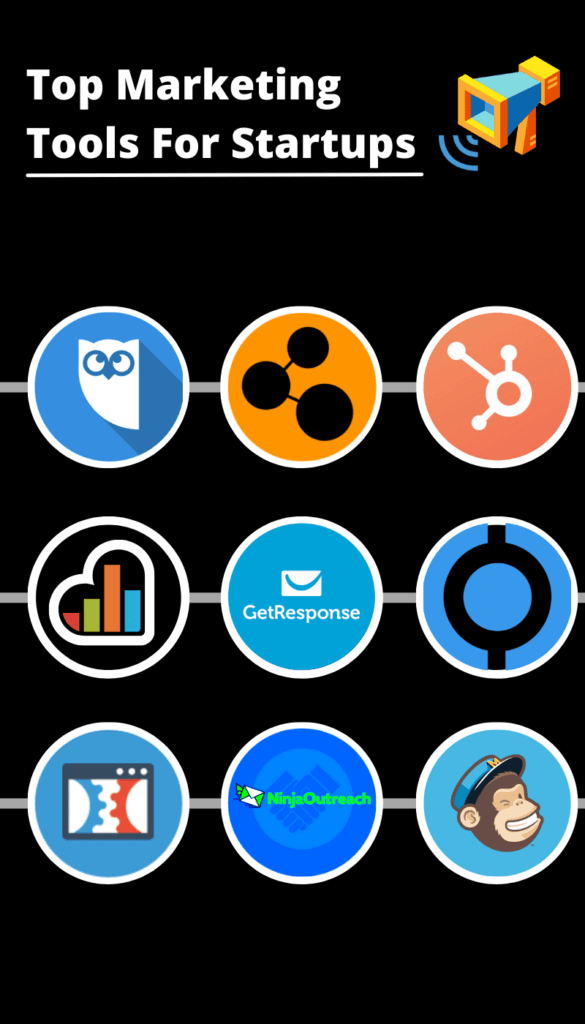 Here are top marketing tools that can help startups to grow their businesses:
Mailchimp is an all-in-one web-based marketing automation tool that was made public in 2001.
This email marketing tool helps companies successfully start, administer and run their email marketing campaigns, customize email templates and designs with or without code, create landing pages, social media ads, postcards etc. Email campaigns are easy with MailChimp and please find below some features of this platform:
Features
Email Marketing Support — The use of email marketing is widespread among startups to engage the target audience successfully. Mailchimp provides complete automation support, exciting templates, exciting content and helpful analytics in this regard.
Easy Integration — It is easy to integrate this modern marketing tool with your web or mobile application. You can also connect Mailchimp with third-party tools to improve your marketing campaign.
Quick Creation of Landing Pages — Startups can also rapidly create attractive landing pages to improve brand experience and give extra meaning to their marketing efforts. This marketing tool enables the users to build one of the most exciting landing pages to complete this task. It's essential to integrate your LP strategy with your SEO strategy. So, please read Top 10 SEO Tools to learn more about his subject.
Postcards & Social Media Ads — It is seamless to get assistance from Mailchimp whether you want to build a social media ad to support your marketing campaign. Or want to bring ideas to print your postcards.
Pricing
It offers 4 plans under its 'Marketing Platform' section. Its Free plan enables the users to utilize multi-channel tools for 2000 contacts on a monthly basis.
Startups can also consider its 'Essentials' and 'Standard' packages with more advanced features. In this regard, the monthly charges of these plans begin from $9.99 and $14.99, respectively. Moreover, the monthly cost of its 'Premium' plan is $299.
The use of Hootsuite is also common among startups to deal with social media management tools. New businesses can quickly line up their social media posts to get better results. In addition, more than 18 million entrepreneurs and business owners are using this marketing tool. Please check below the features of this social media platform.
Features
Easy Integration — This marketing tool permits the users to handle all of their social media accounts in a single place. Users can connect it with more than 20 social applications, including LinkedIn, Twitter, Facebook, Instagram etc.
Schedule Posts — It is tough for marketers to manually and timely create and publish a social media post. With Hootsuite, they just need to draft a post and can publish it on numerous networking sites within a click.
Better Engagement — Startups can deal with messages and responses of different social media accounts and apps in a single and exclusive stream. This feature also aids to improve social media monitoring.
Analytics — It is also considered one of the best marketing tools because of its in-depth analytical reports. You can get all details about likes, reactions, comments, followers, retweets etc.
Pricing
This social media marketing tool divides its plans into 4 categories. For 20 social media accounts, it offers a 'Professional' program that charges $19/month. Its plan 'Team' asks for $99 per month and grants 20 social accounts support.
With 35 social media accounts, the 'Business' plan costs $599/month. All custom solutions could be got under its 'Enterprise' package.
Google Marketing Platform also offers many marketing tools for startups, and Google Analytics is one of them. This is an entirely free marketing tool that businesses can use to examine and track the traffic of websites and applications.
Features
Quick Connection — If you have an account on Gmail, then it is rapid for you to connect your app or website with Google Analytics.
Online Tracking — Young companies can conveniently track the source of traffic, whether it is coming from search engines, social media or referrals, with the help of Google Analytics.
Data Reports — Marketers get complete data reports by using Google Analytics. This data helps to understand user behaviour, engagement for different products and your successful score.
Pricing
Google Analytics is a freemium product of Google, but if you want its state-of-the-art version, then you can also go with Google Analytics 360. Its yearly cost starts from $150,000, making it an expensive tool compared to the standard version of Google Analytics.
To back marketing activities of businesses, HubSpot confers powerful marketing functionalities under its HubSpot Marketing Hub platform.
A robust digital marketing solution helps the startups and marketing teams to run inbound, email marketing, and contact management campaigns appropriately.
Features
Inbound Marketing — This platform plays a strong role to attract potential customers through content marketing. In this regard, it influences the clients with valuable content.
Lead Generation — HubSpot also works as a CRM platform. Therefore, it provides complete functionalities to generate successful email marketing campaigns to create leads. Furthermore, companies can also gather around 1 million contacts to support email marketing ventures.
Third-Party Integration — Users can also integrate this tool with other applications to back distinct marketing activities.
Pricing
HubSpot Marketing Hub is branched into 2 parts. The 'Free Tools' doesn't charge anything from users. However, the 'Premium Editions' monthly fee begins from $45.
Hotjar is another notable marketing tool for startups that works similar to Mixpanel and Google Analytics. Companies can comfortably know their customers' behaviour with this tool. Around 900,000 sites are already depending on this platform.
Features
Heatmaps — This graphical visualization assists the businesses on which sections of their website are performing well and which segments need improvement. The eminent parts are coloured red and unpopular sections are coloured blue.
Surveys — Hotjar provides one of the best survey approaches to retain customers.
Session Recordings — This property shares everything from click to mouse movement of any visitor that browses your site.
Pricing
Hotjar is free to use up to 35 sessions in a day. Withal, if your requirement is for 100 daily sessions, then you can go with the 'Plus' plan, and its price starts from $39/month. All details about Hotjar's 'Scale' and 'Business' packages are also available on its pricing page.
If you are in search of a free-forever plan that covers all-in-one inbound marketing functionalities for your new venture, then you should consider GetResponse. Luckily, 100,000+ companies are already benefiting from this tool.
Features
Marketing Automation — With its visual automation builder, users can only automate all marketing tasks within a few clicks.
Email Marketing — It facilitates the users with auto-responses, list management and mail creation to support email marketing campaigns.
Push Notifications — No-limit push notifications are an advantage of using GetResponse.
Pricing
Startups can use this marketing tool for up to 500 contacts without paying anything. The charges of its 'Basic' plan begins from $12.3/month.
It is an influencer marketing tool that can aid startups to find niche related social media influencers. By the same token, it also benefits customer relationship management.
Features
Influence Outreach Tools — You can simply find niche-relevant Instagram or YouTube influencers to promote your products and services.
Link Building — This marketing tool is adequate to build links like guest posts and run outreach campaigns to make such quality links.
Pricing
The most popular plan of Ninja Outreach is 'Flex', and it costs $155 monthly from startups. The other plan is 'Pro', and its charges start from $259/month.
Startups should be aware of target audiences' thoughts to know their requirements and get product reviews. Marketing departments should rely on Typeform to conduct such surveys and build forms. Here are some of the features of this digital marketing tool:
Features
Quick Maker — This tool is extraordinarily quick to create forms, tests, surveys, and quizzes.
Easy Integration — You can integrate Typeform with apps like Zapier, Slack, Google Sheets, etc.
Templates — Typeform grants customizable templates to its users. They could be for job applications, HR surveys, sign up forms and much more.
Pricing
Although its free plan facilitates startups with many properties but you can also consider its 'Basic' plan with a monthly fee of $25.
With more than 103.4K users, ClickFunnels is a big name if startups need to build attractive sales funnels to sell their services and products.
Features
ClickFunnels Editor — This editor overcomes the burden of developers and creates product pages to sell them quickly.
Follow-Up Funnels — With this feature, marketers can talk directly to a customer and have a complete follow-up.
Pricing
Though you can try ClickFunnels for free but its initial monthly cost is $97.
Kissmetrics is also a reliable analytical tool that is similar to Google Analytics. This marketing tool could be used for both SaaS and eCommerce ventures.
Features
Real-Time Data Monitoring — With real-time data monitoring, it is easy for businesses to make modifications according to user needs.
People-Centered System — It only provides accurate and deep data analytics to support businesses.
Pricing
The initial cost of its 'Starter' plans for SaaS and eCommerce projects begins from $299/month.
Designed for enterprise and medium-sized businesses, Newoldstamp enables companies to seamlessly create, customize, and automatically install email signatures. This signature generator is well-known for its excellent customization possibilities, ease of use, and central email signatures management.
Features
Easy Integration — The users of Google Workspace (Formerly G Suite), Exchange, and Microsoft 365 can enjoy the benefits of Newoldstamp. They can easily connect it with their email client and sync email signatures to all employees.
Analytics —With the built-in email signature analytics users can measure the effectiveness of various call-to-actions and banner campaigns.
Templates —With Newoldstamp it's possible to use a variety of templates and effortlessly design email signatures. This signature generator enables its users to set their business info, logo, and brand colors. Additionally, they can add social media icons, and other buttons and apps available.
Lead Generation —Businesses can enhance their email signatures by adding promotional banners, CTAs, or links to important pages. Newoldstamp turns emails into a powerful marketing tool that helps businesses drive traffic to their website and generate leads.
Pricing
Newoldstamp comes with a 7-day free trial. It also offers two plans: Branding plan – $7 per month, and Marketing plan – $9 per month (charged annually).
Conclusion
This guide describes the pricing, features and other details of top marketing tools for startups. However, the use of marketing tools depends on your project's needs.
Please check the Startup Tools List to find a vast list of tools to expand your business.
FAQ
What are the best marketing tools for startups?
– Mailchimp
– Hootsuite
– Google Analytics
– HubSpot
– HotJar
– GetResponse
– Ninja Outreach
– Typeform
– ClickFunnels
– Kissmetrics
– Newoldstamp