What is mBaaS? Secrets Unlocked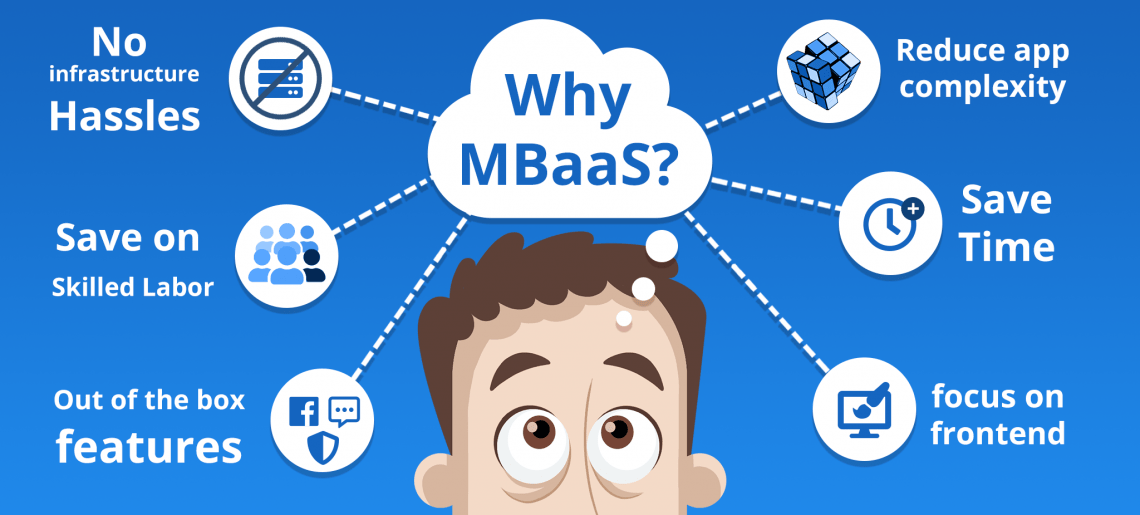 MBaaS stands for Mobile Backend as a Service, which is often referred to as BaaS. It is a platform that handles service infrastructure and backend development tasks. Backend as a Service allows developers to focus on frontend development while the service provider handles server-related tasks. Besides, the backend as a service provider also adds value to developers by providing tools that expedite backend code creation.
Some of the features Backend as a service provides are data management, APIs, push notifications, authentication, social media integrations, file storage, and many others.
In this article, we shall look into the following topics:
Frontend x Backend
mBaaS x Creating Own Backend
When Should You Use Mobile Backend as a Service mBaaS?
Advantages and Disadvantages of a mBaaS
BaaS vs. AWS vs. Azure vs. Google Cloud
The Features of a Mobile Backend as a Service
Who should use a mobile backend as a service?
An Overview of mBaaS Architecture
The best Mobile Backend as a Service Companies
Some definitions first:
Are mBaaS and BaaS the same thing?
The abbreviations BaaS and mBaaS – mobile BaaS stand for the same thing since you can use Backend as a Service to power both web and mobile projects. When it is used for a mobile app project, it will serve as a mobile backend as a service (MBaaS).
Frontend vs. Backend
For a start, let's explain the difference between a Frontend and a Backend. The aspect of software that the application user interacts with is called the frontend. While the engine that powers the frontend, which is not visible to the app user, is called the Backend. The developer connects these two parts of the software together through the Application Programming Interface, also known as API.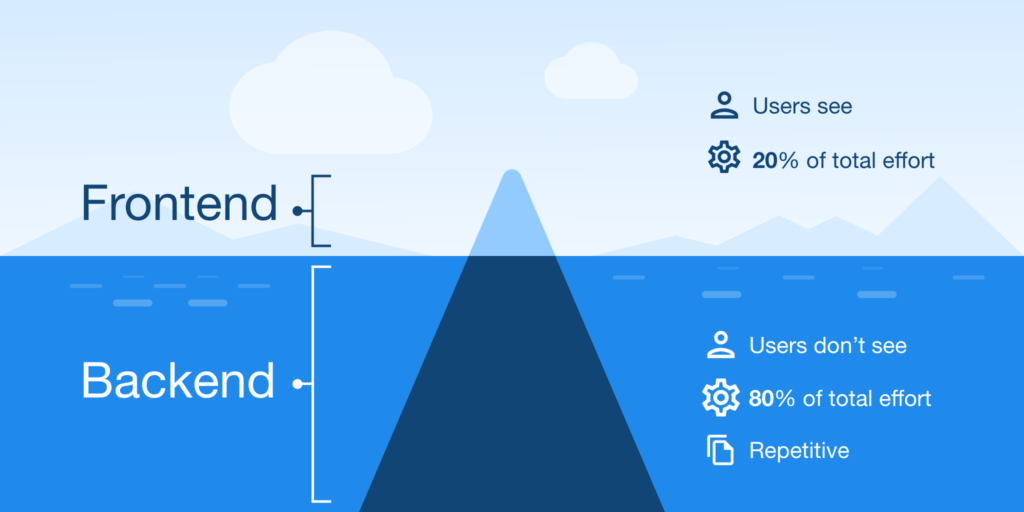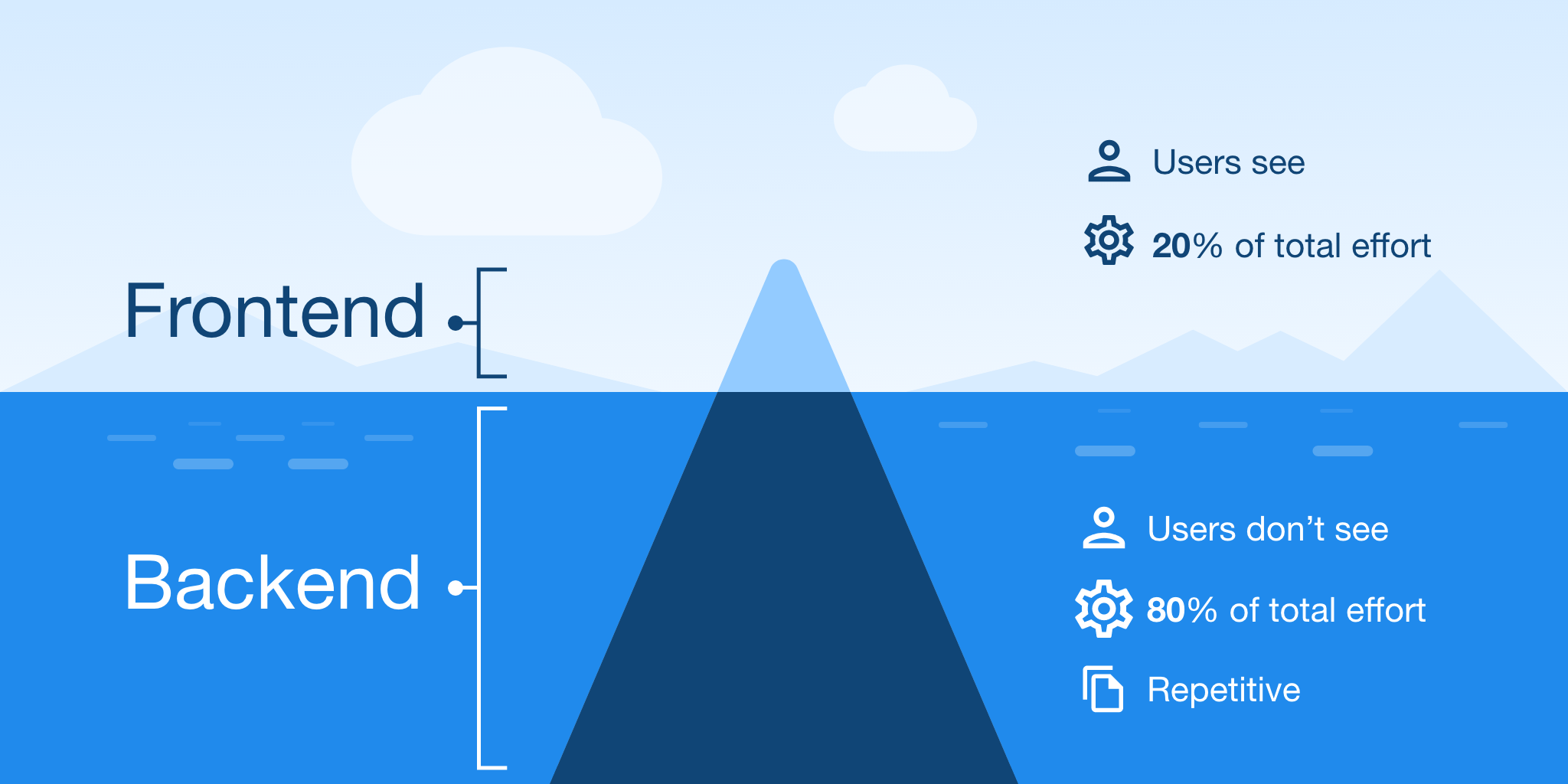 BaaS vs. Creating your Own Backend
Let's look at the following examples to appreciate the difference between custom coding and Backend as a service BaaS. Here are three easy to understand examples of how a mBaaS can benefit you:
GDPR security settings implementation
The procedure for implementing GDPR compliance for your app is complicated. You need to have experience in server and software engineering to pull this off. It involves implementing HTTPS encryption. Logging and accounting, among many other complicated tasks. All these assignments would take about 100 engineering hours.
Given the complexity of such tasks, small and medium scale projects are better off implementing such functions through a backend as a service provider. With a BaaS provider, the total cost of implementing GDPR would span through thousands of apps. So, you will only have to bear a fraction of the cost. On the other hand, the cost would be overwhelming for a single app project, leading to a longer time to recoup the investment.
mBaaS vs. AWS Instances
Supposing that you want to develop a new application using the conventional method, which is coding. You have to take up the responsibility of setting up your server and getting it up and running.
Here is the procedure you will follow:
Login to AWS or your preferred cloud platform.
Switch to Instances.
Launch instance.
Choose an Operating System.
Select an Instant Size and Type.
Configure the Instance details which includes elements like the number of instances, the network, IP address, monitoring, autoscaling, and the likes
Add storage.
Configure the security.
Once you are through with the tasks above, your instance complete, and you are ready to start writing your codes.
At this stage, you will realize that you must take a few other steps, which include setting up your web server, creating the database, setting the framework, and many more. Your web server will be up and running at this stage, so you can start writing your codes. These tasks would take an experienced person an entire day to complete, and if the project is large, it will take a couple of days to handle these tasks.
However, if you are using a backend as a service, all these procedures will be complete in a few minutes.
mBaaS vs. Coding a Login Interface
Assuming you have set up your server and you have started adding features to your app. The next feature in your task is to enable the app users to log in through Facebook. You may have to outsource this task to a freelancer or an offshore company at $15/hour. That will cost $300 for a 20-hour coding assignment.
With a BaaS, you can add this feature to your app in less than an hour. That means you have saved 19 hours of workload, which sums up to $285.
Why Backend as a service?
Backend as a service solves lots of problems. Here are two of the most pressing issues that BaaS addresses.
It helps manage and scale cloud infrastructure.
Expedite backend development.
The core reasons why businesses prefer to use a backend as a service revolves around technology and business issues.
Advantages and Disadvantages of a BaaS
Below is an overview of the benefits and demerits of using a backend as a service.
The benefits of BaaS
It increases the speed of your app development.
It helps reduce the cost of app development.
Removes the hassles of managing server infrastructure.
For your company
The value that a backend as a service adds to corporate productivity is one of the core reasons for outsourcing cloud infrastructure management. This is more important for small and medium scale projects.
Let's take some time to analyze the figures. Securing the service of a backend engineer would cost about $80k/year in the USA. You can offset costs when you outsource specific tasks to a freelancer. The other business advantage is expediting the time to the market. At present, it is not advisable to wait for several months before delivering an app to the market. Such a company would not be able to compete favorably in the market. Below is an overview of the business benefits of BaaS.
Expedites time to market.
Reduces development costs.
Requires the service of fewer developers.
Seamless cloud infrastructure management.
For your development team
Top-notch backend professionals are not easy to come by, and they earn the top dollar for their services. You should make the best use of the one you find and ask for high-value codes. It is not advisable to program repetitive tasks and boilerplate codes, it's more or less a waste of resources.
Backend as a service would allow your developers to focus on their code assignment, which is writing codes for your frontend. The frontend features must be functional and highly usable, so giving your developers time to focus on the frontend is beneficial for your business. Below is an overview of the technical benefits of BaaS
Concentrate on frontend development.
Avoid redundant attack setup.
Writing of boilerplate code is not required.
Access to a standardized coding environment.
Backend developers can focus on creating high-value codes.
Get instant features such as authentication, search, and data storage.
Run testing environment and clone apps efficiently.
Out of the box security and backup functions.
Disadvantages of a mBaaS
It is less flexible compared to custom coding.
The capacity to customize delivery is lesser than custom coding.
Most are vendor locked-in closed source platforms.
When Should You Use Backend as a Service?
Here are some scenarios where backend as a service proves useful.
Creating a Minimum Viable Product -MVP.
Standalone apps that need minimal integrations.
Mission-critical enterprise apps.
In the case scenarios above, you can save lots of time and money when you use a backend as a service.
mBaaS vs. AWS vs. Azure vs. Google Cloud
In this section, we shall attempt to explain the differences between IaaS, PaaS, and BaaS.
What Does IaaS Mean?
IaaS refers to Infrastructure as a Service.
Some platforms that offer IaaS services are AWS, Google Cloud, Azure.
What Does PaaS Mean?
PaaS refers to Platform as a Service.
A few providers of PaaS services are Heroku, and App Engine.
What Does BaaS Mean?
BaaS refers to Backend as a Service
Some providers of BaaS are Back4App, Parse, Backendless.
IaaS vs. PaaS vs. BaaS
Each time your app translated from an IaaS to a PaaS and vice versa, you are securing an additional layer of service or value to your app.
Here is the analysis below.
IAAS = Data Center + Servers + Storage +Networking
PAAS = IAAS + Deploy + Manage + Scale
BAAS = PAAS + Features to Build Backend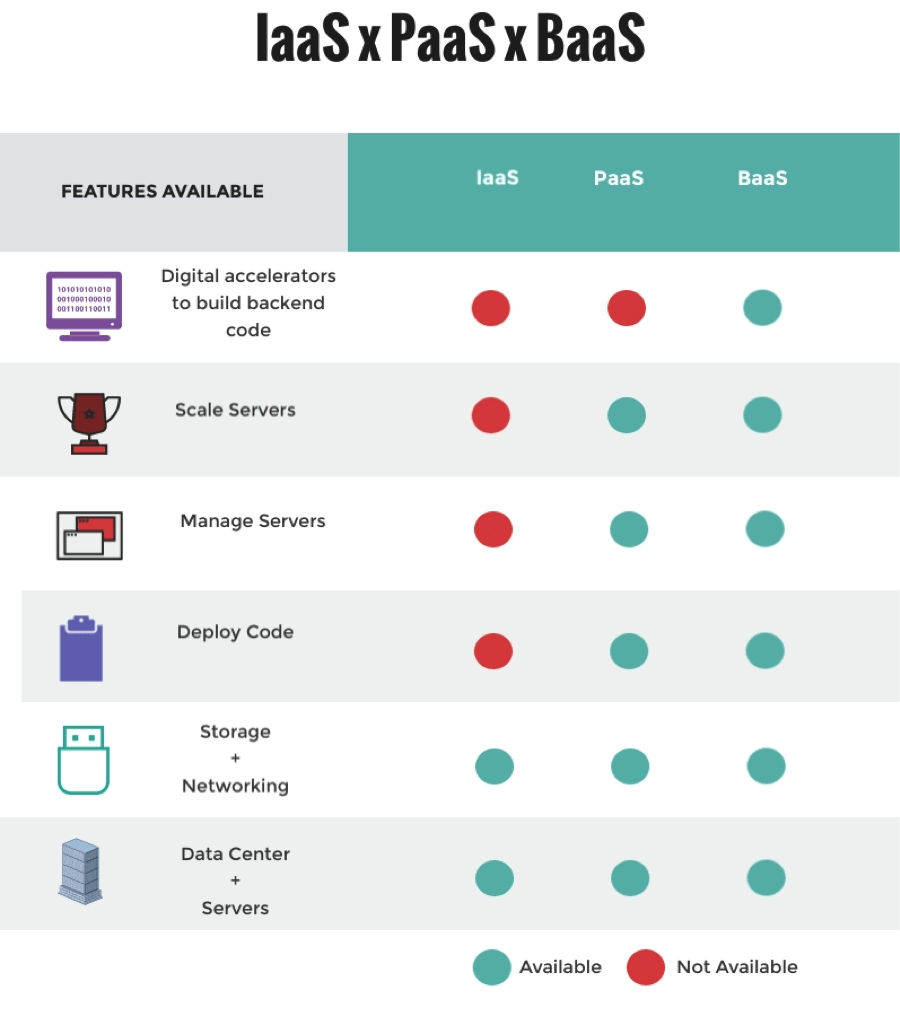 The Features of a Mobile Backend as a Service
The features of backend as a service can be deployed across all kinds of applications. Here are a few of the highlights:
Database Graphical User Interface (GUI)
APIs (REST and GraphQL)
User authentication
Notifications
Storage
Logs
Social Integration (Facebook, LinkedIn, Twitter, etc.)
Infrastructure, Security settings, auto-scaling, data Email Verification
Push Notifications
CDN and Cache
User authentication
API Integration (Rest and GraphQL)
Cloud Code Functions
Geolocation
Backup, DB optimization
Who should use a mobile backend as a service?
Backend as a service is more of a technical service that supports developers. An everyday computer user without professional knowledge could not comfortable using such a service. Below are common usage scenarios.
Frontend engineers who do not have expertise in handling backend jobs
Backend engineers that want to expedite the development process.
Engineers who prefer to outsource low-value or repetitive tasks.
An Overview of BaaS Architecture
There are three layers in the architecture of a mobile backend as a service. The first layer can be referred to as the foundation, which includes the database server. The database would usually use a cluster setting that makes room for data backup and restoration when the need arises.
The application cluster is the second layer, which is made up of a bunch of servers that process requests from client apps. The number of servers does vary throughout the day, and the BaaS provider usually implements an autoscaling feature. Autoscaling allows the service provider to supply the right amount of server resources required per time.
The third layer is responsible for connecting the applications servers to the internet and consists of load balancers and CDNs.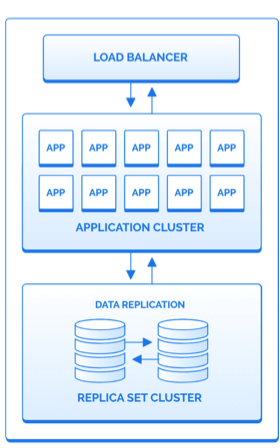 What projects are most suitable for Backend as a Service?
Realtime applications (chat, messaging apps)
streaming apps (Music or Video)
Transportation apps (similar to Uber)
Social-network apps
E-Commerce apps
Gaming apps
Backend as a Service Companies in 2020
Below is a list of BaaS and mBaaS providers.
Back4App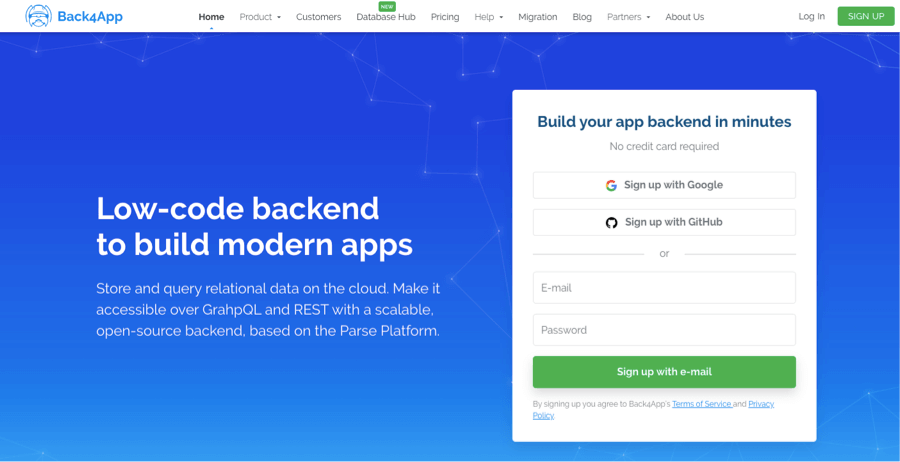 Back4app provides features such as database management, social login, push notifications, realtime database (live queries), geo queries, CDN, cache, graphQL, SDK integration, user management, and many more.
The technology stack of this platform is the opensource Parse Server, MongoDB/ Postgres, and NodeJS. Back4app has made several improvements to the code to improve its performance and the functions of the respective dashboards. Therefore, you get more value from all these platforms offered by Back4app.
Back4app also does an excellent job of taking care of scaling requirements. Many apps with millions of users are running seamlessly on Back4app. The top-notch architecture of the platform allows for high performance and reliability.
Back4app offers a free tier while the paid plans start at $5/month. The free plan is great for testing and development while the paid plan should be used for production applications.
Benefits of Back4App
The benefits of using Back4app is as follows:
It is Flexible: The platform allows for managing a unique version of your opensource code to adapt it for your individual requirements.
Easy to Use: The platform is user-friendly. You can code a simple app in just five minutes.
Provides Hosting: This service provides options for reliable hosting. Developers have the option of selecting serverless and dedicated instances hosting options.
CDN: Back4app automatically distributed its content globally through its Content Delivery Network. The CDN covers all locations apart from China. CDN delivery to China would commence very soon.
GraphQL: This latest addition provides support for this powerful query language for your API. It allows developers to retrieve data predictably.
Technical Support: Support is available for Back4App users around the clock. The user can choose a support level that aligns with their needs and budget.
Parse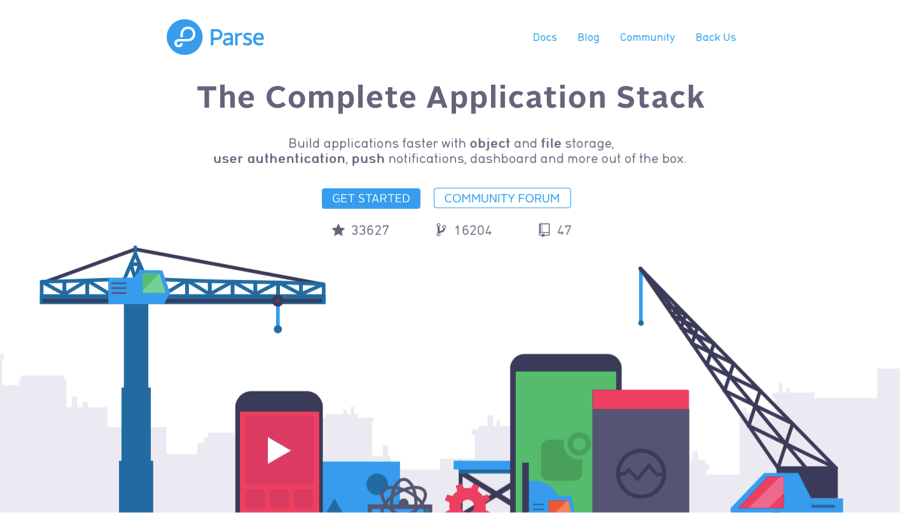 This is an opensource framework that enjoys the support of a vast number of developers that form a community.  Parse has over 3k stars and 15 forks on GitHub. Parse is designed to expedite the procedure of app development for programmers.  The stack of Parse includes an API server module for NodeJS, SDK, Libraries, an App management dashboard, and documentation. Parse use to be a hosted Facebook application, but the social media giant stopped the service in 2017.
Presently, every implementation of Parse has to follow the self-hosting route or use a specialized hosting service. Aside from self-hosting, you can also use cloud hosting service providers such as AWS, Azure, or Digital Ocean. The Parse opensource framework is available for free, but you would have to pay for the hosting with your preferred service provider.
Benefits of Parse
Here are some of the benefits of using the Parse Framework.
Data Management: You can store various types of data types, queries, and pictures and locations with just a few lines of codes. Parse enables you to handle search, filter, and manage content through a web-based browser interface.
Ease of Use: It is easy to use the Parse framework. It takes just about an hour for a newbie to learn the rudiments and create a simple app project.
It is Flexible: Parse open-source framework is quite versatile. It gives you the power to adapt the code to suit the unique needs of your project.
Custom Code: With the Cloud Code Feature of Parse, you can create custom codes through JavaScript.
Multi-Platform Deployment: With access to lots of SDKs, Parse can be deployed on any platform, including web, mobile, and IoT applications.
Supports GraphQL: Parse is the primary platform for deploying APIs through GraphQL that allows the retrieval of data predictably.
Backendless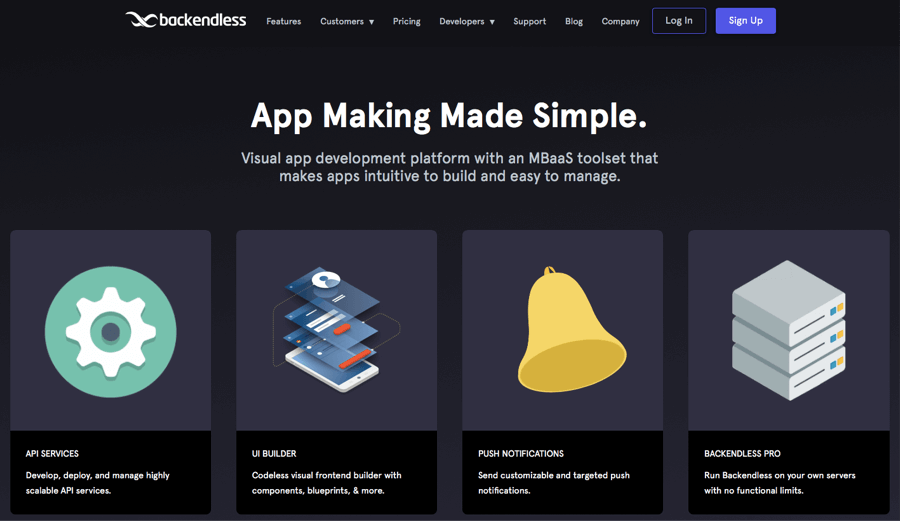 Backendless platform is one of the first to provide backend as a service. They allow their developers to use their framework locally or take advantage of their online service.  Backendless offers a free plan with limited features, while the premium plans start at 15/mo.
Benefits of Backendless
Here are the benefits of using Backendless.
The Standalone Version: This version can work on your local server or on any other cloud service.
Cache: The caching feature works with both the standalone version as well as the cloud-hosted version.
Support: They provide support for their platform users around the clock.
AWS Amplify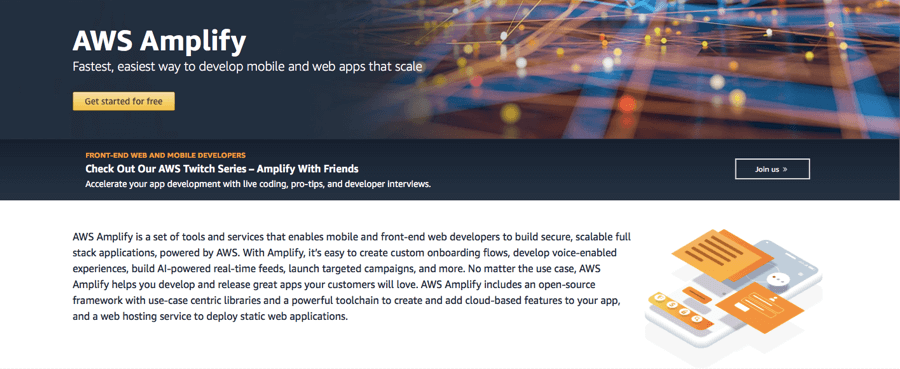 Amplify is an opensource library that integrates seamlessly with Amazon Web Services.  It allows developers to make serverless apps that work with the web, iOS, Android, and React Native.  The platform offers features such as analytics, notifications, storage, and APIs.  AWS Amplify provides a free plan while the premium plan uses a Pay-as-you-Go structure. 
Benefits of AWS Amplify
Below are the benefits of using AWS Amplify.
Content Delivery Network -CDN: This platform integrates with CloudFront easily to deploy content on a global scale.
GraphQL: Supports GraphQL that makes it easy for developers to query the backend with precision.
Atomic Deployment: With this feature, an app can continue working even if there is a crash in the construction process after a new release.
Cloudkit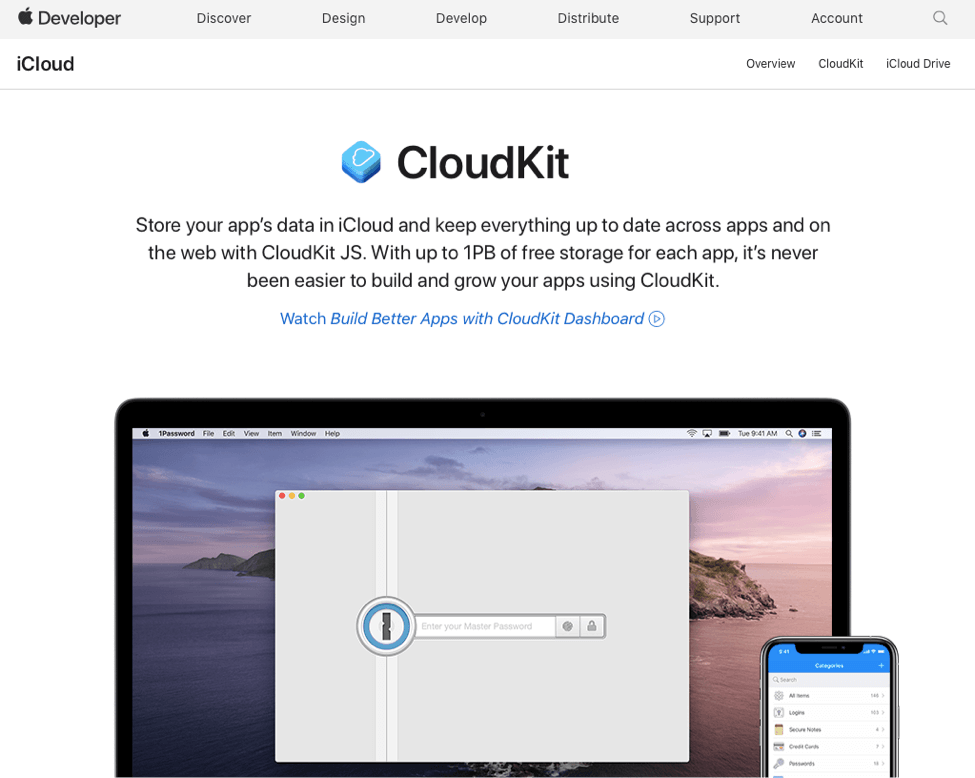 Cloudkit is owned by Apple. It provides a closed-source platform that offers an SDK for the development of iOS applications. Since its launch in 2015, the platform has helped tons of developers create applications that integrate seamlessly with iOS apps.
Some of the features of the platform include database, file storage, authentication, and many more. The platform allows iOS developers to focus on client-side development. CloudKit integrates with iCloud authentication support to store its data on the cloud. The features of Cloudkit is limited compared to other platforms listed here. The cost of the service also mounts up very fast at $100 for every ten requests.
The fact that Cloudkit is a native SDK for iOS is the primary advantage of using this platform. Native apps integrate with iOS and can access use the built-in functions of iOS devices seamlessly. As such, native apps excel in performance, experience, and design.
Kinvey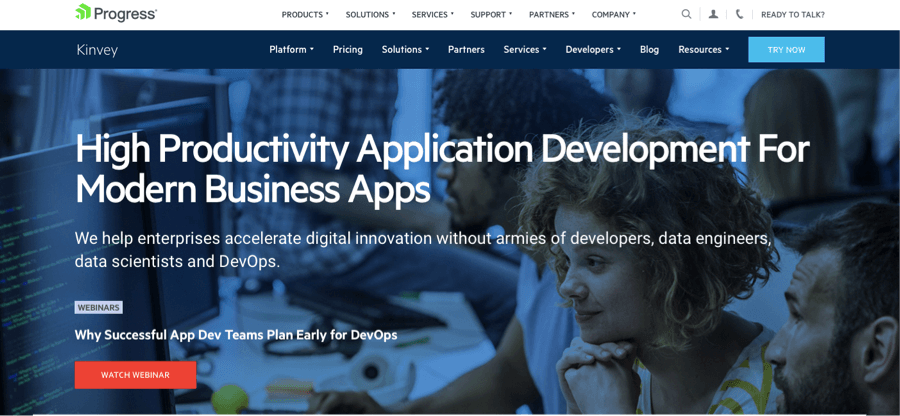 Kinvey is an enterprise-level backend as a service that was acquired by Progress Software . This platform provides a serverless design for running enterprise apps. The features of this platform are authentication, database, location services, and push notifications.  Kinvey offers bundled packages that include hosting and operations. The pricing is perhaps on the high side, starting at $24k per year. However, Kinvey also has a free plan that is limited to 100 app users.
Benefits of Kinvey
The benefit of Kinvey is as follows:
It is Perfect for Enterprise Integrations. So, it is mostly used for platforms such as Salesforce, SAP, Workday, Oracle, and Microsoft Active Directory.
Operations Intelligence Tool: The platform offers compliance and analytic reports. It allows the creation of HIPAA compliant apps for the healthcare industry.
Technical Support: Support is available around the clock through multiple channels.
Firebase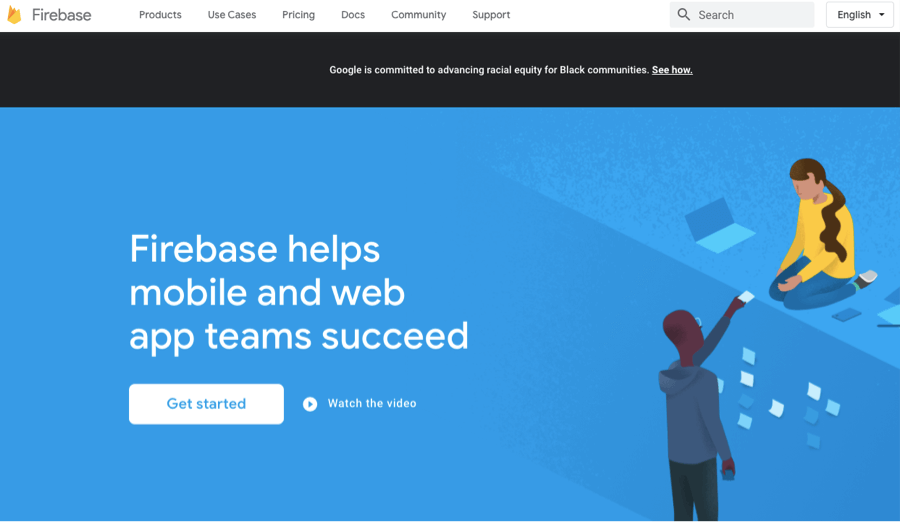 Firebase was acquired by Google in 2014, and its product integrated into the service offerings of the search engine giant. Firebase is a closed source platform designed to enhance application development. Firebase supports features such as realtime database, authentication, analytics, and hosting. A free plan is available with limited features, while the paid plan starts at 25/month.
Google took over Firebase and further improved the platform in the following three core areas:
Development Features: The user can access a suite of tools that accelerate app development, such as realtime database, user authentication, storage, machine learning, and cloud functions. The cloud Firestore has features that allow for syncing of data, query, structure data among multiple devices. It can also sync online with offline data.
Analytics Services: With Firebase, you have access to extensive mobile analytics data that are valuable for improving app performance. Some of these analytics data include crash reports, Google Analytics, and performance monitoring. It also has a test laboratory that automates testing procedures.
Growth: Firebase integrates seamlessly with AdMob, which allows you to run in-app adverts. Additional tools for growth include some functions for messaging, dynamic links, and A/B testing.
Benefits of Firebase
The benefits of using Firebase is as follows:
Realtime database: With this feature, developers would find it easy to crease messaging apps like WhatsApp that need to update data instantly.
Machine Learning: At this time, Firebase is the only backed as a service platform that provides support for machine learning. The user can access a group of APIs that supports feature such as face recognition and OCR scanning.
Ad Mob: You can monetize your app seamlessly by integrating with the Google global ad network.
Azure Mobile Apps 

Microsoft also has a voice in the backend as a service industry. The Azure Mobile App is a Microsoft-owned platform that integrates with Xamarin and Azure. 
Benefits of Azure
The benefits of using Azure is as follows:
Security: Users enjoy enterprise-level security for their apps.
Offline Sync: Users can sync their data automatically from offline to the cloud
Active Directory Integration: This feature allows the user to integrate active directory sign in into their apps.
Kumulos

Kumulos is a backend as a service is designed for mobile app development agencies and companies providing mobile digital services.  They have lots of features that include reporting, analytics, push notifications, app store optimization, and lots of others.  It has three sets of plans designed for Startups, digital agencies, and Enterprises. 
Benefits of Kumulos
The benefits of Kumulus include:
Crash Reporting: This feature helps developers troubleshoot and resolve issues with their apps faster.
App Store Optimization: This feature is only available on this platform. It's a unique BaaS feature.
Agency Console: With this feature, a software development company can manage multiple apps under a single account.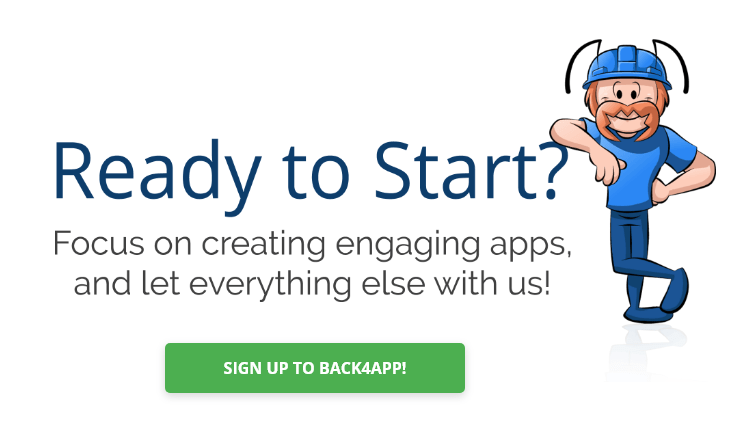 What is a mBaaS – Mobile Backend as a Service?
Mobile Backend as a Service, which is often referred to as mBaaS or BaaS is a platform that handles service infrastructure and backend development tasks.
Are mBaaS and BaaS the same thing?
The abbreviations BaaS and mBaaS basically stand for the same thing since you can use Backend as a Service to power both web and mobile projects.
What are the best mBaaS providers?
– Back4app
– Parse
– Backendless
– AWS Amplify
– CloudKit
– Kinvey
– Firebase
– Kumulos