Oracle Mobile Hub: Top 5 Alternatives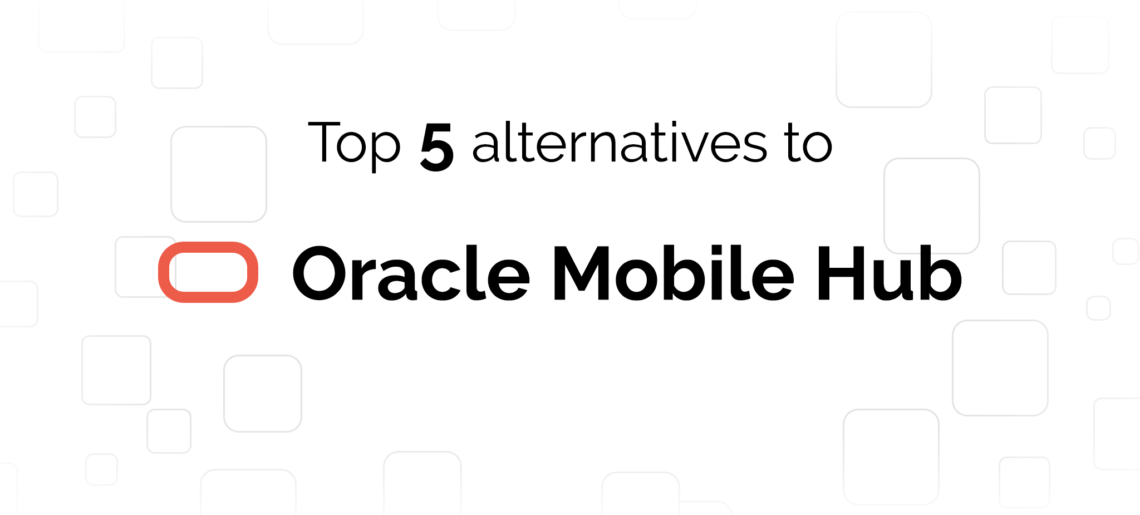 Oracle mobile hub is one of the best mobile platforms which can bring amazing and better opportunities to build, deploy and manage mobile applications quickly. This is not only offering real-time data access but also bringing better opportunities to manage multiple APIs in a more effective way. Even more, it will let developers connect the application with on-demand third-party systems with ease.
Top 5 Oracle Mobile Hub Competitors
Here are some top alternatives to Oracle mobile hub which you must know:
Back4App
Back4App is one of the most effective, scalable, and flexible solution which can help you to manage application development in the best possible way. you can manage your entire backend services more conveniently. Even you can get better application hosting services to manage entire things at the same platform.
Features
REST and GraphQL API
User and email authentication
Real-time databases
Cross-platform SDKs
To know more about Back4pp features, please read here.
Benefits
Highly optimized storage
Essential security features
24/7 support services
Smoother migration.
Built.io
This is a great platform that can enable developers to embed highly powerful data integration services and ensure end-user connectivity to let them experience more convenience and ease in the best possible way.
Features
Leverage a flexible suite
Quick to scale services
Essential security features
Benefits
Based on highly trusted technology
Best opportunity to avoid technical stress.
Flexible and scalable services
Kinvey
Kinvey is one of the most effective mobile solutions which is offering wide range of ready to use services and will help the developers to avail easier application management solutions in a more effective way. This can also allow them to utilize native and cross-platform applications. Along with this, user can also get better and more effective rapid to market options.
Features:
Drag and drop builder
Access to complete source code
Code sharing between mobile and web platforms
Data-connected templates
Benefits
Easy to build backend
Auto-scale
Flexible support for modifications
Easier to integrate services
IBM mobile Foundation
This is a highly secure mobile access gateway which is meant to simplify integration processes with cloud and backend services. IBM mobile foundation can deliver enterprise-grade capabilities to design and support unique and next-generation application development and deployment solutions.
Features
App lifecycle management
Cognitive APIs for mobile
Comprehensive security features
Microservices access
A/B Testing
Offline sync
Benefits
Develop intelligent applications
Comprehensive tools stack
Real-time feedback
Streamlined repeatable processes for incremental applications
Salesforce Heroku
This platform is meant to help developers in creating and deploying cloud applications. This can bring a responsive layout to the users and can provide comprehensive tools and services to integrate and automate processes with third-party programs. This can help the developers to manage applications which are coded in open programming languages such as Ruby, Java and PHP.
Features
AI Services
Process Automation
Integration Services
Benefits
Scalable services to manage automatic updates
Flexible cloud infrastructure
Easier to manage application development lifecycle.
It can automate application development processes effortlessly.
Conclusion
There are multiple alternatives to Oracle mobile hub are available in the market. We have brought some of top options for you. You can get a better chance to choose any of the available options as per your needs. Have a look at complete overview of top Oracle mobile hub competitors to make a better decision.
Would you like to have more information about backend solutions? Please read What is a BaaS.
What is Oracle Mobile Hub?
Oracle mobile hub is one of the best mobile platforms which can bring amazing and better opportunities to build, deploy and manage mobile applications quickly.
What are the alternatives to Oracle Mobile Hub?
– Back4app
– Built Io
– Kinvey
– Heroku
– IBM Mobile Foundation