Outsystems Alternatives: Top 5 Providers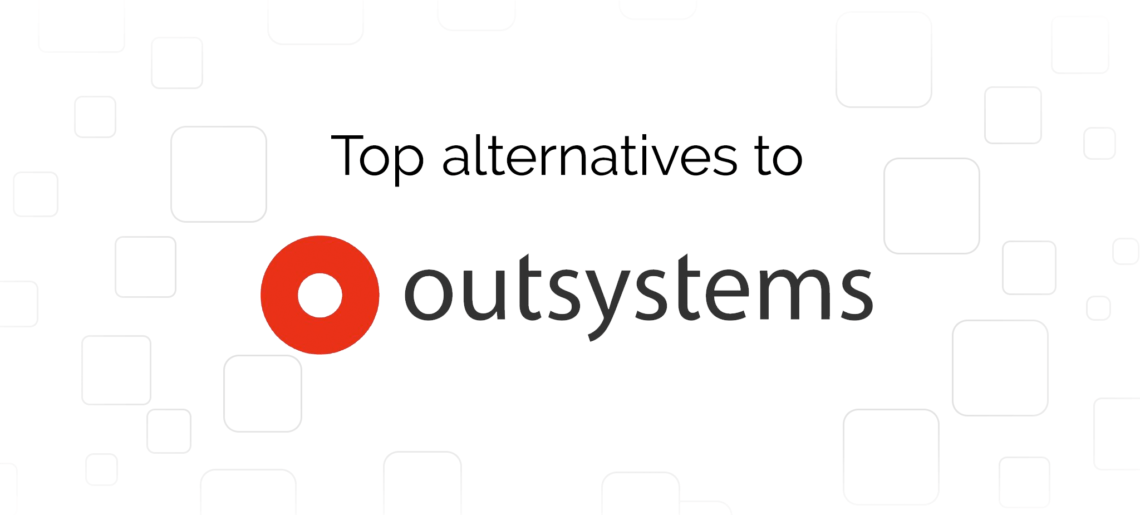 Coding platforms are essential for developing mobile apps. Outsystems is one of the most popular coding platforms in use today. However, there are several Outsystems alternatives available in the market today to those looking for something different.
What is Outsystems?
Recognized by Forrester and Gartner for its quality and performance, Outsystems is a coding platform that can handle low-level operations.
Features of Outsystems
You can find the following features when using the Outsystems platform.
Data synchronization without Internet connectivity.
Convenient cross-platform support for apps.
App update through single clicks and the platform tracks every change.
Benefits of Outsystems
Listed below are some advantages of using Outsystems for app development.
Availability of free trial – Apart from a limited period free trial, the platform offers a free version to save money during app development.
Guides available – A handy guide is available to Outsystems users, which includes courses, study guides, and webinars detailing the workings of the platform.
Outsystems Pricings
You can choose from three versions of Outsystems. Each version has different offerings and their prices vary as well.
Free Version – This version is completely free with no hidden charges.
Enterprise Version – Billed annually, this version costs $6,250 per month.
Universal Version – Billed annually, this is the top version costing $15,000 per month.
Top 5 Outsystems Alternatives
If these prices prove too much for your organization, you have many alternatives to Outsystems. Listed below are some of the best ones available to companies.
Back4App
Back4App is a handy backend platform that can automate backend development, giving developers precious time to focus on the front-end of application development.
Features – When using Back4App, developers can utilize a range of features, including Cross-Platform SDKs, GraphQL, Real-Time Database, Backup Routine, Replica Set, Cloud Code Functions, Social login, GeoQueries, Auto-scaling, Web Hosting and much more.
Benefits – Listed below are some advantages of using Back4App as your coding platform.
Optimized options for storage
Database graphical interface
GraphQL and REST APIs
Scalability of solutions as per your requirements
Feature-rich service
Pricing – A free version is available and only a few features are unlocked in this version. Paid versions start from $5 a month and go up to $1,000 a month.
Want to know more about Back4app? Please check here the full list of features.
Mendix
Mendix is another Outsystems alternative that has found favor in the app development industry. It is one of the easiest to use and also the fastest low-code platform available today.
Features – Listed below are some of the features of Mendix
Enterprise integration
Centralized governance of apps
Drag and drop building facility
Private or Public app stores
Multi-device, multi-channel approach
Benefits – Here is why Mendix is such a popular low-code platform.
Management of application, resources, and configurations from a central dashboard.
Updating and changing functionalities is simple with the help of a 1-click approach.
The visually-driven development model allows for faster development cycles.
Allows cross-device support for your applications.
Pricing – A free version is available online. However, paid versions include all available features. The paid version starts at $1,875 per month, which is billed annually.
Appian
A leader in low-code app development and business process management, Appian has revolutionized the mobile app development industry.
Features – Some of the features that make Appian a worthy alternative to Outsystems are –
Effective utilization of visual development tools for faster and easier app development.
Instant mobility for your apps without any complexities.
Cross-device support for all designed applications.
Effective UI creation to suit the program's applications.
Benefits – The following factors make Appian the perfect low-code platform for your app development.
Due to the rapid development process, companies can release products faster.
The limited-time required for development decreases the cost of production for the organization.
Customer experience improves significantly when using the platform to design applications.
Pricing – The application edition is priced at $75 per user per month, while the enterprise edition costs $150 per person per month. A free version is also available with significantly limited features and functionality.
Dell Boomi
Dell Boomi is the best way to accelerate your business and app development. The company specializes in API management and cloud-based integration.
Features – If you are looking for Outsystems alternatives, the following features of Dell Boomi make it the ideal candidate for all your mobile development needs.
Detailed activity logs
Complex integrations are automatic
Automatic update integration
Drag and drop, as well as, point and click tools for faster development
Predictive assistance
Benefits – Read on to understand some of the benefits of using the Dell Boomi platform for your app developments.
Prioritizes visually-driven development tools. Developers can drag and drop items for easier and quicker change implementation.
It offers the ability to package every element of your application at once.
Manage version control easily.
Cross-platform implementation of the application, working perfectly across mobile, computers and tablets.
Pricing – Several editions of the platform are available to developers.
Red Hat OpenShift
It is yet another effective alternative to Outsystems, specializing is fast development, deployment and scaling containerized applications in the public cloud.
Features – Listed below are some features of the OpenShift platform.
Follow a standardized workflow, streamlining the process
Support for multiple stages of the app development, ranging from development, quality analysis, pre-production, and production stages.
Build management and deployment facilities.
Benefits – Consider the following advantages of OpenShift before picking your low-code platform.
Faster development procedure, allowing you to deploy your apps quicker.
The option to enable DevOps and promote collaboration across an entire department.
Self-service is another crucial aspect of app development. OpenShift allows your developers to handpick the tools they are most comfortable using from a wide selection.
Pricing – A free version is available for use. However, the most useful features are locked in the free version. Subscriptions for OpenShift start at $50 per month.
Conclusion
While Outsystems is a reputed low-code development platform, it is not the only one in use today. Most companies prefer cheaper options that offer the same features and benefits to developers.
The platforms mentioned above are just some of the most popular coding platforms. You can proceed to find more options online, each offering something unique and useful for fast and inexpensive mobile app development.     
What is Outsystems?
Recognized by Forrester and Gartner for its quality and performance, Outsystems is a coding platform that can handle low-level operations.
What are the features of Outsystems?
– Data synchronization.
– Convenient cross-platform support for apps.
– App update through single clicks
What are the best alternatives Outsystems?
– Back4app
– Mendix
– Appian
– Dell Boomi
– Red Hat