The best databases for your React Native application
The goal of this article is to guide you through the best available database options for your React Native app. Below is an overview of the sections in this article.
An Overview of React Native
The Benefits of React Native Development
Factors to Consider While Selecting React Native Database
The top ten databases for React Native
An Overview of React Native
React Native is a JavaScript framework that does an excellent job creating native Android and iOS mobile apps. The framework is designed after React, the popular JavaScript library used for developing application user interfaces (UIs.) On the other hand, React Native is designed for mobile and not web-based apps.
One of the unique features of React Native is that it facilitates the creation of native apps using a popular JavaScript library. Moreover, it is also useful for cross-platform app development as React Native codes can be deployed on Android and iOS.
React native combines JavaScript and JSX (an XML-like markup language), and it renders apps through a mobile interface instead of web views. It's rendering APIs uses Objective -C for iOS and Java for Android. That is why React Native apps have the look and feel of native mobile apps.
The support for JavaScript platform APIs allows React Native apps to access native features such as camera and geo-location on Android and iOS. This support for native features may be extended to other mobile platforms in the future.
The Benefits of React Native
React Native is a great way to develop high-quality cross-platform apps with a minimal budget. It connects to the platform's native API components to create apps with the look, feel, and function of native apps. Below are the benefits of React Native for Mobile app development.
| | |
| --- | --- |
| Benefit | Details |
| It is fast and saves costs | React Native is a great way to develop apps on a shoestring budget. Such apps can be deployed for Android, and iOS helping you save tons of money on development costs by reducing engineering hours. Features such as real-time error detection reduce debugging costs and enhance quality app delivery. |
| Standard Technology | React Native negates the need to use multiple development teams to create Android and iOS apps. Over 90% of React Native codes can be deployed on both Android and iOS. In essence, a single development team can use React Native as a standardized technology to create both Android and React Native apps. This approach makes the apps more manageable. |
| Easy to Deploy Building Blocks | Developers can leverage the pre-built components of React Native to expedite app development procedures. For instance, the code that handles an app function can be used in another app with minimal modifications. |
| Hot Reload Functions | React Native can make modifications to apps in real-time. All that is required is to refresh the app after changing the code. So, developers can keep track of app changes in real-time. |
| Access to Massive Plugins | While other development platforms have minimal support for third-party plugins, this is not the case with React Native. Developers can access a vast array of well-tested plugins for React Native. Therefore, it gives developers a higher level of flexibility to customize mobile apps with third-party plugins. |
| Modular Architecture and Declarative Coding | The declarative coding function of React Native offers developers a hassle-free and flexible way to create apps. Also, they can separate different app functions into modules. This feature enhances code management and makes the procedure for updating apps easy. |
| Neat User Interface | The user interface of React Native apps is simple, offering users a better experience and a faster loading time. Developing apps on other platforms requires a systemic approach to avoid complications. This is not the case with React Native because it provides a step-by-step development procedure. |
Factors to Consider While Selecting React Native Database
Selecting the right database goes a long way in enhancing an app development project. Here are some factors to consider while researching for the best database for your app development project.
Should you use a relational (SQL) or non-relational (NoSQL) database?
Opt for an opensource of a proprietary database?
Can you scale your database without hassles?
Top 10 Databases for your React Native app
Below is the selection with the best ten database services for your React Native mobile app.
Back4app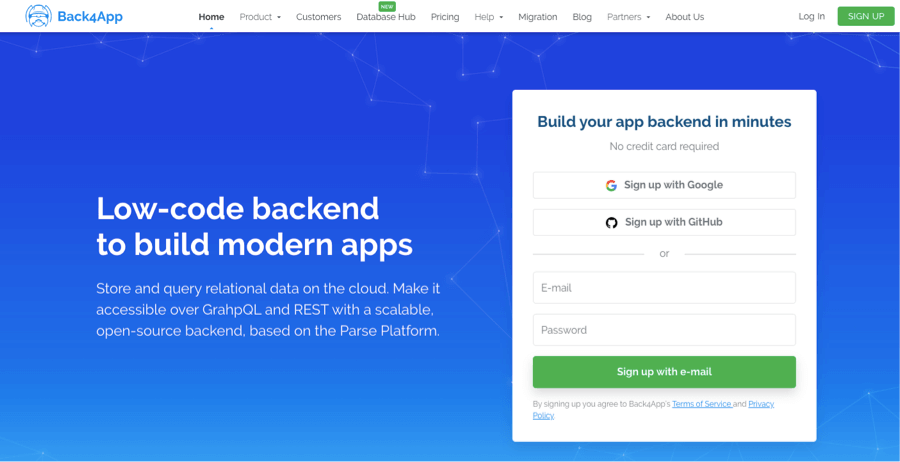 Back4app offers developers extensive tools and resources for creating successful mobile apps. For instance, developers can create APIs without writing a single code. Back4app also provides a comprehensive cloud-based backend that includes a database and tools that expedite the creation of relational data models and data queries. It also integrates seamlessly with third-party platforms. Back4pp is based on the highly successful Parse server and other open-source technologies.
Cloud Firestore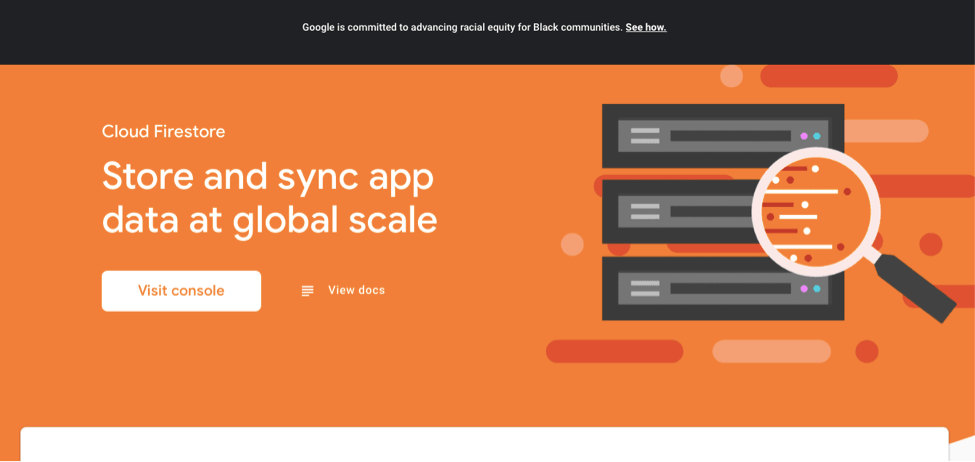 Firestore is a flexible and easy to use database that works excellently for web, mobile, and server app development on Firebase and the Google Cloud Platform. It is known to sync data to all connected devices instantly using real-time listeners. Firestore also features offline support, allowing apps to function where internet connectivity is poor or completely unavailable. It integrates seamlessly with Firebase products and the Google Cloud Platform.
Firebase Realtime Database

Real-Time Database is a cloud service that stores data as JSON and syncs the same among connected devices in real-time. One of the Realtime database's unique features is the sharing of a single instance among Android, iOS, and JavaScript SDK connected clients. That is why all connected devices get the same updates instantly. This database is an excellent option for creating collaborative apps that offer safe and direct access to the database.
WatermelonDB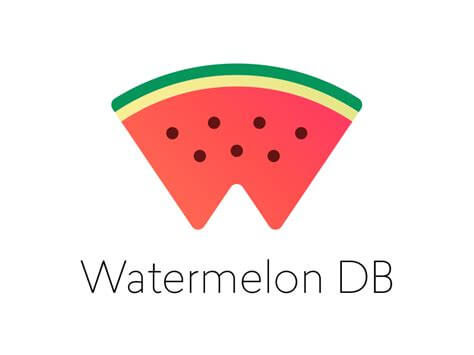 WatermelonDB is a reactive database framework packed with many useful features for developing quality React Native apps. It is designed for enhanced performance and can handle complicated database assignments for React Native apps.
Realm

Both novice and experienced developers can use Realm for their mobile app backend without many hassles. Realm apps are known for their high quality because the platform is purpose-built for mobile development. Perhaps, the best part is that developers can use Realm for cross-platform development as well.
AWS RDS

The Amazon Relational Database Service, also known as AWS RSD, provides a simple way to create managed and scale relational database in the cloud; The platform offers features such as automating the database setup, hardware provisioning, and automatic patches and backup. Besides, it also supports resizable capacity and provides a cost-efficient pricing structure. This platform handles all the backend hassles, allowing developers to focus more on creating apps with high performance, compatibility, and availability.
AWS DynamoDB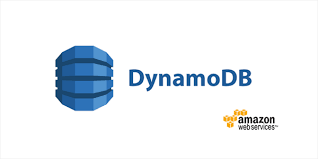 The DynamoDB is a document-based database by Amazon that is known for its single-digit millisecond performance. Some of the features of this fully-managed database solution include app security, seamless scaling, memory caching, data backup, and restore. It can manage up to 20 million requests per second and handles over 10 trillion requests per day.
DigitalOcean Managed Databases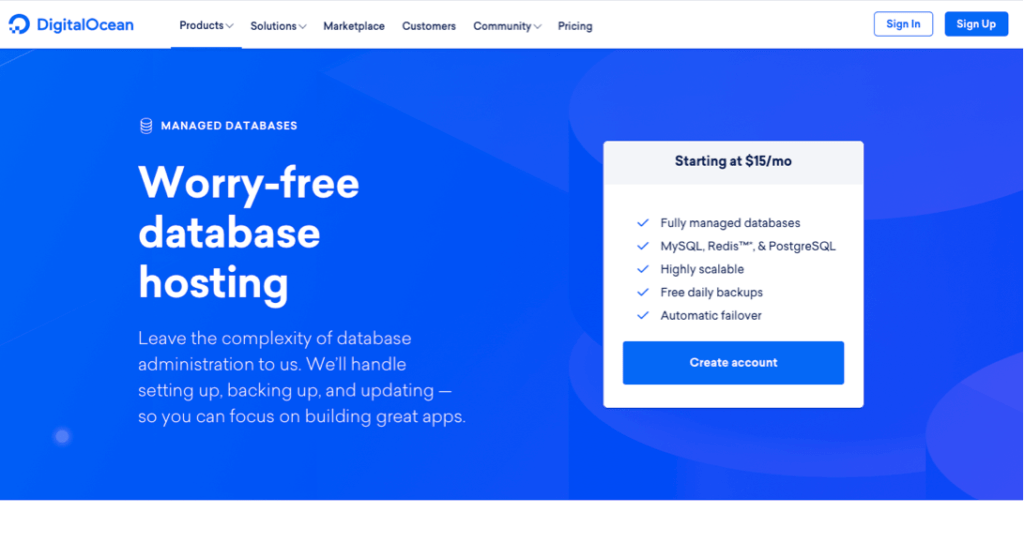 DigitalOcean, one of the leading cloud service providers, offers a high-performance fully-managed database cluster service packed with useful features. It provides standby nodes for availability, end-to-end SSL encryption, and PITR (point-in-time) recovery. It is an excellent choice for those who prefer a hands-on approach to create, securing, and managing databases.
Google Cloud Databases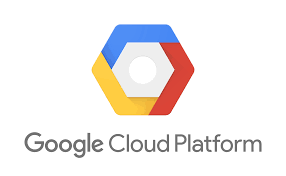 This fully-managed database from Google allows its users to install, run, and manage a relational database on the Google Cloud Platform. Users can choose from regional, multi-cloud, and hybrid architecture for global data distribution.
PouchDB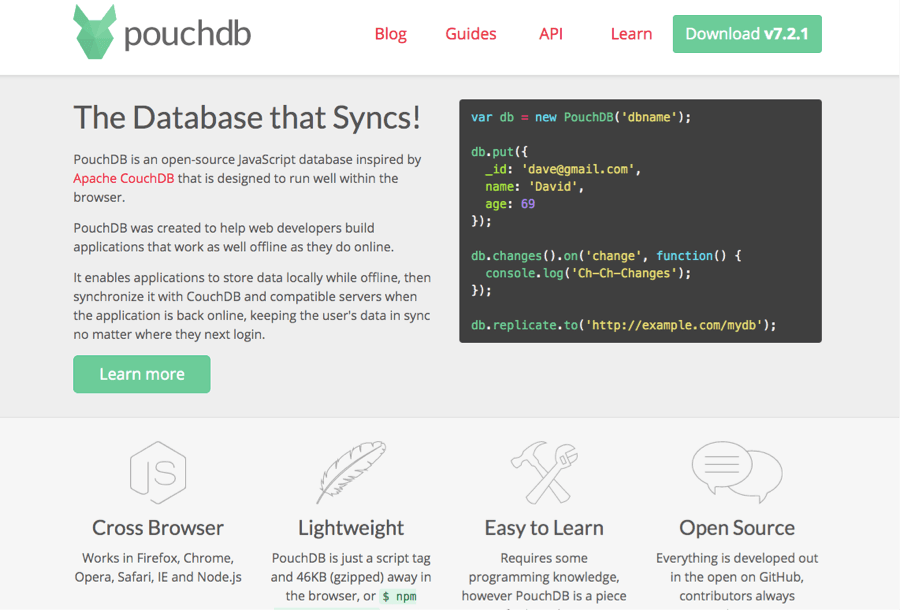 PouchDB is a browser-integrated database that provides support for offline and local storage. It is a free and opensource JavaScript model of the CouchDB that has been widely adopted among developers.
A Final Note
The databases and platforms listed above are the leading databases for React Native. You can review these platforms based on your needs for SQL/NoSQL. Other factors worth considering include scalability and your preference for open-source/proprietary database platforms.
FAQ
What is React Native?
React Native is a JavaScript framework that does an excellent job creating native Android and iOS mobile apps. The framework is designed after React, the popular JavaScript library used for developing application user interfaces (UIs.) On the other hand, React Native is designed for mobile and not web-based apps. 
What are the benefits of RN?
– Saves costs
– Standardize the technology
– Hot reloads
What are the best databases for React Native?
– Back4app
– Firestore
– Realtime Database
– Realm
– PouchDB
– WatermelonDB
– Digital Ocean DBs
– Dymano DB
– RDS
– Google Cloud Databases