Top 5+ Resource Planning Tools for Startups
Resource planning is crucial for young businesses even though they are commencing their startup journey with insufficient funds and staff. Therefore, to efficiently administer and label company resources, startups can consider using the following resource planning tools.
Top 5 Resource Planning Tools for Startups
Here are the best resource planning tools for startups: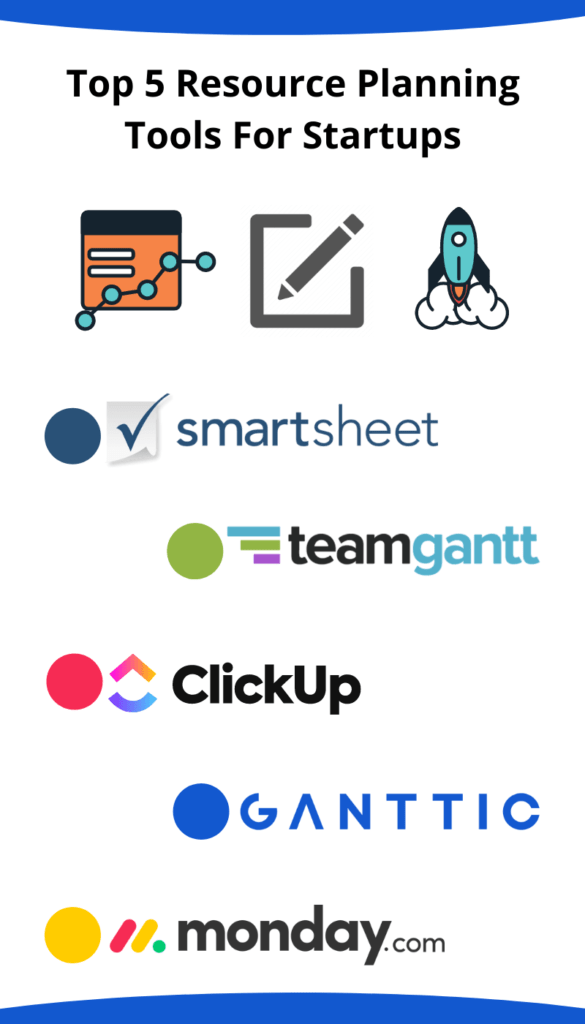 Ganttic is one of the best resource planning tools for startups that is trusted by 1500 well-reputed businesses. It offers simple scheduling, resource management, and project portfolio administration to improve efficiency from the last 10 years.
Features
Flexible — It is a flexible software that allows businesses to make convenient bookings and ergonomic planning through drag and drop options.
Smart Tool — If you want to view the whole picture of your resources in a concise form, then Ganttic would assist you through Kanban boards, charts and reports. You can also analyze these reports from unique POVs.
Controlled Sharing — Entrepreneurs can give access to resources according to the position of different team members. So, they can keep the planning secure and transparent.
Pricing Plans
Startups can utilize Ganttic for free of cost up to 10 resources. However, it costs $25 for 20 and $229 for 250 resources on a monthly basis.
It is another cloud-based resource management platform that was made public in 2012. The smooth interface and dashboard of Monday.com enable businesses to manage their resources and customize workflows conveniently.
Moreover, around 100,000 business teams benefit from this tool. It is a great option for large and small teams.
Features
Easy Integration — To improve your workflow and efficiently utilize resources, you can integrate this tool with third-party apps like Microsoft Teams, Slack, Excel and Google Calendar.
Efficient Collaboration — It keeps the teams informed about all available resources, manage tasks, team communication, time tracking, updates and budget approvals through its quality communication system.
Custom Automations — Startups can't only view the project with Gantt Charts. But they can also automate different notifications and updates within a few clicks.
Pricing
The Individual plan of Monday.com doesn't charge anything for up to 2 seats. Withal, the per-seat monthly charges of its Basic plan start from $8.
TeamGantt is a top-notch resource planning software that startups can use to create Gantt Charts and analyze all projects on a single screen. Providentially, more than 1 million users are practicing this tool, and its notable customers are Amazon, Nike and Netflix.
Features
Simple & Free — Drag and drop properties make this tool handy to use for new businesses. In addition, small ventures can utilize TeamGantt free of cost up to 3 users without adding a credit card.
Mobile Application — Another good thing about TeamGantt is its mobile application. Both web and mobile interfaces of this app are equally useful for startup teams to manage resources and collaborate.
Real-Time Progress — Users can witness the real-time progress of any project without mailing or asking for meetings.
Pricing
Small businesses can use this tool without paying anything for 60 tasks and 1 project. On the contrary, startups paid plans start at $19.90/month under its Standard Plan to get assistance for unlimited projects.
ClickUp is a fast-growing resource management platform that was founded in 2017. More than 800,000 teams have relied on this software in this short period. The major giants that are using ClickUp are Google, IBM and Booking.com.
Features
Task Management — With the support of 35+ ClickApps, it is easy for startups to customize and administer tasks. You can also modify or add the ClickApps without using codes.
Team Collaboration — Real-time editing, 2-way calendar sync, mentions, and list details improve team collaboration.
Pricing
Entrepreneurs can use ClickUp free under its 'Free' plan for their personal use. Still, it is better for SMEs to consider it's 'Unlimited' or 'Business' program that only costs you $5/month or $9/month, respectively.
Smartsheet is an amazingly flexible resource management tool that was founded in 2005. It is the best choice for international users who want to interact with teams in their own language. Indeed, it supports languages like Japanese, French, Spanish, English, Russian and German etc.
Features
Efficient Resource Management — It supports adding clients, importing employees' projects and providing other tracking properties to handle resources efficiently.
Team Collaboration — You will find this tool the best option whether you want to communicate with teams, top-level management, clients, or want to leave feedback effectively.
Pricing
Pro and Business are major packages that Smartsheet confers to its users. Per-user monthly charges of Pro and Business plan are $7 and $25, respectively.
ProofHub is a widely used project resource planning tool that simplifies work allocation, task scheduling, and reporting. With a userbase of more than 85,000 teams and businesses, it centralizes scattered resource planning and management functions onto a single unified platform.
Features
All-in-one Tool – ProofHub offers 8 essential work apps that reduce dependency upon several tools for resource planning functions. Everything from scheduling, booking slots, and communicating updates can be done from one place.  
Project Visualization – visualize team member workloads, available resources, and resource scheduling using rich Kanban Boards and Gantt Charts. A visual approach makes it easier to comprehend various information points for managers. 
Detailed Reporting – Managers get access to fine-grained reports for measuring the performance of resources and getting business insights for better planning. 
Pricing Plans
ProofHub is available at a flat monthly fee of $89 which includes unlimited projects for comprehensive resource planning.
Conclusion
Hopefully, these resource planning tools would assist the startups in dealing with the available assets smartly, budget and employees to grow quickly.
Would you like to learn more about startup tools? Please read the article The best tools for startups.
FAQ
What are the best resource planning tools?
– Ganttic
– Monday
– TeamGantt
– ClickUp
– SmartSheet
– ProofHub