Top 5 Schedule Management Tools for Startups
Scheduling is very crucial in businesses because it lists the deliverables, activities and further milestones to improve time management and efficiency.
Moreover, startups can also set their priorities and enhance team collaboration with the help of better scheduling. However, it is complicated to single out one schedule management tool in this regard.
That is why we share one of the best schedule management tools for startups with their core properties and pricing structure. Keep reading to know more about the scheduling management tools list.
Top 5 Schedule Management Tools for Startups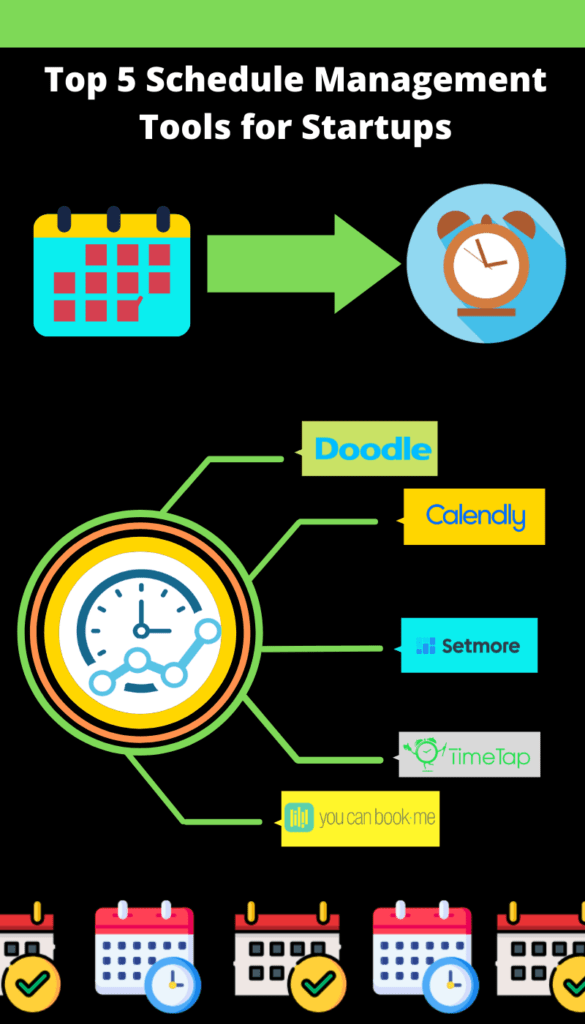 Calendly is one of the top schedule management tools that is being trusted by 10,000,000 users around the globe. It provides great assistance in on-demand scheduling, workflow management and meeting arrangements.
The major companies that are using Calendly are eBay, Lyft, Twilio, Compass and Dropbox.
Features
Easy Synchronization — Users can conveniently connect this schedule management tool with CRMs, mobile applications and payment gateways to organize projects smoothly.
Workflows & Embeds — Calendly could be embedded into websites and emails to streamline different events and meetings. Similarly, it also imbrutes the messages before and after sessions.
Team Management — Team management is seamless with Calendly. Businessowners can change the team permissions quickly through this tool.
Pricing
The Basic plan of Calendly comes with an 'always free' tag. However, with extended features, its Essential and Professional program charges are $8 and $12 per month and seat, respectively.
If you want a reliable booking tool for your startup venture, then you can consider You Can Book Me. This is a simple scheduling platform that 22k customers are using globally, and its daily booking ratio is around 61k.
Features
Appointment Padding — It adds gaps before and after the appointments to give enough time to business personnel to be ready for a meeting.
Multiple Booking — To enhance the selection capacity of startups, this tool can also book more than one appointment per slot.
Booking Controls — It gives excellent control over bookings, and startups can set dates, prices, and durations of different appointments. Fortunately, it also provides Captcha testing features to avoid bot registrations.
Pricing
This schedule management tool offers a flat rate and only charges $10 per month from businesses.
Setmore is an advanced schedule management tool that works for both macOS and Windows. This scheduling software is the best option if you want an industry-centric tool for your young company.
Indeed, it provides customized solutions for education, medical, sales, spa, real estate, pet and tour booking sectors.
Features
Booking Page — Its unique booking page permits your customers to book their appointments independently without any support.
Easy Integration — Businesses can easily connect this scheduling tool with their websites, social media accounts and video meetings. In addition, QR codes scanning is also possible with this software to allow the entry of a member in a meeting.
Secure Payments — It authorizes the Stripe, PayPal and Square payments and even customers can use their credit or debit cards to make payments.
Pricing
It is entirely free to use Setmore for up to 4 users. The monthly charges of its Premium plan are $9.
TimeTap is another online schedule management software that is equally helpful for businesses of all sizes. It only takes 10 minutes to set up your account and to commence the booking procedure.
It has made more than 4 million appointments since its launch. The notable companies that are using TimeTap are IBM, Uber and Steelcase.
Features
Appointment Management — This easy online booking method respects the time of customers and businesses. You can smoothly conduct appointments without sending back and forth emails.
Flexible Availability — It sleekly schedules appointments and gives proper breaks for tea, launch and further activities. By the same token, if the timing of staff members varies, then it can also be a reliable tool to arrange suitable appointments.
2-Way Sync Calendar — Businesses can integrate this appointment tool with Office 365, Exchange, iCloud and Google.
Pricing
For 1 staff and 1 location, its Starter plan is free to use. The monthly fee of its Professional plan for teams is $39.95.
If you are dealing with busy clients and running a B2B startup venture, then Doodle is the best appointment tool for you. It helps businesses to avoid email games while making appointments.
Features
1:1 Meetings — It rapidly schedules 1:1 meetings with target clients without availability problems.
Advanced Integration — The advanced integration of this tool enables businesses to connect its API with other platforms and Zapier.
Pricing
The monthly cost of its Pro and Teams plans are €6.95 and €8.95 per user, respectively.
Conclusion
Hopefully, our list of top schedule management tools helps the startups to make the right decision while picking the booking and appointment software.
Please read the article Amazing Startup Tools to discover productivity tools for startups.
FAQ
What is schedule management?
Listing activities, deliverables, and milestones within a project.
What are the benefits of schedule management?
– Improve communication
– Provides a goal
– Reduces delivery time
What are five of the best schedule management tools for startups?
– Calendly
– You can book me
– Setmore
– Timetap
– Doodle