Top 10 SEO Tools for Startups
The need for digital marketing and improved online ranking and reputation is enhancing day by day. All kinds of businesses demand promising SEO approaches and strategies to engage customers through search engines including Google, Bing, Yahoo!, Baidu and YANDEX.
However, it is challenging for startups to shortlist SEO tools to polish their search engine positions. Therefore, this article presents one of the best SEO tools with their core features and pricing models.
Top 10 SEO Tools for Startups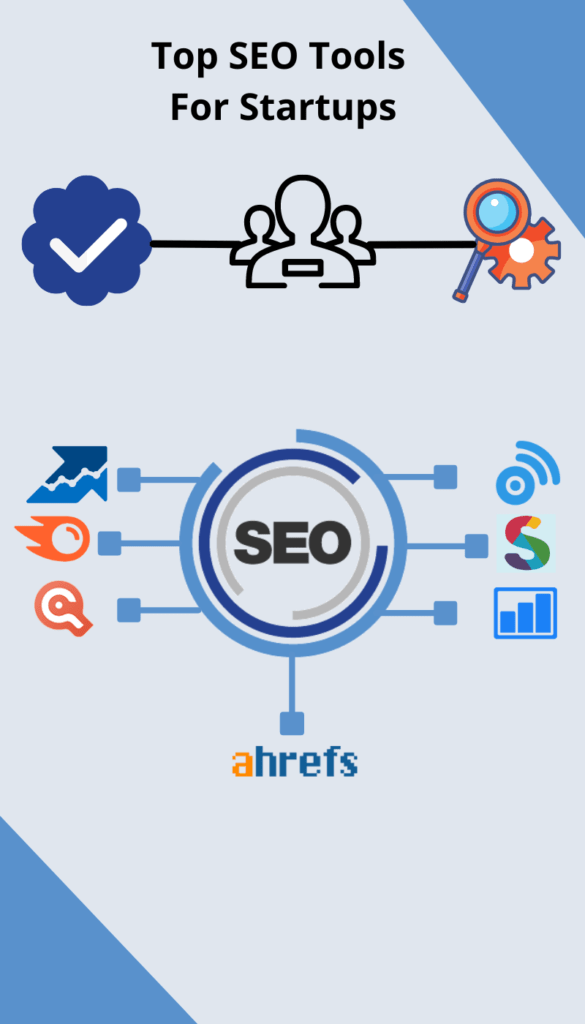 Here are the top-rated SEO tools startups should use to run their search engine optimization campaigns effectively. Some great tools are:
Whether you want to know the domain authority of your website or want to check its spam score, the use of Moz is always beneficial.
This powerful search engine optimization tool was launched in 2004 by Gillian Muessig and Rand Fishkin with the name of SEOmoz. But later, they changed it to Moz.
Features
Moz Local — The core Moz product that startups should utilize is Moz Local. This tool aids local businesses to improve their online rankings and reputation through reviews, SEO and many other approaches.
Keyword Explorer — Finding easy to rank keywords is not an effortless job for young businesses. But with the assistance of Keyword Explorer, companies can find a variety of keyword suggestions for their products. Indeed, this tool offers 500 million keyword suggestions.
Moz Pro — It is basically a premium product of Moz, but it grants unlimited benefits to users. Yes, Moz Pro provides site audits, rank tracking, keyword analysis, page optimization, link building and much more.
MozBar — Moz is a convenient tool, and startup companies can just install its browser extensions and examine the DA, PA and spam scores of their websites within a few clicks only.
Pricing
A variety of Moz features are free to use, like Link Explorer, Domain Analysis, MozBar etc. But the monthly charges of Moz Pro start from $99.
If you want a complete SEO toolkit to examine the backlinks, traffic and domain rating reports, then Ahrefs is the best choice.
Although established businesses prefer to use the Pro suite of Ahrefs, but as a startup, you can proceed with the webmaster and free SEO tools.
Features
Keyword Explorer — This Ahrefs tool confers backlink analysis and link comparison with competitors' sites. Compared to other SEO tools, it supports 10 search engine rankings and gives a complete overview of clicked and unclicked data.
SEO Toolbar — Users don't need to check every site's ranking on Ahrefs' dashboard because, with the help of its SEO Toolbar, they can examine it with a browser extension. You can install Ahrefs' SEO toolbar for Chrome and Firefox.
Webmaster Tools — It is free to join Ahrefs if you own a website through its Webmaster Tools property. Ahrefs recently launched this tool to check more than 100 SEO issues.
SERP Checker — The use of SERP Checker is valuable for startups to check the top 10 keyword rankings for any country in the world.
Pricing
The Webmaster Tools and many other features of Ahrefs are free to use. Withal, to analyze 5 projects, you can go with the 'Lite' plan. It costs $99/month. The charges of its 'Standard' plan begin from $179/month.
SEMrush is another excellent SEO tool for startups. It is conventionally known as a content marketing and online visibility management tool. SEMRush helps to solve some examples of problems: finding broken links, determining the keyword search volume, finding long tail keywords, etc.
Around 7 million users are getting its services in 143 countries worldwide. The renowned brands that are trusting this SEO tool are IBM, Forbes, Tesla, Quora and Amazon.
Features
Keyword Research — SEMrush grants 6 tools to support keyword research activity. These tools are keyword overview, keyword magic tool, keyword gap, organic research, keyword manager and traffic insights.
Content Marketing — This SaaS platform provides a powerful content marketing strategy with the help of SEO writing assistance, post tracking, content audit, and many other features. Please read Scaling Startup Marketing Content article to know more about this topic.
On-Page & Local SEO — On-page SEO is an aspect of ranking that web admins usually ignore. Howbeit, SEMrush's On-Page SEO Checker enables the SEO experts of startups to monitor the on-page health of websites. By the same token, listing management and position tracking properties also aid the local SEO. SEMRush is a great tool to integrate your marketing and SEO strategies. Please read Top 10 Marketing Tools to know more about this topic.
Pricing
Although it is free to access standard functionalities of SEMrush but to get advanced features, it offers 3 plans. These plans are Pro, Guru and Businesses. The monthly fee of these plans starts from $119.95.
Probably, many of you would be aware of Neil Patel, who is not only an entrepreneur, bestseller author but also has good command over SEO marketing.
Ubersuggest is basically a free tool that is available on Neil's official website under the 'Tools' section.
Features
Content Ideas — Startups can discover one of the best organic keyword ideas with Ubersuggest. It wouldn't only provide keyword ideas but also shares their ease or difficulty ratio to rank. Organic search is very effective in attracting new clients; the keyword tool will help you.
Backlink Data — Users can quickly fetch backlink data using different filters to get comprehensive data about backlinks.
Domain Overview — New businesses can also seamlessly get all details about organic keywords, total traffic and paid keywords.
Pricing
It is free to use the basic features of Ubersuggest but to get more exceptional features, and startups can choose from three plans. With an 'Individual' plan, companies can administer 1–3 sites, and its monthly cost is $12. Two other plans are 'Business' and 'Enterprise/Agency'.
If your startup needs a thorough all-in-one SEO software, then SE Ranking should be your preference. More than 500,000 users are consuming this software.
The major companies that are benefitting from this SEO tool are Mashable, Zapier and Trustpilot.
Features
Keyword Grouper — This toolset allows the companies to scheme SEO architecture in a single place. It saves time when startups group all keywords concisely.
On-Page Checker — You can examine all on-page metrics on a dashboard and crawl 1000 pages in only 2 minutes.
Keyword Rank Tracking — It is Easy to track keywords on famous search engines including Google, Bing, YouTube etc.
Pricing
It offers three SEO plans that are known as Essential, Pro and Business. Their monthly cost begins from $39.
Serpstat is another SEO software suite that is trusted by Uber, Shopify, Samsung and Philips.
This SEO tool is more valuable for professionals compared to newbie SEO experts. Furthermore, 656,781 SEO professionals are associated with this software.
Features
Batch Analysis — Startups can audit their keyword rankings, and backlink reports in the form of batches to save time.
Integration — You can also integrate this SEO tool with your website or app to track its search engine performance.
Keyword Clustering — Keyword clustering features are advantageous to get meaningful semantic research.
Pricing
The basic plan of Serpstat is known as 'Lite', and its monthly cost is around $48. For additional support, you can also consider their Standard, Advanced and Enterprise plans.
SparkToro gives startups access to audience behaviour, research and further detail. This audience intelligence tool can help businesses with customers' search engine and social media behaviours.
Features
Outreach — This tool can help businesses approach the right publications to get more potential leads and customers.
Prioritize — With this audience intelligence tool, you can prioritize your marketing tasks.
Pricing
For 5 monthly searches, users can utilize this software for free of cost. However, for up to 50 monthly searches, you can avail its 'Basic' plan that only costs $38/month.
It is one of the ideal SEO tools for small startups. With all essential SEO properties, it claims about 500% more clicks, 853% more traffic and more than 5000 new keyword rankings.
Features
Link Building Strategies — To avoid spammy links, you can trust the quality link building strategies of CanIRank.
Keyword Selection — Compared to other keyword difficulty tools, it is very authentic about suggesting fewer challenging keywords.
Pricing
It is free to use this software for 5 keyword and SEO reports. On the contrary, the monthly fee of its DIY Individual plan starts from $49.
Screaming Frog is one of the top-notch SEO tools for startups that Dan Sharp launched in 2010. However, young businesses will have to download its Windows version before operating this tool. It is an effective website crawler that will boost your SEO strategy.
Features
Penalty Recovery — Google and other search engines penalize websites when they use blackhat or wrong SEO approaches. This tool aids in recovering from such penalties.
Outreach — It doesn't matter how good and SEO-friendly content your site is generating. It could be lost on search engines without a proper outreach approach. So, you can believe in its outreach support.
Pricing
Although startups can benefit from its free version but to get software with a one year license, you will have to pay £149.00.
BuzzSumo is another content marketing platform that more than 1000 marketers use daily. It helps how webmasters can engage more traffic and potential customers by using suitable and relevant content.
Features
Content Discovery — This SEO tool allows complete insights and reports on how different keywords perform on search engines.
Monitoring — Users can also monitor trends and how current content is performing.
Pricing
Its Free plan permits the users to conduct 10 searches in a month. You can also consider its 'Pro' package to approach advanced features. Its monthly charges are $99.
Conclusion
SEO tools has become an essential part of modern startups directing their marketing efforts. That is why this article covers some amazing SEO tools that new companies should consider to improve their search engine rankings.
Please read the Comprehensive Guide to Startup Tools to find an extensive list of tools to grow your business.
To know how Back4App scaled organic content from 12k to 100k monthly users, please read How to drive organic traffic to your startup. 
FAQ
What are the best ten SEO tools for startups?
– Moz
– Ahrefs
– SemRush
– Ubbersuggest
– SE Ranking
– Serpstat
– SparkToro
– CanIRank
– Screaming Frog
– BuzzSumo