The Good and the Bad of mBaaS Development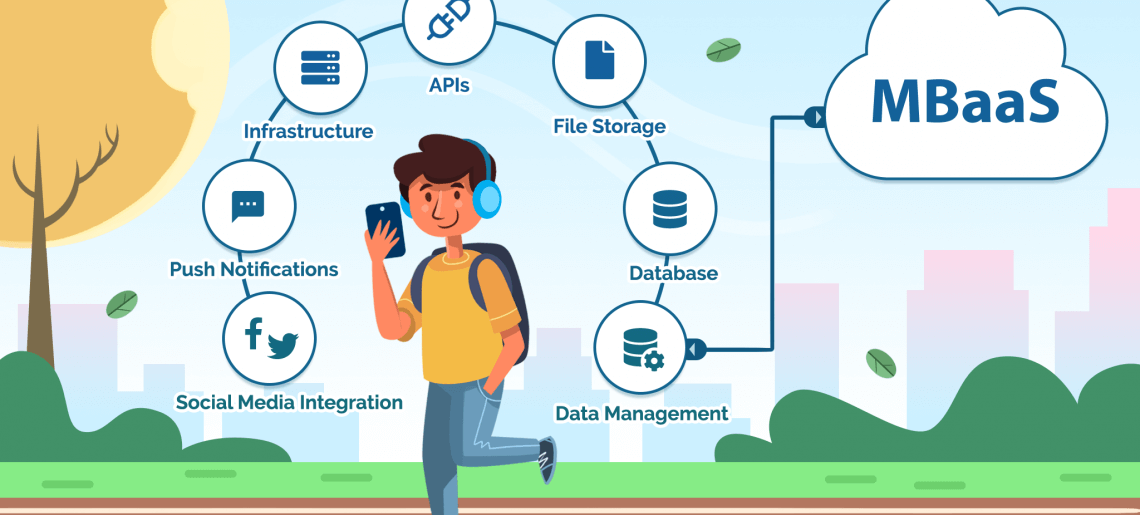 A BaaS (Backend as a Service) or MbaaS refers to a platform capable of automating backend site development and performing comprehensive cloud infrastructure management. A BaaS lets developers reduce the burden of server maintenance as the third-party service providers handle this responsibility.
BaaS also facilitates access to tools that can be used for backend code creation and accelerating development processes. It provides various features such as code cloud functions, APIs, scalable databases, file storage, social media integrations, and push notifications.
Are BaaS and mBaaS the same thing?
BaaS and MBaaS are fundamentally the same types of services. A backend as a service can be utilized for both mobile and web platform projects. A BaaS, when used for the purpose of mobile development, is referred to as a MbaaS.
Are Serverless and mBaaS the same thing?
Serverless computing is a wider term for different types of cloud development offerings such as PaaS, BaaS, and FaaS.
The Key Features of a Backend as a Service
A backend as a service gives its users sets of deployable features across all different application types. Some of the most fundamental elements of a backend as a service are:
Scalable SQL or NoSQL Database
REST and GraphQL APIs
Storage
Business Logic through Cloud Code Functions
User authentication
Reasons for using a backend as a service
Using a BaaS platform helps to take care of two aspects of development:
Cloud infrastructure management and scaling
Accelerating backend development
Opting for a reputed BaaS provider can be quite beneficial for developers and businesses alike due to the functionality and features on offer.
The Good Things About MbaaS
Utilizing a mobile backend as a service can be advantageous as:
The speed of development provided by a MbaaS provider can be impressive.
Opting for a MbaaS plan and utilizing its features also reduces the price of development.
The need for performing infrastructure management tasks is eliminated as MbaaS is serverless.
Business reasons for using a BaaS
Utilizing a BaaS infrastructure also has various advantages for businesses in improving productivity and getting freedom from the cloud infrastructure management responsibilities by outsourcing. The benefits are quite pronounced, especially for small and medium-sized development projects using a reliable BaaS platform.
The costs of hiring backend and infrastructure engineers can be quite high for most emerging businesses. Such expenses are reduced significantly by relying on third-party service providers who handle all infrastructure management and maintenance responsibilities.
Another advantage businesses can experience by choosing a backed as a service provider is accelerated time-to-market for software products. This translates to better scope for companies to roll out their products faster to their end-users. Doing so may be crucial at a time when most businesses cannot afford to wait multiple months to offer software to their target audiences.
To sum it up, the business advantages of backend-as-a-service infrastructure are:
Faster time to market
Reduced costs of development leading to significant savings
Costs and management responsibilities go down as only a handful of backend developers may be needed in a project.
Cloud infrastructure management can be outsourced
Technical reasons for using a BaaS
Finding competent backend developers can be a challenge for businesses, and the best professionals always come at high rates. They also require considerable time to create and deliver code that goes towards making your application usable. Many companies thus opt for reputed BaaS provider plans that offer comprehensive management and speedy app development.
Backend as a service also lets frontend developers focus on their core responsibilities, i.e., writing frontend code and ensuring application usability.
The technical benefits of opting for a BaaS provider are:
Frontend development takes less time
No need for having outdated stack setup
Boilerplate code does not need to be written
Coding environment can become standardized
High-value code can be created by backend development professionals
Applications can easily be cloned and ran in testing environments
Authentication, search and data storage features are readily available to use
Business logic code can be focused on instead of boilerplate code.
Security and backup processes are available and ensured in a quality BaaS setup.
The downsides of an mBaaS
Custom code creation can offer greater flexibility compared to BaaS.
Many closed source BaaS platforms come with vendor lock-in, which may be inconvenient.
mBaaS offer lesser customization options compared to custom backends.
When is using a backend as a service ideal?
These are the most important use cases where a backend as a service can prove to be useful:
Creating an MVP or Minimum Viable Product
Applications or standalone applications that need only a handful of integrations
Enterprise applications that are not mission-critical
A BaaS infrastructure can prove to be quite useful in these cases and save you considerable money and time.
Who should opt for a backend as a service?
A backend as a service platform is developed for the needs of application developers. Anyone can utilize it without the requirement of learning any additional skills.
Some of the critical use cases of a BaaS are:
Frontend engineers who do not have experience or knowledge of backend development
Backend engineers looking forward to accelerating development times
Engineers that want to delegate most repetitive tasks to a third party service provider.
Individuals without any prior development knowledge cannot use a backend platform as they need to know the fundamentals of programming to perform critical tasks.
What frontend technologies does BaaS support?
These are some of the most common technologies supported by a BaaS platform:
React Native
iOS Native (Swift or Objective-C)
Android Native
Ionic
Xamarin
Flutter
What project types run best on a Backend as a Service infrastructure?
Real-time applications such as messaging and chat applications
Transport applications like Uber and others
Social networking applications
Online shopping/e-commerce applications
Video and music streaming applications
Gaming applications
What does a BaaS architecture look like?
Usually, a MbaaS architecture consists of three layers:
The first layer has the database servers, with one database cluster having two servers minimum for data replication and retrieval.
The application cluster is the second layer with multiple servers for processing requests. Server quantity is different at different times, and auto-scaling is required.
The third and final layer has CDNs and load balancers and connects the servers to the internet.
List of mBaaS Service providers
These are the best mBaaS providers:
Back4app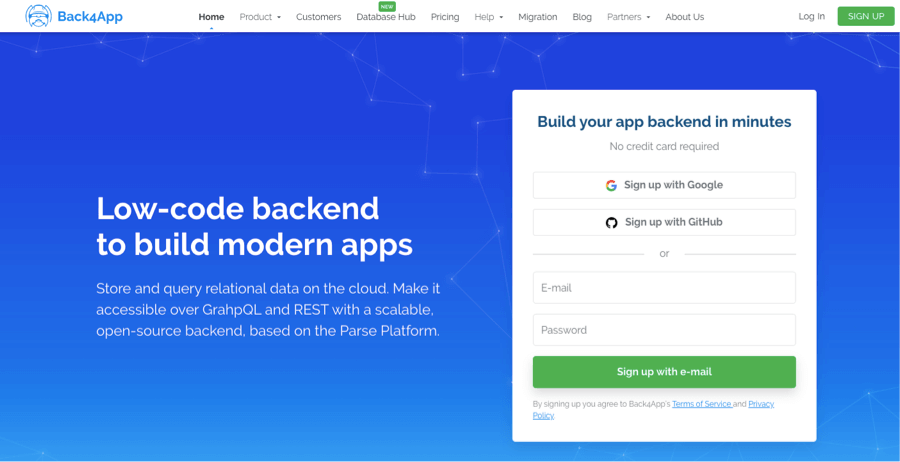 Back4App provides BaaS services and is based on open-source technologies. It facilitates agile application development and gives users full backend control.
Parse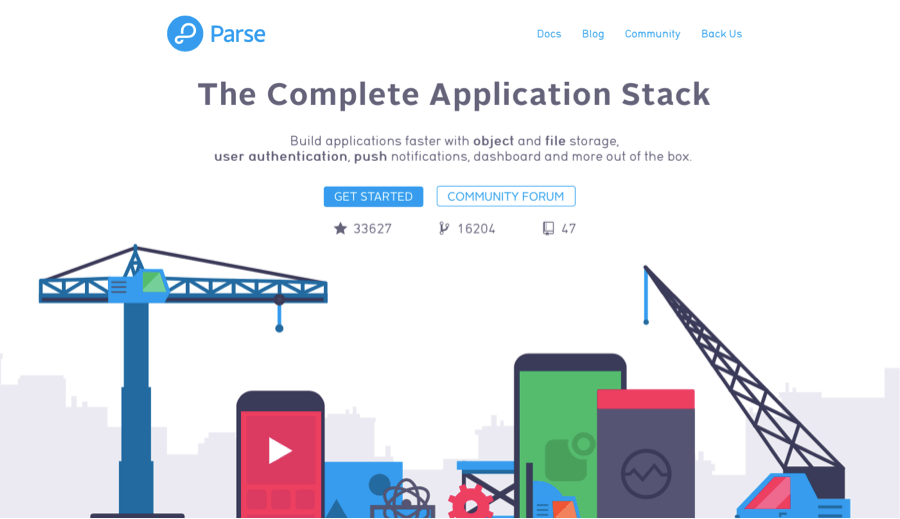 Parse is a popular open-source BaaS platform that utilizes SDKs for mobile backend development. It lets users develop and launch apps fast without them focusing on server management.
Firebase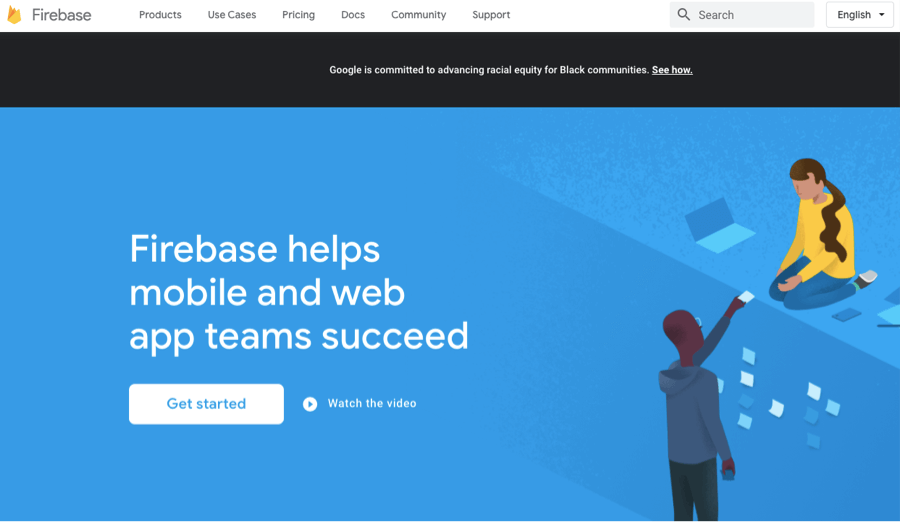 Firebase BaaS platform enables swift mobile and web app development without using a server-side language. It offers several advanced features to users.
Backendless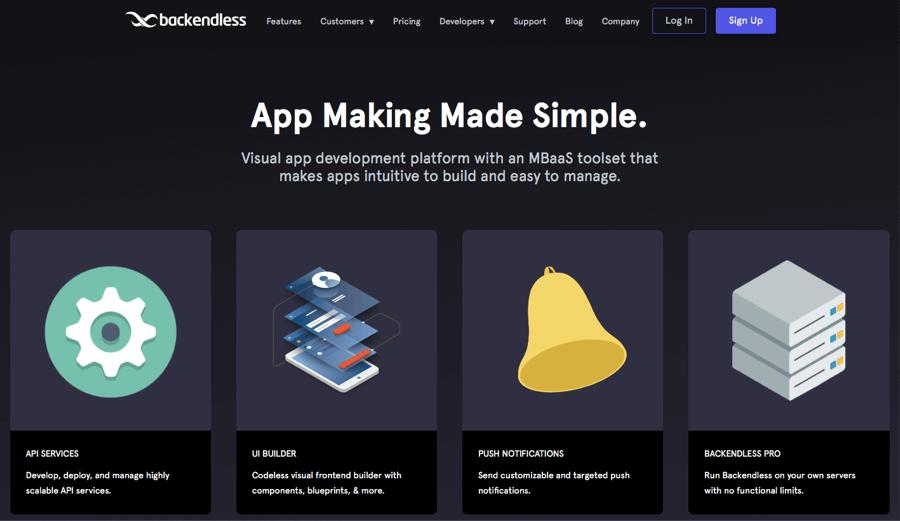 Backendless is another widely-used BaaS service provider that enables building apps without users having to undertake any server programming responsibilities.
Kinvey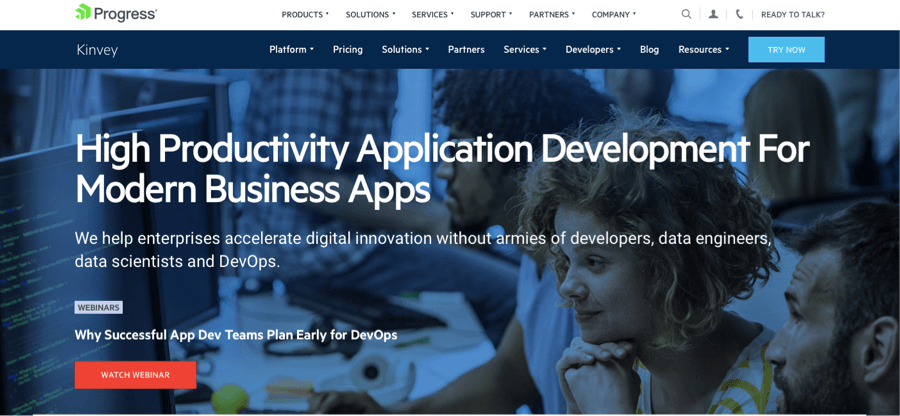 Kinvey BaaS is focused on helping businesses perform hassle-free backend services creation and management for their applications.
AWS Amplify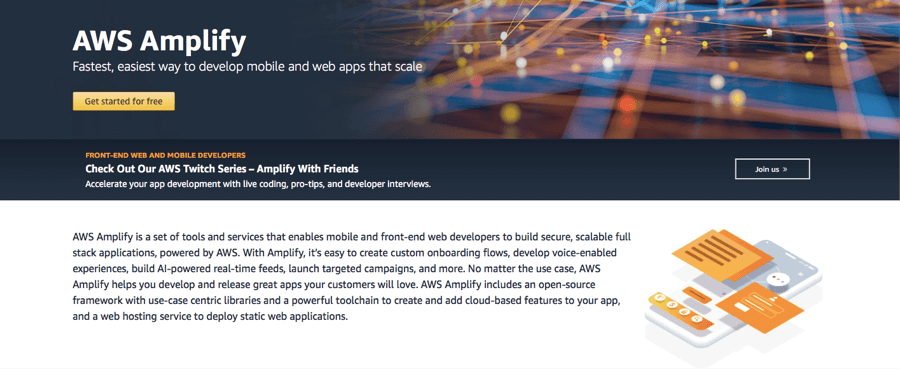 AWS Amplify is a platform that provides several powerful tools to help developers create apps on the cloud through web and mobile platform programs.
Game Sparks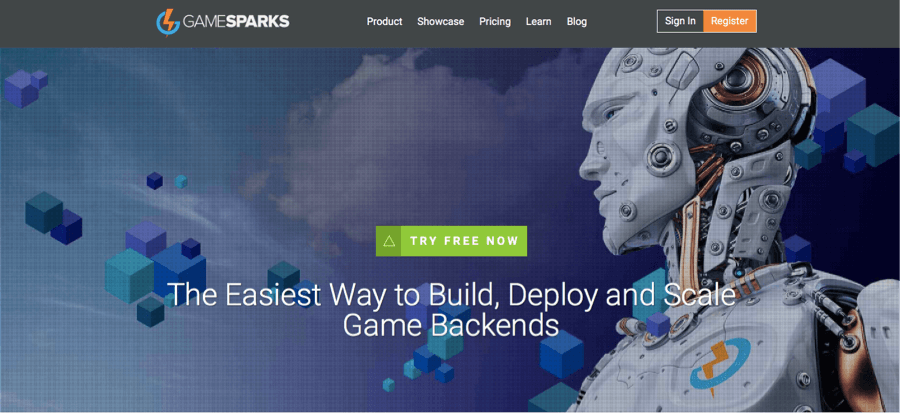 Game Sparks is a BaaS platform geared towards the needs to game development professionals.
Cloudboost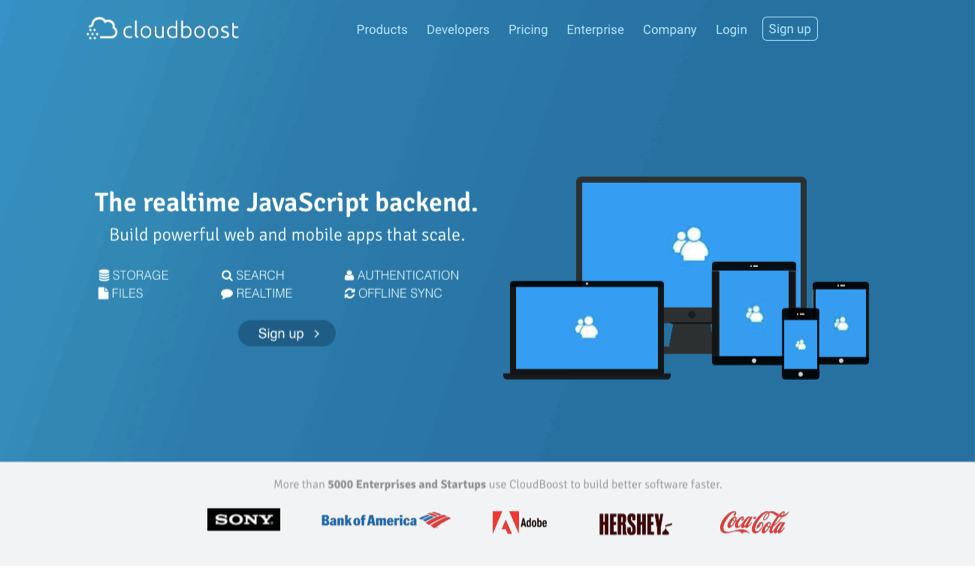 Cloudboost is a backend for the creation of real-data applications. It is used for developing web and mobile applications.
Kuzzle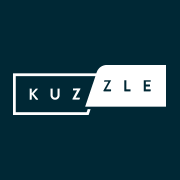 Kuzzle is an open-source BaaS offering SaaS hosting and self-hosting features for users.
Kumulos

Kumulos is a BaaS facilitating hassle-free connection to a cloud backend through client-side mobile apps.
PlayFab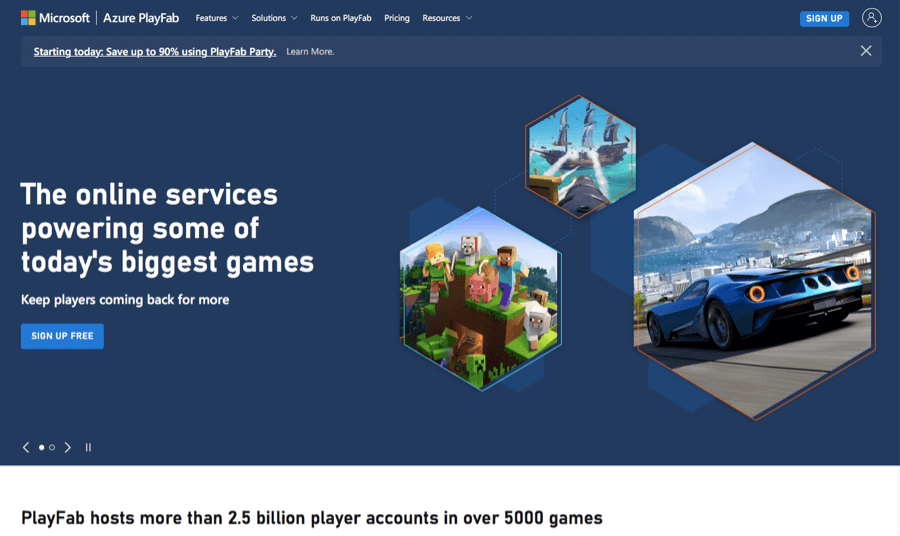 PlayFab is a BaaS platform for game development professionals.
Appcelerator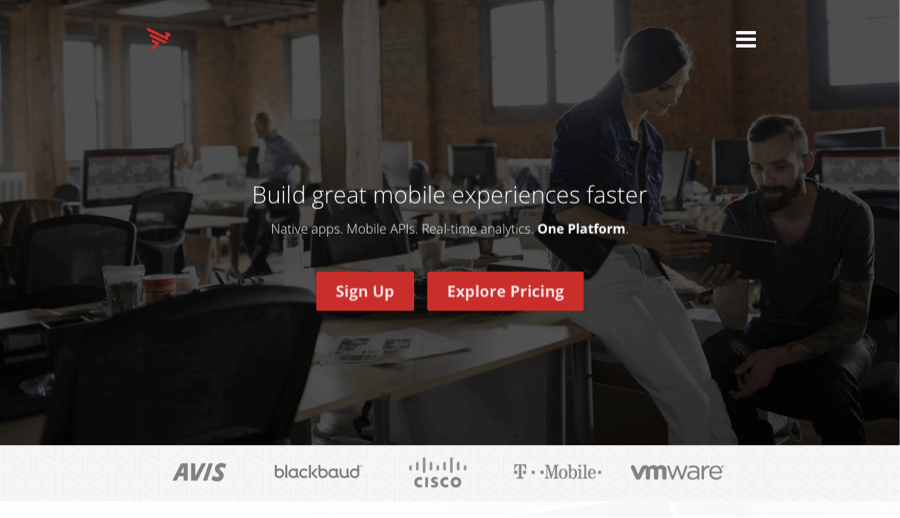 Appcelerator is an MbaaS enterprise platform for native application development and features real-time analytics.
Pubnub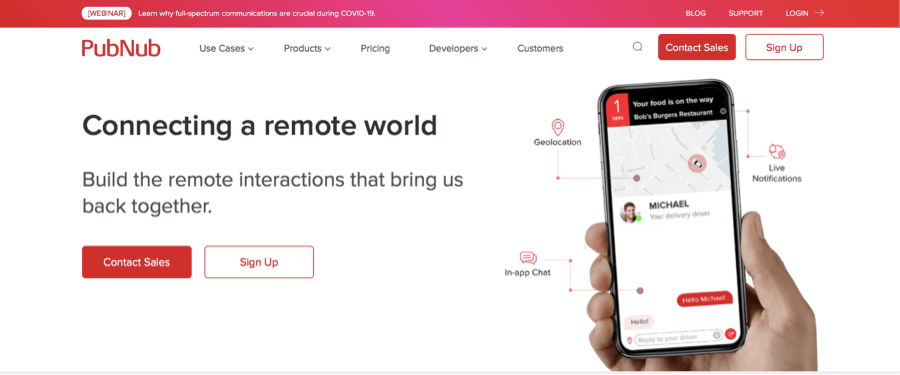 Pubnub is a data stream network for web and mobile developers to create scalable real-time apps.
Deployd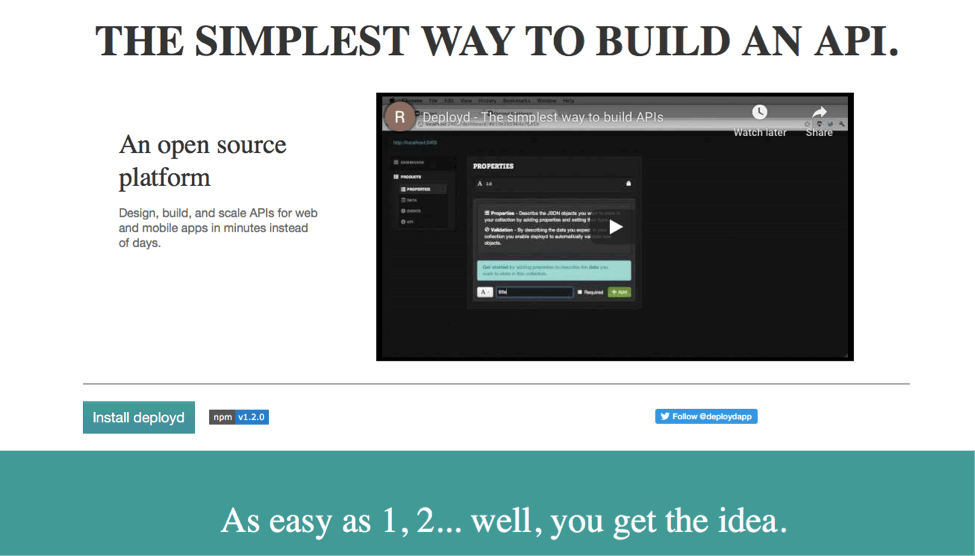 Deployd is an open-source BaaS framework that enables developers to create and scale web and mobile app APIs.
8Base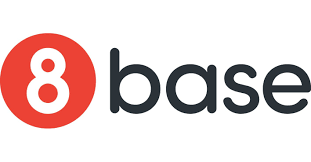 8Base is a real-time GraphQL-based API for the agile marketplace and SaaS application development requirements.
Conclusion
mBaaS can be useful for developers and business owners alike but has a few downsides. Get in touch with a reputed software consultant to better understand the best mBaaS options for your requirements.
FAQ
What is mBaaS?
A BaaS (Backend as a Service) or MbaaS refers to a platform capable of automating backend site development and performing comprehensive cloud infrastructure management. A mBaaS lets developers reduce the burden of server maintenance as the third-party service providers handle this responsibility.
What are mBaaS essential features?
– Scalable SQL or NoSQL Database
– REST and GraphQL APIs
– Storage
– Business Logic through Cloud Code Functions
– User authentication
What are the best mBaaS providers?
– Back4app
– Parse
– Firebase
– Backendless
– Kinvey
– AWS Amplify
– Kuzzle
– 8Base
– Cloudboost
– Pubnub
– GameSparks
– PlayFab
– Deployd
– Appcelerator
– Kumulos