What is a Database as a Service?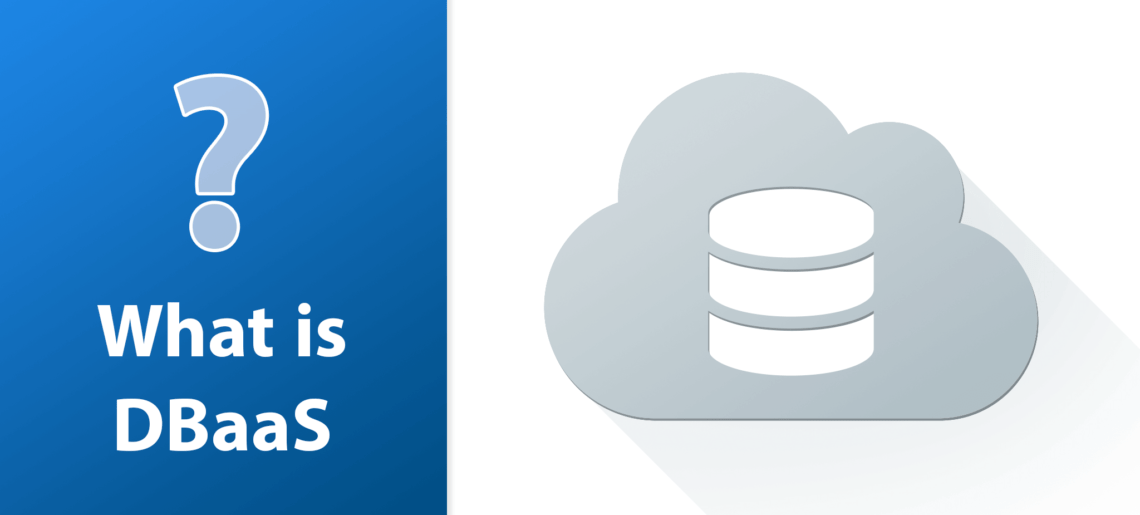 In simple terms, it's like a SaaS service for databases.
In computing terms, DBaaS, or database as a service, is built on the concept of a data product being given to the user on demand. It is mostly enabled by software on service. It's pretty much like a SaaS, but applied to the database. It's a managed service and the platform takes the responsibility to cluster resizing or to implement backup for any underlying database supported.
What is a DBaaS?
Database as a service (DBaaS) or DaaS can be defined as a cloud computing service model. With it, the users are provided access to a database without having the need to set up physical hardware. In fact, he does not even need to configure the performance or install any software.
The service provider takes care of the maintenance and the other administrative tasks, thereby helping the application owner or the user to handle the database without any problem. However, if the owner asks for more control over the database, that access is dependent on the concerned provider's allowance.
DBaaS can be considered to be a more structured approach in comparison to storage as a service. The database manager component uses an API to have control over the underlying database instances. The user gets access to the API through a management console (normally which is a web application), thus provisioning or de-provisioning everything to his likeness.
With the database as a service DBaaS, you can scale and operate databases via a set of primitives or abstractions without paying any heed to the implementations.
Key Advantages of a DBaaS
As DBaaS focuses on easy management, self-service, usage tracking and performance, the benefits of it are favored by people all over the world. The following are some of the ways in which database as a service can help your organization:
It may save you money
Let me explain how that is even possible. Let's consider the scenario that you will manage the database by yourself. You will require to purchase instances on AWS or any other cloud and define a specific size for it.
Considering that scaling up and down a database it's time consuming task you will not be able to do that frequently. So, you database costs will be more or less fixed and dimensioned based on your peak usage. That means a lot of idle resources during your low traffic periods.
A DBaaS will solve this problem for you! It will provide much more flexibility to scale or reduce your database size at any given time. So, if the usage of your app varies during the time of the day or has weekly cycles a DBaaS may be a good a way to save some dollars.
Scalability
A Database as a Service will allow you to scale up and down pretty quickly! No hassles and no pain in scaling! It may be special important for very large workloads that demand horizontal scaling.
On-demand or rapid database provisioning needs a shorter span of time when compared to the time required by a physical database for processing of the same information. It considerably lessens market timing and cost savings.
A DBaaS is a managed service
Using a DBaaS you will outsource the responsibilities of handling and managing databases to a third party.
As you take the database as a service DBaaS' full advantage, your chances open up in not only the administration of the database but also in monitoring it. Recovery, backup, optimization, tuning, upgrading and patching all can be done by experts.
Enhanced Security
Handling the database on remote from several servers paves the way for a security mechanism by default. It stops security breaches, and an off-site database means that you are preventing breaches that are on-site.
The Best 5 DBaaS Providers
If you want high sustained throughput, take a look at the following list to know about the best providers in the market:
Amazon Relational Database Service (RDS)
Amazon RDS is a relational database service that is distributed by Amazon Web Services. This running in the cloud web service has the design of simplified setup and is used to scale the relational database in applications.
You can launch new database instances through the AWS Management Console or by making use of the Amazon RDS APIs. Compute resources and scaling storage is done with the help of a single API call since AWS does not come with an SSH connection to RDS instances. Some of its major features are performance metrics and multi-availability zone deployment.
MongoDB Atlas
A managed cloud database, MongoDB Atlas takes care of all the complexities that you would have been facing otherwise. With this, you do not need to think of deployment or management anymore. MongoDB Atlas can very well heal the deployments that are there on your chosen cloud service provider.
It boasts a scalable and flexible document database, excellent privacy standards and data security. In fact, it has launched some new features, namely, Atlas Online Archive, Atlas Data Lake, Atlas Search and MongoDB Realm. As it is designed for optimal performance, MongoDB Atlas provides real-time insight into all your databases.
Google Cloud Firestore
Cloud Firestore is serverless, as well as, a NoSQL document database. This helps in simplifying syncing, storing and querying data for both the web apps and your mobile. Being flexible and scalable in nature, Cloud Firestore seamlessly integrates with other Google Cloud Platform products.
With this database as a service DBaaS provider's effortless layout, the data of your applications get synced easily across all devices. Some of its other notable features are real-time updates and offline support.
Azure SQL Database
Formerly known as Windows Azure SQL Database, this is a managed cloud database coming as a part of Microsoft Azure. It not only runs on a cloud computing platform but also takes care of the backup, scalability and a supreme availability of the database.
Azure SQL Database consists of built-in intelligence and has the adaptability for maximizing reliability and performance. Apart from leveraging open source tools like sql-cli, cheetah and VS code, it also provides the option of Microsoft tools like Azure Management Portal and SQL Server Management Studio. People mostly use this for outsourcing database management and creating dev databases.
Couchbase
Originally termed as Membase, Couchbase Server is a document-oriented NoSQL multi-model database software package. It is often optimized for different interactive applications. The design creates it in a clustered formation from one machine to large-scale deployments.
Client protocol is maintained by Couchbase through its memcached, disk performance, rebalancing and data replication. This server also consists of a cache that is multi-threaded in nature which easily implements APIs, such as set, delete, prepend etc.
Conclusion
A Database as a Service or DBaaS is a managed platform that works like a SaaS. Using it you will outsource the responsibilities of handling and managing databases to a specialized third party.
The main advantages include scalability, upgrades, enhanced security, and lower costs for variable workloads. The main providers of this market are AWS, Mongo Atlas, Azure, Google Firestore, and Couchbase.
General FAQ
What is a Database as a Service?
A Database as a Service or DBaaS is a managed platform that works like a SaaS. Using it you will outsource the responsibilities of handling and managing databases to a specialized third party.
What are the advantages of a DBaaS?
– Scalability
– Enhanced security
– Upgrades
– Costs
What are the best DBaaS service providers?
– AWS
– Mongo Atlas
– Google Firestore
– Couchbase
– Azure