What is a Mobile Backend as a Service?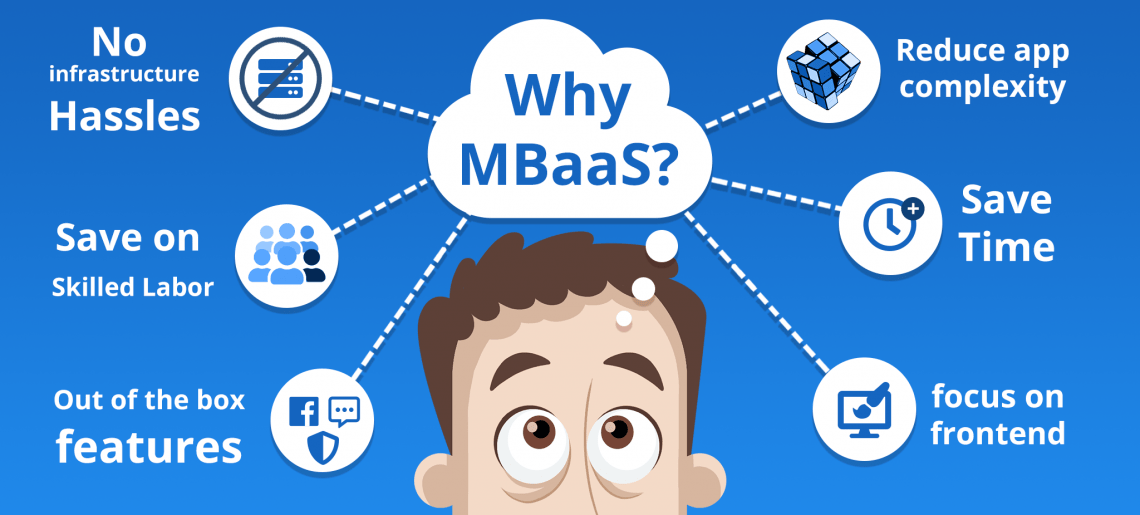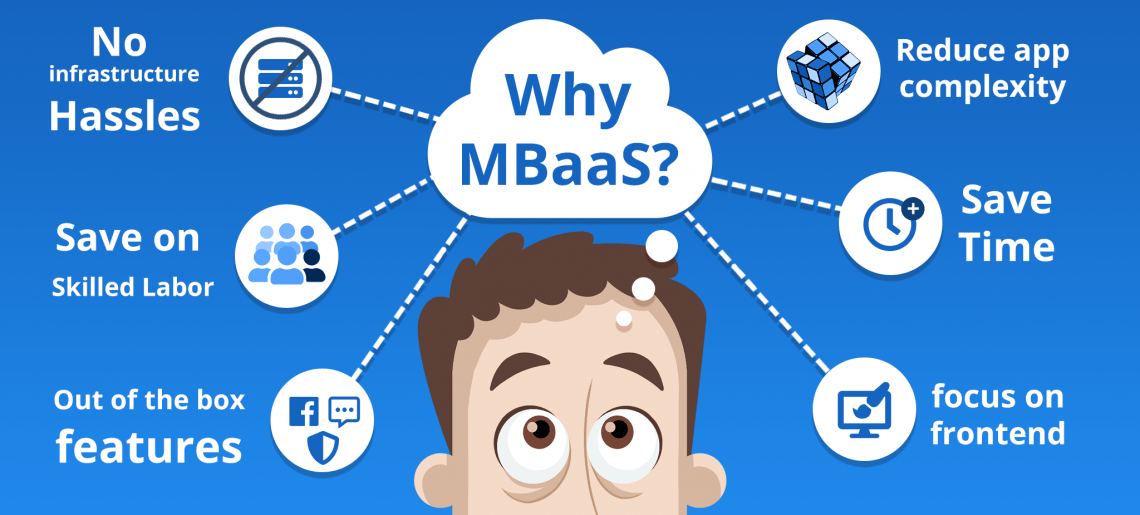 What is a mBaaS –Mobile Backend as a Service?
Mobile Backend as a Service, also commonly referred to as mBaaS, is a cloud-based model used to speedup backend development. It works by allowing developers to outsource vital functions of the backend (these are the codes that run behind the scene) to a third party. This action gives the developer ample time to focus on front-end development while saving lots of time and money on app development.
A mBaaS cloud vendor is responsible for providing ready-to-use backend boilerplate code and for running, maintaining, and scaling servers. Examples of automation a mBaaS provides is a data sheet like view of the database, APIs in a REST or GraphQL format, login and reset password routine, push-notifications, and much more.
This article focuses on explaining the concept of BaaS Cloud solutions and the value it brings to the table for developers and businesses. In the end, we shall also review the leading BaaS cloud service providers today.
Why using a Mobile Backend as a Service ?
Mobile apps are indispensable for modern businesses, but most programmers find it challenging to develop one. It seems mobile app development is restricted to hardcode developers. However, a mobile backend as a service solution is changing the landscape for mobile app development. Mobile Backend as Service providers, which are also called BaaS Cloud vendors, provides the necessary infrastructure to create and host your application seamlessly. Since creating a business app is no longer a mystery, you can make one and stay ahead of your competitors.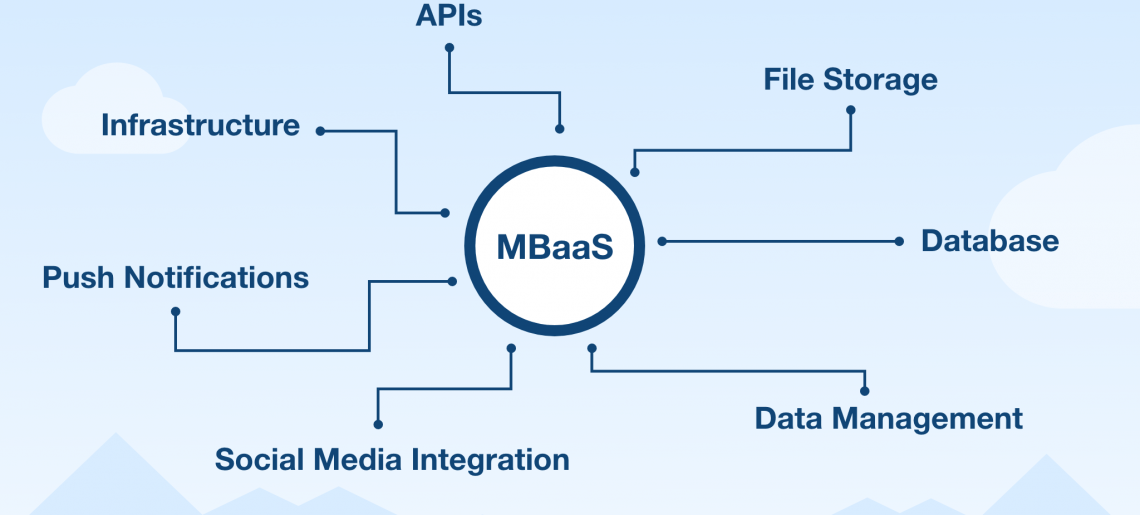 One of the excellent functions of BaaS cloud service is that it allows developers to access readymade codes for handling various backend functions. For instance, such codes are used to integrate functionality such as authentication, cloud storage, push notification, and other cool features easily. So, the developer only needs to concentrate on getting the user interface and client-side logic up and running. In essence, the tasks of application development are scaled-down extensively, so developers can get their apps up and running quickly.
Developers can choose from a wide array of BaaS Cloud service providers. However, all BaaS cloud services are not the same. That is why developers should make due diligence to weigh available options before selecting a BaaS platform for app development.
The good thing about having many options is that it allows the developer to select the one that aligns perfectly with the project requirement. However, you may have to sort all the available options to discover the perfect platform. This article will save you time researching BaaS cloud platforms. It gives an overview of the leading BaaS Cloud providers in the world today.
Before we go neck deep into reviewing BaaS Cloud platforms, let's discuss the benefits that your business can gain from using BaaS.
The Benefits of Using a Mobile Backend as a Service
There are lots of benefits your business can derive from switching your application development platform to the BaaS cloud. It allows you to stop bothering with backend hassles, you can simply focus on what you do best. It frees up your time to develop new app ideas that can bring more value to your business. So, let's review the value that the BaaS cloud solution brings to the table.
It saves time
Saves money on development cost
Focus more on your core business
Extensive service options.
We shall analyze the points listed above, one after the other in the next section.
It saves time
The fact that BaaS Cloud solutions save your time is one of the most important benefits of using the platform for development. Such platforms give you access to all the infrastructure you need to get your app up and running. If fact, you don't have to raise a finger. Since a large chunk of the work is off the table, you can get your app up and running faster than ever. Increased speed to the market allows you to take advantage of trends, boost engagements, roll out updates faster, and create stable apps.
Make savings on development costs
The cost of hiring skilled labor for your app development project is scaled down extensively. Developing a mobile app from scratch can be expensive. Since many businesses do not have a development team, others simply maintain a small IT team that does not have the skill set required for app development. Eventually, they are compelled to outsource app development tasks.
However, if you are using a BaaS cloud solution, you do not have to hire freelancers, contractors, or consultants to have your app up and running. Your IT team would find it easy to develop and maintain your business app built with a BaaS cloud solution. Since you are cutting overhead costs, your business will be retaining more profits.
Focus more on your core business
Except your business is about backend development, handling backend operations for your app is a distraction from your core business. But when you are using BaaS cloud solution, you delineate backend tasks to capable professionals while you focus on what you do best.
So, as a developer, you have more time to create your apps, sell more products, have more time to work on new projects, or for marketing your products. When you focus on your core business, you will be able to deliver more value to your clients and grow your business. Meddling with kinds of stuff that are not a core part of your business makes the quality of your delivery to decline. You'll miss the opportunity to grow and finds it impossible to scale.
Extensive Service Options
BaaS offers a wide array of service options. However, you do not have to use all of them or pay for what you are not using. For instance, some of the best BaaS around offers free prototyping. They all allow you to scale features and functions seamlessly when the needs arise.
With these extensive service options, businesses can control their cost of app development and maintenance because they'll only pay for the features they need. More so, all the services you subscribed to will be in a single invoice, allowing you to deal with financial matters easily. For instance, services like security, backup, infrastructure, and the likes will all come in a single invoice. So, you do not have to go shopping from multiple places to access the service you need.
The Many Benefits for SMBs
The values that small and medium businesses get from BaaS cloud solutions are many. Most small businesses do not have an IT team and would not be willing to invest a huge amount in establishing infrastructure. Therefore, using a Backend as a Service becomes the only viable and cost-efficient solution. Besides, the app itself brings massive value to a BaaS platform. For instance, it gives the business a sense of legitimacy and authenticity. It also helps increase customer engagements and drive sales without the expensive overhead of investing in backend infrastructure.
All these benefits allow SMBs to take advantage of their small size to be agile and respond to market changes fast. Small businesses can now have mobile apps without spending a fortune on development and server infrastructure.
BaaS Providers – A Comparison
1. Back4App
Back4appis an excellent platform that allows developers to create APIs in a matter of minutes without writing a single line of code. This BaaS cloud service provider uses the open-source Parse platform and also offers tons of productivity and integration tools that expedite application development and speed to the market. Users can access features such as push notifications and other pre-packaged functions that make application development a breeze. Moreover, Back4App is a highly scalable app development platform.
It Uses Open-Source Technology
Back4App makes use of Parse, an open-source framework. The users also have access to the powerful Parse Dashboard that has many useful functions such as analytics, scheduling, push notification, and an efficient data manipulation feature.
Versatile SDK
Back4app offers is users SDK for their development, irrespective of the platform they want to use, be it iOS or Android. Whether you intend to build an IoT app, mobile app or a web app, Back4app simplifies the process and expedites your app development procedure.
Excellent Platform for Experimenting
Developers would have access to the REST API to perform various types of experiments without the need to write a single line of code.
Transparent Pricing Structure
Back4apps uses a transparent pricing model that outlines everything clients are paying for at the end of the month.
Option for Bespoke Plans
If you want a scalable solution for your app or business, Back4app is the platform for you. Back4app has plans for every type of app, from a simple hobby app to mission-critical enterprise applications.
2. Parse
Gone are the days where developers will have to sweat day and night to develop a suitable backend for their application. Backend development places a demand for in-depth knowledge of multiple disciplines and also takes lots of time to get it up and running. All that has changed with the release of Parse as an open-source in 2016, giving developers the ability to create and host applications locally. The Parse server can also be hosted on enterprise cloud services. It is actively maintained by the Parse open-source community with new useful features added consistently.
After Facebook decided to shut down Parse, the open-source community rose up to the task of keeping the Parse project alive and active. It's an excellent platform for managing backend and simplifying complicated tasks.
Ease of Development
Node.js and support for Express web app framework are required to run a Parse Server. All you need is to have your data ready within the database. After that, your client can run your application without the need to write complicated codes.
Minimizes Business Risks
It could be frustrating and expensive to ditch your present BaaS because it became obsolete due to a lack of active maintenance. But Parse is not like that. It has an active community that maintains it and will likely stick around for a long time.
No Vendor Lock-In
With the open-source parse server, you are not at risk of getting locked-down with a particular vendor. There are several managed Parse hosting services you can use, such as Back4apps, Digital Ocean, AWS, and many others. So, you can easily migrate your data from one platform to another absolutely free.
To-Notch Data Storage
You can access advanced database management functions such as performance refactoring, indexing, and data backup on the Parse Server. Developers have the option of selecting the file system they prefer and can create backups in JSON format.
3. Firebase
Another excellent BaaS Cloud development platform is Firebase. It offers useful features, such as cloud storage, user authentication, real-time database, machine learning, remote configuration, static file hosting, and many more. Firebase runs on Google Cloud.
With Firebase, it is quite easy to setup authentications and databases for your mobile and web applications. Another plus for Firebase is that it's a cost-efficient platform for creating hobby projects and testing purposes.
Data Sync in Real-Time
Firebase makes use of a model-observer scheme, which makes it very suitable for creating interactive apps. With this model, changes made to the database are updated on the client device in real-time.
Data Storage
The data in Firebase is presented in JSON format. In essence, such data is readily available to be accessed by either the client libraries of REST API. Since the data is stored in the cloud, it can be accessed from any location.
Authentication and Data Security
Developers on Firebase can access a powerful cross-platform API for iOS and Android. The flexible security API makes room for JavaScript support. It also provides authentications through other platforms such as Facebook, Twitter, and Google.
Centralized Database
Because Firebase provides hosting for all data centrally, it can update connected app users with any data in real-time.
4. Kinvey
Kinvey gives developers access to tools for building robust, multi-channel applications through a cloud backend and a frontend SDK. This platform is designed to allow the developer to focus on building valuable components such as business logic and user experience. Kinvey also has lots of prebuilt components that allow users to expedite the app development process.
With Kinvey, the user can build hybrid, web, and IoT apps without creating or maintaining a cloud-based backend. Kinvey handles services connection and server maintenance independently. So, all the user needs to do is to focus on creating an excellent user experience.
Asynchronous File Transfer
The platform uses an asynchronous file transfer. This method requires the user to create an object and immediately transfer the file to the server.
Backend is Easy to Setup
With Kinvey, it takes just a few minutes to get your backend up and running. Both techies and newbies will find the GUI intuitive. The user-friendly steps are also easy to follow. All that is required is to create the tables, select the type of data, and download the libraries required to connect your app with the backend.
User Registration
Kinvey offers developers a fast and reliable way to implement user registration. All that is required is to pass the login credentials to the method. After that, register a call back that delivers information regarding the success or failure of the registration process.
A Final Note
When you use a BaaS cloud service, you tend to benefit from many features that help reduce development tasks. As such, the developer can increase speed to the market and improve customer experience.
The many benefits, including reduced cost, increased service integration potentials, accessibility, among many others, can be a game-changer for your development project. Once you select a reliable, scalable, and easy to use BaaS cloud, you can reduce cost, expedite project delivery, and gain an unfair advantage over competitors.
Want to know more about Mobile Backend as a Service? Please read the article below: