How to Choose the Right Mobile App Server for Your Android Application
The use of mobile applications is increasing rapidly. According to the Statista Research Department, around 108.5 billion mobile apps have been downloaded only by Google Play consumers in 2020. This download amount was 76 billion apps in 2018 and 85 billion apps in 2019.
These figures show a steady increment in mobile application downloads. The trend also builds a tough competition for the app development industry, especially when it comes to appointing the right database.
Withal, if you are an Android developer or associated with an app development business, then you must read this article. We are going to explain everything about the selection criteria for the right Android app database here.
Indeed, we would also share some of the most reliable databases for Android application with their pros and cons in this guide.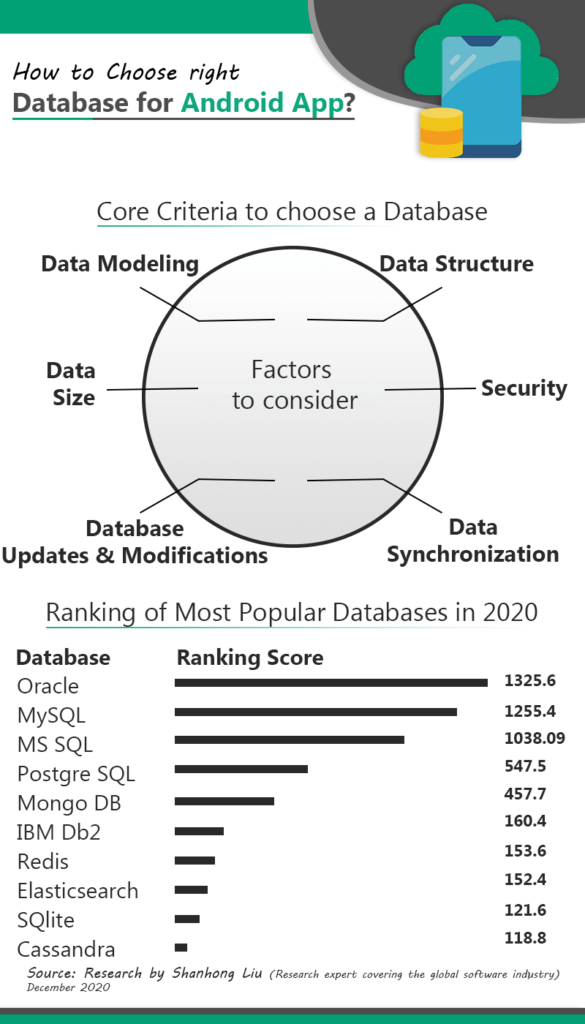 What is a Database?
A batch of data that is particularly systematized to obtain, administer and upgrade electronically is known as a database. Such databases are also recognized as electronic or computer databases. These computer databases are conventionally consisting of consumer history, sales reports, transaction details and stuff related to customers.
Similarly, if we talk about how a database functions, then it is a database management system (DBMS) that governs databases. This DBMS works with data and application to conduct all operations of a database system.
A recent report of a global software industry research expert Shanhong Liu reveals that Oracle and MySQL were the most famous DBMS in 2020. Besides, the ranking scores of Oracle and MySQL are 1325.6 and 1255.45, respectively, according to this research report.
Types of Databases
Although there are several types of databases available for Android applications but we are going to discuss major ones here.
The database where the connection between data is relational is known as a relational database management system (RDBMS). These databases are established on candid ways of presenting information in tabular form. Indeed, data in these tables is represented by rows and columns. Each row refers to a record, and the column is known for the feature.
Structured Query Language (SQL) is utilized to update, find, remove and insert data in RDBMS. Moreover, programmers and major organizations prefer to use relational databases because they could be handled without prior training. Easy modification, data accuracy, flexibility and quick information access also make relational databases popular among users.
Oracle, MySQL and SQLite are some samples of relational databases.
The databases which are operated on cloud computing platforms are known as cloud databases. It works similar to a conventional database, but fortunately, it also adds the features of cloud computing. With cloud databases, it is not only easy to host data in the absence of hardware, but it also reduces expenditures.
Moreover, cloud database management systems are directly administered by the vendor because it works as a service. Amazon Web Services, Back4App, Firebase Realtime Database and Cloud SQL by Google are examples of cloud databases.
To represent, store and retrieve data, this database uses edges, nodes and properties. It is basically a type of non-relational database where a node serves as an entity, and an edge is used to show a connection between nodes. The term property is used for additional information in this database.
Graph database management systems are the appropriate ones when it comes to dealing with an extensive set of data. The big graph database providers are Neo4j, OrientDB, MarkLogic and ArrangoDB.
Object-Oriented Databases
In object-oriented DBMS, data is gathered and defined in object structures. OODBMS depends on object-oriented programming (OOP), where the object is used to determine any entity. Java, C++, Python and JavaScript are widely used OOP languages.
Moreover, if we discuss the benefits, then these databases are the best options for building OOP language apps. Object-oriented DB is also the ideal choice when it comes to deal with complex data. InterSystems Cache, GBase and Gemstone are reliable object-oriented databases.
If you are looking for a database for a rapidly altering data environment for Android applications, then you should pick a NoSQL database. As compared to relational databases, NoSQL databases don't follow predetermined schemes. Also, you can classify this database into an object, column, graph, document and key-value categories.
On the contrary, if we talk about the pros of using NoSQL, then it supports distinct data formats. It backs JSON files, Big Data, Sparse data and key-value stores. Moreover, it permits gathering and approaching unstructured, semi-structured and structured data. Couchbase Server, Amazon DocumentDB and Firebase are renowned providers of this developer-friendly database.
The databases that are not restricted to a single system or networks of computers are known as distributed databases. To build distributed databases, information is structured, rationally linked and physically circulated over distinct sites.
Distributed databases are ideal for performing data management with great transparency. Yes, it supports fragmentation, replication and network transparencies.
Document or JSON databases are also NoSQL databases. These databases are getting worldwide popularity because of their amazing storage features and rapid mechanism. Indeed, document DB gathers data in the documents and follows key-value data form.
IBM Informix, Firebase, Cloudera and Apache Flink are trustworthy document DBs that you can consider using.
If you are building a transaction-oriented Android application, then you must consider using an online transaction processing DB. It gives speedy data access and updates. Undoubtedly, this analytical database can support various user transactions at the same time with great ease.
OLTP DB is the best for banking, order entry, airline booking and shopping cart applications. Although it uses a typical database management system but its response time is rapid. Yes, it answers any of your data query in milliseconds.
Core Criteria to Choose Right Database for Android Application
Are you looking to know what to consider before choosing the right database for an Android application? If yes, then you must see the core criteria to select an Android app database.
Data Structure
The data structure has great importance in case to collect, fetch, update and delete data. Android applications use various data structures and formats to manage data. Online applications like shopping carts approach a server to perform their data-gathering operations. On the other hand, offline applications depend on mobile devices to conduct their data activities.
Withal, if we talk about synchronized applications, then it is important to know that they use a different data structure. Indeed, they store data on devices, but while the online activity, such apps also utilize servers to upgrade gathered data. Therefore, it is vital to understand which database is supporting your application's data structure appropriately.
Data Size
Data size also matters a lot in choosing the right Android app database. Surely, data size is all about the quantity of data that your Android app is going to produce, gather and retrieve.
At this stage, you need to verify that your selected database has the capacity to understand your app's data across distinct servers and files. Secondly, it is also needed to examine whether your database can deal with your application's data volume in the upcoming period of time or not.
Data Modeling
If you are willing to find the right Android app database for your venture, then you shouldn't ignore data modelling. Although data modelling is typically known as a process of making a visual portrayal of the entire information system. However, in DBMS, data modelling tells how data would appear after database implementation. It also represents data elements and their connection.
That's why it is recommended to conduct data modelling before picking a database for an Android app. Particularly, if your application owns characteristics like reporting, geolocation properties and search features, then you must perform this process. Similarly, data modelling would make you aware if you need more than one database, and Uber is an example of it. Yes, the Uber application uses MySQL for business logic.
Multiple Platform Support
Undoubtedly, the main agenda of this article is to share a guide to select the right Android app database. But if you have the intention to support both platforms (iOS& Android), then you should choose a database wisely. Indeed, there are several databases that support multiple platforms.
By the way, the selection of React Native framework could also be ideal here because it backs both Android & iOS platforms. Moreover, this framework is eligible for all databases.
Speed, Scalability & Security
It is crucial to timely deal with forthcoming reads, writes and I/O to an Android application. Databases play a great role in addressing such issues. However, it is important to know which database you are picking to tackle any speed and scalability problem.
For example, the MySQL database performs instantaneously when it comes to administering structured data. Withal, MySQL is not that good for unstructured data. To handle scalability matters, you should check its extensibility or flexibility features in advance.
On the contrary, data security is also a core concern of many applications. In this regard, it is vital to handle data at rest and motion, authentication and read/write approaches wisely. To secure data at rest, data-level and file system encryption is mandatory.
To protect data in motion, safe mediums like TLS and SSL could be effective. In the same token, the granular control by databases for reading/writing access could be beneficial for security purposes with flexible authentication.
Use Cases Criteria to Choose Right Android Application Database
Here are some use cases to select the database.
Android Application with Numerous Data Layers
Several Android applications consist of numerous data layers where one data set relies on the other data set. These applications need regular transformations in database structure. These modifications become complex when you go with a structured database. These structured databases like MySQL and SQLite are not capable of making these constant changes.
Therefore, in most cases, when an Android application uses multiple data layers, it is suggested to use an unstructured database. In this regard, you can consider utilizing unstructured databases like Apache Cassandra, CouchBase, or Redis.
Data Synchronization
For a better user experience, data synchronization is critical. Especially it is vital to sync backend servers and local databases when you are building an application that also works offline. Such as Dropbox allows users to make new files without internet connectivity.
However, it synchronized these changes to the cloud when you become online again. In this situation, it is the local database that stores your modifications or data till the internet connectivity.
Therefore, to build such an Android application, you must pick a database that offers data sync between the backend server and localhost. Microsoft SQL Server and Couchbase could be better options in such scenarios.
Poor Network Issues
Poor network or sudden connectivity loss also leaves a bad impression on Android applications. When a front-end user of an Android app loses internet connectivity, it becomes tough to store and retrieve data. That's why it is suggested to go with more reliable databases, which perform better with poor network issues.
Data Clashes Between Devices
A database must have the property to resolve data clashes, mainly when it comes to devices. These conflicts usually arise when an Android application reshapes the identical data on various devices. That's why it is important to go with a database that offers a flexible data clash settlement system.
Database Updates & Modifications
Some changes are needed in the local database when you make new updates on Android applications. Even some developers prefer to stay with the outdated form of application while updating it. In such cases, you should always pick a local database that can manage these updates and modification issues flexibly.
Highly Extensible Android Applications
If you have plans to make your Android application more extensible and think to add more resources, then consider a multi-threaded database. Database with multithreading functions reduces the backend workload and permits to lineup lateral tasks.
Moreover, it is also urged to go with a distributed database to divide the tasks of various threads. It also assists in overcoming the work pressure on the leading database server.
Top 10 Android App Databases
Here are the best databases for Android applications with their major advantages and limitations.
1. Back4App

Back4App is basically a Backend as a Service (BaaS) provider, but it is also used to deploy the databases of Parse server-based applications. In this regard, Back4App uses NoSQL and SQL databases to collect and store data. It also permits users to build their own databases by fetching public data with its Database Hub product.
Advantages
It assists in the implementation of both relational and NoSQL databases.
It stores, retrieves and updates data in real-time with live queries.
Back4App is popular because of its flexible customization and data modelling properties.
Limitations
Back4App has scope for improvement.
2. Firebase

Firebase offers 2 major databases. One is known as Firebase Realtime Database, and the second is called Cloud Firestore. Firebase Realtime Database is an unstructured or NoSQL database that is supported by Google Cloud.
It gathers data in JSON and easy to use with great authentication features. In the same token, Cloud Firestore is also a NoSQL database that is famous because of its scalability and modern querying properties.
Advantages
Firebase databases are cloud-hosting and come with actual-time update features.
These databases are supported by Google's products, including authentication and analytics etc.
Firebase DBs offer offline synchronization features.
Very flexible for Android applications.
Limitations
It is difficult to create complex inquiries with Firebase Realtime DB.
3. MySQL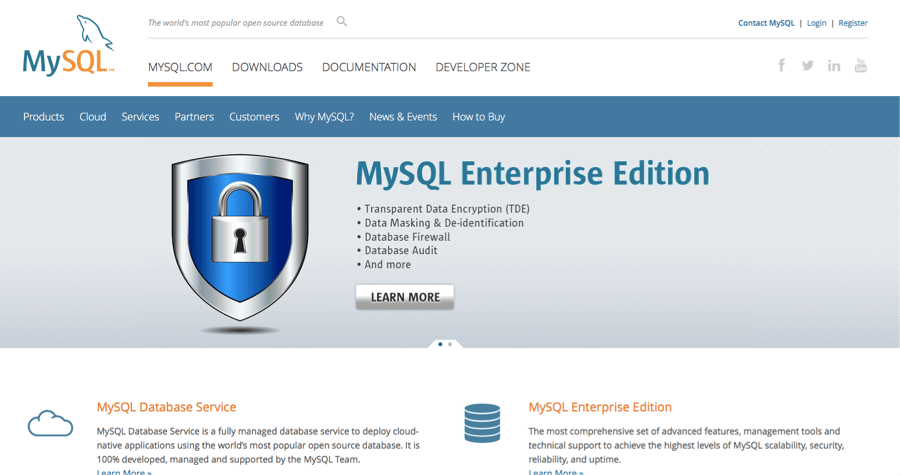 This is one of the prominent relational databases which was launched in 1995. You can consider this database for your Android application if you are looking for a secure, freeware version and structured database.
Advantages
It is one of the best multi-platform databases.
It offers user-friendly and easy installation.
MySQL is the best for SMEs.
A reliable multi-threaded and open-source database.
Limitations
It doesn't efficiently back a big size of data.
MySQL doesn't provide advanced debugging tools compared to the rivals.
4. Redis

Redis is another open-source database that you can consider for your Android application. This database was launched in 2009.
Most of the developers prefer Redis because it backs caching. Yes, this database is the best option for temporary data collection.
Advantages
Redis is an open-source & stable database. This DB also offers an easy interface.
It backs all kinds of data structures.
5401 companies have claimed at StackShare that they are using Redis. Similarly, around 30355 developed at StackShare mentioned that they are using Redis.
It is very scalable, fast and reliable to host data.
Redis Hashing and Caching are the main reasons due to which developers love to use this database.
Limitations
It needs bulky RAM to proceed.
In case any master owned slot goes down in Redis DB, then there are chances to lose that slot's data.
5. DigitalOcean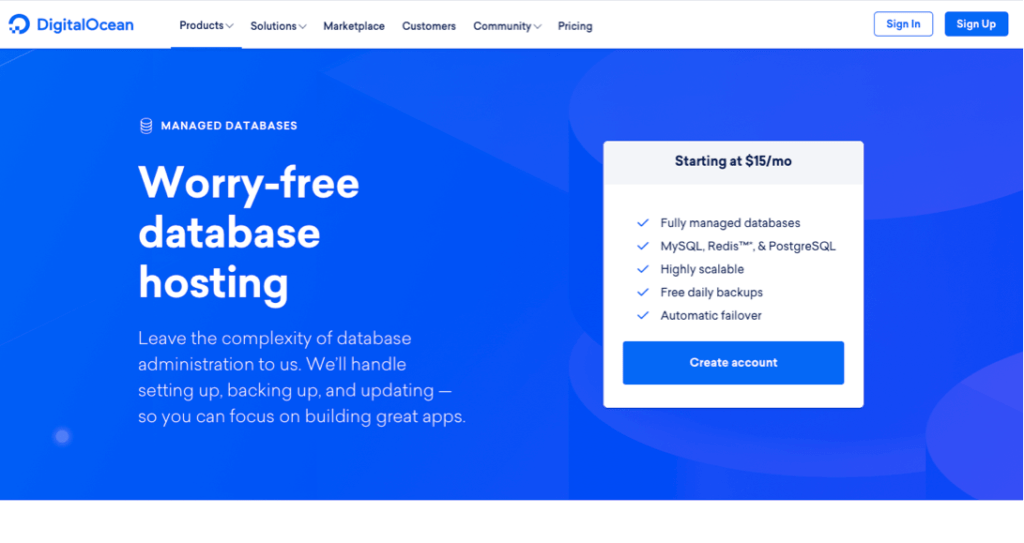 DigitalOcean provides three kinds of the database for Android applications under its Manage Databases category. The first is MySQL, the second one is PostgreSQL, and the third one is Redis. The monthly charges of DigitalOcean's databases start from $15.
Advantages
It is seamless to use any database plan with DigitalOcean.
DigitalOcean DBs offer daily backups, automated failover and end-to-end security.
It is easy to set up these highly scalable databases.
Very affordable.
Limitations
Competitors are offering more advanced database products.
6. AWS RDS

It is a distributed relational database management system of Amazon. This AWS RDS was launched in October 2009 by Amazon.com. It also adds services for distinct databases, including MariaDB, Oracle DB, MySQL and SQL Server.
Advantages
If you choose the AWS RDS database for your Android application, then you wouldn't need any hardware maintenance.
It offers automated backups, patching and log shipping.
With the support of Amazon VPC, it is secure to use AWS RDS.
This DB is highly scalable and convenient to administer.
Limitations
It doesn't promise zero data loss.
Downtime could occur because of automated patching.
7. Heroku

Heroku is the most used PaaS provider in the world and is owned by Salesforce. It is a great way to run databases. It works with Postgres, Redis, and Kafka databases.
Advantages
Easy of use
Developer centric
Scalability
Limitations
Does not offer deployment in Asia region
8. SQLite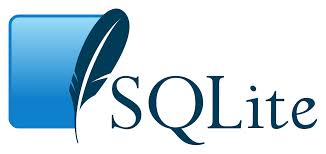 SQLite is basically a reliable structured database that was initially launched in 2000. It is usually used for record-keeping, financial analysis and media-oriented applications.
Advantages
This lightweight database permits fast writing and reading activities.
SQLite installation is seamless. You just need to download its libraries and can start storing, retrieving and updating data.
You can use this database with all programming languages.
It is portable, easily accessible and less expensive compared to rival databases.
Limitations
It limits data to 2GB in many cases.
SQLite only performs well for medium or low sized traffic.
9. CouchDB
CouchDB is one of the most reliable Android application databases if you need to deal with documented unstructured data. It was launched in 2005 by Apache Software Foundation.
Advantages
CouchDB allows users to manoeuvre and view data on the browser.
It is fast to fetch data with CouchDB as compared to competitors.
Installation and setup are seamless with CouchDB.
Its M/R system, master replication and fast data access make it attractive for web and mobile application developers.
Limitations
CouchDB stores all data in a single file.
It performs very slow in some cases.
10. RethinkDB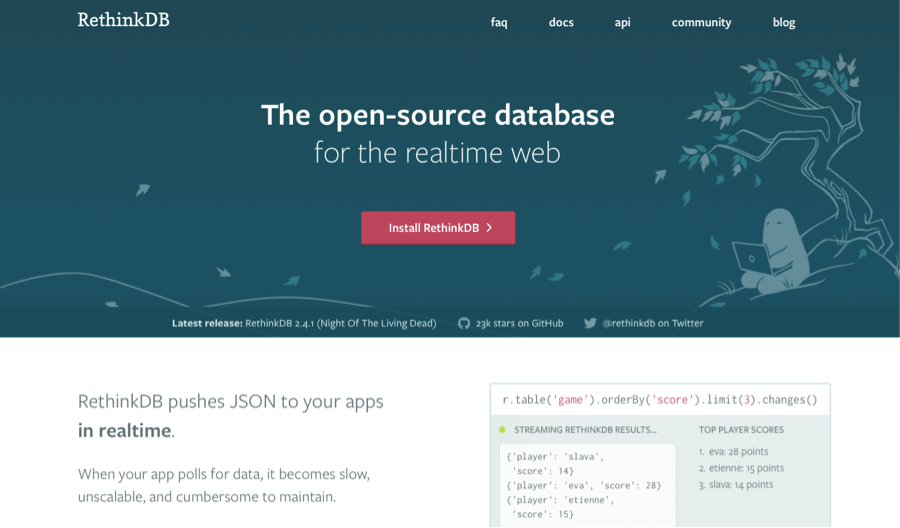 RethinkDB is another trustworthy database for mobile applications. It was launched in 2009. Java, Python, JavaScript and C++ are the major languages that are supported by this open-source database. Indeed, it is a free database that comes with a distributed document-oriented data structure.
Advantages
RethinkDB provides ease of cluster setup.
It usually needs 30 seconds to install this database for any application.
Parallel queries, CLI tools, MVCC concurrency and sharding support also make it attractive for users.
Limitations
RethinkDB only works as a database and doesn't provide user accounts.
It doesn't support operating queries from its CLI.
Conclusion
This article provides a complete guide about choosing the right mobile app database for Android applications. It shares major types of database and criteria to consider before picking an Android app database. Certainly, it also represents one of the most reliable databases with their pros and cons with its readers.
FAQ
What is a database?
A batch of data that is particularly systematized to obtain, administer and upgrade electronically is known as a database.
What are the core criteria to choose a server for an Android app?
– Data structure
– Data size
– Data modeling
What are the best app database servers for an Android app?
– Back4app
– Firebase
– Digital Ocean
– AWS RDS
– Heroku
– MySQL
– SQLite
– CouchDB
– RethinkDB
– Redis