The top programming languages for Android and iOS development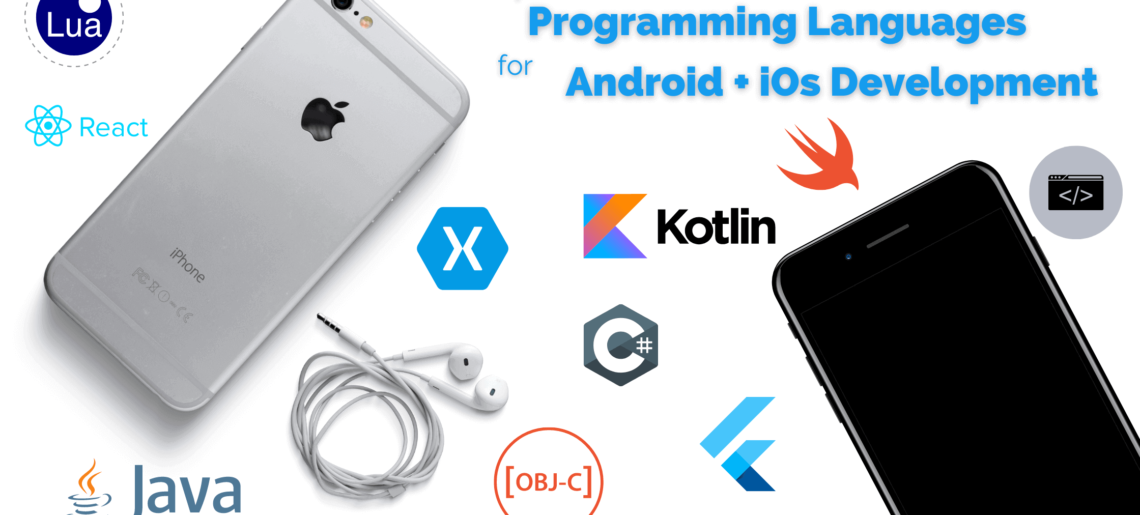 There are a lot of different languages that are used these days for Android and iOS development. While some make things very easy for the developers, others bring the most features and abilities to the applications.
So, here we will be elaborating on the 10 best programming languages for Android and iOS development.
The best 10 languages for Android and iOS development
Here are the best ten programming languages for Android and iOS development.
| | |
| --- | --- |
| Programming Language | Operating System |
| Swift | iOS |
| Objective-C | iOS |
| Java | Android |
| Kotlin | Android |
| C# | Android |
| Lua | Android |
| Basic | Android |
| React Native | Cross-Platform |
| Flutter | Cross-Platform |
| Xamarin | Cross-Platform |
The following are the 10 best Android and iOS development programming languages that you must give a try.
1. Swift
To start with development, the language that you could choose is Swift. It is a development language that Apple announced at the WWDC 2014. Apple also develops Swift, so people use it to develop devices used in the Apple Ecosystem.
Some developers feel swift like the Objective-C language without the C, making it very easy to develop and provide extreme performance to the application and development process at the same time.
Although it is not as mature as the Objective C language, it still keeps on getting future updates, making it better with time.
The best part is that many new applications use the Objective C language for programming, so it means that the developers can co-exist and benefit from one another. So, Swift is the preferred iOS coding language.

2. Objective-C
Speaking of the Objective-C language, it is another language worth giving a try if you are looking into the world of iOS development. IT is a language that has been used by Apple when it acquired NeXT products in the 90s.
The language has gone through many development phases, and first, it emerged as an object-oriented superset of the C language. Afterward, Apple has integrated this language into the Mac OS X, making it a standard language for iOS and macOS development.
3. Java
The third on our list of languages for the development of Android is Java. Java is officially the most popular programming language used for developing android applications.
Apart from this, Java is under use for computer software development, so it runs on the java virtual machine or the Dalvik virtual machine for compiling purposes on android devices and smartphones.
Taking a look at the history of Java, it first came in 1995, and the reason for it being the most popular language is that you can create all kinds of applications with it. Not only this, but you can use Java to develop all parts of the application, including the front end and the backend.
If you are looking to learn Java, it will not be a difficult thing for you, considering that there are many online lessons available along with a huge developer community.
4. Kotlin
Kotlin is a language that is relatively new to Android development, but it provides some amazing options for android application development. It is a language that was underuse to make things more practical and efficient, so it was kept open-source.
Being completely compatible with Java for Android development, it has become the official programming language for developing Android applications in no time.
One of the goals behind the development of Kotlin was to make a better alternative to Java which it has achieved.
However still, Java has a better community and is better as a programming language as well.
In terms of developer's experience, Kotlin still provides easy coding with short codes and better security features out of the box.
5. C#
C# is also one of the most used programming languages of the time, and it is used for many different tasks. One can say that it can be used for all types of development, including windows software and game development.
It combines the features of C++ and Java, so it is object-oriented and a higher-level member of the family C-language.
It is also the reason for it being an amazing option for android development.
C# was developed in 2000 by Microsoft, and it is not as mature as most languages of the time, but it still has a huge development community.
The reason behind this large developer community is simple, with a reasonable learning curve and versatility in usage.

6. Lua
Lua could be the best choice if you are looking for android development and you need the language to be easy to use and open source at the same time. Speaking of Android development, Lua is the language usually underuse for android game development.
While you can use it to develop simpler games, if you are into complex android development, you need some better languages like C++ or C#.
7. BASIC
BASIC means "Beginners All-Purpose Symbolic Instruction Code," so as the name suggests, it is a simple development language for Android developers.
While it is not possible to develop all kinds of Android applications using this language, you can still use it for many applications, and the best thing about this language is an easy start to the android development experience.
When you use BASIC, you focus more on creating an engaging application, so using some backend as a service for your application will make the development process easier and more efficient.
8. React Native
UP till now, we have been discussing the languages which either supported Android development or iOS development. However, React Native comes from Facebook that you can use as a cross-platform programming language.
It was intentionally started as Facebook's internal hackathon, but its features became famous in cross-platform development.
It can make applications that run across different platforms, but it provides an amazing application development experience.
What makes it even better is that the applications perform very well.
React Native allows you to write code in the form of components, and then you can use these components in different applications for similar features. Not only this, but the library of pre-built components makes things even easier for the developers.
All in all, we can say that React Native provides a very smooth, efficient, fast, and easy application development process.
9. Flutter
Flutter is also like React Native as it supports cross-platform application development. It was developed by Google as a mobile application SDK, making the application very easy to develop, and the applications themselves perform very well.
The DART programming language used here contains a huge library of tools that can help in making the applications highly attractive. Not only this, but the Android and iOS cross-platform applications developed here provide performance and features just like the native applications.
There are many customization options available as well, making things very simple and easy which increases efficiency.
10. Xamarin
The last language on our list here is also a cross-platform language that allows the development of native-like applications. It was started in 2011, and then it was acquired by Microsoft after 5 years.
C# is used with.NET framework to develop the applications here, so the application development becomes faster and simpler as you can also share code and use the old code with minor changes for new apps.
While C# already makes the proceeds very efficient, APIs and toolkits make things even better for the app performance and developer's performance, so distinguishing between native and Xamarin apps is very difficult.
If you are looking to add attractive animations and graphics, Xamarin will not be the best choice. It is not good for game development.

Conclusion
It was all about the best programming languages that you can try for Android and iOS development. Here we were discussing the native development languages along with some cross-platform languages.
So, we hope that now you have a good understanding of many languages and technology stacks to use for app development on Android and iOS.
FAQ
What are the best programming languages for iOS?
What are the best programing languages for Android?
– Java
– Kotlin
– Lua
– Basic
– C#
What are the best cross-platform developing languages?
– React Native
– Flutter
– Xamarin