Top 10 Analytic Tools for Startups
Analytical data has become crucial to get customer insights and make wise business decisions. That is why analytics tools are important for startups to grow their business smartly, but it is complicated to shortlist a single tool.
Therefore, this guide presents ten of the top analytics tools with their core properties and pricing model. Check out below the analytics tools list.
Top 10 Analytics Tools for Startups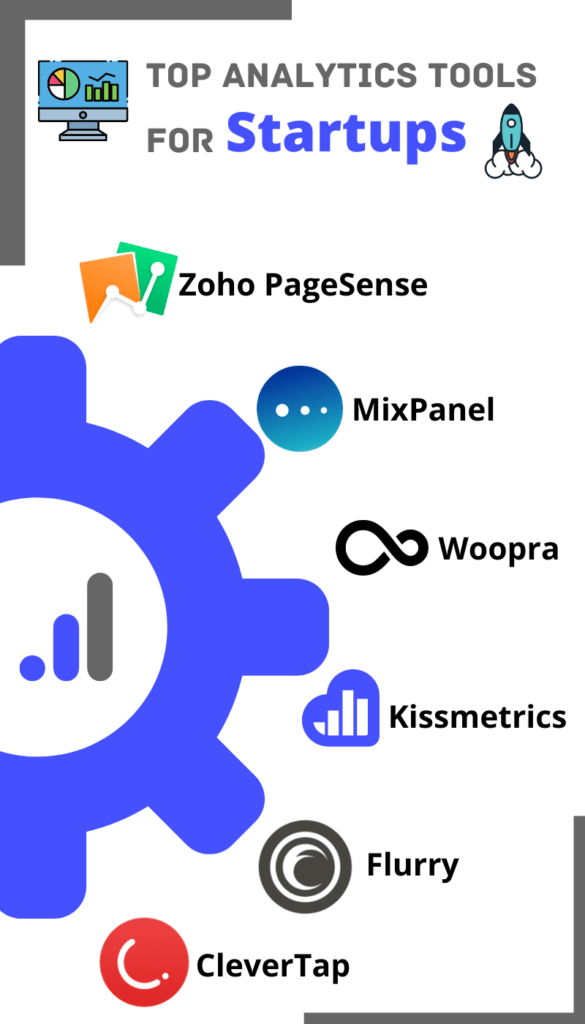 Here are ten of the best analytic tools for startups.
MixPanel is a powerful analytics tool that delivers meaningful customer insights to startups, big enterprises and SMEs. It's simple workflows, easy data connection, and valuable data reports help businesses to retain and engage target clients effectively.
Around 6K+ paid customers benefit from this platform, and Uber, Yelp, and GoDaddy are prominent ones.
Features
Interactive Reports — It provides thorough data reports of user behavior toward particular products. In addition, you can also explore the location, time duration and demographics of users with these reports.
Group Analytics — This feature is beneficial for startups that are selling products and services to businesses. Yes, group analytics tell B2B companies about their engagement and retention rates with all necessary data.
Scalable — The infrastructure of MixPanel is very scalable for all sizes of companies. It wouldn't only support your startup, but it is equally helpful for fast-growing tech giants like Uber and Skyscanner.
Pricing
With 100K monthly users, it is free to use MixPanel. However, startups can also go with Growth plan that only costs $25/month with unlimited data reports and features.
Keep reading to discover more data analytics tools.
Amplitude is another valuable California-based analytic tool that startup companies can utilize. This complete digital optimization system was launched in 2012, and now, it has 1400 customers around the world.
With the help of Amplitude, NerdWallet got a 200% gain in mobile conversations and Kahoot! noticed a 20% decrease in the rate of attrition.
Features
Real-Time Data — It confers real-time user data, including retention, segmentation, funnels and revenue reports.
Data Security — Amplitude is an ideal analytics tool when it comes to data security. Yes, it provides enterprise-grade data safety and complies with SOC 2 Type-2 and ISO 27001.
Data Management — It uses the best data alignment, control and integration approach to administer data.
Pricing
Amplitude Analytics categorizes its pricing model into three parts. Its basic plan is Starter, that is good for small teams.
Its Growth plan is suitable for detailed customer insights, and the Enterprise program provides data governance with all other properties.
Withal, to know the exact monthly fee of these plans, you will have to request a demo or contact the sales team.
Google Analytics is another appealing analytic tool that startup companies love to use to track their projects. This is basically a web analytics service that Google made public in 2005.
Businesses like this tool because it is easy to use. Indeed, you just need to insert Google Analytics code in your project to track insights.
The prominent companies that use Google Analytics are Dropbox, WhatsApp, Slack and Stripe.
Features
Keyword Referrals — Compared to other analytic tools, it provides a unique user experience that lets businesses know what keywords they need to target.
Custom Reports — Its custom reports give businesses a complete overview of how their website or particular product is performing. In this regard, it provides entire demographics, geo and customer behavior insights.
Pricing
Google Analytics is a freemium service that only requires a Gmail account and code insertion to proceed. By the way, Google Analytics 360 is a premium service by Google with more advanced features.
CleverTap is a customer engagement and mobile marketing platform that was made public in 2013. Around 10,000 brands trust this analytic tool because of great user experience, growth and retention properties. The big brands that are linked with CleverTap are Nykaa, MX Player and PharmEasy.
Features
Audience Segmentation — It comes up with live user segmentation and tracks them on the basis of a single action, inactivity and past history.
Best for Mobile Applications — If your startup venture is about mobile applications, then you should go with CleverTap because it is the top choice for mobile app brands. Undoubtedly, it has the ability to send 2.6 billion daily messages and data tracking.
Pattern & Trend Recognition — CleverTap uses cohorts, flows, insights, and funnels to explore the recent trends and patterns.
Pricing
Growth is the primary plan that CleverTap offers to businesses. This program offers significant analytics, engagement and segmentation tools. Furthermore, Advanced & Enterprise are also other plans of CleverTap. But to get the price tag of these plans, you will have to consult the sales team.
It is another reliable analytic tool that was launched in 2010. Typically, businesses that want to switch from Google Analytics to any other good platform like to go with Kissmetrics. It gives great insights and modern marketing analytics to users.
That is why more than 10,000 businesses are practicing Kissmetrics for their different tech stacks. SendGrid, Microsoft and Lucidchart are big names that are affiliated with Kissmetrics.
Features
Suitable for eCommerce — This tool makes the eCommerce businesses aware of their sales, revenues and user behavior with a complete data presentation.
Customer Activity Reports — Interestingly, you will also find detailed customer activity reports, likewise how many users visited the product and how many of them were about to add the items into the cart. These insights are very informative for businesses.
Pricing
SaaS and eCommerce are two major products of Kissmetrics. The monthly charges of their Silver plan are $299 monthly when businesses pay to the vendor on an annual basis.
Woopra is a brilliant product analytics tool for young businesses with free signup opportunities. It provides a complete overview of customer journeys to firms with the help of different reports. These reports are presented in the form of Cohort analysis and retention statements.
Features
Sync Existing User Data — To sync user data, it doesn't only believe in frontend trackers but gives core insights of the user journey. Businesses can also use its Journey Analytics Reports in this regard.
Integration — Young businesses can also integrate this analytic tool with more than 50 applications to get more advanced and accurate insights.
Pricing
Its Core plan grants 500k monthly actions and basic analytics for free. But to access advanced analytics, you can consider its Startup plan that costs $349/month.
If you are in search of a robust and innovative analytic tool to support your startup project, then the use of Countly could be a good idea. It backs both on-premises and private cloud solutions to track analytical data.
Features
Single Dashboard — Instead of analyzing different dashboards for distinct products, businesses can monitor all products on a single dashboard.
Plugins — Businesses can benefit from plugins to initiate different tasks. Indeed, this platform provides survey, funnel, hooks and data manager plugins in this regard.
Pricing
The Community Edition of Countly is free to install for startups. Howbeit, to install Enterprise Edition, businesses need to contact the sales team.
FullStory is one of the best analytic tools to get valuable quantitative and qualitative data. Luckily, this platform digitalizes the business growth and gives deep insights to enhance organizational efficiency and revenues.
Features
Dashboard — Companies can depend on its dashboard for detailed analytics because it consists of 4 types of cards, including trend, funnel, text and single metric cards.
Easy Integrations — To improve the data results, companies can quickly integrate FullStory with tools like Google Analytics, Salesforce and Slack.
Pricing
FullStory is a free platform for 1000 monthly sessions. The other plans that it offers are Business and Enterprise.
Zoho PageSense is definitely a notable name to optimize the conversion rate and enhance the effectiveness of your business. Startups can rely on its features to track, analyze and engage customer experience.
Features
Heatmap — These kinds of maps give a thorough overview to businesses of how their website or application is performing. These heatmaps are easy to understand for non-technical teammates as well.
A/B Testing — This feature helps businesses to evaluate how a minor modification can change the conversion rate of a website.
Pricing
PageSense's pricing model consists of three categories. Its basic plan is Analyze which charges $16/month from businesses. The other two plans are Engage and Optimize, which cost $23/month and $39.
Flurry is a famous app analytics platform that more than 250k companies and 1 million applications are using. Kiloo, Pinterest and NBC are major clients of this platform.
Features
User Journey — It provides all data of user journey including their demographics, devices, languages and locations.
Event Tracking — Flurry also draws a complete picture of how a customer behaves and performs a purchase event.
Pricing
Flurry is an entirely free to use analytics tool. Fortunately, it also doesn't restrict the users with certain data limits.
Conclusion
Analytics tools can assist startup companies in boosting conversions, revenues and customer loyalty. Undoubtedly, the above list of analytics tools will help marketers and project managers pick the right analytics vendor.
To discover more amazing tools for startups, please read the article The Best Startup Tools.
FAQ
What is an analytic tool?
It is a product that recovers data from business systems and integrates it into a repository.
What are the benefits of analytics?
– Better communication between teams
– Better understanding of the business
– Better decision making
What are ten of the best analytic tools for startups?
– MixPanel
– Amplitude
– Google Analytics
– CleverTap
– Kissmetrics
– Woopra
– Countly
– FullStory
– Zoho PageSense
– Flurry