Top 7 Alternatives to Appcelerator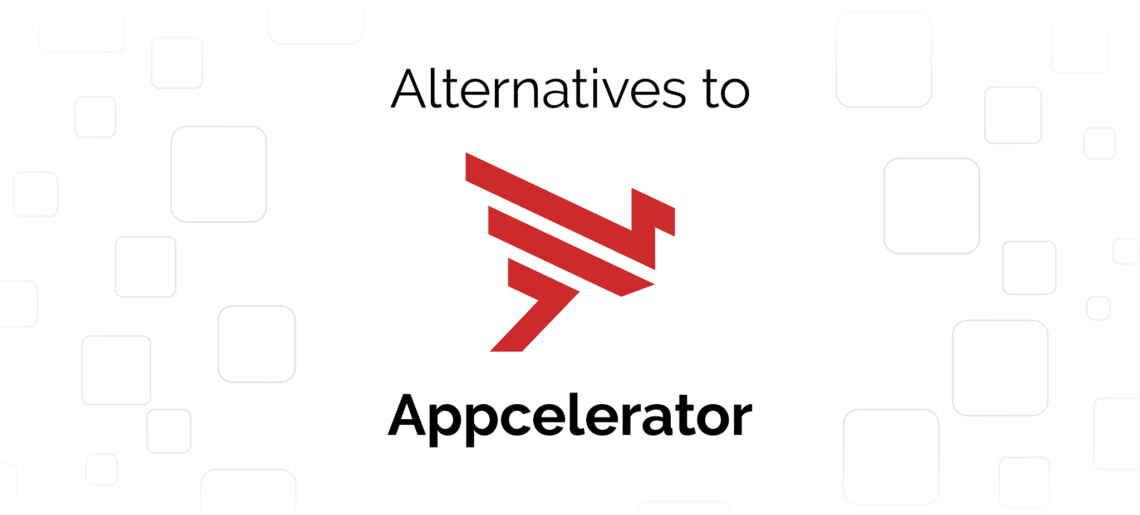 Appcelerator Alternatives: Top 7 Providers
Appcelerator is a platform that is meant to enable the developers to create a native application with the most popular scripting language JavaScript. With the help of Appcelerator, software developers are not only able to build native applications only but also real-time analytics and mobile APIs under one roof. Appcelerator has the ability to minimize the time which is being taken to build a native mobile application. More interestingly, the applications which are being built with the Appcelerator are compatible with multiple platforms, including Android, Windows Phone, and iOS. Appcelerator contains some features, including multiple platforms support, multi-lingual interface, user-friendly application builder, direct APIs access, 3rd party incorporation, etc.
However, at the present time, plenty of people are looking for other mobile development platforms that are alternatives to Appcelerator. Here are 7 of the most amazing Appcelerator alternatives:
Top 7 Appcelerator Alternatives
Do you want to put your hands on a more amazing alternative to Appcelerator? Here are some of the most amazing options which you must consider in this regard.
This is one of the best and most famous mobile app backend providers in the entire world. Even more, it is an effective backend service provider which can help the developers to create applications much faster without reinventing the wheel. This is an amazing option that can help you to experience highly available and perfectly scalable services to fulfill the entire needs of your project in the best possible way.
Features:
Data management dashboard
Transfer App & clone app
Real-time database
Two-factor authentication
Private cloud options
Multitenant dashboard
Email verification
Logs viewer
Automated backups
Want to know more about Back4App features? Please check the complete list below:
Benefits
Scalable and flexible services
24/7 support services
Easy to use
Parse
Parse is an amazing NodeJS open-source backend service which is without any doubt going to be a perfect option for you to choose. It comes with a highly competitive app stack which can make your application faster in the best possible way. Most interestingly, it can also work with the Express web application framework which you can attach with your current web applications with ease. This comes with a user-friendly interface to provide amazing benefits with ease.
Features:
Easy to use dashboard
Social platforms integration
Push notification
Real-time database
User authentication
Email verification
File storage adapters
Benefits
Easier to use interface
Larger developers' community for support
Comprehensive app stack which can make it faster to use tools
Easy to download
Buildfire
Build fire is providing one of the easiest ways for the developers to manage the processes of application development in the best possible way. This is one of the best app development platform options to consider for individuals, resellers, organizations. It comes with the most powerful suite of amazing built-in features which can help you to develop a mobile application faster than ever.
Features:
High-level security
Data storage
Application dashboard
Progressive web applications
Benefits
User-friendly interface
Fast and easy reconfigurability
Limitless customization options
Supports both iOS and Android
Apple File Maker
Apple File maker is one of the most amazing data application programs which has the ability to manage database-related backend services of applications. This has the ability to help the developers to create, manage and share custom mobile applications even on-premise environments too. It can help the developers to innovate and unleash their expertise in their work with ease.
Features:
External SQL Data Connection
Single Launch Center
Theme Styles
Highlighted Script Errors
External SQL Data Connection
Benefits
Quick start
A higher level of flexibility
Built-in quick reports
Team sharing
Ensured data security
Outsystems
This is one of the most used and popular Rapid application development platforms. It offers developers environment and tools which are required to build, manage and deploy custom enterprise applications with ease and more speed. It brings the best Unparalleled functionality options to ensure faster development and deployment of enterprise applications. Most importantly, this system can be hosted in the cloud or deployed to the customers as an on-premise solution. This will definitely make it easier for the developers to deliver or update applications faster.
Features
Full access control
Real-time reporting
permission management
Complete DevOps automation
Integrated debugging engine
Effective for enterprise applications
Benefits:
Perfect for custom application development
Fully extensible via APIs
Better at management requirements
Better support
Zoho Creator
Zoho Creator is an effective online application builder that can help businesses to develop specific web tools. This amazing solution comes with an amazing array of tools for customization including easy to use and intuitive drag and drop interface. With the help of this platform, users can develop custom applications for their own design, data collection and their unique rules with ease. They can create unique solutions for the business which can help them in propelling their business in a more effective way.
Features:
Collaboration Tools
Secure Access Controls
Notifications, Tasks, and Reminders
Workflow Builder
Custom Reports
Benefits
Highly interactive user interface
Multi-Language Support
Provides smarter reports
Effective pay as you go option
Mendix
Mendix is a fine option which is helping enterprises, government agencies and institutions to achieve their digital goals more effectively. This is one of the best solutions which is offering amazing development solutions to different organizations to manage their teams to work for the right business solutions. It is helping its customers to convert their innovative ideas into web or mobile applications and grow in a more effective way with ease.
Features:
Centralized App Governance
Public/Private App Stores
Model-Driven Development
High-level Security
Benefits
Enterprise Integration
Central App Management
Multi-Channel, Multi-Device
Social collaboration
Conclusion
There are multiple astonishing solutions are available in the market which you can choose as the best alternative to Appcelerator. However, it can be difficult to choose the one when you need. Therefore, we have given some details regarding effective Appcelerator alternatives so that selection of the best among these can become easier for you.