Top 5 BI Tools for Startups
Business Intelligence tools have become crucial for businesses to get valuable insights and reports to make better decisions. However, it is challenging for startups to select the right BI tool for their ventures.
Therefore, we are sharing the top BI tools for startups with their core properties and pricing models.
Top 5 BI Tools for Startups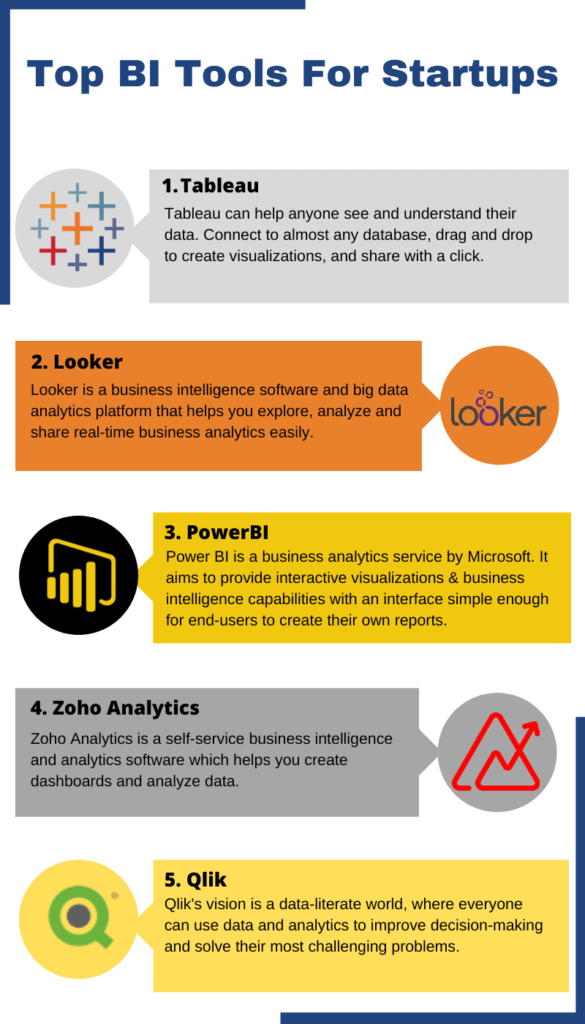 Here are some of the best and well-reputed BI tools that startups can consider using as a young business:
Tableau is one of the finest California-based BI tools that has been serving businesses since 2003. This powerful data visualization tool aids startups to conduct real-time analysis, collaborate and blend data quickly. The renowned companies that are using Tableau are Delivery Hero, The World Bank and Skype.
Features
This BI tool comes with a user-friendly dashboard where it is easy to apply filters and customize layouts to find the right data.
Similarly, businesses can share data with this BI tool in a secured manner whether they are using the cloud, hybrid or on-premises connections.
This tool confers bar, histogram, bullet, Gantt, Treemap, motion and Boxplot charts To provide modern visualization. By the same token, pre-installed information about maps and predictive analysis is also an exciting feature of this BI platform.
Pricing
Tableau Viewer plan bills $15/month when users go with a fully hosted option. Furthermore, the monthly charges of Tableau Creator begin from $70.
Looker is another trusted name in the field of data analytics and business intelligence. This platform is assisting more than 2000 businesses because of its intelligent functionalities. The major companies that are using this BI tool for their tech stacks are Avant, Moderna and Twilio.
Features
The best thing about Looker is its browser support, and businesses don't need to install desktop software to use its dashboard. It gives Looker a prominent competitive edge over rivals.
This BI platform provides a 360-degree view of your potential customers and further insights. Users can also seamlessly integrate these reports with SaaS apps.
Looker guarantees to keep the entire BI data of startups and SMEs secure. In this regard, it owns certifications including SOC 2 Type 2 and ISO 27001.
Pricing
Looker doesn't offer defined price quotes. Businesses should contact their sales team and request a quote with all credentials of their venture.
Qlik joined the business intelligence industry with an aim to eliminate the distance between decision making and data insights. This SaaS company delivers actionable data, due to which it has more than 50K customers. The notable companies that trust Qlik are PayPal, NHS and Airbus.
Features
Qlik is a simple to use software, and startup teams don't need much expertise to handle this BI tool. Furthermore, this tool also doesn't demand any technical maintenance from users.
The in-memory technology of QlikView permits several users to request data simultaneously.
Data compression technology reduces the data size by around 10% and only provides useful insights to businesses.
Pricing
Though startups can proceed with the free trial option of Qlik, but the monthly bill of its Qlik Sense Business plan is $30.
With the backing of Microsoft, Power BI is another famous choice for startups to administer their BI operations. This tool doesn't only provide big data analytics, but startups can also easily connect it with other Microsoft applications.
Features
Startups can instantly integrate Power BI with Excel files, Azure, Office 365 and Microsoft Cloud App Security and benefit from these tools.
Its dashboard displays the data in the most user-friendly manner with the help of charts and graphs.
Pricing
Microsoft 365 E5 contains Power BI Pro, but you can also pay $9.99 per month/user to avail this tool separately.
With 2 million global users, Zoho Analytics is a standard BI tool that startups can utilize to access data insights and make quick business decisions. Hp, IKEA and Suzuki are renowned clients of Zoho Analytics.
Features
Zoho Analytics takes only a few minutes to translate data into meaningful actions. Startups can also connect this BI tool with 500+ applications to blend and import data anywhere.
Businesses can conveniently recognize and predict upcoming trends with the help of their artificial intelligence backing. Similarly, companies can embed this BI tool into their core setups with its low-code or no-code approaches.
Pricing
For 2 users, the monthly plan of Zoho Analytics only costs you $24. On the contrary, with 5 users support, the monthly fee of its Standard program is $48.
Conclusion
The conversion of data into useful actions has become crucial for businesses. The mentioned BI tools help startups, SMEs and large enterprises to make better decisions with Big Data and in-depth insights.
Read the article Top 50+ Startup Tools to know more about this topic.
FAQ
What are the best BI tools for startups?
– Tableau
– Looker
– Qlik
– Power BI
– Zoho Analytics