The Best 10 Business Planning Tools for Startups
Business planning is one of the significant strategic approaches that startup companies use to showcase their core objectives and programs to achieve organizations goals. Young businesses also prefer to make solid business plans to attract investors.
Therefore, the use of authoritative business planning tools is crucial for startups. That is why this article shares one of the top business planning tools with all necessary features and pricing models.
Top 10 Business Planning Tools for Startups
Here are ten of the best tools that will help you writing a business plan.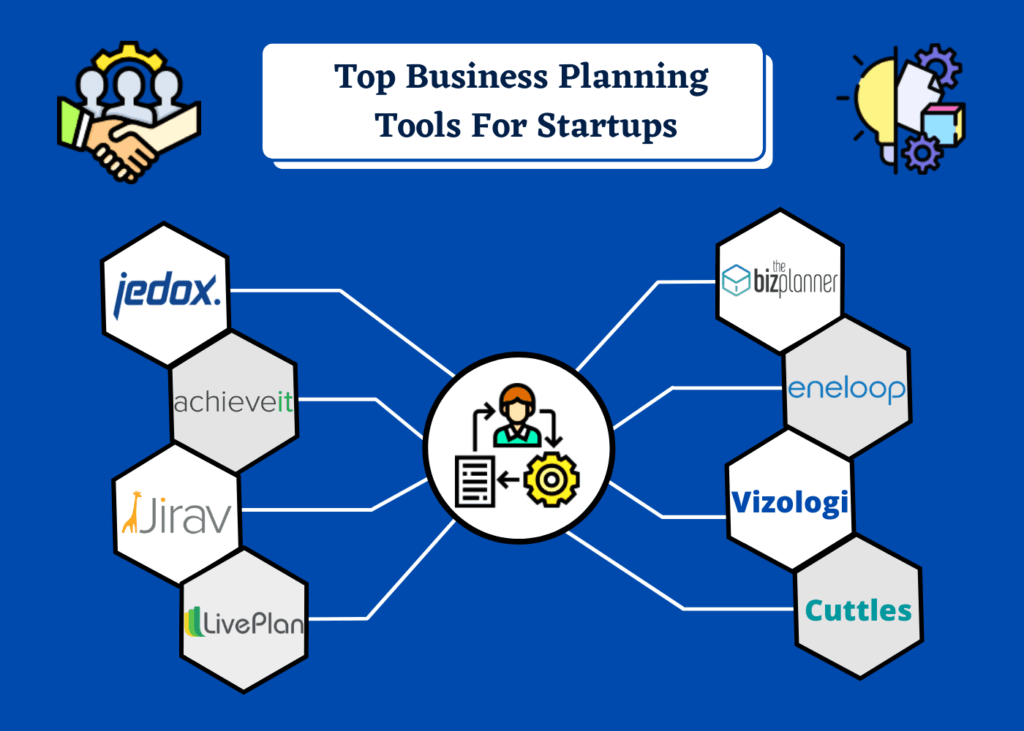 Enloop is a cloud-based business planning tool that 323,180 entrepreneurs, students and businesses have used. It can create around 16 financial ratios and real-time performance reports.
Features
Financial Forecast — Businesses can automatically anticipate their financial reports with this tool.
Currency Support — It supports around 100 currencies, so people from different countries can smoothly use this app for business planning.
Real-Time Score — Enloop permits the startups to watch their real-time score to improve performance.
Pricing
Its Free plan enables the businesses to get a 7-day free trial. But the monthly cost of its Detailed plan is $19.95.
LivePlan could be a reliable option for startups to nail down a solid business plan. Moreover, it also claims to build business plans 30% faster than the rivals. Luckily, 1 million small businesses, enterprises and entrepreneurs have shown trust in this tool.
Features
Sample Plans — It is the perfect business tool for new teams because they can get guidance from 500+ already available sample plans.
Professional Documents — LivePlan also enables the startups to design an engaging business plan and other documents to convince investors.
Pricing
LivePlan comes with two plans Standard and Premium, and its monthly charges start from $20.
If you are finding an ingenious business planning tool, then you shouldn't ignore IdeaBuddy. With planning, development and real-time evaluation, its financial projection properties are also appealing.
Features
One-Page Plan — Startups can build a business plan within 30 minutes, and yes, it could consist of a single page for ease of understanding.
Financial Properties — Financial calculators, profit and loss statements, and forecasts benefit from using IdeaBuddy.
Pricing
The yearly cost of its Dreamer plan is $65, but only 1 collaborator is eligible for it. However, for 3 and 30 collaborators, you can also consider its Founder and Team plans. The yearly charges of these plans commence from $115.
Cuttles is one of the most straightforward business planning tools that 20,000+ startups are using. It could surely be a great option when it comes to building startup plans.
Features
Canvas — This property aids the young companies to smoothly architect and corroborate their business idea.
Suitable for Teams — It also allows the startups to easily include the teams' ideas while making a business plan.
Pricing
Its Free plan is applicable for 1 member and offers restricted features. On the other hand, you can consider its Seed, Grow and Series plans with more advanced characteristics. Its Seed plan bills €8/month to users.
Vizologi is an AI-backed business planning tool that is the foremost choice of students, strategists, managers, entrepreneurs and consultants. The availability of free business models also differentiates it from rivals.
Features
Business Intelligence — Companies can make wise decisions using premium analytics and data reports.
Business Plan — Its business plan includes a mash-up method, canvas, SWOT & PEST analysis.
Pricing
Although Vizologi confers a free trial, but its monthly charges commence from $9.
TheBizPlanner is also a unique business planning tool. This end-to-end business planning software comes with four significant properties: profile, connect, plan and collaborate.
Features
Dashboard — The single screen dashboard provides all reports to businesses.
Campus Edition — It has also released an exclusive edition for educators.
Pricing
Fortunately, TheBizPlanner Pro is free for startups now. Howbeit, you can talk with the sales team to get the pricing of its Competition plan.
AchieveIt is a purpose-built Georgia-based strategic business planning solution that was founded in 2010. This is an ideal business planning platform for all sectors, including credit unions, commercial, healthcare, federal and local governments.
Features
Integrated Tool — It provides data uniformity and great accountability for execution.
PowerPoint Digestibility — This tool could be easily connected with PowerPoint.
Pricing
This platform bills $70 per user and month under its Core plan.
PlanGuru is also a considerable business planning, forecasting and budgeting software that startups should use. Furthermore, it is more suitable for accountants, small businesses and nonprofit organizations than big enterprises.
Features
Forecasting — PlanGuru provides 20 powerful forecasting tools to businesses.
Analysis in Minutes — Users can get all historical data analysis within minutes.
Pricing
The monthly cost of its cloud and desktop version starts from $99.
Jedox is a unified business planning and forecasting solution that 2500+ companies use worldwide. The major brands that are practicing Jedox are ManpowerGroup, McDonald's and Bosch.
Features
Timely Insights — Time-intensive planning has become essential for startups, and it is only possible with timely insights.
Predictive Forecasting — It is packed with artificial intelligence-based predictive forecasting and planning features.
Pricing
Jedox comes with four major plans Essential, Business, Professional and Performance. However, you will have to click the 'Get A Quote' tab to explore the pricing.
If you want business planning software for VC funded companies, growth and accounting firms, then Jirav is the best option for you. This is a smart and all-in-one budgeting, planning and forecasting tool.
Features
Automatic Imports — Jirav could automatically integrate all of your business data. Companies can also connect it with accounting and workforce software like Gusto, Xero and QuickBooks.
Reports & Dashboards — It provides both commercial and non-financial information.
Pricing
Starter and Pro are core plans of Jirav that monthly cost $250 and $850, respectively.
Conclusion
Business planning is critical for startups and founders to execute a business idea successfully. The use of smart and interactive business planning software and solutions definitely help the new businesses in convincing VCs to fund them. In this regard, entrepreneurs can utilize the above best performing business planning tools.
To discover more startups tools, please refer to the article Top Startup Tools.
FAQ
What is Business Planning?
Business planning typically applies to organizing ideas in a formal business plan that summarizes the business's current state.
Why business planning is important?
– Steer the business
– Define milestones
– Help with funding
What are ten of the best business planning tools?
– Enloop
– Live Plan
– IdeasBuddy
– Cuttles
– Vizologi
– TheBizPlanner
– AchieveIt
– PlanGuru
– Jedox
– Jirav