How To Develop Route Planning App Like Komoot
Digital growth and mobile penetration have paved the way for personalization. Through mobiles, individuals are connected and empowered as custom-built applications are effortlessly meeting consumer demands and needs. Apps like Google Maps have facilitated users to have locations and directions of any place in their pockets.
According to stats, more than 54% of people use smartphones for navigation. This solidifies the fact that route planning and navigation are some of the most sought app features. People who love exploring the outdoors can use route planning apps like komoot to find trails and explore the wilderness.
What is komoot?
komoot (with a lowercase 'k') was founded in 2010 by six friends from Berlin. It is a route planning and navigation application that helps riders by unearthing new trails that are worth a detour.
Riders and hikers who love exploring the outdoors, are interested in finding trails for backpacking, cycling, and more, can plan their routes on a computer or a mobile by using a start and an endpoint.
Based on the road surface, fitness level of a rider, elevation profile, and more, a route is generated by the application of komoot. These routes can be easily navigated on a phone or a GPS cycling computer with or without an internet connection.
Riders are also provided with the flexibility to reroute, in case they decide to change the course and want to head somewhere different. The application of komoot is also available for download for iOS and Android and supports most wearable devices.
How does komoot Work?
komoot has its own set of algorithms that establishes the best route depending on the interest of the rider, activity type, selected waypoints, and more. It uses OpenStreetMap database as an open-source for its base mapping. Once a route is selected by a rider, komoot provides onscreen and audible navigation.
When riding, the application informs regarding the riding speed, distance traveled, distance remaining, and also route alterations on the fly. Places that other riders have visited can be discovered by a new rider as they are marked as 'Highlights', such as cafes, particular climbs, and more.
The Steps of Route Planning Using komoot
Own trips on komoot are called "Tours" and can be built by selecting a preferred route(s).
By clicking on the "Discover" tab users can browse for routes created by other users or the komoot team.
A map or guided voice navigation can be used by riders. Offline maps can also be accessed by paid membership.
Once the ride has been completed, riders can upload it to their profile along with images. This helps other users of the komoot community in planning their routes.
Classic Features offered by komoot
komoot is famous for personalized routes, among riders, hikers, and people who are adventurous. It connects the pieces of disparate roads, trails, bridges, and more, and joins multiple points in the most enjoyable way possible, something that is unique to komoot. Some of its bespoke features include:
komoot smart route-planning
komoot is a sophisticatedly designed route planning application that automates the usual stages of the route-planning process by using algorithms. A route is usually assessed by komoot to determine trails that are covered with dirt, gravel, elevation, gradient, highways, and more.
If a user is not satisfied with the route, it can be adjusted by adding or moving waypoints, i.e. if there is a coffee shop or a particular climb the rider wants to incorporate, it can be done by adding or moving 'waypoints'. If the tour is changed then the application automatically refreshes and shows new routes with the set criteria.
Additionally, komoot creates routes using heat maps. Routes pull in information from local travelers to bring smart routing that can efficiently get you from one point to another. Based on technical difficulty, a route can be filtered too.
Mapping
This functionality as offered by komoot is easy to use. As discussed above, a rider can move and add waypoints by using the mapping function or it can be left on komoot to work the mapping. Riders can select their fitness level and get a predicted ride time with the breakdown based on the surface type they will be riding on and can be accessed using a GPS-enabled device for navigation.
One of the most intriguing features of the application is its turn-by-turn navigation. Once the route is set, all that is left is to ride. komoot's voice navigation allows the user to follow the right path safely without any distraction.
Hands-free navigation assists the rider to focus on the trail while listening to the directions. The screen can be switched off and the audio can be heard of the routes that are pre-planned and are even saved in the application(offline) for hiking.
Moreover, the voice guidance for navigation provided by komoot is clear and the instructions provided are useful to riders as they go along a trail. This includes warnings about what might be expected. In all, both the map and the directions provided by the application are simple and easy to understand.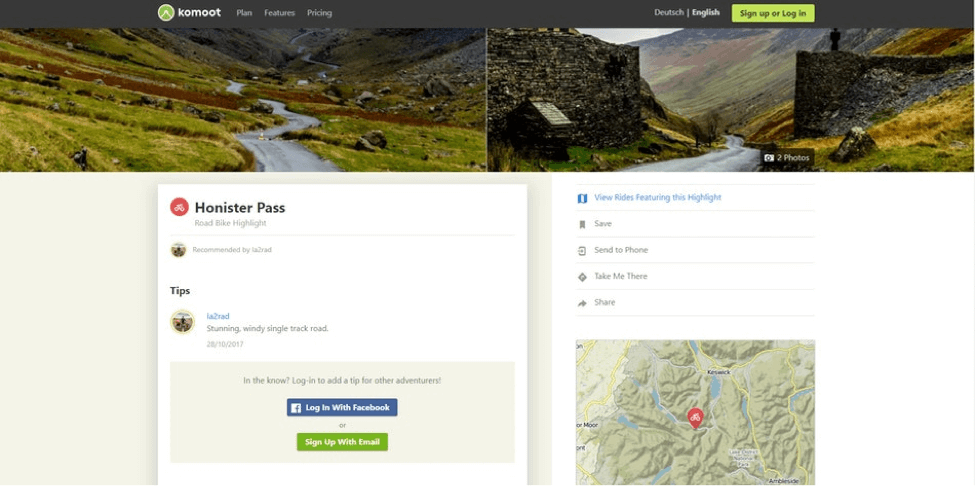 Source: komoot website
This is one of the most engaging features of the kommot application. The application facilitates users to add photos and information related to their track that can be shared as stories with other riders. Using the GPS facility, komoot allows users to track and highlight their rides.

The same can be further shared with the community of komoot, where users can like and comment on the tracks of fellow riders they are following. This benefits other riders as they can consider the trails of others and plan their route accordingly. If the profile of a rider is public then a track can appear on their profile search result also.
Gamification side
The application of komoot strongly believes in the spirit of fostering adventure, which is the main reason behind its popularity. By using the application and actively communicating regarding the rides with the community, riders can earn badges and rewards. If a rider is an expert in routing through experience, then others can be helped with their knowledge. Overall, the application is about fun, enjoyment, comfort, scenic traveling, and accurate routing.
Route info about road type and surface
The application of komoot comes with inbuilt functionality to tailor the route as per the rider's preference. It can be singletrack, mountain biking, road cycling, or something more leisurely. The condition of the particular route describes the surface types. This includes:
Sand
Asphalt
Cobblestones
Gravel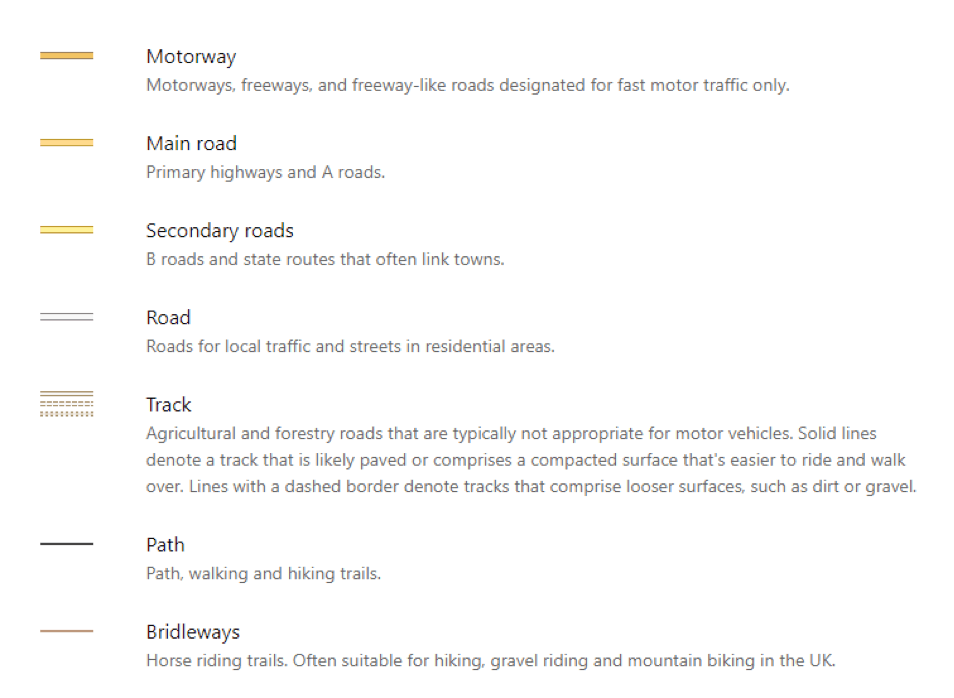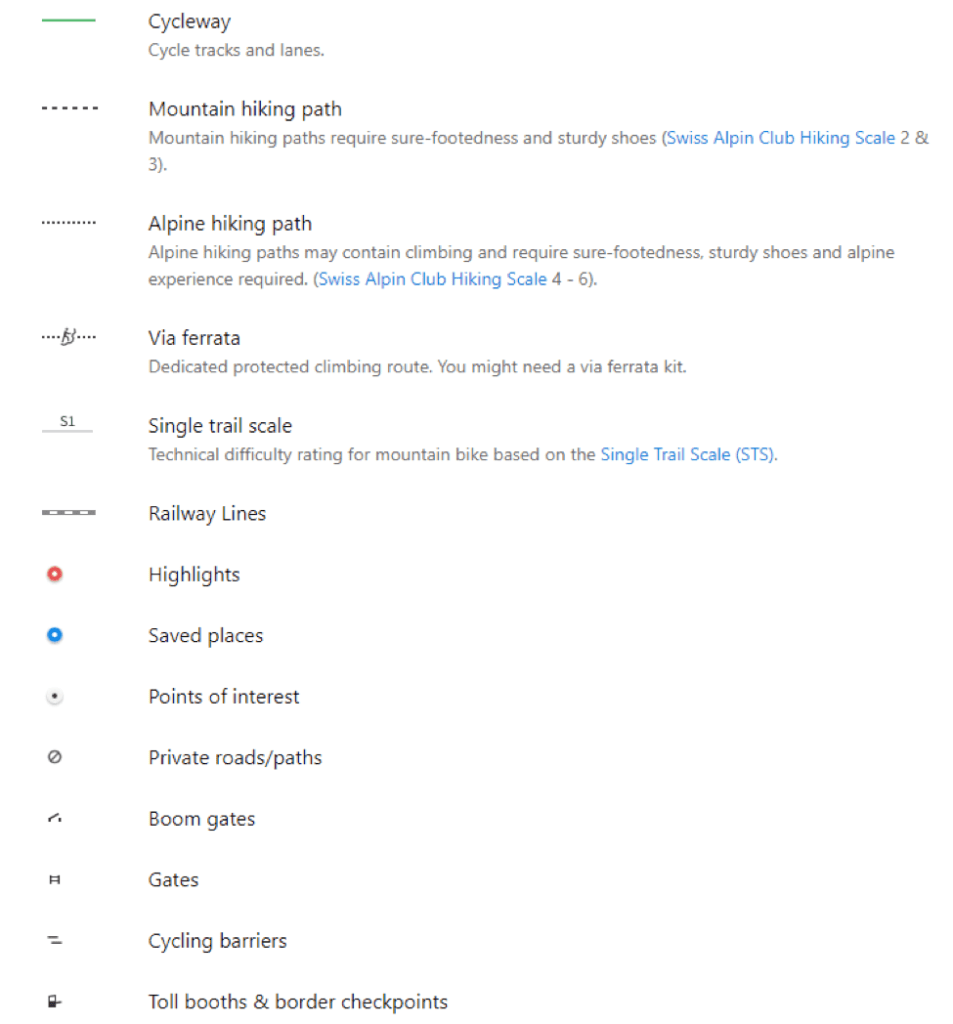 Various Routes (Source: komoot website)
Riders can also use the application of komoot to include or avoid surfaces, particularly like singletrack or dirt. Trails might include unavoidable bridges, obstacles, or narrow tracks, so every indicator offered by the application helps the rider to be fully prepared for the outdoors.
Elevation profile on the app and device
Based on a user's fitness, the application of komoot offers a feature of interactive elevation profile. This feature cuts out elevation or avoids climbs and more by suggesting an alternative route. Though the application will not remove a steep climb to a destination with a good lake or view, it will show the easiest way to reach and also share the route difficulty. Alongside, information like elevation, average speed, and distance can prepare a rider more effectively apart from other komoot users helping by telling how rewarding the view might be (by marking highlights).
Search for routes made by other users
As shared above, komoot is a community-based application and relies on information shared by other riders. This enables new or old riders to draw data and create better rides based on the information shared. So when a rider plots the route, they are aware of where exactly they are going to ride. The features also enable users in the community to share their favorite routes with bike shops, coffee shops, images of scenery, and other useful information like the surface and path type, cycleway, street, and more.
As we already know that komoot can be accessed via desktop so users can plan their rides easily and then store and send them to the phone. The application for both iPhone and Android is free, but it includes one 'region' at no additional cost that can be downloaded to the phone for offline navigation. The web-based browser route automatically syncs with the application and if already saved can also be accessed in an offline mode.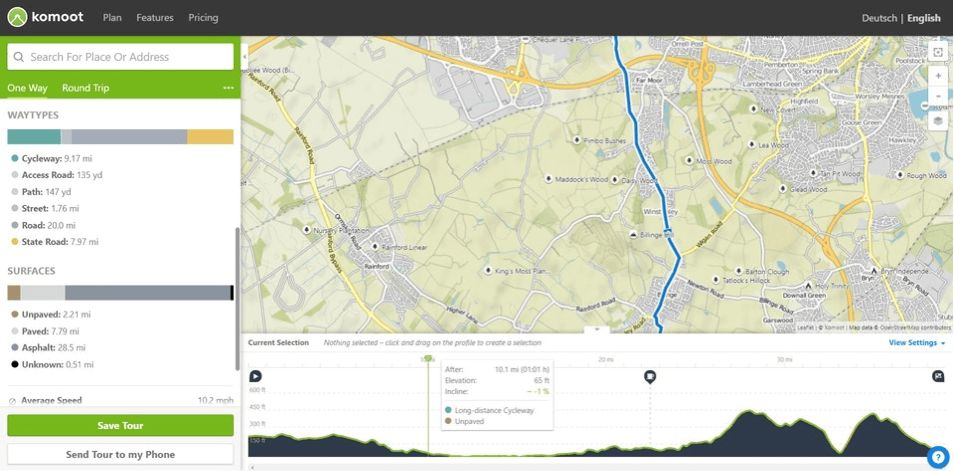 Source: komoot website
Community focus
The community-led aspect of komoot allows users' that a local to a region to add to the application by highlighting the best climbs, cafes, points of interest in the area, and more. They are also encouraged to add descriptions and photos wherever possible for the ease of route planning for new and existing riders. Interestingly, even the team of komoot shares route suggestions with mesmerizing views. That said, the community of komoot is expected to grow exponentially with new users joining.
Region Packages Offered by komoot
komoot also offers a few products for a rider to purchase which are in the form of regions. The first single region is free for riders so that all core features can be tested by them.
Once the app with the free region is tested and the rider is satisfied then more regions can be unlocked for a one-time payment. The same can also be availed by signing up for a premium model.
komoot Region Packages Include
Single region
Region bundle
World pack
Premium
Single Region
This option allows the rider to choose a region based on their next tour. A single region usually contains a particular city and its surroundings. The region that is needed for a particular tour will be shown when a rider tries to download it.

Source: komoot website
Region Bundle
A region bundle is bigger and allows riders to access multiple single regions in a particular area. The price for a region bundle is comparatively less as compared to single regions.
World Pack
If a rider needs more than three region bundles or is looking to travel the world by using komoot app, world pack is most suitable. Different regions under this category are available and the world pack is offered at a one-time payment of $29.99.
Premium
For adventure enthusiasts who want to explore the unknown instead of the well-trodden, komoot offers a subscription model i.e. Premium. Priced at £4.99 a month or £59.99 annually, riders can purchase the subscription. As per requirement, the plan can either be renewed or canceled by a rider. It also offers additional offers like:
● Multi-day planner- Allows a rider to plan a complete bikepacking trip in one route and breaks it into daily segments.Live tracking- This feature shares the current status and location of the rider with preset contacts or a unique URL.
Personal collections- Lets riders do group routes and highlights into collections so that favorite tours can be found easily.
On-tour weather- Gives a weather forecast up-to-date for the trip.
Sports-specific maps- Overlay features such as mountain bike trails or cycling networks.
Privileged pricing- Offers discounts on various products by various brands in 14 countries.
World-wide maps and navigation- The premium service includes maps and if world maps are already unlocked, Premium subscription can be availed at a discount price.
Apart from this, komoot also offers bikes and gear from brands including Cannondale, Wahoo, and Shimano.
How to Develop A Route Planning App?
A route planning app like komoot can be developed using several frameworks. It includes a series of process steps. From various available frameworks, covered below are:
Design Thinking Approach
New Product Development (NPD) Framework
Design Thinking Approach
This framework is used for developing applications on the basis of identifying problems or by considering user perspectives. The steps included in the design thinking process are:
1. Empathize with users- It is crucial to understand the needs, goals, fears, and frustrations before the development process of the application so empathy is the first step.
2. Define the problem- Insights from the first step can be translated into statements that encapsulate the problem that needs to be solved and should be based on the real need of the people.
3. Brainstorm for solutions- In this stage, a lot of ideas from the team can be narrowed as per the company's priorities, strategic considerations, and budget.
4. App Development- Includes building a prototype that potential customers can use.
Test- The application is tested for any functional defects.
Deploy- Launch application in the market for users.
NPD Framework
This framework is standard and is followed by several businesses to develop custom mobile applications. The common approach followed under this framework includes:
Ideation- The initial phase where brainstorming is done and the team shares innovative ideas towards mobile app development.
Research- Reviewing competitive offerings and validating the idea.
Planning- Includes streamlining the technology stack, finding and partnering with development resources, determining the development methodologies, setting a budget, and more.
Prototyping- Includes developing a sample of the finished product with the project stakeholders. This is different from MVP (Minimum Viable Product), which is for early adopters. The product is also tested for bugs, and functional errors.
Sourcing- Key strategic partners, suppliers, and vendors required for producing the product are secured.
Commercializing and costing- The process of introducing the newly developed application into the market. Here, the product is launched, advertisements, promotional and other marketing activities begin and the future costs are estimated.
How Much Does It Cost to Develop a Route Planning App like Komoot? (Time and Money)
All route planning apps are different in terms of complexity and functionality. The biggest cost-driving factors of a custom app development are the number of features to be added, amount of logic required and time needed to implement.
It is no secret that the cost of developing an application varies greatly depending on the geographical location and the availability of resources. Listed below is the classification based on moderate time needs and location wise hourly rates:
Moderate Time Needs As per Complexity
Simple App (3-6 months) – A decent app with simple functionality takes approximately 500-800 development hours.
Medium Complex App (5-9 months) – A custom mobile application with medium complexity requires approximately 800-1200 hours of development.
Complex App (8 months above) – A route planner app that requires a lot of customization exceeds 1200 hours.
Hourly Rates (Region Wise)
North America – $150 per hour
Australia – $92 per hour
UK – $71 per hour
South America – $43 per hour
Eastern Europe – $40 per hour
India – $25 per hour
Conclusion
The right route planning app like komoot can help intrepid explorers, off-roaders, and common people who have purchased their first bike or have rented, to plan and experience the outdoors. It not only helps riders to plan their tours better but also helps businesses to achieve their goals.
If the lure of developing a route planning app has struck you, partner with a custom mobile app development company to build a delivery route planner app. It allows the best utilization of development resources to work with technology and provide a solution to riders and adventure enthusiasts to better plan their routes and have enriching outdoor experiences.
This article was published by Ramesh Lal is a Sr.Digital Marketing Executive at FATbit Technologies.