Top 5 Messaging Tools for Startups
Instant messaging has become an essential need of businesses to communicate with customers and teams. Although with the passage of time, the IT world is introducing more modern messaging tools for companies but we are talking about the core ones here.
Indeed, this article presents one of the best messaging tools for startups with pricing models and significant features. The list of features include team messaging, team collaboration, video chat, group messaging, social networking, task management, real time communication, communication tools, etc.
Keep reading to know more about instant messaging apps.
Top 5 Messaging Tools for Startups
Please find below five of the best messaging for startups, small businesses, and companies in general. Here is the messaging tools list: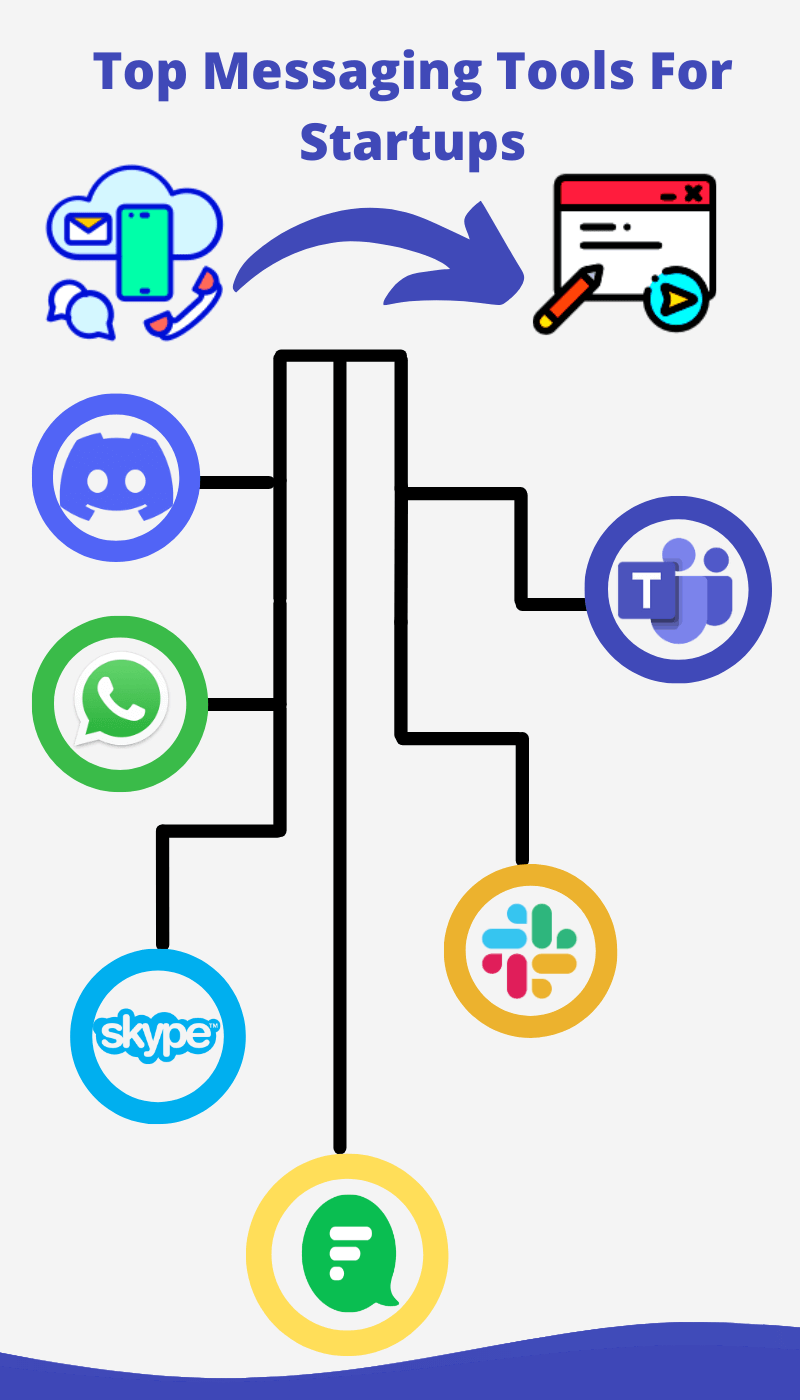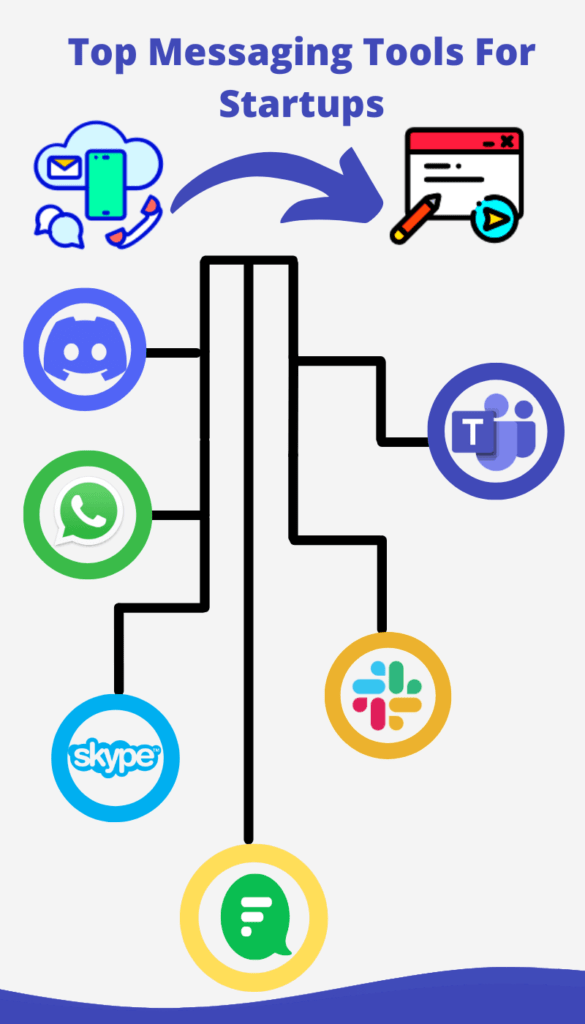 Slack is an ultramodern way to conduct communication with teams. This California headquartered messaging platform was made public in 2009, and now, it owns more than 169k paid clients from 150 countries of the world.
Fox, Netflix, Uber and Kiva are the top brands benefiting from different tech stacks of Slack.
Features
Advanced Messaging — With the help of the Slack platform, startups can explore conversations and threads from history and edit, send and schedule them anytime.
Interactive Messages — To create interactive messages, it provides a variety of shared components to teams. These features are present in Block Kit.
User-Friendly Chats — Teams can communicate with each other in a single chat room. Similarly, connecting remote team members through this messaging tool is also seamless.
Pricing
Its Free package provides access to 10k recent messages but to approach more features, startups can also pick its paid plans. The monthly fee of its Pro plan is $6.67.
Skype is one of the initial messaging tools that businesses of all sizes utilize for years. This communication application was made public in 2003, and hundreds of millions of users are consuming it now. It is definitely a good option for video meetings, instant chats and telecommunications.
Features
Smart & Private Messaging — Teams can send smart messages through this tool and even use @mentions to convey messages to particular members. Its end-to-end encryption is also helpful to send messages without data breaches.
Live Subtitles — It confers live subtitles for audio calls and recordings. Mainly, if you work with teams of different countries, you can understand their messages appropriately.
Phone Calls — Indeed, it provides Skype numbers for 25 countries to convey messages through calls.
Pricing
Skype is free to use and download tool that businesses can consume. However, to grab advanced features, you can also avail it under Microsoft Teams plans.
WhatsApp is the most popular messaging application that startups should consider using. Yes, the recent survey of Statista claims that with 2 billion monthly users, WhatsApp is the most beloved global messenger. Startups can download it on their Android, Windows, Mac and iOS devices without paying anything.
Features
Group Chat — Businesses can open group chats with coworkers and share videos, links and data with more than 256 teammates.
Speak Freely — With text messaging, you can also send voice messages to your team members without paying anything. Calls are also free with WhatsApp, but only data charges apply.
Pricing
WhatsApp is a free messaging tool that only uses phone or device data to send messages, makes audio and video calls. But, Facebook takes a small amount of money for 250k and plus messages from WhatsApp Business Account holders.
You can visit 'Meta for Developers' to know these charges in USD and different other currencies.
With the support of Microsoft 365 products, Microsoft Teams is another trusted messaging tool for startups. It is the most refined group chat platform that works for Linux, Windows and Android platforms.
Additionally, Microsoft 365 services provide a range of valuable features such as cloud storage, email, and video conferencing, which can be integrated into Microsoft Teams to create a comprehensive and efficient communication and collaboration platform for startups.
Features
Audio Conferencing — You can join an online meeting through your phone by dialing the number. Audio conferencing is possible with this tool.
Easy Sharing — Users can easily share documents, files and URLs with this chat platform.
Pricing
Microsoft Teams is free to utilize 100 meeting attendees and 5 GB of cloud storage. It costs $4 per month and is used under the Microsoft Teams Essentials plan.
Discord is also an instant messaging and VoIP platform that is available in 28 different languages. This messaging tool was released in 2015, and now, it owns 150 million monthly active users.
Features
Direct Messages — If you want to send private and direct messages without sharing data with servers, Discord is very helpful. Yes, it permits chats without informing servers.
Channels — Startups can create different channels to send instant messages, files and videos with this tool.
Pricing
Discord Nitro bills the businesses $9.99/month with server support and many other features.
Conclusion
This guide shares top-rated and most used messaging tools with startups. But it is advised to choose suitable platforms for communication activities.
To learn more about great tools for startups, please read the article Top 50+ Tools Every Startup Should Know About.
FAQ
What is a messaging app?
A messaging app is an app that allows users to instant message and interact with each other through their cell phones or computers.
What are the advantages of a messaging app?
– Realtime communication
– Increase productivity
– Better communication in general
What are five of the best messaging apps?
– Slack
– Skype
– Whatsapp
– Microsoft Teams
– Discord