PubNub: Top 5 Open Source Alternatives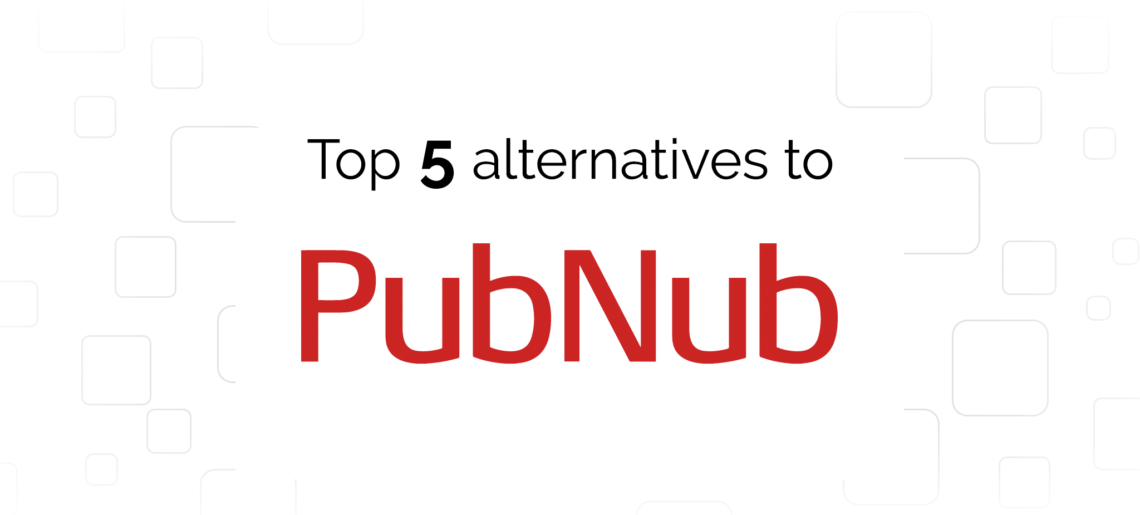 The best open source alternatives to PubNub
Pubnub is a well-known Data Stream Network. Even more, it is a secure, easy to use real-time communication Application Programming Interface for mobile, web and IoT applications. This service can let you scale to hundreds and thousands of devices within a shorter time and ensure worldwide latency. Even more, it comes with more than 70 SDKs. It is quite easier to connect real-time IoT devices which can offer great performance, services, and reliability to the users. Even more, it also has the ability to save precious user time and resources and can make it easier for the developers to manage their applications in a more effective way.
However, when we see open-source platforms that are making it easier for the developers to manage the processes of application development then you can find numerous Pubnub alternatives that are offering similar levels of services. So, to know about the best competitors of Pubnub, it would be effective to have a look at the information given below:
Top 5 PubNub alternatives open source which you must know
Do you want to know about the top Pubnub alternatives open source? Well, here are some of the best and well-known options which are certainly more effective for you to know in this regard.
Back4App is an effective, simpler one-click platform that can help you to optimize your backend components including APIs, file storage, databases, server infrastructure and much more in the best possible way. Back4App is bringing all of the essential backend features and services which has the ability to make the application development processes much easier than ever before. Even more, Back4App is also a world-renowned parse server which can make it easier for you to host your applications in a more amazing way with ease. Back4App is a proven development tool that is certainly worth considering in this regard.
Features
REST API
GraphQL API
Email notifications
Real-time database
Geo Queries
Cross-Platform SDKs
More Back4app features? Please take a look at Back4app Features.
Benefits
Multi-cloud and dedicated servers
Flexible and scalable services
24/7 technical support
Well-optimized storage
Parse is one of the most commonly used open-source frameworks which is effective for efficient backend development. It has the ability to help the developers to accelerate the process of application development and will certainly reduce the usage of resource and cost which are required to build the application. Even more, a huge community of developers is supporting this platform. It also has the ability to let you focus more on the user interface or core product in the best possible way. With Parse, you can easily manage application development without hiring a backend engineer.
Features
Data modeling
Real-time notifications
Social integrations
Email notifications
PUSH notifications
REST APIs
Benefits
Reduced cost of software development
Accelerates the process of application development
Focus more on high-value activities
Flexibility and scalability
AWS amplify is one of the most effective open-source libraries of Amazon which has the ability to help the developers in the process of building and integrating backend services. Its amazing range of features is bringing an exciting vision for the developers and will surely make backend processes easier and more manageable for them in the best possible way. Even more, it is also offering amazing on-demand cloud-powered solutions for individuals, organizations and government agencies. Most importantly, it will enable individuals and organizations to build and manage their required web-based tools in a more efficient way. You can easily decrease or increase the requirements of services as per your needs.
Features:
Push notifications
Geolocation
Email marketing
APIs
Real-time database
Benefits
Highly flexible and scalable solutions
Mobile-friendly solutions
Easier to use interface
Easy to use user management system
It can handle multiple cloud operations more effectively.
Work perfectly with multiple frameworks
Kuzzle is an amazing Pubnub alternative open-source that can provide you ready to use backend services to integrate into your applications. This platform has been designed to empower your mobile, IoT and web-based solutions with more innovative and upgraded solutions. Along with providing highly unique and attractive backend services this platform is also helping the organizations and developers to grow in a more effective way. It is because it has brought more amazing rapid time to market solutions that have the ability to provide a more attractive return on investment opportunities in the best possible way. Even more, an amazing range of features that this platform is offering to make it a more attractive and preferable solution than others.
Features
Push notifications
User authentication
Ensured security
Real-time geofencing
Real-time data sync
Offline data management
Benefits
Highly flexible services
More effective for innovative solutions development
Ready to integrate and use backend services
Hood.ie is a self-hosted solution that is meant to provide more ease in application development. It is simpler to use a JavaScript-based platform which has been designed to provide better backend services in a more effective way. This is a feature-rich platform that contains almost everything that can be required to make the backend development easier and more manageable. However, this comes with a smaller developers' community but the entire community is highly dedicated to helping the users.
Features
No backend technology
Dream-code driven API
Offline support
Runs both locally and hosted
Benefits
A complete backend for all of your applications
A highly Dedicated community to support
Resources are also available offline to utilize
Faster and easier to use
It can make application development simpler.
Conclusion
When it comes to finding the best Pubnub alternative open source then you can easily go with any of the above-mentioned options. Although all of these are the most amazing ones for you to know but to help you in making an even better decision, we have brought some of the most important benefits and features of each solution. Surely, knowing the detailed review will make it easier for you to choose the platform which is more suitable for your project. So, this is the time to go with a more scalable, flexible, cost-effective and simpler solution as per your needs.