Sashido Alternatives: Top 8 Competitors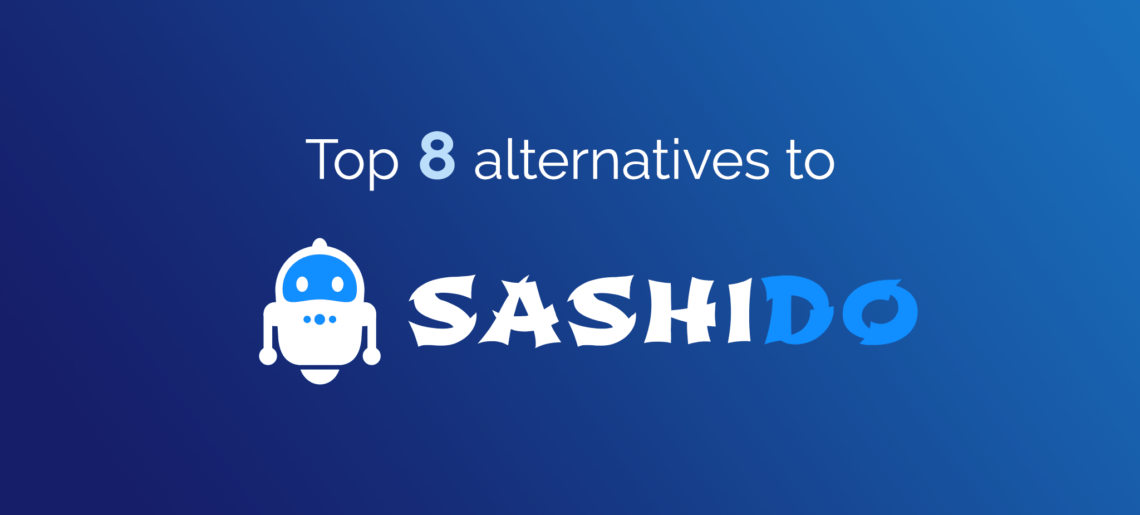 Top 8 Alternatives to Sashido
Sashido can help the developers to create serverless applications quicker with scalable JSON Rest, GraphQL API, Node JS. Even more, it comes with an easy to use object and file storage, CMS. It will never let the developers start their APIs from scratch. No coding is required to manage the services of applications. It offers flexible opportunities to develop cloud functions, , NPM modules, Node JS and other Cloud Jobs in a more effective way. This can let the developers manage their backend services like a professional and can provide an easier way to customize applications to the users.
However, when it comes to the best backend providers then there are various names that can take place as Alternatives to Sashido. To know which are the best Sashido competitors, you must have a look at the following information.
Top 8 Sashido Alternatives
Do you want to know some of the best Sashido Competitors for more benefits? Well, here are some of the best options for you which you must consider.
This is one of the most effective, best and simpler application development platforms that can let you optimize backend components in the best possible way. It can help you to manage your backend resources including databases, server infrastructure and APIs in the best possible way. Even more, it can also provide you better opportunities to host your applications in a more effective way.
Features
Data management dashboard
REST API
Real-time database
GraphQL API
Geo Queries
Email marketing
Cross-Platform SDKs
To see more features, please access Back4App Features.
Benefits
Smoother migration
Optimized storage
Round the clock support
Scalability and flexibility
Parse is a well-known open-source NodeJS framework that can let you manage your application backend in a more efficient and effective manner. It can let you accelerate your application development process and will keep you from the stress of managing backend. Even more, the developer's community which is working is highly dedicated. You can easily manage your APIs without reinventing them.
Features
Data modeling
REST APIs
Real-time notifications
Email notifications
Social integrations
PUSH notifications
Benefits
Easy to download
Comprehensive app stack to make tools efficient
Reduced cost of software development
Focus more on high-value activities
AWS Amplify is the most effective and simpler open-source library which is being offered by Amazon. It can help the developers to integrate backend functionality more effectively. More importantly, its amazing feature range is providing a broader vision to the developers. Even more, it also has an amazing range of cloud-powered solutions. It can also provide you better opportunities to create innovative web-based tools.
Features
APIs
Real-time database
Email marketing
Geofencing
Push notifications
Benefits
Easy to scale solution
High-level flexibility
Easier to manage the interface
Smoother integration
Handles cloud operation effectively
Kinvey is offering an amazing range of ready to use backend services which can let you build more innovative solutions. It can offer amazing rapid to market opportunities and has the ability to help the developers to manage things in a more effective way. With Kinvey you can write once for native applications across multiple platforms.
Features
Drag and drop UI builder
Easily publish apps to the web, Android and iOS
Full access to complete source code
Code sharing between mobile and web
Data-connected templates
Benefits
Easy to build a serverless backend
Auto-scale to the highest levels,
Flexibility to support frequent modifications
Easy integration into the system
One Signal is a complete platform for all companies which are looking for better opportunities to send push-notifications. It describes itself as the #1 Push Service in the world.
Features
Mobile Push-Notifications
Web Push-Notifications
In-App Messages
Email Templates
Benefits
A large number of integrations
Easier to use platform
15 minutes setup
NodeChef is an amazing solution that is meant to provide effective, efficient and managed Node.JS hosting solutions in a more effective way. It is specialized in Meteor Hosting and parses server hosting. It is a highly affordable solution which you can consider for your applications.
Features
Optimized storage
Database memory
Notification Scheduling
Managed Node.js hosting
Benefits
Easier to scale
Simpler to manage
Efficient
Reliable
It is a powerful application performance management tool to provide ease to the application developers. This platform can provide comprehensive multi-tenant and white label solutions to empower the developers and organizations to develop applications faster. Even more, it can also help them to maximize the return when the applications will go live. It offers a rich feature set which is making this platform ideal for busy organizations and developers in a more amazing way.
Features
Crash reporting
Reporting and analytics
Push notification services
Client portal
Benefits
A cutting-edge platform for agencies of mobile applications
Industry-leading mobile backend tool
Innovative solutions
Handles server-side tasks more effectively.
Heroku is the best service provider who knows how to give more value, ease, and convenience to the users. It can offer powerful runtime services along with effective integrated data services. Even more, Heroku can provide an abstract computing environment for app development.
Features
Managed runtime environment
app-centric delivery approach
extend their applications with add-ons
Benefits
3rd-party services integration
Effective control
Dedicated instances
Easier to use platform
Conclusion
These are some of the best and most amazing alternatives to Sashido which come with an amazing range of features and benefits. All of these are good to serve in certain ways. So, you can easily go with the option which you think can be more effective for you on the basis of features and functionality. So, choose the one which can be more flexible and advantageous for you as per your project requirements.