Top 10 Social Media Management Tools for Startups
Social media has gained much importance in the past few years for all kinds of businesses. So, how can startups neglect social media management's significance to support brand awareness and for surging the influence of marketing campaigns?
This article displays one of the best social media management tools with their pricing structure and necessary features.
Top 10 Social Media Management Tools for Startups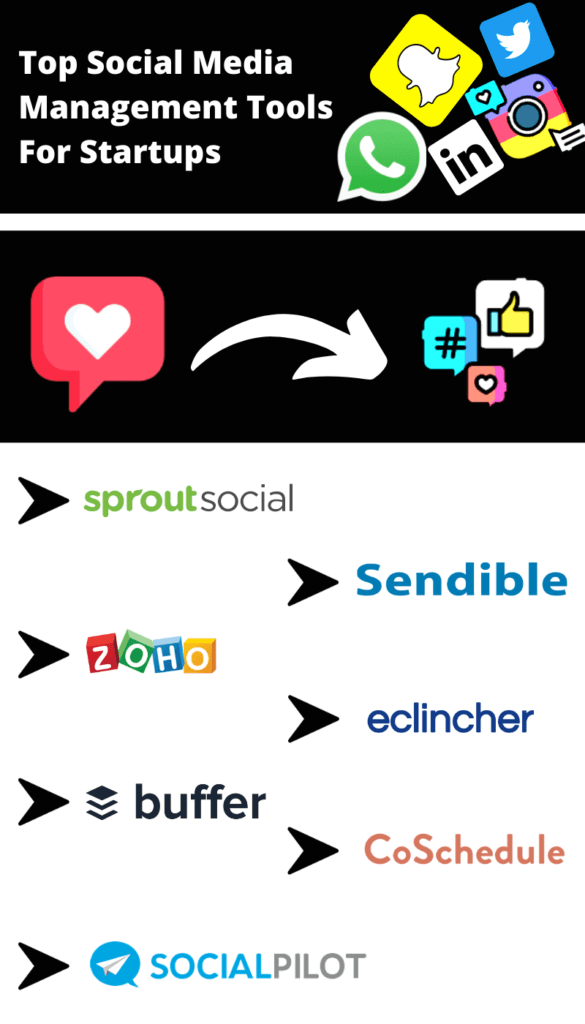 Hootsuite is a Canada-based social media management solution that was made public in 2010. Around 18 million social media marketers and startups are benefitting from this tool. Marketo and SXSW are prominent organizations that practice Hootsuite.
Features
Impact & Insights — This platform provides profound insights and custom reports about social media posts and channels.
Easy Management — Whether you want to schedule a post or monitor and administer your channel, it is easy to manage with Hootsuite.
Pricing
Though it has a Free plan, but its Professional program comes with a monthly price tag of $49.
Buffer is an all-in-one social media management solution that was made public in 2010. This software application has 75,000+ international customers. In addition, it is a good tool if you want to save the time that your teams spend on social media management.
Features
Loyal Audience — It doesn't only help in attaining followers but also aids in retaining and turning them into loyal customers.
Engaging Stories — Buffer designs the most engaging stories to enhance brand awareness.
Pricing
With basic publishing tools, it is free to use. Its Essential plan only takes $5/month/social media channel.
Compared to other social media management tools, SocialPilot is popular because of its reasonable pricing policy. This SaaS solution is equally helpful for teams and professionals.
Features
Browser Extension — Its extension is available for both Chrome and Firefox.
Bulk Scheduling — Users can conduct 500 tweets and posts with a bulk scheduling tool.
Pricing
Its Small Team package is suitable for startups, and it only costs $42.5/month.
eClincher is a social media management solution that is equally advisable for all sizes of businesses. Its return on investment (ROI) is mainly only 6 months, which is less compared to rivals.
Features
Bulk Uploads — eClincher permits the startups to schedule, upload and publish bulk social media posts. It facilitates 300K+ daily posts in this regard.
Libraries — Businesses don't need to worry about images and videos to make their posts more appealing because this platform offers extensive libraries.
Pricing
Although a free trial is possible with eClincher, but the monthly billing of its Basic plan commences from $59.
CoSchedule is not only a social media management platform, but it is a complete digital marketing suite that around 30K marketers use daily. Procter & Gamble, Yamaha and Forbes are also its customers.
Features
Marketing Suite — The presence of assets, work, content and calendar organizers in one place saves the time of marketing teams.
Real-Time Visualization — You can visualize all insights and chats in real-time.
Pricing
CoSchedule's free plan doesn't ask anything from users. But startups need to pay $29/month per user under its Pro plan.
Socialbakers is also an AI-backed SaaS company serving marketers since 2008. Around 10,000 digital marketers from different parts of the world are utilizing this social media management tool.
Features
Influencer Marketing — As we know, influencer marketing is getting very popular. That is why it provides detailed instructions to conduct such activities.
Content Strategy — With the help of artificial intelligence, it offers a unique content strategy to engage more potential clients.
Pricing
Its Essential plan costs $200 when it provides SMM support to 10 profiles.
It is also a reliable SMM platform that more than 31K marketers practice on a daily basis. With a 30 minutes response time and 96% user satisfaction score, it could definitely be a good choice.
Features
Intuitive Publishing — It covers all three steps: optimize, collaborate and organize to publish posts.
Social Listening — It keeps the businesses informed about the recent trends and customers' feedback.
Pricing
It consists of three plans Pro, Premium and Enterprise, and the monthly fee of its Pro plan starts from $79.
Zoho is a trusted name in providing different kinds of support to businesses, and Zoho Social is known to back SMM activities. With a free signup, it is undoubtedly a reasonable choice.
Features
Content Queues — It provides SmartQ predictions to help startups intelligently schedule posts.
Live Streams — Businesses can also easily manage their live streams with this tool.
Pricing
Zoho Social offers three plans to businesses: Standard, Professional, and Premium. The charges of its Standard program are $10/month.
Sendible is a unified social media management solution that 30,000+ marketing agencies and businesses use. NHS 24 and Expedia Group are significant clients of Sendible.
Features
Listening — It considers all responses to improve brand engagement. In this regard, it also emphasizes customer satisfaction through a rapid response policy.
Mobile Support — It is also available in the form of iOS and Android applications and gives complete support when teams work remotely through smartphones.
Pricing
The Creator is its basic plan that is applicable for 1 user and 6 social media profiles. This plan only takes $29 per month from startups.
Sprout Social is a Chicago headquartered software company that was launched in 2010. It is considered a trusted SMM tool with a good ROI and customer satisfaction score. Around 30K brands are using it, and Eventbrite, Shopify, and UNICEF are prominent.
Features
Employee Advocacy — It enables the employees to publish curated content on social media channels.
Suitable for Every Role — This tool categorizes the roles and their responsibilities. In this regard, it provides a complete roadmap to teams, managers, agencies and practitioners.
Pricing
Three types of plans are associated with Sprout Social: Standard, Professional, and Advanced. The monthly fee of its Standard program is $89 per user.
Planly is a freemium social media scheduler tool. Through Planly, it is possible to schedule posts to several social networks simultaneously in a few seconds.
Features
Social media post scheduling- With Planly, it is possible to post and schedule their special features on social media platforms, such as Instagram, TikTok, Twitter, Facebook, Linkedin, and Pinterest. Auto publishes – 100% auto-posting without notifications.
Pricing
Planly has a free plan and three different premium plans with free trials. Prices on Planly start from the free version and go up to $80.
Conclusion
Social media channels have become core tools of customer engagement. Indeed, with the help of these SMM platforms, startups can achieve their business goals.
FAQ
It is the process of studying social media audiences and creating a strategy that's tailored to them.
– Evaluating trends
– Curating content
– Creating content
– HootSuite
– Buffer
– Social Pilot
– eClincher
– CoSchedule
– Socialbakers
– Agorapulse
– Zoho Social
– Sendible
– Sprout Social
– Planly