Top 10 Netlify Alternatives
This article will explore ten of the best Netlify alternatives. The list includes Back4App, Gitlab Pages, Firebase, Github Pages, etc.
Netlify is a detailed cloud computing platform that grants complete infrastructure to build, host and deploy websites and app projects in a serverless environment. It aids the developers to create, host and integrate applications in a short period of time with small expenses.
However, if Netlify's features are still not impressing you or even you want to compare its services with other vendors, then you must try alternatives. So, this article shares one of the top Netlify alternatives with all of their core features and pricing models.
Moreover, this guide is also going to give an overview of the pros, properties and pricing structure of Netlify.
What is Netlify?
Netlify is a renowned cloud computing company that was launched in 2014. This California-based platform provides next-generation serverless backends, APIs, web frontends and hosting services to build modern applications and websites.
In simple words, Netlify gathers a complete ecosystem of means and facilities to create high geared static sites and web applications.
On the contrary, if we talk about its usage, BuiltWith claims that around 457,170 live websites are benefitting from Netlify for CMS purposes. Similarly, 0.4% of websites depend on Netlify for web hosting services, according to the usage statistics of W3Techs.
Furthermore, it is facilitating millions of global customers. The major companies that are employing the services of Netlify for different tech stacks are VMware, Nike, Peloton Interactive, LiveChat and Longo's.
Netlify Advantages
Here are the main advantages of using Netlify:
Gives Fast Experience
Netlify gives a fast and smooth experience to its users. Especially if we talk about Netlify Edge, it doesn't only make the first load 10x faster but also gives 99.99% uptime SLA. Its presence at 70+ places of the world improves its cloud hosting functionalities.
Less Expensive
Similarly, compared to rivals, Netlify is a cheap solution. The monthly charges of its Pro plan start from $19/member with a variety of exceptional properties. Moreover, it also has a free to create program for startups. Indeed, you can deploy serverless functions, global edge network and get a live view of the site before launch without paying anything with its free plan.
Continuous Deployment
Continuous deployment is another exciting advantage of Netlify. Development teams only would have to commit to the GitHub repository, and Netlify would do the remaining tasks. In addition, this cloud computing platform also has the ability to operate with GitLab, Hugo and Bitbucket.
It is also considered an ideal tool for frontend coders. Yes, in many client-side development situations, developers can also utilize Grunt, NPM and Gulp with Netlify.
Easy to Launch Websites
Definitely, it is very convenient to launch web applications and sites with Netlify. Its editor allows the development teams to generate new content and categories seamlessly. Quality hosting and free SSL certificates also make it easy to build secure websites with this tool. By the way, DNS management is also entirely free when you proceed with Netlify.
Rapid Optimization
Businesses can optimize a variety of app assets by using Netlify. Indeed, it permits companies and coders to minify CSS and JavaScript projects, build clean or RESTful URLs and compress images. These steps play a vital role to improve the performance of your site or application.
Netlify Features
We are explaining the key features of Netlify below:
Netlify CLI
Netlify owns a very powerful CLI. Developers can examine serverless functionalities, twist the project or check the live preview with the help of this CLI. Luckily, it doesn't ask for any configuration when you start building a project with any of your favorite frameworks.
Surely, Netlify Dev has the ability to impulsively identify frameworks like Eleventy, Next.js, Gatsby, Hugo, Astro, Jekyll and Nuxt. Furthermore, you can also examine your logic before the deployment process.
Simple & Scalable Functions
The server-side script deployment is also simple with Netlify. It only consists of three uncomplicated steps: write, deploy and run. You can see numerous use cases on its official website to know more about it.
However, the presence of distinct properties and quick addition of resources also make Netlify a very scalable platform. You can extend your project any time with these Netlify functions.
Instant Cache Invalidation
Typical hosting services consume 10 minutes to hours to invalidate changes in the cache. But with Netlify, you wouldn't have to go through such problems. Fortunately, Netlify only depends on Content Delivery Network (CDN) hosting, so cache invalidation is superfast with Netlify. Probably, it takes only 10 seconds to invalidate cache changes.
Netlify Build
This product of Netlify provides an advanced infrastructure to developers where they don't have to spend all of their time administering projects. Yes, frontend developers enjoy the fully automated properties of Netlify and benefit from smooth rollbacks and limitless staging.
By the same token, teams only need one repository to deploy server-side and frontend scripts. A/B testing and availability of a variety of plugins are also useful advantages of Netlify Build.
Analytics Without Downsides
Netlify promises entirely GDPR compliant analytics where you can track the performance of your website or application easily. To enable this feature, you don't need any setup or include any JavaScript code. You can just find all analytical reports with a high accuracy rate and privacy on your dashboard.
Netlify Pricing Structure
The pricing model of Netlify could be specified into 4 following categories:
Starter — If you are a newbie or running a hobby website and looking for a trusted solution, then Netlify is entirely free to use. You can proceed with its Starter plan. It grants spontaneous rollbacks, live previews, and easy deployment.
Pro — With 3x build minutes, slack and email notifications, Pro is the best solution for private and small-level businesses. This program also gives 4x bandwidth and shared environment variables to users. Its per member/month charges are only $19.
Business — This plan bills $99/member/month to companies. It is an ideal program for large teams that offers unlimited analytics, forms and identity to users. Similarly, role-based access control and time-sensible builds are also core features of this program.
Enterprise — It is the most advanced plan of Netlify that attracts big enterprises. Although it grants 99.99% uptime SLA and works for unlimited team members but you will have to contact the sales team to know the charges.
Top 10 Alternatives to Netlify
Please check below some great cloud platforms: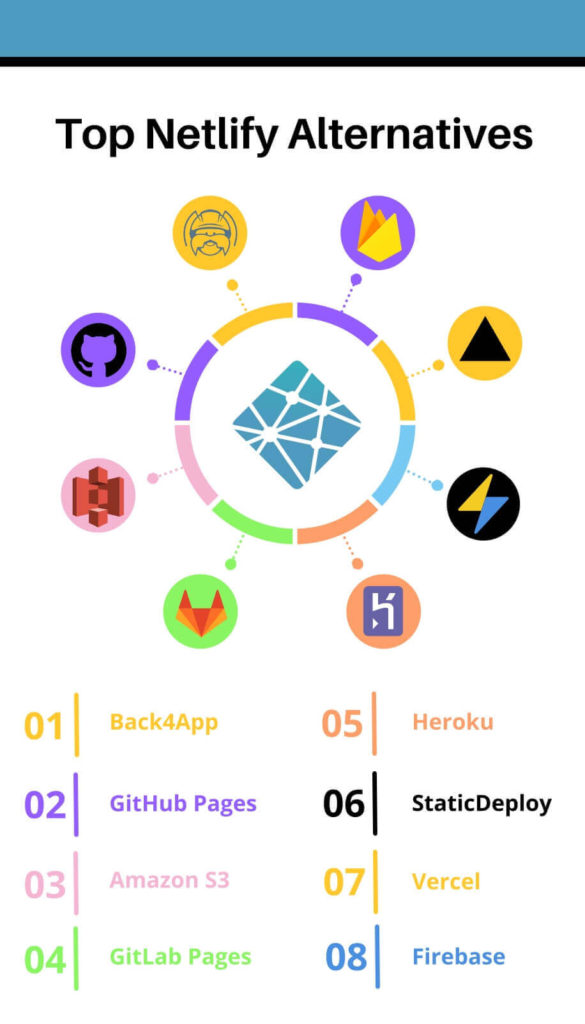 Back4App is one of the robust Netlify alternatives that allows businesses and coders to build mobile and web applications with complete server-side support. Similarly, its scalable and global cloud hosting services are definitely great solutions like Netlify to deploy and host a web application.
In this regard, users get similar to Netlify cloud hosting features when they trust Back4App. Indeed, it provides auto-scaling, backup, Content Delivery Network (CDN), load balancer and much more under its hosting facilities. It's a cloud based solution that works well for website developers and mobile app developers.
On this platform, frontend developers just need to emphasize the client-side creation of their applications. Yes, Back4App takes care of every server-side function just like Netlify.
Features
Hosting — Businesses can experience the best hosting services on this platform without worrying about server maintenance and other difficulties. Users just need to activate the Back4App Hosting tag to access the hosting feature. This tag is found under the 'Webhosting and Custom Domain' option available on the dashboard.
Auto-Scaling — Back4App is also a very scalable platform just like Netlify. To fulfill the scaling needs of developers, it is constructed with great scalability. Servers could be approached anytime on Back4App to extend and reduce resources.
Cross-Platform SDKs — You can find all supportive SDKs on Back4App. Yes, it is seamless to integrate your web app with iOS, Android, Flutter, JavaScript and several other SDKs.
User-Friendly Interface — It is also convenient for startups and novice developers to use Back4App. Its interface just looks like a spreadsheet where it is quick to edit, store and import data, customize security and make object relation settings.
Pricing
Back4App suggests 3 kinds of pricing models to its users. The first is a Free plan that doesn't charge anything and provides shared server capacity and load balancer with 1 GB data storage and transfer. The other two plans are Shared and Dedicated.
The Basic category of the Shared plan only costs $15/month and confers backups, data recovery, 250 GB data storage, CDN and 500k monthly requests. The charges of the Dedicated program begin from $200/month.
GitLab Pages is another alternative to Netlify that works with the powerful backing of GitLab. It permits the developers to quickly build static sites and other web projects by using website generators like Hugo, Jekyll, Hexo, Pelican and Middleman.
Businesses can't only benefit from the free hosting property of GitLab while using this Netlify alternative, but many other properties of this platform could be utilized. The major companies that are using GitLab for their tech stacks are Ocado Technology, Caravelo, Braincube and JustChunks.
Features
Free Static Hosting — When developers build static websites on GitLab Pages, it becomes quick for them to host these sites on GitLab without paying anything.
Easy Integrations — It is smooth to connect GitLab Pages with different website generators and other tools like Nikola, Hexo, Middlemen and much more.
TLS Certifications & Custom Domains — It doesn't offer custom domains to businesses but empowers their security with TLS certification. This Transport Layer Security (TLS) certificate is an upgraded version of the SSL certificate with more safety properties.
Pricing
GitLab Pages doesn't own any specific pricing model. Many premium properties could only be accessed under GitLab pricing. With monthly 10 GB transfer and 5 GB storage, it is free to use GitLab. However, Premium and Ultimate plans of GitLab bill $19/user and $99/user per month, respectively.
GitHub Pages is not only a trusted Netlify alternative but an ideal platform to build and host websites for different projects. With the robust backing of GitHub, it is quick to create a website from scratch on this platform.
Yes, it takes only a few simple steps to build and host a website on GitHub. You just need to create a repository, specify your Git client and clone the repository. After these steps, you can add the project folder and conduct further efforts to push it. After it, you will see your live site.
According to StackShare, GitHub Pages lies in the Static Web Hosting category, and around 1611 companies showed their association with GitHub Pages. The major companies that are using GitHub Pages are HubSpot, Lyft, GoDaddy and WeChat.
Features
Static Site Generators — It is a good way for developers to build sites on GitHub pages with the help of site generators. Yes, it has the ability to publish and release any static file. But it is recommended to proceed with Jekyll.
Custom Domains — Like Netlify, you can also rapidly create custom domains on GitHub Pages. These domains could also be safeguarded with the help of HTTPS.
Unlimited Free Repositories — It is entirely free to create limitless public repositories on GitHub Pages. However, charges will apply if you go with the private repository option.
Pricing
GitHub Pages is a freemium product under the Free plan of GitHub only for public repositories. Withal, it could also be approached with GitHub Pro, GitHub Enterprise Cloud, GitHub Team and GitHub Enterprise Server. The monthly cost of its Team and Enterprise plans starts from $4/user and $21/user, respectively.
Amazon S3 is referred to as Amazon Simple Storage Service. It is basically a cloud storage service that was initially released in 2006. This product of Amazon Web Services (AWS) handles big data analytics, provides online data backups and helps in web-scale computing.
No doubt, with these object storage and other properties, it is considered as an alternative to Netlify. Georgia-Pacific, Ryanair, Zalando and Nasdaq are renowned customers of Amazon S3.
Features
Storage Insights & Analytics — S3 Storage Lens aids companies to enhance data protection and judge the data trends. Similarly, S3 Storage Class Analysis also helps businesses in data modifications.
Durability — Amazon S3 offers 99.999999999% of data durability to businesses by using other AWS services like CloudWatch, Macie and much more.
Pricing
Under the AWS Free tier, users can enjoy 5GB S3 storage and 100 GB of S3 data transfer for free. However, you can visit the Amazon S3 pricing page to calculate further charges. It follows a pay-as-you-go policy for premium products.
Firebase is one of the optimal Netlify alternatives that provides all products to create, engage, release and monitor mobile and web applications. This free to start site like Netlify allows developers to quickly deploy, launch, and host a web application.
Features
SSD-Backed Hosting — It provides SSD-backed hosting to applications to gather data on solid-state drivers. It effectively works for heavy loads and has a reasonable data transfer rate.
Free SSL Certificate — If you are not happy with paid SSL certificates, then you can proceed with Firebase which gives free SSL certificates to sites.
Pricing
The Spark Plan of Firebase grants 10 GB of free hosting to users. However, its Blaze plan costs $0.026/GB for storage and $0.15/GB for data transfer.
Heroku is another alternative to Netlify that doesn't only host static websites but has the ability to host dynamic websites. This PaaS platform was launched in 2007 and conferred highly scalable features to deploy, host and launch applications.
It also supports a variety of programming languages, including Ruby, Java, Go, Python, PHP and Node.js.
Features
CDN & Custom Domains — Like Netlify, Heroku also grants Content Delivery Network and custom domains to approach your web applications.
Source Code Integration — Similarly, you can also integrate the source code with GitHub just like Netlify, when you use Heroku.
Pricing
The Free and Hobby plan of Heroku is free to use. Withal, the monthly charges of its Product plan begin from $25.
With 99.99% uptime and 24 billion+ weekly requests, Vercel is a reliable Netlify substitute. This serverless ecosystem started its journey in 2016 and has served 10 PB data by now. Like Netlify, it also takes a few minutes to deploy, preview and launch an application.
The notable customers of Vercel are Uber, TripAdvisor, Facebook and Auth0.
Features
Source Code Integration — Vercel is considered a perfect Netlify alternative because it allows source code integration through GitLab, GitHub and Bitbucket.
Live Previews — If you want to preview a live version of your website or web app before launch, then Vercel should be your choice.
Edge Functions — It enables you to run scripts on Edge. These functions provide 100x fast startups with Next.js compared to Node.js.
Pricing
It is free to use Vercel for non-commercial sites under the Hobby plan. However, its Pro plan bills $20 per member and month.
Are you looking for a Netlify alternative to host your databases, web apps, APIs, static sites and Cron Jobs? If yes, then you must consider Render. It is a reliable cloud application hosting platform that deploys your apps within seconds.
The notable companies that are using Render are AirTape, Codustry and CodeCarrot.
Features
Scaling — Whether you want autoscaling or manual scaling for your project, you will find both options with Render. Its manual scaling allows you to define instances' numbers. On the other hand, autoscaling enables developers to specify CPU and memory automatically according to the project's requirements.
Infrastructure as Code (IaC) — You can define your databases and other services as code through the Render dashboard. You can conduct this operation through the render.yaml file.
Cron Jobs — Cron Jobs could also be quickly initiated when using GitLab and GitHub repositories. Developers can use other properties like Cron Schedule and Cron Command here.
Static Sites Deployment — You just need to connect your project with GitLab or GitHub repository to deploy static websites like Netlify quickly. Features like CDN and TLS certification also come with these static site hosting services.
Pricing
Render is an entirely free platform when it comes to host static sites. Luckily, it provides 100 GB bandwidth under its Static Sites plan. However, Render Disks costs you $0.25 per GB and month.
Pancake.io is another incredible Netlify alternative that has the ability to convert your Dropbox into a reliable web hosting service. Yes, it is straightforward to host static websites available in Dropbox with Pancake.
You can seamlessly upload your Dropbox project on Pancake.io by following a few simple steps. In this regard, you will have to visit the Projects page of this cloud hosting provider. Unfortunately, developers usually get into trouble with the autopilot mode of this platform.
Features
Custom Domains — Like other Netlify alternatives, businesses can also get custom domains with Pancake.io. Withal, it takes 24 to 72 hours to get your site with that domain name.
Easy Deployment — The deployment of a static website through Dropbox is effortless with Pancake.io.
Pricing
This Netlify alternative seems an entirely free platform where you don't find any human customer service. It also doesn't share anything about its pricing model.
StaticDeploy is an open-source alternative to Netlify that has the ability to deploy static applications. It is fast to deploy a project with StaticDeploy. Yes, it doesn't ask for signup or any typical registration in this regard. You just have to click on the 'Get Started' tab that is available on its official website's homepage.
By the same token, this platform also guides you about deployment and other procedures under the 'Docs' button that is available on the right top corner of the official website.
Features
CI/CD Workflow — This property of StaticDeploy enables the developers and businesses to proceed with continuous setup and delivery of static sites and applications.
App Configuration — Runtime configuration is also possible with this Netlify alternative. It allows you to know exactly what you are examining.
Instant Previews — Like the other Netlify alternatives, companies can also benefit from spontaneous previews of their static applications when they use this platform.
Open-Source — The applications you set up on StaticDeploy could be hosted anywhere without any restriction. Indeed, this open-source Netlify alternative comes without any vendor lock-in drawback.
Pricing
StaticDeploy is a freemium Netlify alternative that doesn't ask anything from users. Its official website also doesn't have any page about price structure.
Conclusion
Although Netlify is a credible static app hosting and deployment platform for all sizes of businesses. But if you still want alternatives, then you should consider our suggested Netlify alternatives. This guide displays all these alternatives to Netlify in detail with pricing structure and core properties. Hopefully, you will pick a suitable option for your project.
FAQ
What is Netlify?
Cloud computing company that delivers serverless backend services for web applications and static websites.
What are the advantages of Netlify?
– Easy of use
– Super fast
– Continuous deployment
What are ten of the best Netlify alternatives?
– Back4App
– Gitlab Pages
– Github Pages
– Amazon S3
– Firebase
– Heroku
– Vercel
– Render
– Pancake
– Static Deploy