Top Cloud Providers in Europe
The adoption of cloud services is rapidly increasing among businesses, non-profit organizations and individuals in Europe. A report of International Data Corporation discloses that the cloud market of Europe would expand around 22% per year till 2022.
Withal, if we talk about the best cloud providers in Europe, then Amazon is leading. Despite many differences, Amazon and Microsoft are the most used cloud services in European countries, including Germany, UK, France etc.
However, it is still tough to pick the most suitable cloud provider for European businesses. That's why this article is discussing one of the best European cloud providers with their core properties. It would share the reasons behind the adoption of cloud computing as well.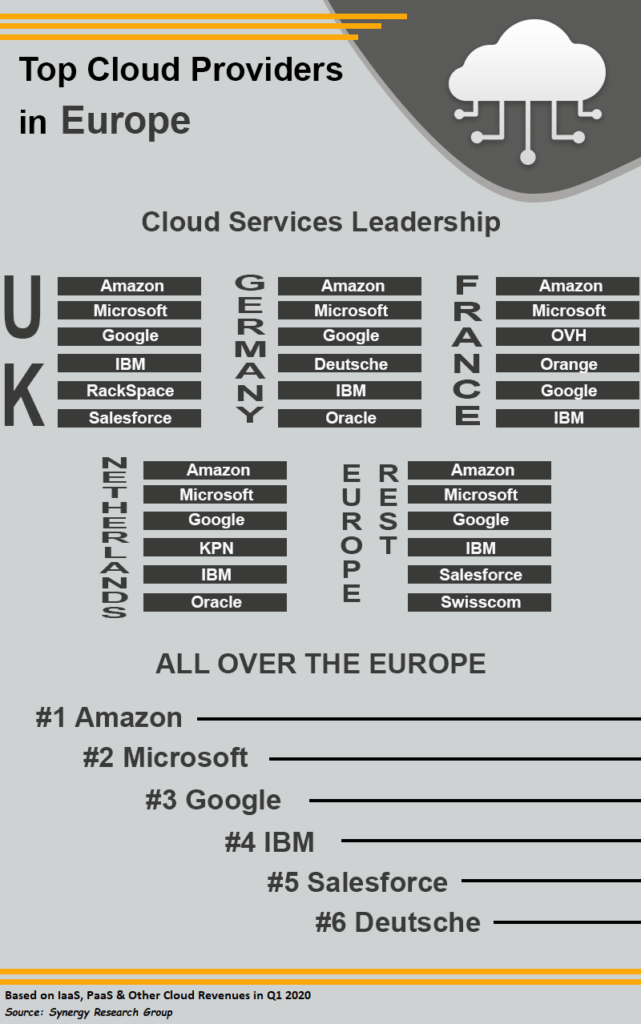 What is Cloud Computing?
To provide workable resources, enhance efficiency and innovation, the provision of computing aid via the internet is known as cloud computing. These computing services consist of databases, analytics, servers, storage, software, networking and many other features.
Businesses prefer to go with cloud computing because it reduces operating costs by providing remote servers and storage properties. Cloud computing also permits companies to manage infrastructure seamlessly and extend it according to the business demands.
On the contrary, if we talk about the deployment forms of cloud, then it is typically categorized into 3 classes:
Public Cloud: This cloud deployment form consists of both infrastructure and services which could be approached via the internet. Indeed, third parties run and possess these cloud services, including servers and storage. Amazon AWS and Google Cloud Platform are examples of public cloud. SMEs prefer to pick public clouds because they offer pay-per-use pricing models.
Private Cloud: This approach to set up the cloud is mainly used by companies individually. Most businesses use this cloud type to keep their sensitive data safe. Withal, businesses can still host their private cloud over a public cloud. OpenStack, Dell EMC and Red Hat are examples of private cloud providers.
Hybrid Cloud: The combination of both private and public cloud services makes a hybrid cloud. This deployment type is not only beneficial to enhance security but also cost-efficient, extremely flexible and extensible.


Why Should You Adopt Cloud Computing?
There are several reasons to adopt cloud computing, but we are explaining the prominent ones here:
Cost-Effective & Flexible
One of the main reasons to use cloud computing is its cost-effective nature. Yes, cloud computing plays a significant role to overcome capital expenditures. It saves you from investing money in software and hardware setups. You also don't need to pay for server racks, cooling equipment, power utilization and maintenance operations. Moreover, it saves you from giving large salaries to IT staff to administer your cloud data centre and its activities.
Similarly, cloud computing is also flexible to use because you can approach, store, deploy and retrieve data anywhere, anytime in the world. In the same token, businesses only need to pay for what they consume because most of the European cloud providers offer pay-per-use models.
Saves Time
Undoubtedly, the use of cloud computing saves a lot of time for businesses and individuals. These services and infrastructures support users to approach their data from different devices, including laptops and smartphones. In the same token, such services grant on-demand features which could be utilized instantaneously. You just have to conduct a few clicks to access various resources, deploy applications, update data, etc.
Global Scalability
Global scalability is another appealing reason to use cloud computing. Particularly if a business has fluctuating requirements. Yes, with cloud computing, it is seamless to curtail or extend resources. To conduct this activity, you just need to reshape your subscription model. Within a few clicks, you can enhance or reduce your computing power, bandwidth and saving capacity.
As compared to on-site data centres, cloud services also provide assistance from the right location for improved user experience. These scalability properties also remove maintenance and operation related hazards.
Quick Data Recovery & Improved Security
Businesses usually show great concern for data availability & security, and cloud computing diminishes such worries. Because cloud computing is about virtualized servers so, in the case of any event at a physical data centre, users always get uninterrupted data.
Also, cloud providers don't only claim 99.99% uptime but also keep automated data backups. In a data loss scenario, the use of disaster recovery approach could also be used to get your data back. On the other hand, to protect data from possible threats, cloud providers grant distinct technologies, authentications and policies. These security-centric approaches surely help to improve overall protection posture.
Productive & Reliable
Cloud computing allows businesses to proceed without software patching, IT administration procedure and hardware arrangements. Although these tasks are considered essential for on-site data centres but cloud providers relieve you from such chores. Without these duties, businesses just need to emphasize their core business goals. It also leads to more productivity.
Likewise, a global network of secure data centres, the use of updated and advanced hardware and data backups make cloud computing very reliable. Also, most of the European cloud providers provide 24/7 customer support to assist their clients rapidly.


Top Cloud Computing Providers in Europe
Here are the top cloud computing providers in European:
1. OVHcloud

OVHcloud is a French cloud computing company that has been trusted by 1.4 million users worldwide. It is one of the largest European cloud providers with the world's largest data centre. OVHcloud provides highly scalable cloud computing services enriched with a wide range of features.
This cloud company manages 30 data centres in 4 distinct continents. It deploys its own fibre-optic network to maintain & manage the whole supply chain with its brilliant team.
Core Features
Scalable Cloud Storage — The cloud storage on OVHcloud can be resized anytime according to the customers' need. It helps to manage your storage limits according to your data storage requirements as per need.
Backup Storage — Your data is stored on instance disks and can be stored in different clusters for backup.
Flexible Servers — With hourly billing, it grants servers in seconds. It means that you can change the server requirements anytime according to the resources you need to run your applications.
Shelve Function — Shelve function is used for cost optimization by hibernating the instances that you do not need for a while. It helps in reducing the cost of the cloud services at OVHcloud.
Load Balancer — Load balancer is one of the best features of this European cloud provider. This feature improves the performance by dividing the traffic on each server equally. It doesn't let the traffic use the single port or server, which may minimize the efficiency and performance of the server.
Pricing
The pricing of OVHcloud varies according to the resources & storage that you require. However, it starts from 0.0739 USD per hour for general purpose. Fortunately, it also provides a free trial to new customers.
2. 1&1 Ionos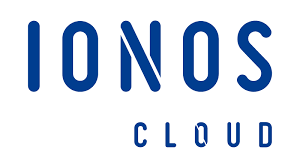 1&1 Ionos is one of the best cloud providers in Europe, headquartered in Germany. It was launched in 1988. With cloud computing services, it also offers SSL certifications, web building, domain names and web hosting.
In short, this scalable & flexible cloud computing platform by 1&1 is conducive for the customers to run & manage their apps on cloud-based infrastructure seamlessly. Luckily, with ISO 27001 certification, it also permits companies to pick any US-based data centre.
Core Features
Ease of Use — This IaaS provider in Europe provides an easy-to-use IaaS in which you can create and deploy your virtual data in a matter of minutes. You can do it by using their exclusive Data Center Designer.
Full Scalability — The 1&1 cloud computing platform provides fully extensible resources that can be managed according to the requirements. Indeed, businesses can change the storage size accordingly.
Cloud Server Support — 1&1 provides personal consultation with every server package. This customer support is available 24/7, which can be helpful in case of any query. It is also beneficial in a complex situation.
Powerful Backup — By using the backup solutions of 1&1, you can quickly restore files & data folders in no time in case of any data loss or malfunctioning.
Pricing
It uses a pay-as-you-go policy in which you need to pay for what you use without any contract. However, under a standard package, it starts from 0.0069 USD per hour & 5 USD per month for a Cloud Server XS plan.
3. AWS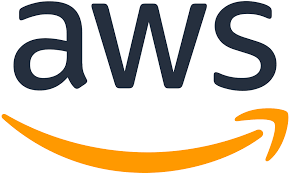 Amazon Web Services is one of the trustworthy & biggest cloud providers in Europe. It is backed by Amazon and grants cloud computing platforms & APIs for individuals & organizations. The revenue of AWS enhanced 36% only in 2019 compared to 2018, according to a research report by Kimberly Mlitz. This report also shows PaaS and IaaS revenues of different cloud providers from 2018 to 2020. Among all categories, Amazon is leading here. This report is also available at Statista.
Moreover, a huge range of features is offered by AWS for cloud computing on this platform. According to the need, the scalability & flexibility of this cloud platform helps in acquiring resources & modifying the requirements anytime.
Core Features
Resource Monitoring — AWS provides the property of resources monitoring, which helps businesses track the resources they use.
Access Management — The Identity & Access Management feature of Amazon is beneficial when a large number of people are working as a team. IAM helps in giving access to specific users according to their role. Companies can customize the access of any user according to his recent job portfolio.
Backup & Recovery — AWS provides the auto-backup facility to all of its clients. The customer can take backup of the data that can be reestablished in seconds when data is required.
Scalability — Most of the time, customers' requirements are being changed by the time. AWS provides an extensible cloud platform where it automatically scales up the resources to meet the demand. Similarly, this European cloud provider also scales down when demand decreases.
Pricing
The pricing policy of AWS is pay-as-you-go, where you need to pay for the resources that you use. Like other cloud providers, it also facilitates its users with 'AWS Free Tier'.
4. Azure

Microsoft Azure is a cloud platform introduced by Microsoft in 2010. It helps programmers to build, deploy & manage applications on cloud-based platforms. Among the best cloud providers in Europe, Microsoft Azure is ranked among the top ones. European businesses prefer to use its wide range of features & services to manage their cloud infrastructure.
Core Features
REST & SDK APIs — The availability of REST & SDK APIs in Microsoft Azure helps users to store and access data on the Azure cloud efficiently.
PaaS Properties— The Platform as a Service (PaaS) feature of Microsoft Azure helps the clients to deploy & manage websites and apps easily.
Caching — The caching service of Microsoft Azure is very helpful to optimize the performance of various apps. The customers always need the best performance, which cannot be obtained without caching.
Anomaly Detector — Microsoft Azure provides Anomaly detection, which helps businesses detect anomalies in applications seamlessly.
Bot Services — Companies can also use intelligent and serverless bot services of Microsoft Azure & scale it on demand.
Pricing
Like most cloud platforms, Microsoft Azure also charges you for the resources that you need. You will have to pay for what you consume.
5. RackSpace

RackSpace is one of the notable cloud providers in Europe with 7500+ cloud certifications. To evolve your IT operations, it grants an advanced outcome-driven model. There are multiple cloud features that you would love to use for the deployment and management of your applications on cloud platforms. This provides an easy to use infrastructure where you can manage all your resources and monitor them effectively.
Core Features
Managed Services — RackSpace provides an expert team to administer and upgrade your cloud environment. You do not need to get specialized technical knowledge and keep track of everything because a talented team is already there for you.
Consultancy & Advisory — RackSpace provides the expert team for your consultancy. You can keep in touch with them to choose the best strategy to get where you want to be.
Multicloud — You can enable multicloud or hybrid cloud for cost and performance optimization. It helps you to choose a new strategy where your business can grow more efficiently and effectively.
Elastic Engineering — RackSpace cloud platform enables a flexible and on-demand approach to a friendly team of cloud experts supporting a wide range of cloud outcomes.
Pricing
The pricing of the Rackspace cloud computing platform is based on the features and resources that you want to use. To anticipate the cost, the use of the 'Rackspace Cloud Pricing Calculator' could be effective.
6. Fuga Cloud

Fuga Cloud is the leading IaaS provider in Europe, mainly programmed to aid businesses and developers. It provides brilliant cloud computing services with distinct certifications. Yes, it owns ISO 27001, ISO 20000 and NEN7510 approvals.
Core Features
Easy/Automated Scaling — Fuga Cloud provides you with the feature to scale up and down very easily. If you require more resources and computing power, then you can add more within a few clicks. You can also use API to scale up & down on-demand automatically.
High Security — Security is always vital either you are using cloud service for business or individual purposes. Fuga Cloud provides brilliant security features, including a local firewall, SSH key access and Anti-DDoS solutions.
User-Friendly Dashboard — Fuga Cloud gives a user-friendly dashboard. It helps clients to spend less time managing the infrastructure with the interactive user interface.
Team Management — You can manage a team or a group of people by using the Fuga Cloud dashboard. It helps you manage the team members and their duties efficiently.
Pricing
Like most cloud providers in Europe, Fuga cloud also costs you for the resources and services you use. However, it is also essential to know that Fuga charges in Euro. Its entry-level plan starts from €0.00491 per hour or €3.30 per month.
7. CloudSigma

CloudSigma is one of the top-rated cloud-based IaaS providers in Europe. CloudSigma offers flexible cloud computing services, including cloud servers and reliable hosting solutions. It helps you deploy your resources instantly, so you do not have to wait to start using this fantastic cloud platform.
Core Features
Migrate with Ease — CloudSigma provides all the services for the ease of the customers. You can shift your project files to CloudSigma quickly without wasting time.
SSD & Magnetic Storage — SSD & magnetic storage are being used in cloud servers of CloudSigma. It helps you in improving the performance and data access rate. You can store and access data in less time.
ISO Certified Security — The infrastructure and services of CloudSigma are ISO certified. It means that CloudSigma never compromises the user security and data privacy of the customers. CloudSigma meets the requirements of the highest ISO 27001 requirements to retain your data protected.
Pricing
CloudSigma provides cloud services with a smooth and candid pricing method. The pricing of each package is mentioned on its official site. You can also estimate the cost from its pricing page calculator.
8. DigitalOcean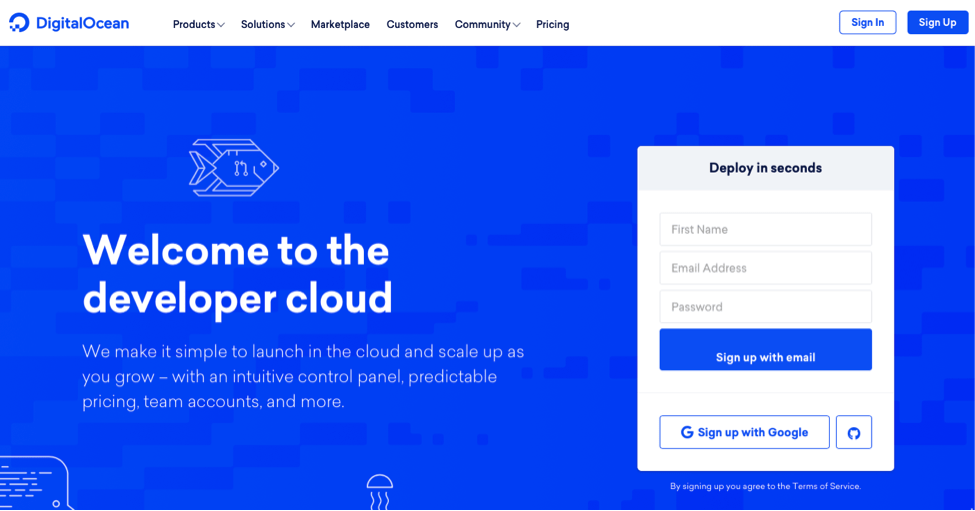 DigitalOcean is another devoted cloud provider in Europe. It provides brilliant cloud solutions to the customers to set up and administer their applications on the cloud. Big data computing, managed databases, cloud VPN and SaaS development are the core features of DigitalOcean.
Core Features
Managed Services — Using DigitalOcean, you can easily deploy and integrate any type of managed service, including IaaS, SaaS, PaaS, etc.
Automate Within A Click — You can easily configure and scale your infrastructure using one-click DevOps. You can manage resources easily by using APIs and open-source libraries of DigitalOcean.
Control Your Cost — The clear-cut pricing methodology of DigitalOcean is very helpful, especially for startups. It lets you know what you would be paying while using the resources.
Scalability — The DigitalOcean cloud platform helps you in getting resources as per need. You can upgrade and minimize its products anytime.
Pricing
The pricing of the DigitalOcean cloud platform is pay-as-you-go. Withal, DigitalOcean's pricing under 'Basic Droplets' begins from $5 monthly or $0.00744 hourly. With 8GB memory, its General Purpose Droplets' plan starts from $60 per month.
9. Linode

Linode is another famous cloud computing services provider company that provides cloud services at an inexpensive price tag. It is 100% independent with more than 800K customers. Linode provides an easy to use interface for managing the cloud infrastructure and applications being hosted on it.
Core Features
Virtual Console — Linode provides a virtual console to the developer. With this console, programmers can access the server conveniently to manage all the computing things.
Intuitive Cloud Manager — Linode provides an easy to use intuitive cloud manager interface. This manager helps the customers to seamlessly manage all infrastructure by using an interactive and intuitive dashboard.
Advanced Search — Advanced search feature of Linode helps you in finding sources instantaneously.
Performance Monitoring — Linode provides real-time performance monitoring. You can keep track of real-time analytics, the performance of CPU, memory and many other things.
User Access Controls — Linode provides the feature to supervise the users and their access. You can easily administer the entire team and give specific permissions to a user according to his role in the group.
Pricing
The price of its basic shared plan begins at $5 per month. It is $30 per month for a dedicated CPU plan and $60 per month for a high memory plan for entry-level packages. By the way, you can also use the 'Cloud Pricing Calculator' of Linode to anticipate the cost of distinct packages.
10. Vultr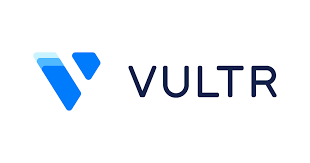 Vultr is another one of the prominent cloud providers in Europe. Vultr provides an easy to use cloud computing platform where you can administer, deploy and store your applications and data.
Core Features
100% SSD Storage — Vultr gives the cloud servers with SSD storage. SSD storage improves the performance, and you can gather and approach data quickly from the servers.
Powerful Control Panel — Vultr provides a powerful control panel with an interactive interface to manage your cloud infrastructure easily.
Powerful APIs — By using APIs, you can easily automate any action that you can perform on Vultr.
Pricing
Vultr cloud provider follows the pricing policy of pay-as-you-go. You will pay for the resources that you use.
Conclusion
This article shares one of the best European cloud providers with their core features and pricing model with readers. Hopefully, these reviews would assist our European visitors in choosing the right cloud provider.


FAQ
What is cloud computing?
Cloud computing is the on-demand availability of computer system resources, particularly cloud storage and computing power, without effective control by the end-user.
What are the advantages of cloud hosting?
– No upfront costs
– Saves time
– Scalability
What are the best European cloud providers?
– OVH
– Ionos
– AWS
– Azure
– Digital Ocean
– Linode
– Vultr
– Fuga Cloud
– RackSpace
– Cloud Sigma