Top 10 Video Conferencing Tools for Startups
The use of video conferencing tools has increased in the past few years. The last 2–3 years were mainly decisive for video conferencing applications because of lockdown, Covid-19 pandemic, and working from home new normal. Nowadays, everyone from students to large enterprises is aware of common tools like Zoom, Google Meet etc.
With the passage of time and the availability of numerous apps, their selection is becoming tricky for young businesses. That is why we are sharing one of the top video conferencing tools for startups. The video conferencing software covered will deliver advanced features like video chat, meetings recorded, etc.
Top 10 Video Conferencing Tools for Startups
Here are ten of the best video conferencing tools for startups.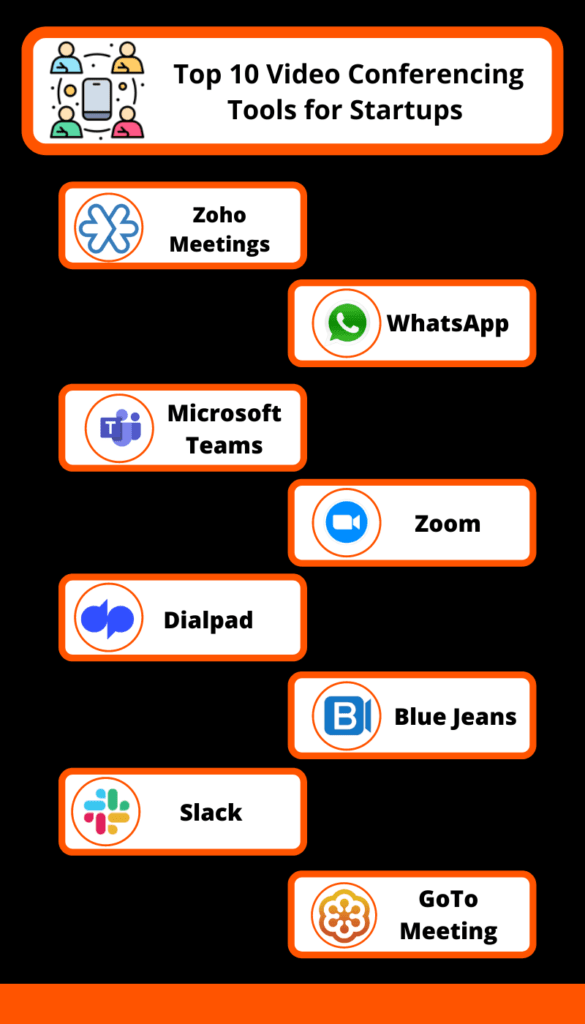 Zoom is an all-in-one startup tool to conduct online meetings, conferences, interviews, webinars and much more. Although Eric Yuan launched this application in 2011 but it got worldwide popularity in 2020.
Yes, Zoom crossed 300 million daily meeting participants in 2020, and this ratio was only 10 million in 2019. Here are the features of this video conferencing solution.
Features
Background & Filters — Startup company employees and executives can conduct video meetings anywhere with Zoom. In this regard, Zoom filters and backgrounds assist them a lot.
Touch Up — Interestingly, Zoom provides classy features compared to other applications and touch up is one of them. So, if you are not ready for your upcoming meeting, then just touch up your appearance and join the conference.
Recording — Startups can record the transcripts through the cloud recording property of Zoom.
Pricing
The free version to use Zoom for a video conference works for up to 100 participants. However, small businesses and teams can also consider its Pro and Business plan. The charges of these plans are $149.90 and $199.90 per year, respectively.
Google introduced this video conference tool in 2017 as a freemium application. It is secure and straightforward for small businesses and startups to utilize Google Meet to join an online meeting.
As an entrepreneur, you just need to click on the 'New Meeting' tab to create a video conference link. Withal, business teams just need to put this URL in the 'enter a code or link' bar.
Features
Adjustable Screens — Users can quickly adjust the layouts and screens according to the size of their devices with this video tool.
Control for Hosts — Entrepreneurs can host an online meeting with Google Meet with complete control. They can mute the microphone and remove the participants anytime in this regard.
Easy Integration — Business teams can easily integrate Google Calendar and Microsoft Office with this video conferencing tool.
Pricing
Google Meet comes with an Always Free tag. However, the monthly charges of Google Workplace Individual commence from $7.99.
Microsoft Teams is another excellent video conferencing tool that is equally beneficial for large enterprises, small businesses and the education sector.
It works under the flag of Microsoft and helps companies to do online chats for group collaborations. Around 250 million users are benefitting from this application.
Features
Integration with Office 365 — Definitely, the use of Microsoft Teams is helpful for businesses with an easy connection with Office 365. Groups can easily use Word, PowerPoint and other office apps.
Channels — The creation of private and public channels is uncomplicated with Microsoft Teams. The owner of the channel can control the activities and access as well.
Secure Collaboration — The data that businesses share and transfer through this video conferencing tool remains confidential because this tool meets compliances like SOC 1, ISO 27001 and SOC 2.
Pricing
Microsoft Teams offer 4 different plans to small businesses. With 5 GB cloud storage and meeting for up to 100 candidates, it is entirely freemium.
With 10 GB storage and 300 members' meetings, the charges of Microsoft Teams Essentials are $4/month. The monthly cost of its 365 Business Basic and 365 Business Standard plan is $5.00 and $12.50, respectively.
Dialpad is a cloud communication platform that was made public in 2011. This video conferencing application is not helpful for team conferences but also suitable for meeting with customers.
TED, Stripe, Uber and HubSpot are notable users of this video conferencing tool.
Features
App Integration — All known third-party app integration is possible with this tool. Some of them are Slack, Evernote, HubSpot, LinkedIn, Twitter, and Salesforce.
Multilingual Support — It provides 24/7 multilingual chat and web support to its users.
Crisp Audio & HD Video — Users love this meeting tool's video and audio quality. Luckily, 7000 companies have shown their trust in Dialpad.
Pricing
This platform presents 2 plans for video meetings. Its Free program facilitates the 10 participants without charging anything. On the contrary, if your company organizes conferences for 100 candidates, you can pick its Business plan that costs $15 per user and month.
Skype is one of the pioneer video tools that was launched in 2003. This is not a video conferencing tool but used to send instant messages. Right now, it is available in 108 different languages to aid businesses and individuals around the globe. The enterprise version of Skype is called Skype for Business.
Features
Recording & Subtitles — With Skype, companies can't only record the calls but luckily, subtitles would also be shown for better understanding of words.
Private Conversations — The end-to-end encryption of Skype permits businesses to make secure conversations without any data leak.
Screen Sharing — It is elementary to share screens with new team members to give them proper guidance through this tool.
Pricing
Skype is free to use for devices including desktop, mobile, Xbox, Alexa and web devices. To explore more business-centric properties of Skype, you can also download it from Microsoft Store.
WhatsApp is a revolutionary messaging and video conferencing tool that startups must consider using. This cross-platform and freeware application was introduced in 2009, and Facebook obtained its ownership in 2014.
In addition, it permits a group video call for up to 33 users without any problem.
Features
Multitasking — WhatsApp doesn't restrict the users with one job. Indeed, participants can perform various tasks while having a video call on WhatsApp.
Cross-Platform — It is an ideal tool for cross-platform meetings. You can conveniently conduct video calls on your smartphones, desktops etc.
Pricing
With end-to-end encryption, it is entirely free for individuals and young companies to utilize the video conferencing tool of WhatsApp.
Slack also provides built-in video conferencing services to its users. These face-to-face video meetings improve the collaboration between teams and businesses. In this regard, users can also integrate third-party apps like Microsoft Teams Calls and Zoom with Slack.
To know more about Slack's tech stack, please read the articles Startups Using Java and Startups Using Javascript.
Features
Improve Work Focus — When businesses use video meetings on Slack, they don't lose their work focus because they don't have to leave their work to pick a video call.
Slack Calls — Startups can also only include 15 candidates with Slack Calls. But probably, this limit could be increased when you integrate Slack with Zoom.
Pricing
Slack doesn't give any separate plan for video conferencing. Its free plan only allows one-on-one video calls but its Pro, Business+ and Enterprise Grid plans enable screen sharing and video conferencing up to 15 participants. The monthly charges of Pro and Business+ are $6.67 and $12.50, respectively.
If you want a web-based and secure video conferencing platform, then you should trust the GoToMeeting tool. With 99.95% uptime, it is an ideal meeting tool that was launched in 2004.
GoToRoom, GoToMeeting, GoToConnect, GoToWebinar and GoToConnect Bundles are significant products of this tool.
Features
Call Me — This feature lets the participants know when the meeting is about to start. So, they don't miss any sessions.
Join With Phone — Participants can also join the meeting without the internet because it provides toll-free numbers in 50 countries of the world.
Pricing
The monthly fee of its Professional plan is $16, and it is applicable for 250 participants. Similarly, it costs $19/month for 250 participants under its Business plan.
Zoho also provides an online meeting and video conferencing tool to its users around the globe. Easy third-party integrations and the robust backing of Zoho make it an ideal solution for businesses of all sizes.
Features
Video Meetings & Screen Sharing — Both video and audio meetings are possible with Zoho Meeting. Similarly, you can also enable video sharing to show some documents and other files to teammates.
Secure Hosting — Businesses can also lock their video meetings to keep all details secure and safe.
Pricing
It is free to use Zoho Meeting for unlimited meeting sessions, but the number of meeting participants and webinar attendees shouldn't exceed 2 and 10, respectively. On the other hand, $3 is the monthly charge of its Meeting plan. The costs of its Webinar plan begin from $16.
BlueJeans Meetings is another trusted name among video conferencing platforms with real-time intelligence and enterprise-level security. It also claims to provide streaming services to Microsoft, Facebook and Samsung.
Features
Connected Rooms — It enables businesses to connect this tool with their existing conference rooms.
Virtual Care — It also improves Televisit productivity and overcomes the joining frustration of participants.
Pricing
The monthly fee of the BlueJeans Standard plan starts from $9.99. It provides limitless 1:1 meetings and hosts up to 100 attendees.
Conclusion
This article shares one of the top and most used video conferencing tools with startup companies. Hopefully, they will pick the right option for video meetings according to their requirements and budget.
Please read the article Top Startup Tools to discover amazing solutions to increase productivity.
FAQ
What are the best video conferencing tools for startups?
– Zoom
– Google Meets
– Microsoft Teams
– Dialpad
– Skype
– Whatsapp
– Slack
– Gotomeeting
– Zoho Meeting
– BlueJeans Meetings