BaaS: What are the benefits?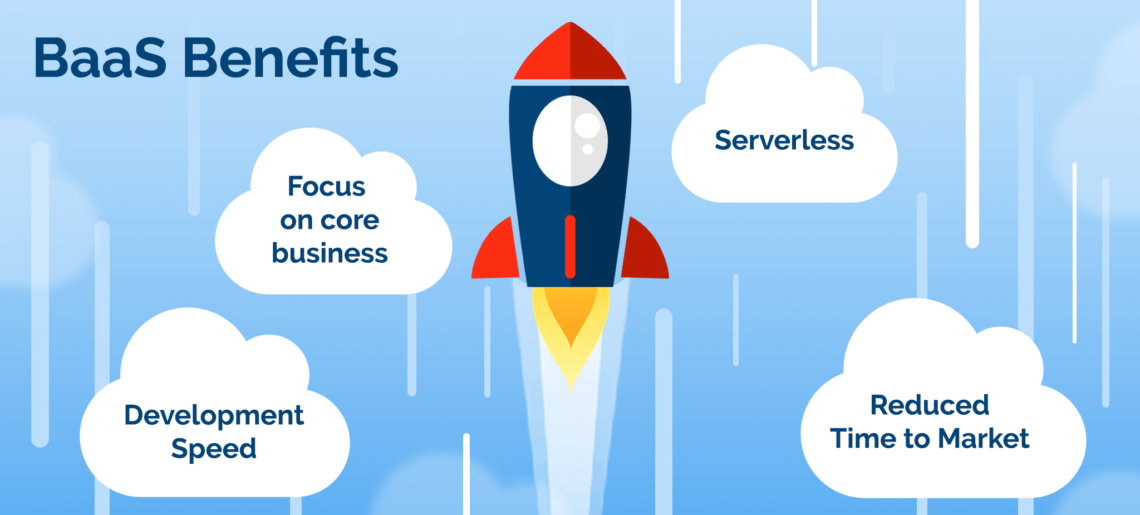 BaaS: Here are 22 benefits you will enjoy
Technology has been advanced a lot these days and one of the most popular terminologies that are being followed these days is Backend as a Service. The service automates the development of the application backend and also takes care of backend cloud infrastructure. In this way, you will be able to manage the backends of any platform better and enjoy way more features of that platform.
Well, there are lots of Backend as Service advantages that you will get from it while some of the BaaS benefits or mBaaS benefits are as follows.
Development Speed
Reduced time to market
Cost
Focus on core business
Better output in less time
Fewer backend engineers
Focus on high-value coding
Focus on frontend development
An expanded app feature set
Create richer apps
Works on different devices (iOS, Android, web, IoT)
It's serverless
Outsource cloud infrastructure
Scalability
Performance
Standardize coding environment
No more boilerplate code
Clone apps and run testing environments
Backups
Continuous delivery and integration
Security
Privacy requirements like GDPR
Here is the list of pros of a backend as a service:
1. Development Speed
One of the biggest Backend as a Service benefits is efficiency in development or productivity gains. Since development is a time-consuming task, it requires a lot of time to develop an application. Besides, if the application is quite heavy and it covers lots of essential aspects, then it will take way more time to develop it, which might not be acceptable to some of the people. In this case, Backend as a Service helps a lot. It offers an opportunity to build an application way more speedily. It does not make people code each and every line manually. Still, it provides lots of features and functionalities by which code can be generated automatically, due to which, you become able to develop an application in less time.
2. Reduced Go to Market Time
Reducing time to market plays an important role in organizations of any size. Enterprises will be able to test new digital products or services much faster. This strategy will allow the corporations to run multiple tests simultaneously, reduce the investment (and the risk) on each new trial, and collect real customer data before scaling up the initiative. A Backend as a Service will play a vital role in simplifying the development process, standardizing tasks, and delivering ready-to-use features. Startups will also get benefits of reducing the time to market. One of the main challenges of a startup is to find product-market fit. Generally speaking, this is an experimentation process that involves trial and error. The more times you experiment, the higher are the chances of success. So, it's imperative to reduce the cost of each experiment. A Backend as a Service will be instrumental for this purpose.
3. Cost
Another one of the most important BaaS benefits that you will experience is cost-effectiveness. Since it is quite evident that development costs a lot of amounts because any application has to be developed from zero. The developer has to plan the whole functionality of the application thoroughly, and then he/she has to start developing an application. Additionally, the further services that application requires security, backups, and many more. All of these things cost a lot of amounts that sometimes become difficult to afford. While in the case of Backend as a Service, this thing becomes quite cost-effective. All of such services you get at a very affordable price rate, and you don't have to pay for each service individually.
4. Focus on core business operations
Another one of the most important mBaaS benefits that you will get is to focus on core business operations. While most of the time, it happens that people lose their focus on the core business operations, and they start focusing on some other aspects of the business related to the application. They really cannot make the thing the same because they have to deal with lots of things simultaneously. In this case, mBaaS helps a lot. It helps to keep the focus on the core operations of business instead of diverting to the other actions. It just makes people able to make sure that they are perfectly fulfilling the basic requirement of a company.
5. Better output in less time
Running an application online is quite a complicated task. It is not like making an egg in your kitchen, but it takes a lot of other aspects to follow. Additionally, managing all these things at the backend also becomes quite difficult, due to which, the efficiency, effectiveness, and accuracy of the application get affected. In this case, mBaaS benefits a lot. It manages all the things automatically without offering any kind of troublesome to the user. In this case, you get much better outputs in a concise time duration as compared to normal.
6. Fewer backend developers required
While developing an application, the very first problem a person has to face is hiring a team of developers. Since development is not a one-person task, but it involves a whole team. In this case, you will have to find reliable developers, which is quite a tough task to do, and it will also cost you a lot that you might not afford because a single professional developer can charge more than the salary of 3 to 4 accountants. A BaaS will allow companies to reduce DevOps team size, have fewer backend engineers, and focus on frontend development.
7. Let developers code high-value lines of code
As described above, developers are expensive! So, they have to focus their effort on creating business-centric lines of code. Boilerplate code and repetitive tasks are not a good way to invest developer time. For example, why reinvent the wheel and ask for a developer to create a social-login integration? It makes no sense! This piece of code is already available on the backend as a service platform and will save precious time and money.
8. Focus on Frontend Development
In the development of any application, frontend development plays a vital role because it is the interface that the user will see. The user does not know how incredibly coding is done at the backend, but he/she better understand the frontend. In this case, he/she only judge the application based on frontend design and development, which sometimes go wrong. So, creating fantastic user experiences for your end-user is a no brainer. Considering the resources are limited, the tradeoff is to either invest time on the backend boilerplate code or the frontend U/X. A backend as a service will free up development resources on the backend and let you invest more energy on the frontend side.

9. Expanded App Feature Sets
Backend as a Service benefits the users and the developers a lot by the features offered by it. It benefits you a lot by providing ready to use features to add in your application. Since most of the time, it happens that you need to add some additional features in the application, just like authentication, data storage, and search option, but you don't have much time to add them in the applications. In this case, Backend as a Service helps a lot. It offers all of such features to add in the application and run it successfully.
10. Develop richer apps
Another one of the most important Backend as a Service benefit is the development of the way richer apps than usual. No doubt that technology has been advanced, but still there are some boundaries that cannot be crossed easily. Generally speaking, a single developer is not much capable of developing much richer apps that sometimes clients ask for. In this case, clients have to find a team of developers who are capable to do so, which will alternately cost a lot more money. In this case, Backend as a Service benefits proves quite effective. It helps a lot both to developers and clients to achieve all those things that are quite impossible to achieve by a single developer. It offers the opportunity to develop as much as richer apps they want with way more ease and comfort.
11. Code for Different Mobile Devices and Access Channels
You might not be familiar with the fact that coding on different devices is different from each other. You cannot code in the same style and tool for the web and mobile apps. That means that you have to develop more than one application for the same client. In this case, you will definitely charge more as per your effort, which will also cost a lot to the client. This path may not be a good option for both the client and the developer. So, in this case, mBaaS will prove quite useful. It offers the developer to develop an application for any of the platforms he/she wants, and the mBaaS will take care of all the other things. It will connect to different SDKs (iOS/Android/Javascript) so that you don't have to code more than one time for different platforms.
12. No servers required
BaaS provides a serverless architecture to the users. So, another one of the most important mBaaS benefits that you will get from this service is no need for servers. Either hardware or VMs. In most cases, people require servers to run the application perfectly. They have to install heavy and expensive servers, only to run the application. While, in the case of Backend as a Service, you will not require any kind of server to install. All you just have to take the Backend as a Service, and you can use their service exclusively. In this case, a huge number of your amount will be saved to invest in purchasing an additional server.
13. Outsource cloud infrastructure management
MBaaS benefits you by offering an outsource management of cloud infrastructure. Since having infrastructure is quite important for an organization. No company can stand in the market and do business better without proper infrastructure. In this case, they have to create a network infrastructure in their company, which costs a lot of money to install and manage. As a solution, they get cloud infrastructure as the service from any of the service providers so that don't have to install the whole infrastructure physically in their company. While still, it needs to be managed all the time, and it again requires a proper team to handle. Well, in the case of Backend as a Service, you don't either have to install any infrastructure, but also you need to hire any team to manage it because all of these things will be done by getting Backend as a Service for your company. This service will take care of everything and offer the outsource management of your cloud infrastructure..
14. Scalability
Another one of the greatest mBaaS benefits that you will enjoy is scalability. As you know that every business and the company starts at a low level with few resources, but it needs to grow as much as possible. It has to be expanded according to the future requirements and necessities so that it can keep growing and running in the best way. In this case, Backend as a Service benefits a lot. It helps a lot to expand the system as much as you want. You can scale up and down with the resources that you have gotten from the Backend as a Service. You don't have to change anything in the structure and also it will not cost you a lot.
15. Performance
Another one of the most important things that you will get as the Backend as a Service benefit is increased performance. The BaaS platforms run on robust and well-designed infrastructure. In most cases, that leads to better performance in comparison to deploying an application by yourself.
16. Standardize the coding environment
One of the most important things that you have to care about while developing any application is standardizing the coding environment. The more complex your environment is, the harder for you to fix any problem if there occur any after a particular time duration. Well, this aspect is entirely managed by the Backend as a Service because it perfectly standardizes the coding environment. In this method, you don't feel any irrelevancy within the whole code that can make it complex or difficult to understand.
17. No need to program boilerplate code
There appear some certain situations in which you might have to use boilerplate code for developing any application. You might require to add it in the application or the code exclusively after a lot of effort, but still, you have to program it again, which is may more effortful task to do either. In this case, you can get mBaaS from any of the reliable company and then you will not need to program the boilerplate code at all, because this service will take care of all of such repetitive tasks.
18. Let you clone apps and run testing environments
Backend as a Service offers you a great edge to test your applications easily. Using a Backend as a Service you will have the chance to clone your apps and run their proper testing online so that you can have a better idea of how the applications will work.
19. Has ready to use backup procedures
MBaaS benefits a lot by offering ready to use backup procedures. Some of the time it happens that all the stuff that you have uploaded on the application got affected or deleted, and you need a backup, but still, it takes too long that you won't be able to perform any task during the whole time. While, with the help of mBaaS, you will get pre-configured backup procedures so that your working does not get affected.
20. Continuous Delivery and Integration
The Backend as a Service offer you constant delivery and the integration of data during the whole time of usage. You don't have to wait a lot after performing any task. You will get instant and integrated results of your query that you have made on the application.
21. Security
With the help of Backend as a Service, you will get enhanced security of your application. Since there are lots of hackers and bad actors on the web that can highly affect your application. They can steal your data and affect you in a bad way. In this case, Backend as a Service helps you a lot. It offers your application incredible security from all of such unauthorized and bad actors. Additionally, they offer you a complete backup plan for any kind of such misshapen.
22. Privacy requirements like GDPR
Along with the security, Backend as a Service offers ready to use GDPR protocols. While getting the data processor privacy requirements of GDPR is quite difficult by any means. Using a BaaS will save you an extensive quantity of development hours.
Conclusion
Well, the above has described some of the incredible mBaaS benefits that you can enjoy after getting this service. All of them are quite helpful to develop an incredible application for any business. So, make sure to get Backend as a Service if you really want to enjoy these benefits.
Would you like to know more about how a BaaS can benefit you? Please read:
What is a BaaS – Backend as a Service?
The service automates the development of the application backend and also takes care of backend cloud infrastructure. To know more read BaaS – Backend as a Service.
What the benefits of a BaaS?
– Development Speed
– Reduced time to market
– Lower Development Cost
– Focus on core business
– Better output in less time
– Fewer backend engineers
– Focus on high-value coding
– Focus on frontend development
– An expanded app feature set
– Create richer apps
– Works on different devices (iOS, Android, web, IoT)
– It's serverless
– Outsource cloud infrastructure
– Scalability
– Performance
– Standardize coding environment
– No more boilerplate code
– Clone apps and run testing environments
– Backups
– Continuous delivery and integration
– Security
– Privacy requirements like GDPR