Top 10 Cloud Providers in India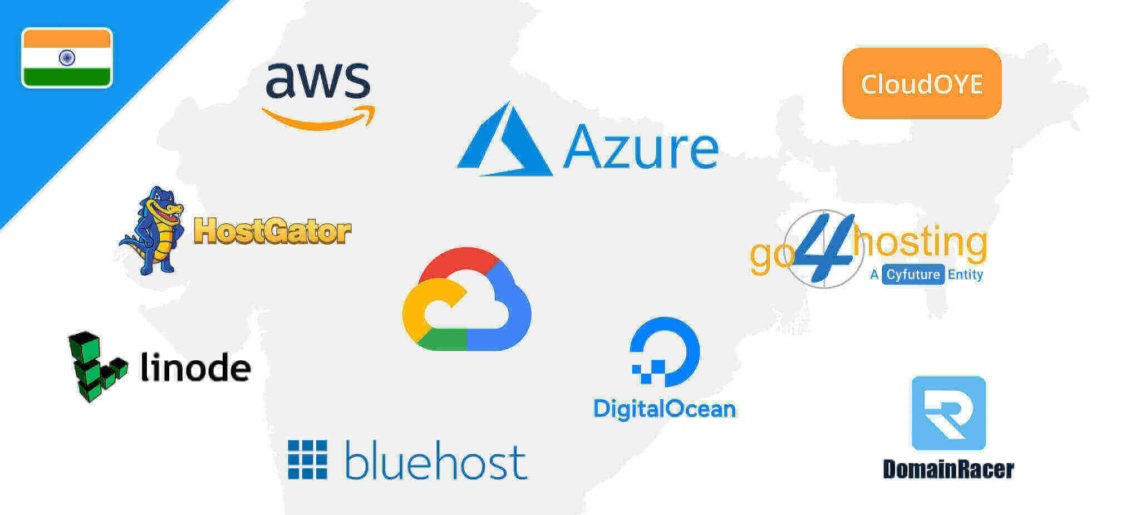 Cloud computing has revolutionized the way businesses run their websites and applications. It is one of the essential requirements for organizations that want to save costs and reduce infrastructure management burden.
Take a look at 10 of the top cloud service providers in India below.
What is Cloud Computing?
Cloud computing is the method in which system resources such as computing and cloud storage are made available on-demand to users without performing any management.
Cloud-based data centers are generally offered to users around the world through the Internet. Cloud setups offered by leading providers today have distributed functions of centralized servers in multiple locations.
Cloud computing service providers also may also use dedicated edge servers for facilitating certain connections.
The different types of cloud computing setups offered include enterprise clouds for single users, and a public cloud for multiple organizations. Cloud computing is focused on resource sharing for facilitating coherence.
Cloud computing enables companies to reduce IT infrastructure expenses and cut costs effectively. Relying on this type of computing helps users achieve faster and more efficient running of applications.
It also helps reduce the need for performing extensive management and maintenance, and users are better equipped to measure up to new and changing demands.
Thousands of businesses around the world rely on cloud computing for fulfilling their advanced feature and functionality demands. It is, by far, the best option for providing sufficient computing power during times of high demand.
Most cloud computing service providers offer users the option of a pay-as-you-go pricing model. Users have to know about the usage rates of different components and features to avoid overpaying.
Some of the key perks of using a cloud computing setup include high-performance networks, storage systems, cost-efficient computers, virtualized hardware, service-driven architecture, and autonomic computing.


What are the Advantages of Cloud Computing?
Cloud computing infrastructure reduces users' need to spend large amounts of money for acquiring equipment and performing maintenance. Some of the costs that can be saved include the expenses of hardware, resources, and utilities required to create an expansive data center.
Businesses that rely on cloud data centers do not need to have too many IT professionals for managing workload. The cloud service provider handles all infrastructure management demands, and the chances of downtimes are also reduced. As a result, users do not have to pay additional expenses or expend efforts for fixing downtime-related problems.
Businesses require cloud computing solutions that provide the highest level of security for their data and resources. Security is a major concern of most organizations as cybercrimes and data leaks are quite high nowadays and can lead to unwanted issues.
Cloud computing offers a wide range of security features for storing and managing data securely. Cloud storage service providers incorporate several layers of protection for data and resources, encryption, access control, and authentication.
Apart from this, large businesses have their own security measures for enhancing data protection and ensuring better security for on-cloud information.
The scalability requirements of businesses can vary greatly depending on how big they are. A small business will need far less than a large enterprise with a great number of employees.
Cloud computing is the best solution for organizations that have changing and growing business requirements. Scaling up and down resources fast can be quite useful for any growing business. Cloud capacity can be raised based on any surges in resource demand. Business owners do not need to invest in any physical infrastructure for this purpose.
Scalability makes cloud computing advantageous for businesses around the world and helps them get past competitors. Risks related to maintenance and running infrastructure are also reduced for most organizations.


Top 10 Cloud Computing Providers in India
Amazon Web Services or AWS is the cloud platform from technology and e-commerce giant Amazon. It is currently one of the most widely used and feature-rich infrastructure as a service platform for businesses.
AWS also offers a range of SaaS and PaaS offerings for its diverse client base. Amazon Web Services comes with a large array of features that make use of machine learning, artificial intelligence, and advanced analytics. Users can reap the benefits of peak scalability, security, and reliability.
AWS comes with powerful features and functionality that have completely changed the standards of cloud computing radically. Using this platform enables users to run websites and applications efficiently.
Customers also access high-security cloud storage for photos, content delivery network file delivery, managed database, and several other features.
Google Cloud Platform or GCP from the Google stable is a market-leading cloud computing service. It offers a wide range of cloud services that run on the same infrastructure as popular Google products such as file storage, Search, Gmail, and YouTube.
Users also get many management components and many modular cloud offerings such as data analytics, cloud computing, machine learning, and data storage. It is one of the best solutions for businesses across industries. Google Cloud Platform offers high-performance serverless computing environments along with its IaaS, PaaS, and SaaS.
The App Engine, announced as a Google offering in 2008, is a platform for web application development and hosting in the robust data centers of the company. It was the first cloud computing offering from the tech giant. Following the introduction of App Engine, Google has enhanced its platform with several other cloud services.
Azure is an IaaS provider from Microsoft. It incorporates an extensive range of products and services.
For example, the Azure mobile app service is a leading application backend for the development of iOS, Android, and Windows platform applications. It is a service for mobile features implementation and relied upon by Node.js and C## applications.
Azure features data resiliency for facilitating data protection across different data centers with multiple high-security data centers. The use of locally redundant storage makes resources available round-the-clock for users.
Azure also comes with BCDR (Business Continuity/Disaster Recovery) integration for ensuring reliable backup and recovery.
Digital Ocean is a cloud computing solution provider offering many robust infrastructure as a service features along with agile server setup. It is used for cost-effective application and website hosting.
Digital Ocean is known for the level of reliability and scalability it offers for users, enhancing application deployment outcomes. It offers Linux virtual machines known as Droplets running atop virtual systems.
Users have the option of creating their desired number of Droplets to be used within the cloud. They can also rely on Droplets independently.
Domain Racer is a provider of affordable reseller hosting with the option of unlimited SSD-based storage.
Users get access to high-performance reseller hosting along with a convenient cPanel for web hosting client control. It is fundamentally a cPanel that makes other cPanel accounts available to users. Users can take advantage of the unlimited cPanel-based hosting features and get upwards of 99% uptime for users.
It is a suitable option for businesses that are growing at a fast rate. The fast web page loading speeds offered by the platform make it a top option for businesses worldwide.
Hostgator is a leading web hosting service provider offering a vast array of services for hosting online blogs and websites. It is mainly a service for buying online domain names.
Business owners require reliable web hosting and domain name services for their sites and blogs. Hostgator offers both domain names and hosting for the needs of businesses around the world.
Bluehost is one of the largest Indian cloud service providers and a web host specializing in WordPress solutions. It offers a wide range of services at affordable rates to users and simplifies businesses' deployment needs of all sizes.
Bluehost comes with a comprehensive set of services that are offered at affordable rates. Users can take advantage of several hosting options like managed WordPress and dedicated VPS.
The managed service lets users take care of technical aspects like core updates, WordPress plugin updates, performance, and security optimization.
Go4Hosting is a provider of cost-efficient hosting services for businesses of all sizes, with a vast global client base and worldwide operations. This India-based provider has as many as 13 different versions worldwide, with data centers and partners around the world.
Go4Hosting offers an uptime guarantee of 99.95% and SSD storage, along with round-the-clock customer service. The service offers users all resources required for website development and launching. It is one of the top choices for businesses around the world.
Cloudoye among the leading cloud hosting service providers in India. It offers high-performance and feature-rich cloud infrastructure to meet the needs of growing businesses.
Cloudoye offers customizable cloud hosting plans for users around the globe. It comes with many features that help businesses meet their growth needs efficiently.
The service provider, established in 2000, is focused on giving users a high level of performance, along with robust cloud services for users.
Linode is a leading web hosting service provider offering virtual private server-based cloud hosting plans for Linux servers.
Users get access to a wide selection of storage, networking, and computing resources along with a robust marketplace. Linode is a top choice for businesses that take advantage of cloud computing to fulfill their requirements.
It currently has multiple data centers spread across three continents globally. Linode also comes with several web hosting server options and gives users comprehensive control over their virtualized servers.
Conclusion
The cloud service providers mentioned above are the best choices for businesses in India and around the world. Take a look at their features to make the right decisions for your needs.


FAQ
What is cloud computing?
Cloud computing is the method in which system resources such as computing and cloud storage are made available on-demand to users without performing any management.
What are the advantages of cloud computing?
– Low costs
– Security
– Scalability
What are the best cloud computing providers in India?
1. AWS
2. Google Cloud
3. Azure
4. Digital Ocean
5. Domain Racer
6. Hostgator
7. Bluehost
8. Go4Hosting
9. CloudOYE
10. Linode