Firebase Alternatives: Top 10 Providers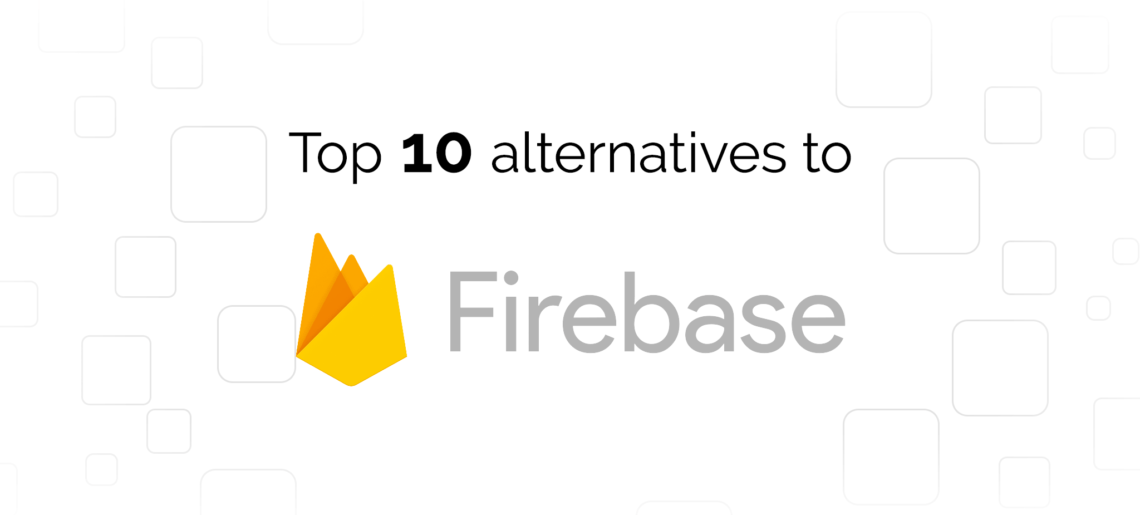 The best 10 alternatives to Firebase
Developers of web and mobile (Android or iOS) applications can now handle their software projects will less hassle. Thanks to platforms that allow developers to build web applications without bothering with server-side programming.  Firebase is one of the top options, it provides valuable server-side resources for the development of web and mobile apps.  The applications built in Firebase can be deployed to multiple platforms such as the Web, Android, iOS, and OS X.
With Firebase, there is no need to bother about messing with server-side coding because you get the Firebase database out of the box.  The package also comes with several APIs you will need for your database and other project tasks.  All that is required is a couple of configurations here and there.
Firebase is not the only web application development platform, there are several free and paid viable options to the Google-owned company. Let us consider some other excellent alternative platforms for web and mobile application development.
This platform is an excellent choice for those who do not want to bother about infrastructure and messing with codes for the application backend. Besides building your app faster, Back4App also helps you scale your app seamlessly, without technical hassles. The Parse framework gives the developer complete control over the backend.  It is an excellent platform for building, hosting, and managing your apps efficiently.  The applications built on Back4App can be deployed on multiple platforms. Therefore, Back4pp is a cross-platform, open-source application development tool, and provides reliable hosting. Another great aspect of Back4App is that you can host your app in dedicated servers (private clusters), host in regions like China or the Middle East, and ask for tailor-made support plans.
This platform offers real-time infrastructure-as-a-service that allows developers to build real-time apps.  This powerful platform boasts of its enterprise-level security, reliability, and scalability. Those are three vital factors app developers need to succeed.  PubNub provides developers with a simple API and over 70 SDKs. Some of the features of this platform include storage and playback, stream controller, IoT Device Control, push notifications, among a host of others.  PubNub handles trillions of real-time transactions from over 300 million devices every month. Users of the platform range from small startups to global giants such as eBay and Samsung.
GameSparks presents game developers an excellent alternative to Firebase. As a dedicated game development platform, GameSpark provides specific functions for game developers that are absent in other platforms. Moreover, it also offers developers extensive flexibility for customizing features of the platform. It even gives the developer utilities for creating a custom control panel for each developer within the team.  Besides, developers can also access powerful tools for marketing and automation.
This platform is excellent for building real-time apps that do not require complication protocols.  It makes use of RESTful design methods to load streaming data into data stores, data lakes, and analytics tools. Therefore, there is no need to parse complicated protocols.  All you need is to create simple sub-server codes that work with client-side JavaScript models Firehose depends on HHTP Streaming and WebSocket and, its applications are mostly driven by APIs.  Firebase batch, compress, transform, and encrypts that data before loading, which is an excellent procedure for enhanced security. It is a fully managed service that scales automatically to match your data throughput. There is no need for ongoing administration.
This open-source platform presents developers with useful utilities for designing web and mobile apps. It is also helpful for developing and scaling APIs.  This platform has the unique advantage of fast-tracking the app development procedure.  Yes, Deployd can get your app running within minutes with a single command that activates your API and triggers it to action. Rather than using boilerplate, the API Deployd APIs are designed to use plug-and-play resources. These resources can be easily managed through the intuitive web-based dashboard.  This platform also gives you the freedom to deploy your app to your preferred cloud service.
Atmosphere is a perfect fit when your goal is to build an Asynchronous Web Application. This framework provides both client and server-side components; it provides transparent support for JSONP WebSockets, HTTP Streaming, Server-Sent Events (SSE), Long, -and Polling. The framework stack also ships with example code for implementing these technologies in your project.  The developer can quickly deploy it on all Servlet-based servers.
This is another platform that allows developers to focus on designing and managing their apps. It provides vital functions such as data storage, user authentication, real-time notifications, back up, cache, and lots more. All these resources are available through a user-friendly interface, Since CloudBoost.io is an open-source platform, developers do not have to worry about vendor lock-in. The API is designed to enhance compatibility with other platforms, development tools, and app infrastructure. It also presents the user with a horizontal scaling architecture that mitigates the risk and costs of scaling your app service. CloudBoost.io is a robust platform for app development and easy scaling.
If you are looking to create a full-features web application right from scratch, Kuzzle will help you get the job done. It is an open-source solution that presents developers with backend as a service for IoT applications, mobile apps, and other real-time applications deployment.  It has integrated tools that allow developers to build event-driven apps. Besides, it provides easy access to functions such as messaging, notifications, IoT synchronization, and geofencing capabilities. Perhaps, the best feature of this platform is its scalability and multi-protocol API. It is compatible with lots of programming languages, and developers can take advantage of the multi-protocol API to create robust mobility projects.
This tool is excellent for those that want to develop an application with robust frontend features. It takes the form of a simple, self-hosted JavaScript-powered backend as a service for web apps.  With its integrated tools, you can easily create a functional web application quickly.  This open-source tool can be used to build web and iOS apps.  To use Hoodie, simply write your frontend code and connect it to Hoodie's frontend API, and your app is good to go. Moreover, the core features o Hoodie are also extensible with the use of plugins. One of the advantages of Hoodie is that it allows you to develop your app offline by storing data locally.  As such, the app developed can be used offline as well, without internet connectivity. Also, you have the freedom to deploy your app on the cloud service of your choice.
The ability to scale resources is vital in modern apps because users now seek services that provide a seamless flow of data between multiple devices.  The robust database from Gun gives you the support you need to meet the demands of your users.  Gun is an open-source solution that is renowned for deploying several industry solutions. Developers can leverage the power of Gun to develop multi-player games and collaborative apps.  Other functions include visualization and support for IoT infrastructure.  Compared to Firebase, experts believe that the powerful and stable tools provided by GUN offers developers more value in scalability and expediting application development.
Want to know more Firebase Alternatives?
Below you can see a list with some other BaaS – Backend as a Service platforms that are Firebase alternatives.
Self Hosted Parse
Microsoft Azure Mobile Apps
AWS Amplify
Kinvey
Backendless
Final Overview
Firebase is a stable platform with many excellent mobile application development features, it also allows you to scale infrastructure requirements quickly. However, other alternatives might serve you better. You can try out the option provided in this discourse. Perhaps, some of them might help you build apps with better quality.