Top 10 Free PaaS Platforms
The use of cloud computing services mainly the Platform as a Service is rapidly increasing among businesses and programmers.
According to a Statista forecast, the worldwide PaaS revenues will reach around 30 billion USD in 2022. It is also essential to know that PaaS's global spending was only 15 billion USD in 2018. These figures show the quick increase of PaaS platforms' useability.
However, many startups, businesses, and developers want to experience the PaaS services by using free to start platforms. Therefore, this article is going to share one of the top free PaaS platforms with all the necessary details.
Here is an overview of the platforms discussed in this article.
| | | |
| --- | --- | --- |
| Name | Free Tier / Free Trial | Pricing |
| Heroku | Free Tier | Starts at $7/mo |
| Engine Yard | Free Trial | Starts at $49/mo |
| App Engine | Free Tier | Pay as you go |
| Dokku | Free to download | Self hosting only |
| Platform.sh | Free Trial | Starts at $10/mo |
| Digital Ocean App Platform | Free Tier | Starts at $5/mo |
| Elastic Beanstalk | Free | Free (you pay only for the associated AWS services like EC2, S3, etc) |
| Cloud Foundry | Free | There are multiple vendors like IBM providing hosting services. |
| Salesforce Lightning Platform | Free Trial | $25/mo |
| Zoho Creator | Free Trial | $25/mo |
Keep reading to know more:
What is PaaS?
PaaS is a cloud computing approach that confers all the necessary infrastructure, hardware and software implements that are required in building an application. Third forces provide those app development tools. Also, PaaS platforms are less complicated and budget-friendly compared to the on-premises app development models.
PaaS data centres usually host storage, app creation tools, networks and operating systems. Luckily, renowned PaaS platforms offer a 'pay-as-you-go' pricing policy where businesses only pay for the used resources. On the contrary, some PaaS platforms provide free services. Heroku, Zoho Creator and Dokku are notable names among the free PaaS providers.
Advantages of using a PaaS Platform
PaaS platforms provide a variety of advantages to their users. Withal, we are only sharing the significant benefits of using the PaaS model here:
Reduces Cost
The significant advantage of using a PaaS platform is definitely a massive reduction in development costs. With PaaS, companies don't need to buy or rent servers and further machinery to run, test and update an application. Because as compared to on-premises software development, PaaS offers complete cloud-based middleware infrastructure for app building.
Similarly, it is the duty of PaaS providers to make regular updates in terms of changes in hardware or software. Indeed, all trusted PaaS vendors take care of both physical and virtual infrastructure that is required to build, launch or successfully run an application.
Highly Scalable
Whether you are running a small business or thinking of joining a startup, it is always your dream to extend your business to new levels. Howbeit, you can now achieve such things without any worry because Platform as a Service vendors allow the users to enhance their resources within a few clicks. Luckily, you only need to pay for the resources that you use instead of fixed charges.
Quick Development
Compared to the typical app development methods, it is outstandingly quick to build, run, test and update software with PaaS. It confers numerous prebuilt server-side tools, code libraries, ready-to-use templates and infrastructure.
In the same token, Platform as a Service providers also enable the businesses to market their products within less time than they conventionally invest in application development.
Multiple Platform Support
Platform as a Service providers permit the coders to build an application one time and launch it on multiple mobile, web and desktop platforms. This benefit doesn't only save the development time but also looks pretty cost-efficient in many ways.
Limitations of a PaaS Platform
Vendor dependency is one of the main drawbacks of using a PaaS platform. Indeed, when you go with a Platform as a Service vendor, you would have to entirely rely on its speed, uptime, data backup and other functionalities. In case of any mishap with the vendor, you would also have to face the consequences.
Top 10 Free PaaS Platforms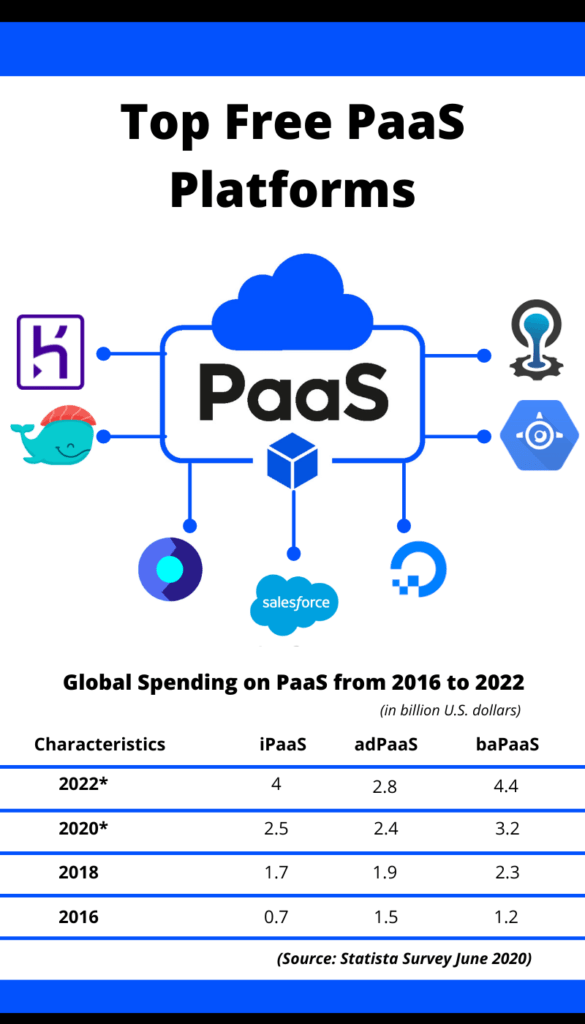 Here are the top cloud Platform as a Service providers that you can consider utilizing for your present or forthcoming project:
1. Heroku
Heroku is an excellent free cloud PaaS platform that was created in 2007 to back Ruby. Notwithstanding, this free PaaS platform extended its services, and now, it is supporting a variety of languages, including PHP, Java, NodeJS, Python and much more.
It works as a free PaaS platform and offers packages like 'Free & Hobby' and 'Hobby Dev & Basic' in this regard. So, if you want to use a free PaaS vendor, then you just need to sign up at Heroku, and it is free of cost.
On the other hand, if you want to add more professional and scalable features to your project, then you can go with premium packages. Although the charges of 'Standard 1X' start from $25/month but you can benefit from the Price Estimator as well.
The major tech giants that are utilizing Heroku services are Product Hunt, Craft Base, StackShare and Hinge.
Core Features
Runtime — Heroku uses dynos to handle applications in a fully administered runtime atmosphere. Therefore, it keeps the applications updated and operates without any interference.
Security — Although it is not easy to find a free PaaS platform that offers such a kind of security, but Heroku provides it with great authority. In this regard, it conducts routine scrutiny and upholds compliance like SOC, HIPAA and PCI.
Heroku OpEx — Heroku Operational Experience plays a major role in customizing different features. The recognition and fixation of particular UI issues is also a duty of Heroku OpEx.
Robust Ecosystem — Heroku owns a powerful ecosystem that aids the developers to scale up their logging, data and other app resources. This PaaS platform also gets support from Heroku Redis, Postgres, and Apache Kafka to perform such operations.
2. Engine Yard
With 99.99% uptime and 98% customer satisfaction, Engine Yard is a reliable free cloud PaaS platform that was launched in 2006. It is basically a California-based Platform as a Service company that is successfully backing around 12,000+ applications. Though it supports distinct languages but its services for Ruby on Rails, NodeJS and PHP are tremendous.
Like Heroku, it is also free to start using its services under the 'Start a Free Trial' signup tab that is available on the right top corner of its official website. Luckily, its Standard' plan with 12*5 support doesn't cost anything to the user. But container usage price begins with $49/month and Standard monthly instance from $150. Moreover, coders can take advantage of this PaaS platform with S3 or other Amazon Web Services functionalities.
SalesCrunch, Cerego, Chictopia and Envy Labs are some of the happy clients of Engine Yard that have also reviewed this PaaS vendor with positive remarks.
Core Features
Highly Scalable — Either you are in search of too many instances for your large enterprise or only want a single instance for your startup Engine Yard is one of the most scalable PaaS platforms. It is quick to extend or limit your resources with Engine Yard.
No Downtime While Deployment — It always gives a negative impression when your app goes down during deployment. However, you can avoid this annoying situation with Engine Yard. Indeed, this PaaS vendor benefits from 12-factor advanced app principles and doesn't down your app during the deployment period.
Database Support — Engine Yard is also known because of its incredible database support. Actually, this platform has more than 20 years of experience in administering DBaaS services. So, you can simply trust their database features for your project.
Fully Managed Service — As a fully managed service, it takes care of every aspect of app development, including automated backups, database environments, data recovery, appropriate code dealing, etc.
3. Google App Engine
With the backing of Google Cloud, App Engine is another free PaaS platform that businesses and programmers can try for free. This service helps the developers to build, run and host applications with the support of Google-administered data centres. Although it typically emphasizes providing support to languages like Java, Go, PHP, Python and Ruby. But you can also efficiently utilize its PaaS services for other languages by employing custom runtime.
Fortunately, Google App Engine doesn't only permit users to go with a free trial option, but as a new user, you can also get a credit of $300 and consume it for Google Cloud's products. Similarly, developers can also enjoy 28 free instance hours per day. Withal, if you are working on a big project and want to employ this PaaS vendor, then you should contact the sales team for better guidance.
The renowned companies that have witnessed the great PaaS facilities of App Engine are Barilla, Khan Academy and EDP Group.
Core Features
Familiar Tools — It is easy to proceed with Google App Engine tools and interface for coders because they are very familiar with the commonly used frameworks and languages.
Takes Care of Infrastructure — This free PaaS platform also takes better care of infrastructure with its fully managed app development environment. As a developer, you just need to emphasize building and adding the quality codes here.
Language Support — Compared to other Platform as a Service providers, it is not a popular languages centric platform. Yes, it can back any language seamlessly.
Security & Scalability — App Engine secures the applications by using different firewall security and certifications, including SSL or TLS. In the same token, like other Google Cloud products, App Engine is also highly scalable, and you can add or remove resources here with a few clicks only.
4. Platform.Sh
Platform.Sh is a G2 award-winning free Cloud Platform as a Service name in our list. With tremendous development, deployment and hosting support, businesses can use this service with a free trial of 30-days. It doesn't only support languages like Ruby, Java, PHP, Python and Golang, but you can also benefit from its web building and hosting services for WordPress and Drupal.
With a free trial, it offers three basic packages that are Professional, Enterprise and Elite. Though developers can get its Professional package services for free of cost for 30 days without using any card but Enterprise plan starts from $1250 monthly billing.
Core Features
Friendly Community — Platform.Sh owns a community page where you can ask these PaaS platform-oriented questions from the seniors. You just need to start a new thread to get helpful solutions in case of any query.
Development Tools — It could be a reliable service to copy and deploy any code anywhere and anywhere quickly. You can also integrate it with tools including Webhooks, GitHub and Slack.
Hosting — With 99.99% uptime, it provides PaaS hosting without any interruption. To confer multi-cloud support, it also partners with Orange, AWS, Google Cloud and Azure.
Security — Another great advantage of using Platform.Sh is its security. It doesn't only audit the scripts strictly but also owns certifications, including Payment Card Industry (PCI) and Service Organization Control 2 (SOC 2).
5. Dokku
Dokku is another free cloud PaaS option that you can consider using with Heroku and DigitalOcean's support. It is an open-source platform that you can use for small PaaS deployments. According to StackShare Evand, Expa and MAK IT are the companies that claimed about using this free PaaS platform.
Core Features
Easy Installations — It saves lots of money for businesses because of its easy installation feature. Yes, coders can set up Dokku infrastructure on any hardware and go with any cheap cloud provider.
Quick Customization — Dokku comes with the support of many other platforms and toolkits, including Slack and Gulp. That is why it is also seamless to affix customized properties with it.
Free Platform — Dokku doesn't cost anything from the users. You just need to employ a cheap plan from DigitalOcean to benefit the open-source properties of Dokku.
Time to Market — The use of Dokku with the cooperation of leading cloud vendors also speeds up the time to market an app project.
6. DigitalOcean App Platform
DigitalOcean is basically a New York-based cloud service that also offers a PaaS environment to build applications. This affordable PaaS provider started its basic cloud computing service in 2011, and right now, it is facilitating the programming world with numerous benefits.
If we specifically talk about its PaaS plans, then the Starter package is entirely free, and you can create and install around 3 sites free of cost. For each extra site, you will have to pay $3 per site.
Its Basic plan that is suitable for dynamic and Professional program that is good for production applications begin with $5/month and $12/month charges, respectively.
As a cheap PaaS and cloud service provider, a variety of businesses are using DigitalOcean. Around 2681 companies claimed on StackShare about using this service.
Core Features
Cost-Effective Scalability — DigitalOcean App Platform has the ability to both horizontally and vertically extend the app projects. Fortunately, it doesn't add too much charges while extending resources.
Direct Code Deployment — If you want to install code directly from GitLab or GitHub, then you must use the DigitalOcean App Platform. It is seamless to deploy or update code here from anywhere.
Fully Managed Platform — It is an entirely managed platform where coders don't need to worry about creating, deploying, administrating, securing and updating an application.
Regional Availability — If your project is region-centric, you can also trust the DigitalOcean App Platform. It is available for countries including Canada, India, the United Kingdom, Germany, Singapore, USA and Netherlands.
7. Elastic Beanstalk
Elastic Beanstalk is a free AWS PaaS platform that coordinates with different Amazon Web Services, including S3, CloudWatch, Simple Notification Service and EC2.
AWS doesn't cost anything extra for Elastic Beanstalk if you have already availed of its S3 or EC2 packages. Similarly, you also don't need to pay any upfront charges because AWS follows a pay-as-go-you pricing policy.
However, you can simply use the 'AWS Pricing Calculator' to estimate the additional resource charges with this PaaS vendor. Stack, HappyFresh, Zillow, BMW and Accenture are prominent names that are using Elastic Beanstalk.
Core Features
Improves Productivity — There are several tasks like load balancing, database administration, firewalls and server configuration that Elastic Beanstalk manages for coders. So, developers can entirely focus on writing the perfect scripts to improve productivity with this free PaaS provider.
Fast & Smooth — It is very quick and simple to deploy an application on AWS by using Elastic Beanstalk. It doesn't only take care of updates and auto-scaling but also inspects the health of applications.
Complete Charge of Resources — This PaaS platform is also a good choice if you want to command the AWS resources with full authority. No doubt, the resources administration capabilities of Elastic Beanstalk are outstanding.
8. Cloud Foundry
If you want to deploy your code with complete authority, fast speed and remarkable productivity, then Cloud Foundry could be your preferred choice. It is an open-source PaaS vendor that was made public in 2011. This multi-cloud service permits the developers to utilize its properties for any kind of framework or language.
Usually, coders prefer to use it with IBM cloud service. Yes, you can access IBM Cloud Foundry free of cost up to 256 MB projects and access 40 other free products of IBM. However, if your data and other limits exceed, then you will have to pick a paid plan.
Moreover, Alibaba Cloud, AWS, Google Cloud, OpenStack and RackHD are also some trusted infrastructure providers of Cloud Foundry. So, you don't need to depend on a single cloud platform while using Cloud Foundry.
Core Features
Secure — Although Cloud Foundry is an open-source, free Platform as a Service provider but it is also considered a very secure place to deploy data-sensitive applications.
Easy Integration — It is seamless to integrate Cloud Foundry with distinct IDEs and further development tools with great efficiency.
Saves Time & Money — To save money, Cloud Foundry offers a 10 weeks app development plan to its users. In the same token, it also claims about saving money of $100k on the creation of every application.
9. Salesforce Lightning Platform
As it is clear from the name that Lightning Platform is a PaaS service that Salesforce provides. Withal, compared to other platforms, it is more helpful if you are willing to deploy an application with less coding skills or with low-code. It is surely free to try the services of this PaaS vendor for 30 days.
On the other hand, if we talk about the premium plans, then you will find the two packages here. The first one is 'Platform Starter', which charges $25/month with access to 10 products. The second one is called 'Platform Plus', and it confers around 110 custom object accesses.
Core Features
Dragging & Dropping — It is very convenient to build and deploy applications with Lightning Platform because it offers dragging and dropping features. It only needs a few clicks to personalize an app.
Fast — Reusable building blocks allow the coders to create HTML, JavaScript and CSS applications within a limited timeframe.
10. Zoho Creator
Zoho Creator is another low-code PaaS platform that comes with 500+ ready to use connectors. Excel, Dropbox, ClickTime, Bitbucket, Basecamp and Dribble are the dominating names among these connectors.
Its free plan permits the developers to approach one application with up to 1000 records and 25 MB data storage. Also, keep in mind, this free PaaS offer is only applicable to one user.
Core Features
Security — Data protection is the top priority of Zoho Creator, and in this regard, it follows trusted protocols, including 256 bits/128 bits keys, TLS 1.2 and AES_CBC/AES_GCM.
Simple Automation — Most businesses want simple and straight automation for their projects with limited coding skills. Therefore, if you are one of them, then you should proceed with Zoho Creator. Its workflow is very smooth.
Enhances Speed — Zoho Creator is much different compared to the typical PaaS platforms. That is why it takes only a short period of time to build, deploy and launch an application. You also don't need to hire big coding teams in this regard.
Conclusion
Our list of the best free PaaS platforms discusses different vendors. All of them have their own plus points. Likewise, if you want one of the best Platform as a Service providers with excellent coding skills, you can go with Heroku, Dokku, Elastic Beanstalk, and DigitalOcean App Platform.
Similarly, you should definitely prefer free PaaS options like Zoho Creator and Lightning Platform for low-code abilities. Hopefully, you will make a wise decision according to the requirements of your project.
FAQ
What is PaaS?
PaaS is a cloud computing approach that confers all the necessary infrastructure, hardware and software implements that are required in building an application.
What are the advantages of using a PaaS?
– Managed service
– Scalability
– Faster time to market
What are some free to start PaaS providers?
– Heroku
– Engine Yard
– App Engine
– Platform.sh
– Dokku
– Digital Ocean App Platform
– Elastic Beanstalk
– Cloud Foundry
– Salesforce Lightning
– Zoho Creator