How to create an app like Facebook?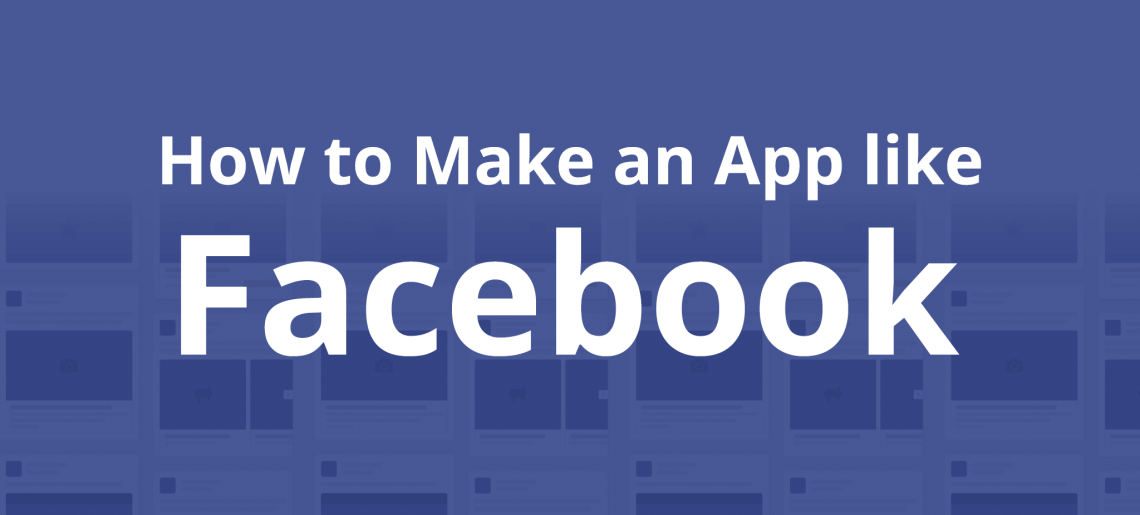 Today when people think about social media, Facebook is the first website that comes to mind. Launched in February 2004, Facebook's origin and slow rise to global fame are legendary. The story is so exciting that Hollywood made a feature film concerning Facebook founder Mark Zuckerberg and the start of the social media craze as we know it today.
Since its inception more than 15 years ago, several companies have tried to duplicate Facebook's success. However, only a few have managed to make a mark, while most of these Facebook clones failed miserably to create an impression. If you are planning to create a social media website similar to Facebook, you will need knowledge, expertise, and brilliant app development and website management team today.
However, before proceeding to the development process you should follow, you should learn more about Facebook and its history and background.
Ready to know more?
How Many People Use Facebook Today?
The only way to judge the popularity of a social media application is through its usage stats. According to surveys, Facebook had 2.45 billion active users in the third quarter of 2019. It is the biggest social media platform in the world that commands a following of almost one-third of the total world population.
The number is even more impressive when you consider that Facebook's active users crossed the one billion mark in 2012. Apart from the primary social media website, Facebook also operates other popular mobile applications, such as Messenger, Instagram, and WhatsApp. Combining the user base of all these platforms, the company has a loyal user base of more than 2.8 billion people.


Facebook's origins
Before creating a social media app like Facebook, you must understand how the application originated. Mark Zuckerberg and his contemporaries devised the initial Facebook platform while studying at Harvard University. At that time, the application established a communication channel between Harvard students and was limited to the University premises only.
Its expansions started when Facebook began offering the same range of communication to students of other Ivy League colleges. Later, Facebook access was extended to high school students as well, before being finally opened to the general populace aged 13 years and above. As of 2018, the United States, India, and Indonesia have the greatest user base on Facebook.
How Does Facebook Work?
Now that you know a little bit more about Facebook, you must understand the working of the social media platform to successfully create Facebook similar experiences with your social media site.
Facebook users need to register on the site before they can use the service. Creating and using a profile on this social media platform is free of cost. Through their profiles, people can connect with friends also on the platform or build new relationships with strangers. You can check what your Facebook friends are up to through their posts. You can also share your pictures, videos, and other media using the platform.
You can react to the media your friends upload by either using the 'Like' feature or leave a comment sharing your views about the picture as well. Other features of Facebook include social games, the creation of special online groups, forming events, and much more.
Facebook usage on mobile devices
One of the primary reasons why Facebook has managed to remain relevant and popular for the last 15 years is due to its ability to adapt. While it launched as a strictly computer-based web service, with the introduction of mobile phones and smart devices, Facebook integrated itself into handy applications for both Android and iOS handsets.
Today, the company operates four hugely popular mobile applications in the form of WhatsApp, Facebook, Instagram, and Facebook Messenger. Mobile users account for around 1.3 billion active users combining all these applications.
Now that you know all about Facebook and its approach to social media success, you can effectively design a social media app like Facebook. Following the ten pointers mentioned below should make life easier for you as a developer.
1. Wait before you start coding
While it can be enticing to begin coding for your social media experience right away, you should wait. Coding is the most expensive and integral part of the development. If you do not possess a clear idea about the end product, you are bound to experience developmental delays.
To save money on the development, start by writing down your social media idea. Additionally, perform market research to understand the demands of the people. Come up with effective design sketches before getting down to the final development phase. Developing a trial for your social media platform can help you gauge its popularity with customers, based on which you can design the final product.
How can you stand out from the crowd? 
As stated above, making your application unique is the number one priority. With over 5 thousand apps releasing in the Play Store daily, your product needs to include some service or feature that is both interesting, as well as utilitarian. Moreover, keep track of your high-level objectives when designing the application. Without set goals to follow, your business model is sure to fail in the long run. The best way to ensure success in building proper goals for the product is to use the Lean Startup Methodology, buying the Start Owners' Manual and through the application of Business Model Canvas. Read the article below for further details of creating an app.
How to create an app? 13 steps for a successful application
2. List out the most important features
A social media platform cannot do without certain features. Listing the most vital features help greatly during the app development. Here are certain features that your application must focus on.
Simplified user interface – One of the reasons why Facebook has succeeded in bringing people together is due to its simple interface. Even if you have never used the platform, you can instantly understand how to post content and react to the media posted by friends or family members. Similarly, your app should include a simple but elegant UI, as well.
User profile – Your app must allow users to create, customize, and personalize their profiles. Setting a profile picture, adding education details, work details, city, and country of residence are just some options that can attract users to open and continue using the applications.
Push notifications – All Facebook similar apps looking to recreate the social media icon's success needs to integrate a real-time notification system alerting users whenever there is an update related to their profile or posts.
Media sharing – Social media apps cannot thrive without the feature to upload and share images, videos, and audio files on the platform. Moreover, the application should include stickers and emojis as well. You can also include fun filters to edit pictures, which should drive the popularity of the program.
Storytelling – Although popularized by Snapchat, Facebook integrated storytelling features effectively in its program. With it, social media platforms can add a personal touch, enticing users, and their friends to stop and take note of the small clip or video created by the platform. Make sure you include this feature to stay relevant and compete with Facebook.
Apart from these major features that all new social media applications must include, here are a few that are useful, even if they are not integral to your app's operations.
In-app communication
User management
Privacy management
Geolocation
Integration of data source
Payment system integration
3. Develop the application for either Android or iOS
An amateur mistake that many app developers make, especially when trying to launch a social media experience, is to develop a cross-platform application. Developing an iOS app is vastly different from creating the same app on Android. Therefore, to save money and time, you must focus on building your product for any one of these platforms first, before starting the development on the other.
While you may want to reach as many consumers as you can, cross-platform development causes complicated designs and increases the development cost as well. When building for one platform, you have a better scope to adopt the social media application on the other operating system.
Since 80% of smartphone users prefer Android, it is the better choice if you want to target a larger audience at first. Android is the platform of choice for most Asian and South American countries. The remaining 20% use iOS platforms. If you want to attract more engaged users with increased earning prowess, Apple's platform is the one you should target when developing the application.
Before coding, designing the application can help you create a social media app like Facebook. Designing involves three primary aspects, namely, Wireframing, prototyping, and creating a mockup.
Prototyping – For an app, prototyping refers to the ability to interact with an object, such as clicking a button.
Wireframing – A rough sketch that showcases how the completed app should look like is known as the wireframe for the program.
App mockup – With animated colors and pictures, the app mockup gives a better idea about the finished product.
Designing the Facebook similar application before coding can reduce your expenses for app development while also lowering the production time. Here are some more reasons to invest some time in designing your application.
You can do it yourself without resorting to help from professional designers.
The hourly cost for designers is much lower when compared to the hourly rate for developers.
Easier and simpler to change the design, rather than changing the code.
Furthermore, it is an enjoyable process that is quite unlike the hectic work involved in coding.
5. Use Social Media App Templates
Employing ready to use templates will also speed up app development. You won't start from scratch and reduce the time to market.
6. Start working on app backend
After completion of the first five steps, you are finally ready to begin coding the application. Every mobile app has two parts – the frontend and the backend. While users cannot see the backend, proper functionality for the program largely depends on the quality of backend development. The backend is responsible for running the business rules, generating the APIs, and retrieving or storing user data.
To establish a proper backend for your Facebook clone application, you have two options to choose from.
Code a backend specifically designed for the application
Use a backend service provider
Backend as a Service or BaaS
Rather than coding a custom backend for the app, you can use backend platforms that can considerably increase the speed of development. Such platforms can perform certain tasks automatically, including social logins, authentication, data backup, and more. The primary advantages of using BaaS are –
No need to arrange cloud management, as the platform already provides the same
Since developers do not need to code the platform, you can reduce costs for backend development
BaaS increases the speed of development, allowing your product to reach the market faster.
 If you are looking for reputed Backend as a Service platform, consider the following options.


Custom backend
The only real advantage of creating a custom backend is that it provides greater freedom to developers when it comes to certain features and functionalities of the social media app like Facebook. On the other hand, custom backend costs more and requires greater time to produce.
7. Begin coding the app front-end
The front-end is one of the most important parts of the application since users directly interact with this portion of the app. Your development team needs to code a functional and clean interface that generates interest in the program. However, you need to pick whether you want the app to have a Hybrid, Native, or Web mobile application.
Native apps work on the device's operating system and require complete access to its functionality and hardware. These types of applications are fast and can work while offline.
Web apps, on the other hand, do not have access to the device's hardware and have limited functionality as well. The main advantages of web apps are faster development and low development expense. Furthermore, users do not need to download web apps.
Hybrid apps combine native and web app functionalities. It offers a web view and runs inside the native application. This is the best choice when developing Facebook similar apps for the following reasons.
Relatively inexpensive when compared to pure native apps.
More convenient for cross-platform development
The app works offline, and the UX is better when compared to web apps.
8. Create a landing page for your application
An effective landing page should help popularize our app. You can use the same to target a demographic by offering them something they value. This should result in app downloads and an increased number of visitors to the site. After studying the downloads, you can better understand the app users and their preferences. Your landing page also lends credibility to your social media platform, helping your company grow and prosper.
9. Implement analytics to study the usage stats
To create a social media app like Facebook, you need to adopt an analytical approach from the very beginning, studying and recording the moves of users on the platform. How users spend the time while they are on your platform can tell you a great deal about what you need to incorporate in the future to achieve greater success.
Use the insights from the analytics to implement the necessary changes in your app. Add functionalities and features to improve the user experience, while fine-tuning the existing tools to make users' lives easier. In some cases, you can also remove features that are not as popular with the target audience.
Lastly, app analytics can help you determine whether your application is on track to meet long-term goals. This may be in the form of revenue generated or the number of downloads. Through the study of real-life data, you can begin quality improvements.
10. Publish the application
Prepare for legalities of the app, including the Privacy Policy and Terms of Use. Lawyers can be costly, leading to considerable expenses while drafting these policies. To save some of the money, you can purchase templates and adapt them according to your requirements.
Once you deal with the legal aspects of your social media app like Facebook, you can proceed to the publishing part.
The procedure to publish applications is simpler and more convenient in the Google Play Store when compared to the same across Apple's App Store. Here are some reasons why the Play Store is better.
One-time $25 registration fee in Google's store, whereas Apple charges a yearly subscription fee of $99.
Automated review and approval process on Google's platform with the app being published within 3 hours of submission. Alternatively, on the App Store, your program must endure a manual review process. Moreover, it takes 2 days or more to publish the application.
Conclusion
Creating a Facebook similar application is a tricky prospect. You need to undergo several stages of development without major issues to reach the publishing phase. However, besides the resources, design, and high-level specifications, your application must have an impressive USP. Follow the steps mentioned above and choose one of the platforms before developing the application to increase your likelihood of enjoying similar success as that of Facebook.