Top 5 HR Tools for Startups
HR services and operations are significant for startups to attain and retain talented staff. Probably, HR tools and different software applications help businesses to conduct HR duties more efficiently. That is why this guide presents one of the top HR tools for startups.
Top 5 HR Tools for Startups
Here are the best human resource management tools that startups can consider utilizing: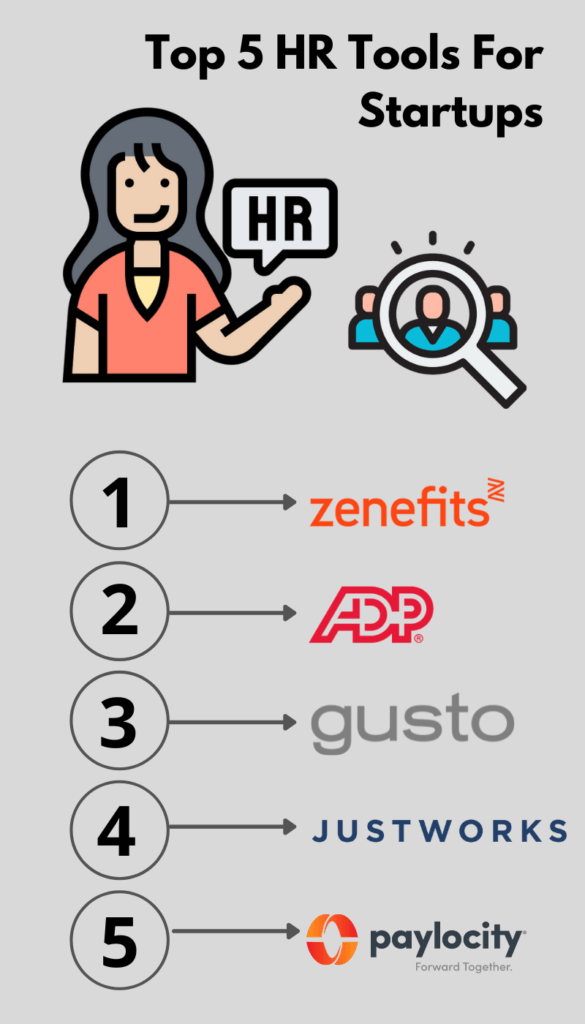 Gusto is an ideal HR tool whether you want to create payrolls, schedule attendance or need assistance for talent management. Yes, it is an all-in-one HR system that 200K international businesses have practiced.
Features
This platform assists in creating payroll, tracking working hours and adding data about newly hired employees. Moreover, HR executives can also generate all hiring papers online with this software.
To retain talented employees, it creates benefits like dental, vision and medical insurance with payrolls. Indeed, you can sync savings and spending accounts with payrolls through this tool.
Gusto wallet application, debit card, retirement savings and college savings are also innovative advantages of using this HR tool.
Pricing
This HR tool comes with 4 types of plans. The basic one is Core, and its monthly fee is around $39. However, startups will also have to pay $6 per user.
Zenefits is another California-based HR tool that startups can use with great ease. This SaaS tool was launched by Parker Conrad in 2013. Around 10K businesses are associated with this platform.
Features
After adding a new employee to this set-up, it is convenient for entrepreneurs to manage all employees through its directory.
HR officers can curate all kinds of benefits like health and commute plans on this platform with the help of drag and drop properties. In addition, employees can also access these benefit programs.
The user interface of Zenefits is very smooth. Even if you are a beginner and use HR software for the first time, you can smoothly conduct all operations. Yes, it consumes 50% less time compared to other HR software.
Pricing
It has three plans: Essentials, Growth and Zen. Growth is the basic plan of Zenefits that bills $10/month per employee to businesses.
ADP is a simple HR software where you just need to mention the number of employees and your role in the company and start performing the major tasks. Around 900K clients are practicing this HR tool to manage their workforce successfully.
Features
This tool permits the startups to build payrolls for 50 to 1000+ employees. So, in case your business grows with the passage of time, you can scale up resources with ADP.
Companies can connect this software with other human resource management applications and ERP systems within a few clicks.
Flexible HR administration, outsourcing and workforce management are also credible advantages of this software.
If you are searching for a powerful cloud-based HR tool, you must choose Paylocity. It is an ideal option for small and medium-sized businesses with advanced workforce management properties. Furthermore, around 28,750+ customers trust this platform.
Features
It is a highly scalable HR platform that comes with 100+ integration tools. Therefore, businesses can extend resources anytime.
Employees can update their profiles individually through this HR tool and respond to all requests effectively.
To get more guidance about using this software, you can also get instructions from Paylocity's community.
Pricing
The cost of this software is not fixed. Businesses can request a demo to get pricing and further details about this HR software.
Justworks is an uncomplicated HR tool for startups that comes with experts' support. Particularly, if you are commencing a business for the first time and your HR team is not experienced, then the experts of Justworks guide you about everything.
Features
The team of experts are available 24/7. Users can contact them via SMS, live chat, email, Slack or phone.
Startups can create and manage profiles of new employees within a few clicks.
Onboarding for remote teams, health benefits, and Justworks PEO are exciting features of this HR tool.
Pricing
There are two types of plans associated with this software. The first one is Basic that only charges $44/month. The second package is known as Plus, and its charges start from $89 monthly.
Conclusion
The use of HR tools can keep your human resource management functions smarter and more productive. Hence, using these modern HR tools will help startups keep their employees satisfied and retained.
Please read the article Best tools for Startups to know more about this subject.
FAQ
What are the best HR tools for startups?
– Gusto
– Zenefits
– ADP
– Justworks
– Paylocity