Top 10 Integration Tools for Startups
The significance of integration tools is enhancing day by day because they connect different platforms and turn them into unified networks. In this way, platforms and applications give more productive results. But it is still complicated for young businesses to choose reliable integration tools independently.
Therefore, this guide presents a thorough overview of the top integration tools for startups with their core competencies and pricing structure.
Top 10 Integration Tools for Startups
Here are ten of the best startup integration tools.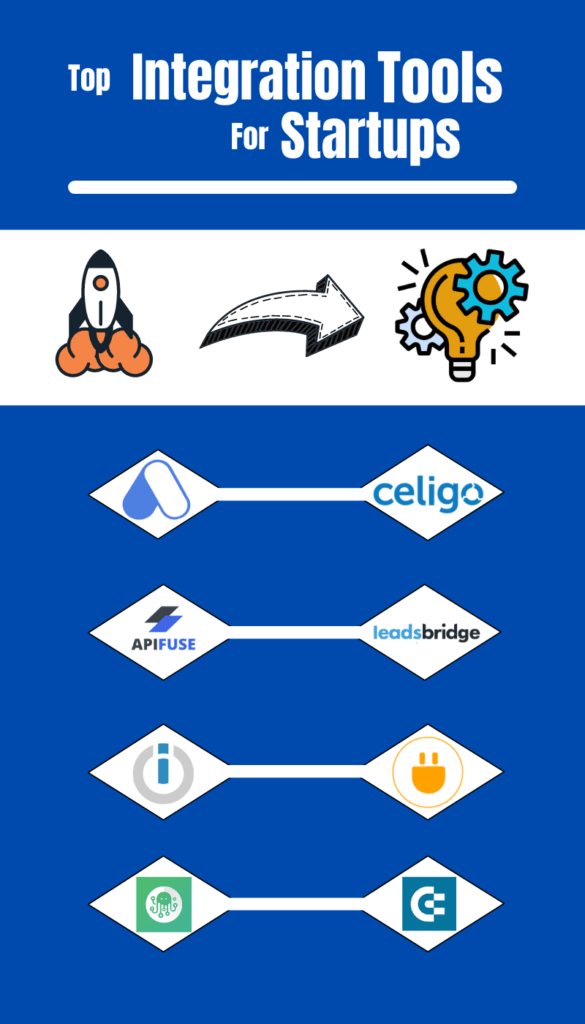 Zapier is one of the best and easiest integration tools for startups that was made public in 2011. It smoothly connects apps into three steps: integrate, automate and innovate. Businesses can incorporate more than 3000 applications, including Slack, Gmail, Google Sheets and Dropbox.
Around 3 million people are using this platform to connect web apps, and its renowned customers are Adobe, Fox, BuzzFeed and Spotify.
Features
Search & Roles — It shows a search bar to find the apps businesses want to integrate. Luckily, it enables the startup teams to search applications by applying their roles.
App Categories & Requests — Businesses can search required apps in distinct categories, including CRM, finance, sales, IT operations, communication and business intelligence. Similarly, if your desired app is not available in its search section, then you can also request the Zapier team to include it.
Customizable Templates — Companies can customize their templates when connecting apps with Zapier. It gives a unique look to their dashboards.
Pricing
Startups can use Zapier for free up to 5 Zaps and 100 monthly tasks. To conduct 750 monthly tasks and 20 Zaps, it will bill you $19.99/month under its Starter plan. The charges of its Professional program begin from $49/month.
It is another integration platform that connects different development tools and applications to provide a unified experience. RapidAPI confers active support for more than 30k APIs. Indeed, it backs integration processes for all API types, including REST, GraphQL, SOAP, RapidQL and Kafka.
Moreover, with the presence of 3 million developers, RapidAPI is also known as the world's biggest app programming interface centre. Twilio, Aeris and Telesign are the most prominent APIs of this integration platform.
Features
Team Collaboration — RapidAPI for teams provides a complete package for startup employees to take full advantage of private workspace, internal and external API collaborations.
RapidAPI Hub — Its well-established dashboard confers a complete hub to gather data, structure files and protocols.
Testing — Startups can test the functionality of APIs for free with RapidAPI. Authentication testing and global API monitoring are also possible with this tool.
Pricing
RapidAPI provides three plans to users. Its free plan permits the young companies to conduct 500 monthly requests without paying anything. Its other plans are Pro and Ultra that cost businesses $10/month and $25/month, respectively.
With more than 600 app integrations and 10,000+ happy customers, Integrately is undoubtedly a considerable integration tool for startups. It is a less expensive tool than other platforms because of its 1-click automation and integration properties.
Features
Easy Interface — Users just need to open its 'See 1 Click Integrations' page to find and connect the required applications. Within a few clicks, companies can connect apps mainly, it doesn't ask for credit card insertion to proceed.
Seamless Automation — It facilitates the users with more than 8 million ready to utilize automation. You just need to select app1 and app2 and click on the active button to start this procedure.
Inexpensive — It is famous as a cheap alternative for integration.
Pricing
Businesses can utilize this platform for free for 200 tasks and 5 automation. By the same token, companies just need to pay $19.99/month to conduct 14,000 tasks and 20 automation under its Starter plan.
Celigo is an Integration Platform as a Service (iPaaS) that is 100% empowering businesses to automate their operations. It is not only known for integration, but automation, optimization, and digital transformation are also core competencies of this platform.
The major tech giants that are benefitting from Celigo are PayPal, ZoomInfo and LogMeIn.
Features
Integration Marketplace — The integration marketplace of Celigo is full of reliable applications. You can find around 200 business tools on this iPaaS tool.
Security & Controls — It provides Single Sign-On (SSO) authentication service and enterprise-level data protection to improve safety. This tool also has the ability to assign role-based controls to teams.
Best for Non-IT Users — It becomes complicated to integrate different applications for non-IT users. But with custom code, both skilled and non-technical personnel can access and use this tool.
Pricing
Although a free trial for 30 days is available with Celigo, but the monthly charges of its Standard plan begin from $600.
Integromat is a powerful integration tool that enables businesses to quickly connect apps and automate business tasks with less staff. This integration tool was made public in 2012, and right now, it is providing more than 1000 apps to users.
Features
Drag and Drop App Connection — It permits the startups to integrate the applications through easy drag and drop properties.
Templates — Integromat grants around 7000 templates for free to conduct distinct functionalities and automation processes.
Pricing
Its free plan covers 100 MB data transfer, 1k operations and an interval of 15 minutes. Withal, the monthly cost of its Basic and Standard plans is $9 and $29, respectively.
Automate.io is a reliable cloud-based workflow automation tool for startup companies. Especially if a young company wants simple and smart integration and automation operations, then it should prefer this tool.
Fortunately, this platform is trusted by 30K+ organizations. So, businesses can start using it without any doubt.
Features
Zero Coding — This iPaaS tool is handy for non-technical staff because it doesn't need any script to command a task.
Interface & Templates — It also awards a drag and drop interface to conduct automation and app connectivity operations quickly. Users will also find thousands of ready to use automation templates here.
Pricing
Its free plan comprises 5 bots, 300 actions and 5 minutes of data check. Its Personal plan bills $9.99/month for 600 actions and 10 bots.
If your young business is looking for an integration tool to deal with its marketing needs, then you should consider using LeadsBridge. Yes, companies can conduct more than 380 marketing integrations with this tool. It has an official partnership with Facebook Lead Ads, TikTok and Instagram.
Features
Lead Sync — Businesses can quickly sync with lead generation platforms, including Google Ads, Facebook Ads and LinkedIn Lead Gen Form.
Integration Request — Like other trusted integration tools, users can also request a particular app for integration on this platform.
Pricing
The price of its Marketer plan is $31 for 6 bridges and 1500 monthly leads. By the same token, you can also pay $55/monthly for its Hero plan to grab 4000 leads.
This is a Bulgaria-based integration platform that has done 500 successful integrations with a growth score of 200%. Datadog, Cherwell and AppDynamics are a few of its significant integrations.
Features
Highly Scalable — With one dashboard, businesses can extend the resources whenever they need them.
Deep Integrations — This tool provides deep integrations with the help of improved data filtration and mapping properties.
Pricing
The pricing model of ZigiWave is based on a flat, fixed and yearly billing structure. To know the exact rates, you will have to book an exploratory meeting.
APIFuse is a trusted iPaaS name when it comes to dealing with SaaS applications. Startup businesses can integrate their SaaS products with other apps within a few minutes by using this platform.
Features
Fast Integration — This tool is 10x faster than the other integration tools to connect applications with Software as a Service (SaaS) apps.
Industry Insights — New businesses can also get helpful and detailed industry insights to know the recent trends and perform improvements.
Pricing
The monthly bill of its Growth plan commences from $899 for up to 250,000 tasks and unlimited custom integrations.
If you are in search of a robust data flow automation and integration tool, then you must go with Coupler.io. Although it is a new integration platform launched in 2020 but its import, export, synchronization, and free start properties will impress you.
Features
Fresh Data Decisions — It only makes decisions on the basis of real-time and fresh data to avoid vulnerabilities.
Easy Collaboration — Teams and stakeholders can conveniently import and export data through this tool.
Pricing
The free plan of Coupler.io is only applicable for personal use. However, entrepreneurs should consider consuming the Professional program of this integration tool. It costs $24/month.
Conclusion
Integration tools have become a basic need of advanced businesses. Though this article shares a variety of tools here, their selection purely depends on the requirements of a startup company. Therefore, it is always good to choose a suitable integration platform instead of the popular one.
Please read the article Startup Tools to more about this subject.
FAQ
What are ten of the best integration tools for startups?
– Zapier
– RapidAPI
– Integrately
– Celigo
– Integromat
– Automate.io
– LeadsBridge
– ZigiWave
– APIFuse
– Coupler.io