Top 10 Mobile App Development Tools
This article will discuss the best ten mobile app development tools. The list will cover backend services, IDEs, and cross-platform frameworks.
There are many mobile app development tools out there, providing you and your business with the tools to create the best mobile app. With some experience, and the willingness to learn, you can create your very own app from the backend, a rewarding, fun, and excellent opportunity for all business owners.
Alternatively, you may choose to outsource your mobile app development. Nonetheless, developers are likely to use the same tools. So, with this in mind, this blog post will discuss the top ten mobile app development tools, allowing you to choose the best software development tools to help bring your mobile app vision to reality.
Top 10 Mobile App Development Tools
Here are the best ten mobile app development tools:
| | |
| --- | --- |
| Tool | Category |
| Back4App | Backend Service |
| Firebase | Backend Service |
| Heroku | Backend Service |
| Backendless | Backend Service |
| Xcode | IDE |
| Visual Studio | IDE |
| React Native | Cross-Platform Framework |
| Flutter | Cross-Platform Framework |
| Xamarin | Cross-Platform Framework |
| Ionic | Cross-Platform Framework |
Keep reading to know more.
1. Back4App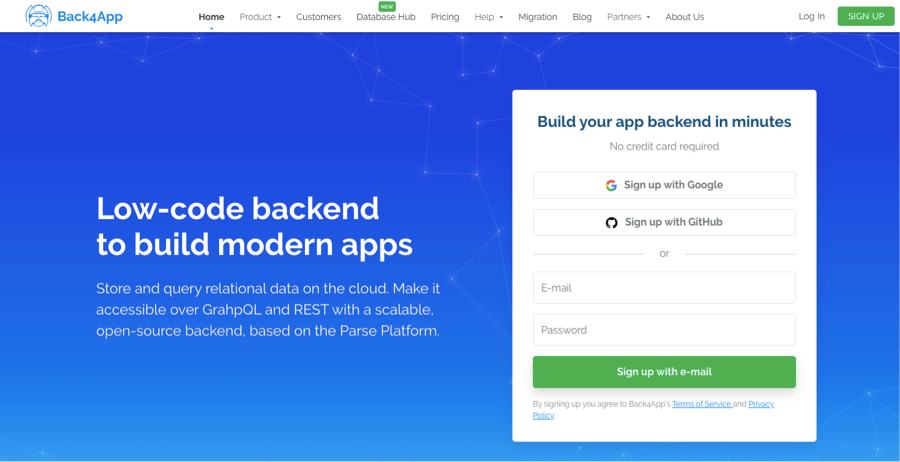 Core features:
Database
Live queries
Hosting is scalable
Push notifications
Minimal code required
Back4App is a minimal code backend mobile app development tool, with incredible scalability and a popular software option for many developers.
Unlike other backend development software options, Back4App uses easier to understand code (also less code). This makes it more accessible, and a great option for businesses attempting to develop their mobile app themselves.
The advantages of the Back4App mobile development tool are numerous but include scalable hosting, future-proofing your app, live queries to interact with real-time data more effectively, and overall accessibility, thanks to its minimal barrier to entry when it comes to coding.
Pricing begins at $5 per month for the starter plan. However, there is also a free option. Other subscription packages include the basic plan for $25, the standard plan for $50 per month, all the up to the platinum plan with a dedicated cluster for $1000 a month.
2. Firebase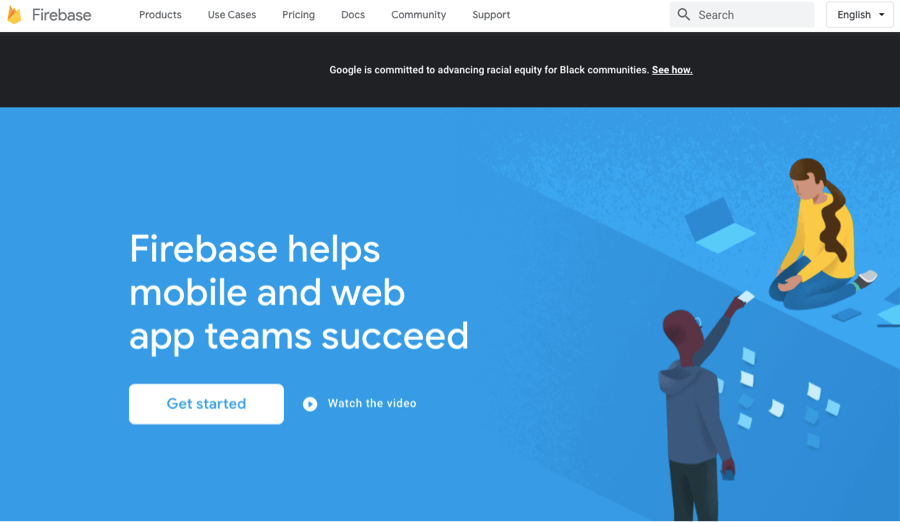 Core features:
Several impressive and convenient integrations
Built-in security
File storage (Google drive)
Highly scalable
The second mobile app development tool we have for you is Firebase, a platform purchased and further developed by Google in 2014. Firebase allows you to accelerate your app development while fully managing the backend infrastructure.
Also, you can monitor performance and stability with their innovative tools while simultaneously boosting engagement with impressive campaigns and rich analytics.
Much like Back4App, Google's Firebase also contains scalable infrastructure. However, where Firebase stands out is within the multiple integrations that are on offer, including Google Ads, the Play Store, Slack, data studio, and more.
Furthermore, you also benefit from built-in advanced security and additional file storage, all of which are backed up to the cloud, just in case of an error.
3. Heroku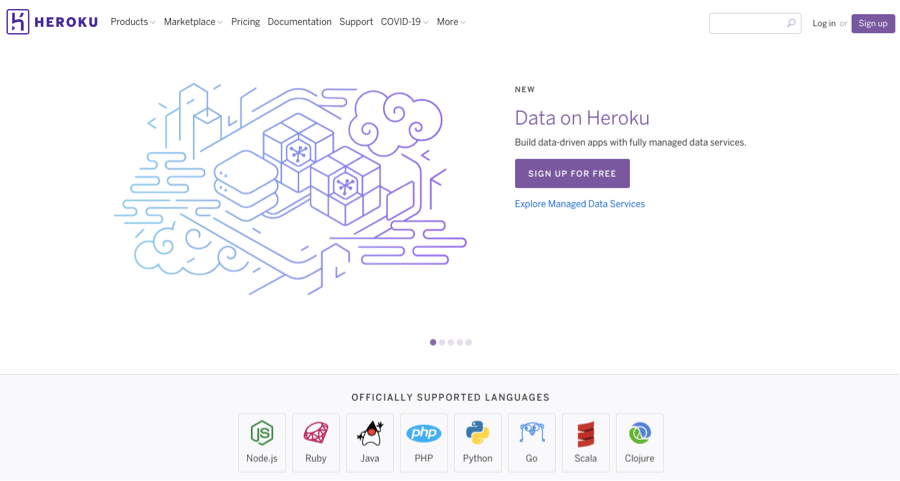 Core features:
Supports many modern coding languages
Easy to scale (both horizontal and vertical)
SSO and built-in security
Enterprise accounts are available
Heroku is a cloud application development program, offering support for numerous different programming languages, including Java, Python, PHP, and others.
Developers use Heroku to build apps from scratch, alongside scaling, and managing existing builds. The platform is intuitive, easy to use, and super accessible – a great tool for many developers.
The Heroku web app development platform contains many benefits, such as support for many coding languages (as previously discussed), impressive scalability, and built-in security features.
Being easy to use, this is a great platform to streamline the process of building and getting your app approved for the app or Google play store.
In terms of pricing, there is a free version of Heroku available but offers limited features. On the other hand, the production package, intended for commercial use begins at $25, with other options available at a significantly higher price, too.
4. Backendless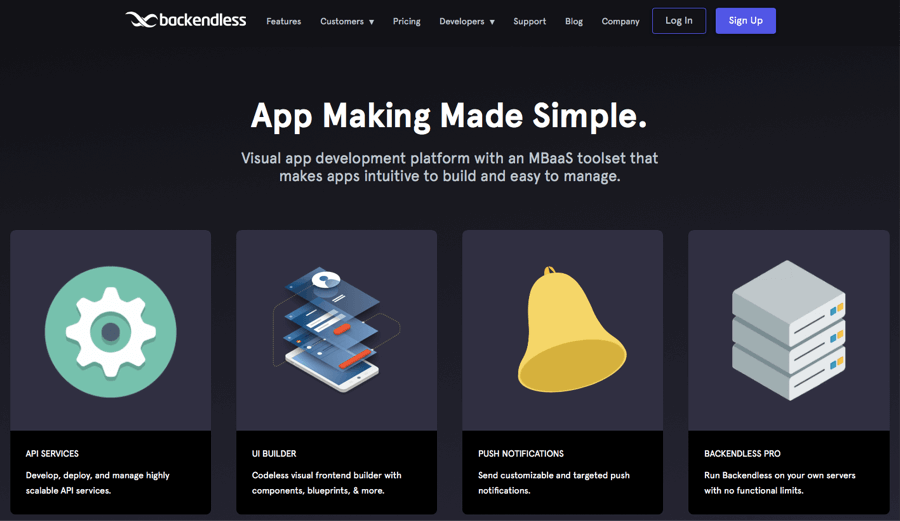 Core features:
Graphical browser (no code required)
Real-time data
UI themes
Geolocation incorporation
Backendless is another mobile app development tool that doesn't receive as much attention as it should. The platform contains numerous different core features, such as a graphical browser and UI themes to see your creations first-hand, with no code required.
For this reason, Backendless is an excellent option for those with no coding experience, but who want to do this themselves but don't know where to begin.
Furthermore, there are also various other features, such as bulletproof backend security, geolocation, real-time data to keep up to date across multiple platforms, and so much more.
Backendless currently offers a free trial, with premium versions of the platform also available. For example, there is Backendless pro and managed Backendless, both of which you need to request pricing for.
5. Xcode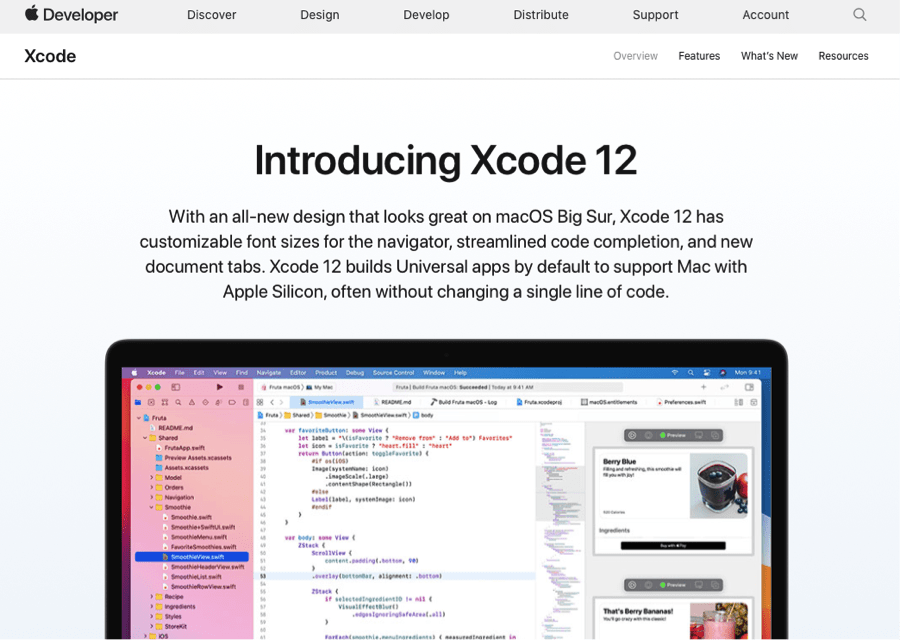 Core features:
Professional and easy to use source editor
Coding mistake alerts
Graphical debugger
Static analysis
Data recording
Next up, we have xCode, first released in 2003 and created by Apple, integrated into MacOS devices. Apple users can download this from the app store, quickly downloaded, and easy to use for all users.
Unlike other mobile app development tools, xCode utilizes a professional and easy-to-use source editor. However, that isn't the main advantage – users are also alerted to any coding mistakes in real-time, allowing you to fix these immediately, increasing the accuracy of your work and the project as a whole.
Other benefits include a graphical debugger to spot errors visually, data recording to analyze how your app is working, and further statistical features to further improve the accuracy of your app.
Despite this, xCode is only available on Apple devices, free download, however.
6. Visual studio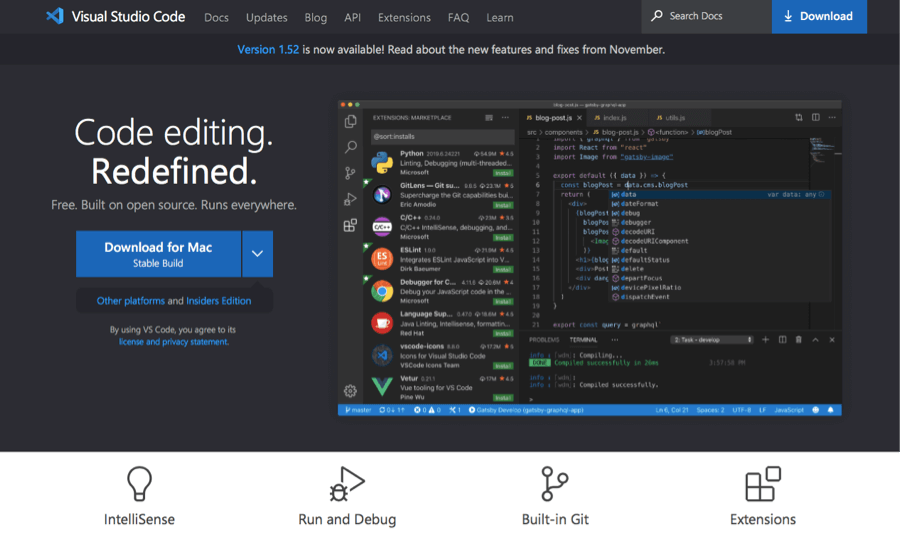 Core features:
Code editor that supports syntax highlighting and code completion
Wide selection of compatible coding languages
Various extensions and other compatible tools
Visual studio, developed by Microsoft is another excellent option for users, especially for those who use Microsoft or Android devices over Apple and xCode.
To begin with, Microsoft Visual Studio enables users to code in more or less any coding language they prefer, whether this is Python or PHP, for example.
Also, named "Visual Studio," it's no surprise that the platform offers a professional and easy-to-use visual display, enabling you to see your work first-hand.
Furthermore, another advantage is the abundance of extensions available, allowing you to take your work one step further, using the tools you want to use to make your vision become a reality.
Finally, like many other web app development tools, there is a free version of Microsoft visual studio. However, there is also a paid, more advanced option too, beginning at £578.
7. React Native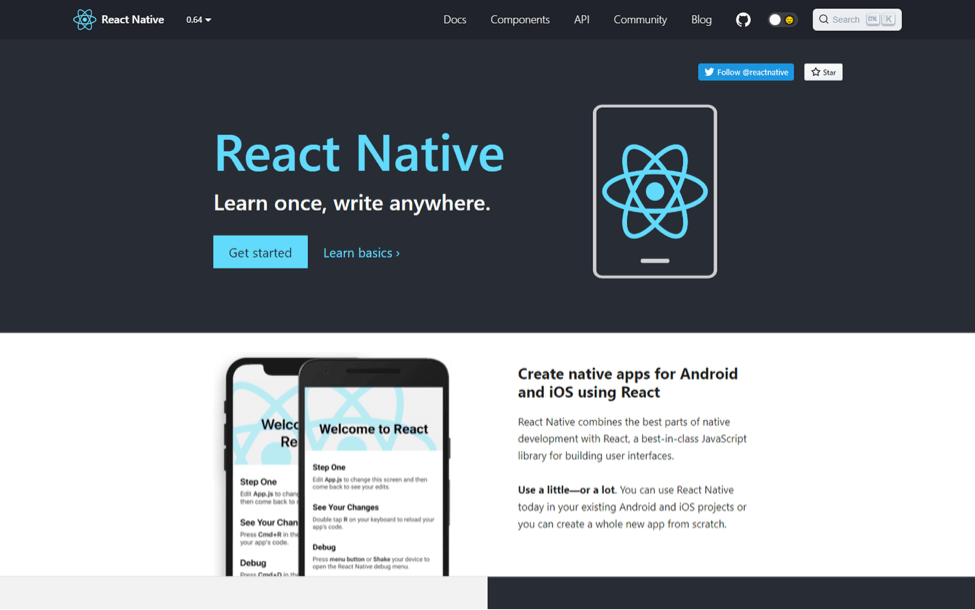 Core features:
Strong & helpful community
Supports third party libraries
Code only needs to be written once for all platforms
UI focused
Live reload
React Native is one of the very few platforms with a strong and helpful community, with many members more than happy to help write code and solve common coding problems.
Additionally, React Native also supports third-party libraries, a feature many other mobile app development tools do not offer.
Furthermore, code written with React Native only needs to be written once, adaptable to all platforms with no more coding required. This saves you time, reduces errors, and allows you to focus on your project.
Other features are also available, including a live reload and a UI-focused design, another welcomed feature.
8. Flutter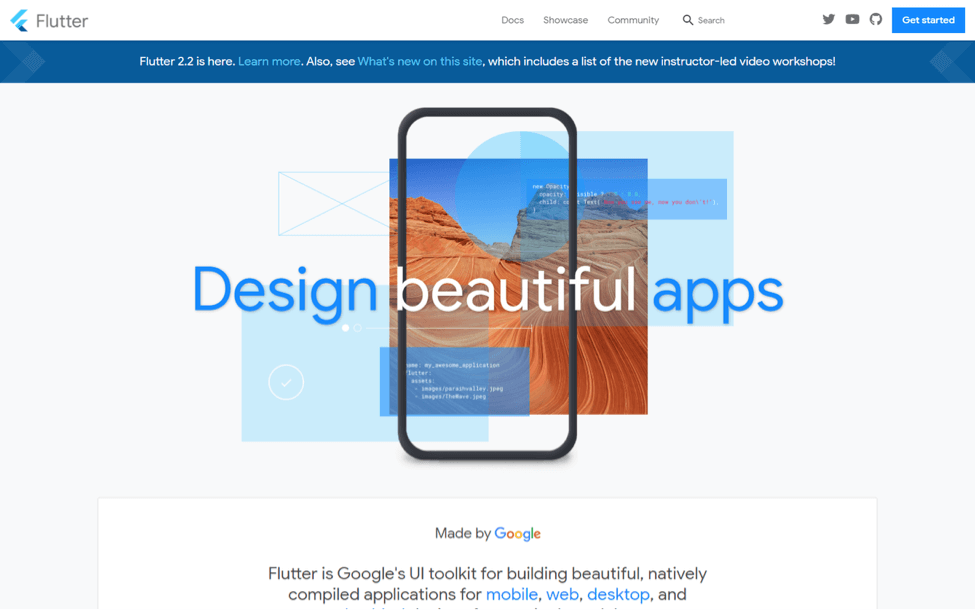 Core features:
Can go beyond mobile
Simple implementation platform
Increased time to market speed
Reduced coding development time
Flutter allows you to go beyond mobile when developing, making use of other compatible devices, whether this are Android or Apple-based.
Overall, the platform contains simple integration, simplifying the coding process and reducing development time. This is beneficial for several reasons, however, mainly enables you to get your app to the market much quicker.
Advantages include fewer errors and quicker coding speed and greater accuracy. Prices must be requested, so inquire if you are interested in the host of features they have on offer.
9. Xamarin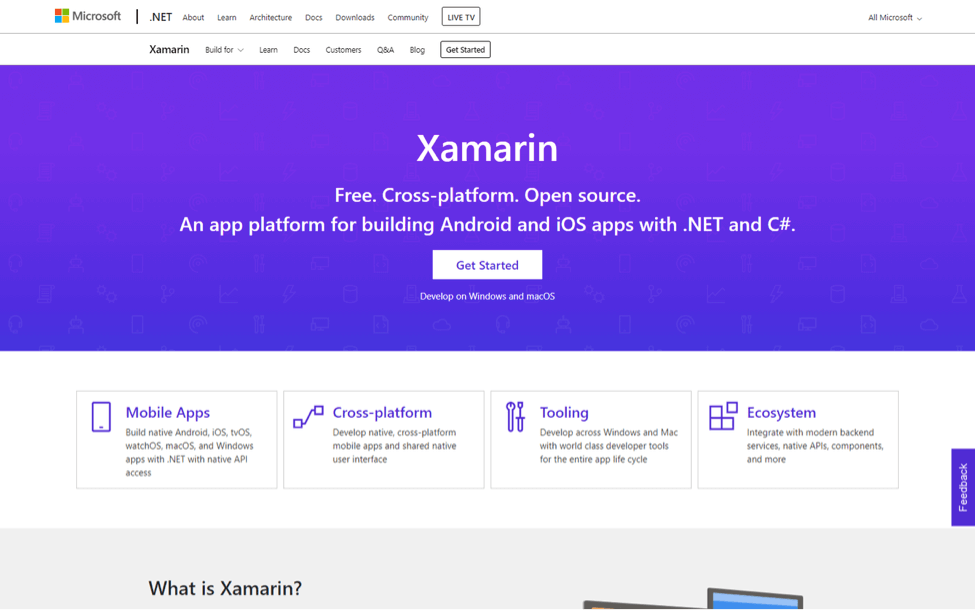 Core features:
The ability for developers to share code across multiple platforms
One language C#
Based on the .net framework
Supports the building of apps for apple and android watches

Second, to last, we have Xamarin. This web app development tool is unique as it allows developers to share code across multiple platforms, ideal for a quick helping hand or permanent support. Moreover, Xamarin is based on the .net framework, developed by Microsoft, making it more accessible and diverse.
Xamarin also takes a giant leap with its support for app building on Apple and Android watches, something which many programs are currently lacking. This is great to see, and a benefit that no doubt attracts a wide audience.
10. Ionic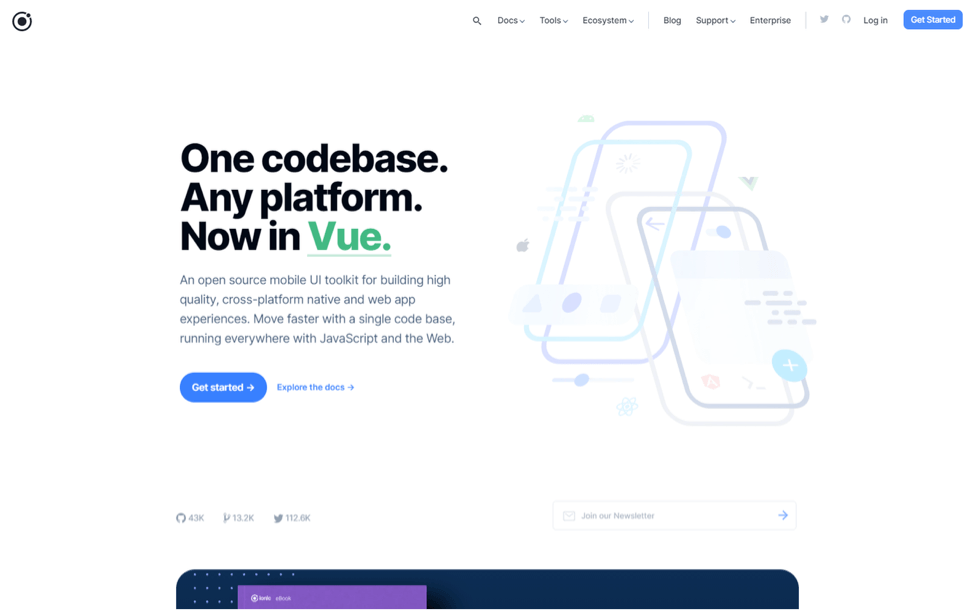 Core features:
Compatibility
Cordova plugin
Javascript components
Our tenth and final mobile app development tool is Ionic, a cross-platform and more accessible option.
The benefits include advanced compatibility for numerous devices and other development software, various Javascript components, and the Cordova Plugin (provides a javascript interface to native components).
Further advantages include greater simplicity compared to other apps, framework compatibility, and all in all, a reliable platform.
Pricing for Ionic must be requested, so it's worth checking out if it sounds like something you'd be interested in.
Conclusion
As you can see, there are various mobile app development tools out there.
However, your choice of tool largely depends on your coding experience, whether or not you are doing the development yourself or hiring a developer, and, of course, your budget.
With this being said, all ten development tools included in our list are great options for all individuals and businesses.
FAQ
What is a mobile app development tool?
It's a tool that increases application development productivity, and it is an essential part of creating a mobile application.
What are the best ten mobile app development tools?
– Back4app
– Firebase
– Heroku
– Backendless
– Xcode
– Visual Studio
– React Native
– Flutter
– Xamarin
– Ionic