Top 10 Notification Tools for Startups
The significance of push messages and notifications has dramatically enhanced in the past few years. Mainly, notifications have become vital for businesses and startups because of their magical benefits.
Indeed, notifications aid businesses to strengthen brand awareness, generate quality leads, retain traffic and revenues.
However, if you are not familiar with credible notification tools as a startup company, then you must consider the following options.
Top 10 Notification Tools for Startups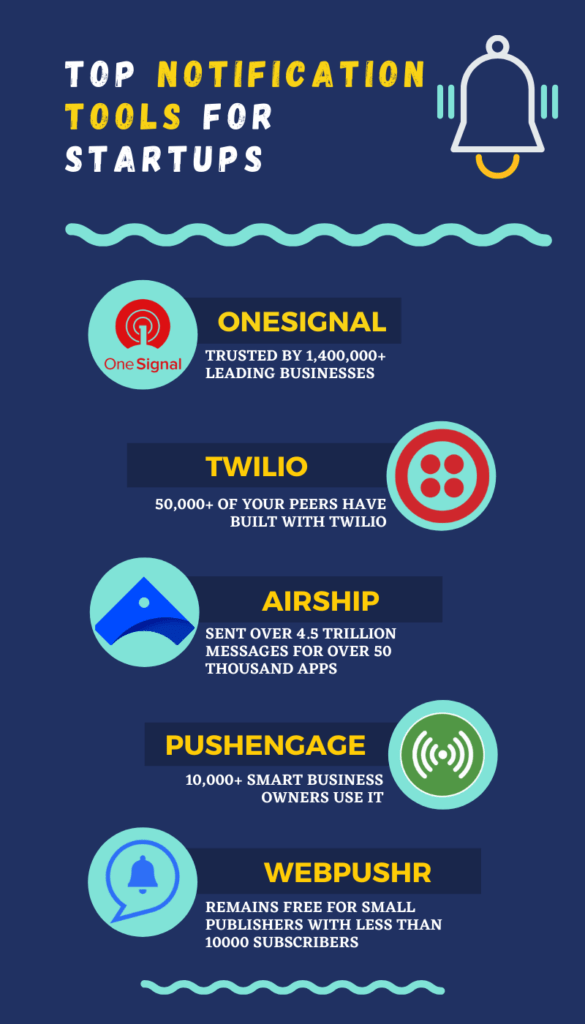 Here is a notification tools list with ten of the best startups.
OneSignal is one of the leading notification tools for startups that has been trusted by more than 1,400,000 businesses.
This platform enables in-app messages, email, SMS, web and mobile push notifications. Luckily, young businesses can script it in any language because it supports all popular languages.
The notable companies that are using OneSignal are Zynga, USA Today Sports and NRL.
Features
Easy Setup — It is a very easy-to-use notification tool that only takes 15 minutes to start providing its services. So, as a young company, your team wouldn't have any problem while using this tool. Real-time reporting and intelligent delivery are also exciting features of OneSignal.
Best for Developers — This is an ideal program to use push notifications for coding projects. It uses small scripts and supports development platforms including React Native, Android, Flutter and Unity.
Quick Integrations — Users can quickly integrate this notification tool with eCommerce solutions, CMS, cross-platform SDKs and much more.
Pricing
OneSignal is free to use if you want to send web push notifications to up to 10K recipients. However, its Growth plan costs $9 monthly and offers standard personalization.
Keep reading to learn more about the best push-notification tools.
Twilio is a San Francisco headquartered cloud communication company that was launched in 2008. It owns 26 offices in 17 countries of the world because of its vast customer base.
Yes, more than 150K startups, SMEs and enterprises are using Twilio for notifications, video and voice messages.
Lyft, American Red Cross, Stripe and Rappi are renowned clients of Twilio.
Features
Bulk Notifications — Whether you want to send notifications to million recipients or only a single person, it is always easy to send it through Twilio API call. Withal, it is better to utilize Passthrough API to send notifications to more than 10K receivers.
Multi-Channel Notifications — It enables businesses to send web, iOS and Android notifications with the help of a single API.
Programmable Messaging API — If WhatsApp is your core communication source, then you can also use REST API to send notifications.
Pricing
Twilio uses a pay-as-you-go pricing policy, but luckily, it is free to conduct 10k/month notifications. You can also visit its 'Notify Pricing' page to know more about its pricing terms and conditions.
Keep reading to learn more about the best desktop tools.
If you want a convenient notification API for your PHP, Java, Kotlin, Ruby, Python, and Go projects, then Pusher should be your preference. This real-time notification tool helps startups to deliver transactional messages quickly.
Mailchimp, Buffer, GitHub and Datadog are already using this notification platform.
Features
Highly Scalable — Startups always have enormous scope to grow, so it could be wise to use Pusher because it is very scalable. Indeed, it has the ability to deliver 1 million notifications per minute.
Cross-Platform Support — Pusher Beams equally support all SDKs, including web, iOS and Android.
User Authentication — This is a secure platform, and user authentication plays a significant role in providing safe notifications. It validates the users before sending messages, mainly when private data is involved.
Pricing
Pusher sends free notifications to up to 1000 subscribers under its Sandbox plan. Its Startup plan charges $29/month for 10K subscribers.
With the robust backing of Google, Firebase is a credible app development platform that offers a variety of products.
It facilitates the businesses with Firebase Cloud Messaging (FCM) to fulfil the need for notification tools. It is basically a multi-platform notification and messaging tool that is used for client retention and engagement purposes.
Features
Free Tool — Compared to other tools, FCM is entirely free to use. You can use this notification tool without paying anything under Blaze and Spark plans.
No Coding Required — Similarly, startup companies don't need coding to integrate this feature. They can simply use it through Google Analytics and monitor the responses.
Content Customization — FCM also permits businesses to customize the notification content and template to engage more audiences.
Pricing
Firebase Cloud Messaging is a free notification tool. Surely, businesses can access this feature for free under Firebase's free and paid plans.
Airship is another notification service provider that has been delivered 4.5 trillion messages in the past 12 twelve years for fifty thousand applications.
It also claims that push notifications enhance the retention rate by 190%. The major companies that are using Airship are Sky, GameStop and The Home Depot.
Features
Rich Notifications — These notifications are feature-rich compared to conventional notifications. Certainly, startups can include GIFs, images, video and cart options in these notifications.
Boost — It is basically a feature of Airship that helps brands to send speedy notifications. Mainly, it ensures to deliver 10 million messages within a minute.
Relevant Content — By the same token, this tool delivers more relevant and personalized messages to target audiences.
Pricing
Airship divides its services into two parts. The one is Analytics & Data, and the second one is Engagement Channels.
Notification services are offered under engagement channels, and users are not being charged when they send messages to 1000 recipients. Howbeit, businesses need to ask for a fee from the sales team if the subscriber limit exceeds.
PushEngage is one of the most advanced mobile and web notification tools that more than 10K companies are practicing in 150 different countries of the world. It is also considered a reliable choice for eCommerce integrations with massive browser support.
Features
Trigger Notifications — This tool identifies the behavior of the target audience and only sends relevant notifications to them.
Easy Integration — It could be quickly connected with eCommerce and marketing solutions like Joomla, Wix, WordPress, BigCommerce and Magento.
Time Efficient — The drip campaigns, automation and segmentation properties of PushEngage make it time and cost-efficient.
Pricing
It doesn't cost anything for 30 campaigns and 200 subscribers. On the contrary, the monthly fee of its Business plan is $14.
If you want a free-to-start web push notification tool for your startup business, you must consider Omnisend.
Undoubtedly, it doesn't ask for credit card submission when you go with the 'start free' option. So, startups with limited budgets can prefer this tool.
Features
Audience Targeting — This tool is excellent for targeting the right customers with better segmentation and automation properties.
Promotional Push Notifications — It provides attractive browser push notifications in terms of promotions.
Pricing
Startups can use Omnisend without paying anything for 500 web pushes. But its Standard plan costs $16/month if businesses want to approach limitless web push notifications.
If young businesses want to enhance customer engagement through automated push notifications, email campaigns and in-app messages, they must use Pushwoosh.
Around 80,000 companies are already associated with this platform. The big names that are using this notification tool are Telepizza, FIBA and Deloitte.
Features
Segmentation — This notification tool has the ability to divide users into different groups and segments based on their behavior.
Customization — Pushwoosh permits businesses to include media-rich features and data in notifications.
Pricing
Pushwoosh offers three plans to startups: Developer, Marketing and Custom Plan. But businesses will have to click on 'Request Demo' to find the charges for their projects.
iZooto is another reliable notification platform that is based in India. This tool not only engages the target audiences with personalized and automated notifications but also overcomes the dependency of businesses on Google and Facebook.
In this regard, its major products are web push, mobile app and messenger notifications.
Features
Audience Loyalty — This tool is specially designed for marketing managers and editors to enhance audience loyalty with high retention rates.
Attractive Notifications — To make notifications more appealing, it adds emojis, badges, banners and icon images.
Pricing
It follows a pay-as-you-grow model when it comes to pricing. The core plans of iZooto are Rise and Grow that charge $85/month and $250/monthly, respectively.
Users will need to contact the sales team to know the price of its Enterprise plan.
Webpushr is a swift web push notification tool that works with all renowned browsers, including Opera, Firefox, Chrome and Internet Explorer.
Moreover, startups can also benefit from its REST API to support their PHP, Python, Rust, Node.js and Go projects.
Features
Highly Scalable — It is rapid to extend resources and subscribers' limits on this platform that makes it scalable. Luckily, more than 10,000 companies are already using this tool so that you can proceed with large projects without any worry.
Easy Migration — It is also very smooth to move your subscribers from your existing tool to this platform because of the easy migration procedure.
Pricing
Startups can benefit from this tool up to 10k subscribers without paying anything. However, its Individual and Startup programs monthly cost $29 and $49, respectively.
Conclusion
In brief, our list of top notification tools for startups will aid the new businesses to enhance customer experience, engagement and retention. In this regard, startups just simply need to pick the appropriate options.
To discover more tools for startups, please read the article Top Startup Tools.
FAQ
What are push-notifications?
It is a message that pops up on a web or mobile device.
What are the benefits of push-notifications?
– It increases engagement
– Drive traffic to the website
– Reach the targeted audience
What are ten of the best notification tools for startups?
– OneSignal
– Twilio
– Pusher
– Firebase
– AirShip
– PushEngage
– Ominisend
– PushWoosh
– iZoot
– Webpushr