Top 10 Payment Tools for Startups
Startup companies prefer to utilize cost-efficient and time-saving procedures to make payments, and online payment tools are helping them in this regard.
Compared to conventional payment making ways, it is very smooth for startups to make payments by using any payment application within a few clicks.
However, if you are not aware of reliable payment tools or apps as a startup, then you must consider our list. Surely, this article is presenting one of the top payment tools with their core features and pricing details.
Top 10 Payment Tools for Startups
Here are the best payment apps and online tools for young businesses: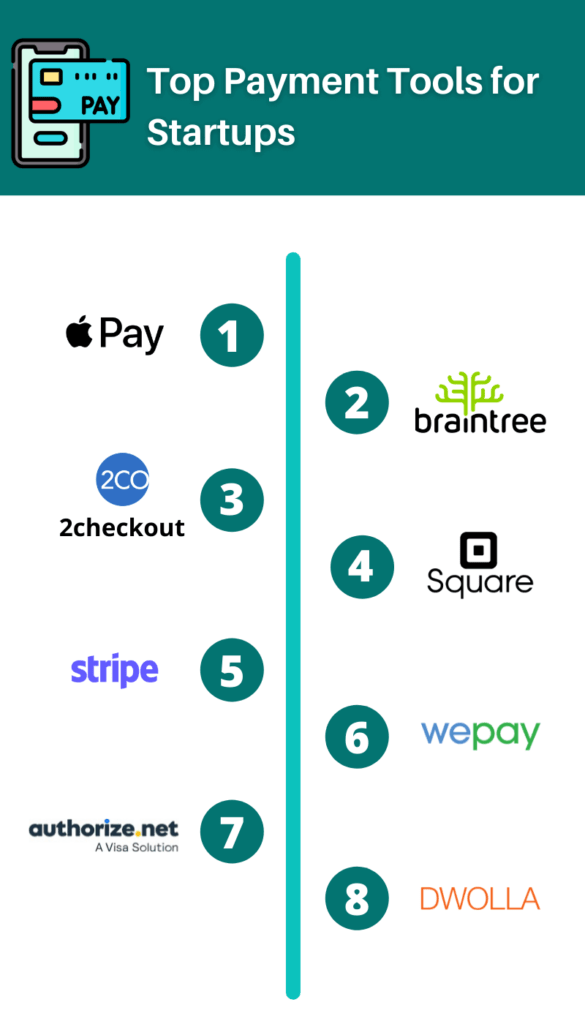 Stripe is an ideal online payment processor that startups must consider to pay and receive payments. Yes, it allows the companies to pay through debit and credit cards and online digital wallets. Similarly, Stripe also enables users to accept payments through the internet smoothly.
This payment tool backs 135 global currencies, payment methods and gets 250 million API requests on a daily basis. The notable young companies that are associated with Stripe are Substack, Goodtill and Classy.
Want to know more about Stripe's tech stack? Please read the article Top 10 Startups Using Ruby.
Features
Easy Integration — To improve the checkout experience, this payment tool confers one of the best integration features. Users can customize integrations and flows through Stripe Checkout and Stripe Elements, respectively.
Globally Acceptable — If your target audience belongs to different regions of the world, then Stripe should be your preference. Yes, it provides APIs for international payment methods, including Alipay, iDEAL, cards and SEPA Debit.
Smooth Invoicing — Invoice generation is easy and scalable with Stripe. With credible APIs and convenient invoice creation methods, 70 percent of Stripe payments are made within 24 hours.
Other Features – Fraud protection, credit card processing, recurring payments, payment systems, daily transfers to bank account, etc.
Pricing
Stripe offers a pay-as-you-go pricing model, but it costs 2.9% + 30¢ per card charge under its Integrated plan. However, if you want a custom plan for your business, you will have to pick its Customized plan.
PayPal is the prime choice of young businesses, mainly when it comes to making payments online.
This California-based company commenced its journey in 1998, and right now, it has more than 400 million users worldwide. In addition, its touch-free and online money transfers have transformed the traditional payment methods.
Venmo, Xoom, Zettle, Honey and Paidy are also subsidiaries of PayPal that are operating in different countries of the world.
Want to know more about PayPal's tech stack? Please read the article Top 10 Startups Using Swift.
Features
Easy Integration — Businesses can seamlessly connect this payment application with accounting software, marketplaces and shopping stores.
Secure — It is a safe payment tool for startups with protection properties like chargeback and seller security against frauds.
Pay With QR Codes — Whether you are buying new stuff for your office or something suitable for a new investor, you don't need to carry cash or banking cards with you. Just open your PayPal app and pay through scanning QR codes. Around 1 million businesses accept this payment method.
Pricing
Although PayPal is a convenient option for individual accounts, it charges a 2.9% fee on every transaction done via the card. Moreover, it costs 2.7% for in-store buying and 1.9% fee for QR code-centric transactions.
Square is another California-based financial company that has been providing services since 2009.
This payment tool is equally beneficial for all sizes of businesses, including startups, large enterprises and SMEs. In simple words, whether you want a banking solution or a POS system for your startup, Square is going to aid you in every step.
Features
Square Invoice — It is not only easy to create invoices within seconds, but you can also track them anywhere. These invoices could be paid through banks, credit cards, Apple Pay, ACH and Google Pay. Fortunately, it has been seen that 75% of Square invoices are paid within 24 hours.
Square Payments — This digital payment tool also backs all kinds of payments, including manually entered, remote, online and in-person payments.
Security — With PCI compliance, it is also a reliable tool to make secure payments. On the other hand, Square is also helpful to sort out seller disputes. In this regard, it has already saved $330 million of online vendors.
Pricing
Square confers dashboard, custom directory, transfer, checking and reporting properties free of cost. However, it charges 2.6% + 10¢ for standard processing and 2.9% + 30¢ for invoices.
2Checkout is a reliable online payment tool that was made public in 2006. It is also essential to know that 2Checkout recently changed its name and now, it is known as Verifone. This modern payment processing tool has 4 international offices and 20k+ active clients.
Indeed, startups can avail services of this payment processing company in 180 countries of the world. Privacy Shield, Mastercard SecureCode, GDPR Compliance and SSAE 18 are the core certifications that it owns.
Features
Quick Integration — Businesses can connect this payment tool with more than 120 carts.
Best to Sell Software — If your startup is related to SaaS products or you are selling applications, digital products or software online, then you should consider 2Checkout. Yes, it makes digital items selling very convenient without any risk, tax or underwriting issue.
Customizable — It is a highly customizable platform. Businesses can customize their services according to their requirements. Even it offers many pre-built solutions according to different types of companies like Physical Goods, Software & SaaS and Online Services.
Pricing
2Sell is the basic plan of 2Checkout to sell products and services to international clients. Under this plan, it charges 3.5% + $0.35 per sale from the user.
Dwolla is an advanced payment platform that was launched in 2008. It is ideal if young companies want to pay or receive payments through banking means. Yes, it is effective for ACH payments, and almost all credit unions of the United States also accept it.
GasBuddy, Rally, Ibotta and PopSugar are significant companies that are using Dwolla for their tech stacks.
Features
Integrations — Young companies can connect this payment tool with accounting software like QuickBooks and get quick notifications from Slack. It is also powered by Sift technology and ACH authentication.
Security — This tool is a protected mean to make online transactions. It doesn't pass sensitive banking details and the company's data to servers.
Verifications — It confers two types of verification to make an online payment. The first one is instant account verification that is conducted when you link your account with Dwolla. The second verification is known as micro-deposits. It verifies when you make an online transaction.
Pricing
Under its Pay-As-You-Go plan, it charges 0.5% per transaction. For the Launch plan, its monthly fee starts from $250.
Authorize.net is a payment gateway to support contactless payments, eChecks and credit cards. With the backing of Visa, this platform is helping to make eCommerce, POS and mobile payments.
Features
Free Invoicing — With this payment tool, companies can generate and send invoices for any email address without paying anything.
Automated Recurring Billing (ARB) — Customers can pay monthly installments directly through their debit or credit card with this tool.
Fraud Detection — It grants IP, transaction, velocity and shipping filters to detect fraud.
Pricing
Companies will have to pay $25/month if they use this tool as a gateway. Its per transaction charges are 2.9% + 30¢ under its All-in-One plan.
Braintree is a PayPal acquired payment gateway that was launched in 2007. This full-stack payment gateway enables merchants to receive payments through an app or website.
However, it only supports currencies and businesses of Canada, the United States, New Zealand, Hong Kong, Australia, Europe, Malaysia and Singapore.
Features
Single Integration — It provides payment support for a variety of digital wallets, payment tools and banking cards with a single integration.
Global Payouts — Startups can also smoothly pay to international freelancers and employees with the help of this tool.
Pricing
For all banking cards, Apple Pay, Samsung Pay and Google Pay, it charges 2.59% + $0.49 per transaction. For Venmo and ACH Direct Debit, it costs 3.49% + $0.49 and 0.75% per transaction, respectively.
This is a Boston-based payment gateway that was introduced in 2008 to make easy payments for online marketplaces, POS systems and SaaS businesses.
Features
Fast Payouts — Its quick payment process saves time and money of small merchants.
Card Present Solutions — POS systems can quickly activate pre-certified card readers with RESTful APIs and single SDK through this payment gateway.
Pricing
WePay takes 2.9% + 25¢ per transaction under its initial plan that is known as 'Link'.
Apple Pay is one of the finest digital wallets that helps to make easy payments through Safari browser and iOS applications. Unluckily, startups can only access this payment tool on Apple devices like Mac, Apple Watch, iPad, iPhone etc.
Features
Safe Transactions — Around 85% of retailers of the United States accept this digital wallet to receive payments. So, companies can quickly pay their bills with this tool.
Easy to Use — Users just need to add their cards and enjoy contactless payments.
Pricing
It is free for both individuals and startups to benefit from this digital wallet.
With 3.5 billion annual transactions and 350k merchant locations, Moneris is one of the best payment processors in Canada. Its stress-free setup provides incredible payment solutions to small businesses.
Features
Terminals — This property of Moneris enables the companies to pick a payment plan of their choice that suits them the most.
Moneris Core — This is basically a pure payment application that helps in reporting and receipting.
Pricing
It typically charges $1.91 as a processing fee for a Visa Card transaction of $100. Withal, the transaction fee of Moneris is only 0.40% here.
Conclusion
This article discusses all top payment tools for startups with core properties and pricing models. Hopefully, young companies will pick the more appropriate payment applications and gateways for their ventures.
To know more about amazing startup tools, please read The Complete Guide to Startup Tools.
FAQ
What are the best startup payment tools?
– Stripe
– Paypal
– 2Checkout
– Square
– Apple Pay
– DWolla
– Authorize.net
– Braintree
– WePay
– Moneris