The Best Firebase Alternatives in 2021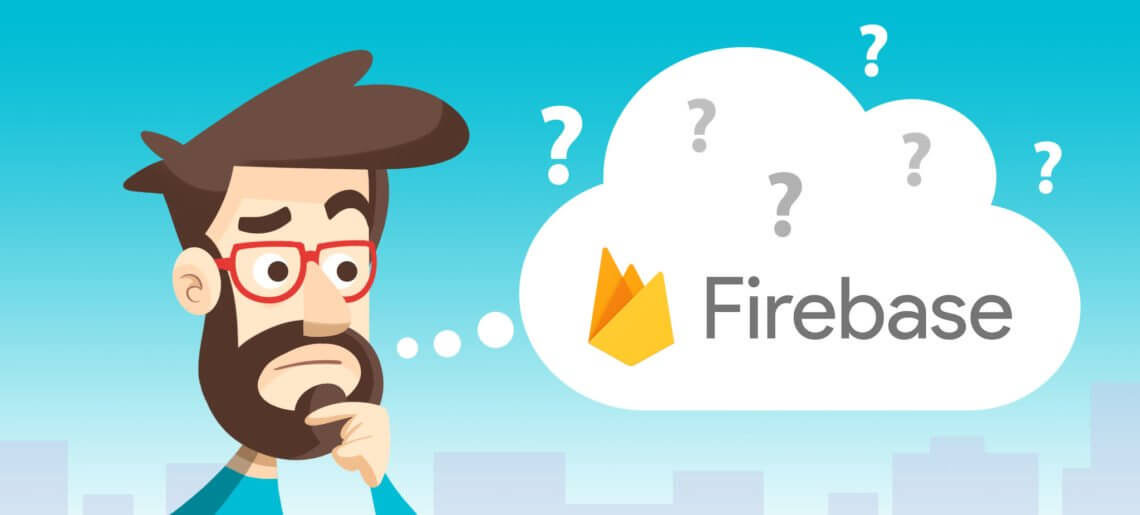 Firebase, which was acquired by Google in 2014, is arguably the most popular platform for creating apps without extensive server-side programming.  It is a Backend as a Service platform that offers useful features such as a realtime database, push notifications, and many more.  It is an excellent tool for accelerating app development assignments. 
However, issues like proprietory technology, vendor lock-in, and lack of support for GraphQL API are limiting factors. That is why developers are searching for Firebase alternatives in 2021. Thankfully, many other platforms that offer similar services have emerged. This article presents the best Firebase alternatives in 2021; many of the Firebase alternatives listed in this article offer novel ways of creating apps without stress.
So, if you are researching for Firebase alternatives, you would discover the top five options in this article. Those who have chosen a platform already can still benefit from knowing other viable Firebase alternatives in 2021.
The top five Firebase alternatives reviewed in this article are:
Back4App
Parse
AWS Amplify
Hasura
Game Sparks
Keep on reading as we review every Firebase alternative in detail.
Back4App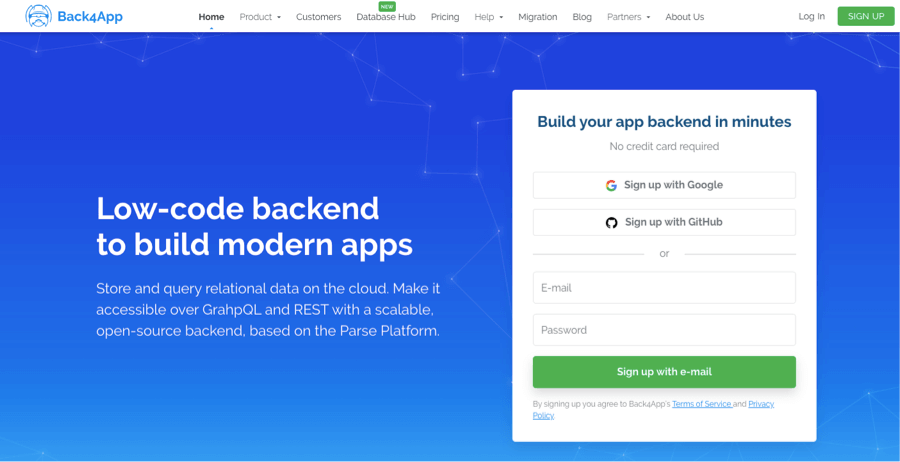 Back4app is an easy-to-use Backend as a Service platform that offers developers infrastructure and useful tools for creating web and mobile apps without stress. Besides developing apps, users can run, manage, and scale their apps seamlessly on this platform.
Back4apps is built on Parse and other opensource technologies. Therefore, it is an excellent choice for hosting and managing Parse apps. The platform offers a relational database and supports REST API and GraphQL API that enhance app performance. With all these features, developers can focus on creating excellent frontend development.
Whether you intend to create web, mobile, or IoT apps, Back4app would provide the tools for expediting time to the market. For instance, creating a database and generating an API to queries take just a few minutes. Developers also have access to several tools for creating modern app functions like push notifications, social login, third-party integration seamless, and much more. makes
The Features of Back4app.
Open-Source
Realtime database
Multitenant dashboard
Transfer App
Clone app
Two-factor authentication
Collaborative Database
Logs viewer
Data model + GraphQL APIs
Authentication
Notifications
Data management dashboard
Private cloud options
Automated backups
Email verification 
Click on the link below to read learn more about Back4app comprehensive features.
Benefits of Back4app
Offers backend generator with several useful features.
Supports hosting servers in China and the Middle East.
Flexible and scalable app hosting service.
The platform is optimized for storage.
Supports the management of multiple Parse servers.
Click here to learn more about Back4app.
Pricing plan
Back4app offers a generous free plan. The premium plans start at $5 and allow the user to scale as the need arises. 
Parse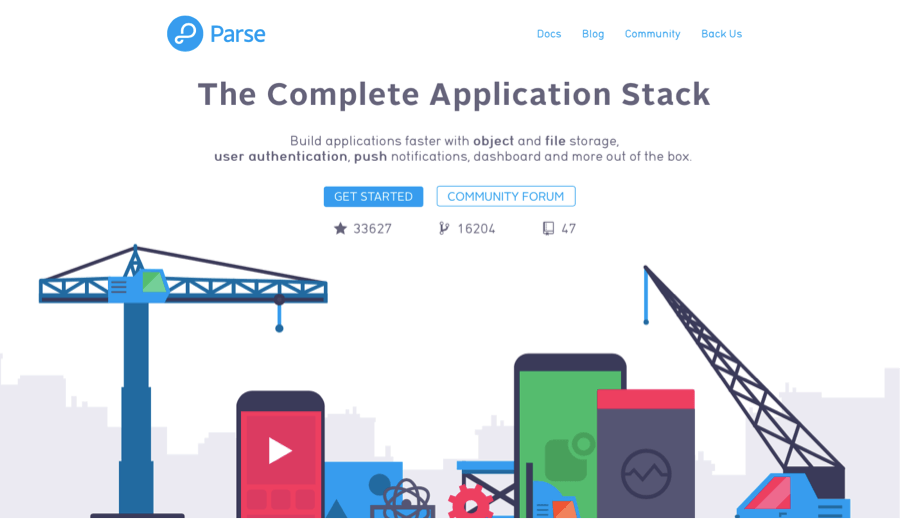 Parse is an MBaaS platform invented by Facebook and later open-sourced in 2016. Parse has evolved ever since, and it is not supported by a vibrant community of developers and technology enthusiasts.  Parse has been used by developers globally to create and manage the backend for a wide array of applications. It is the most dominant opensource Backend as a Service platform in the world today. Parse excels in ease of use compared to other BaaS platform. Also, it has a suite of tools and services that consist of everything required to build and manage modern apps. 
Features of Parse 
File storage provisioning
Easy to use hosting management
User management functions
Session management
Email and password authentication
Built-in security features
SSL hosting
Realtime database
Social media integration
Benefits of Parse 
Offers easy to use in-app purchases.
Supports Single Sign-On using Google, Facebook, Instagram, WeChat, and many more.
Has all the features required to create a functional app backend.
Has excellent resource management features.
It is completely free and easy to install.
The platform is backed by a huge community of developers that offers support to new users.
Pricing plans of Parse 
Professional Parse hosting starts at $5 at Back4app and Digital Ocean.
AWS Amplify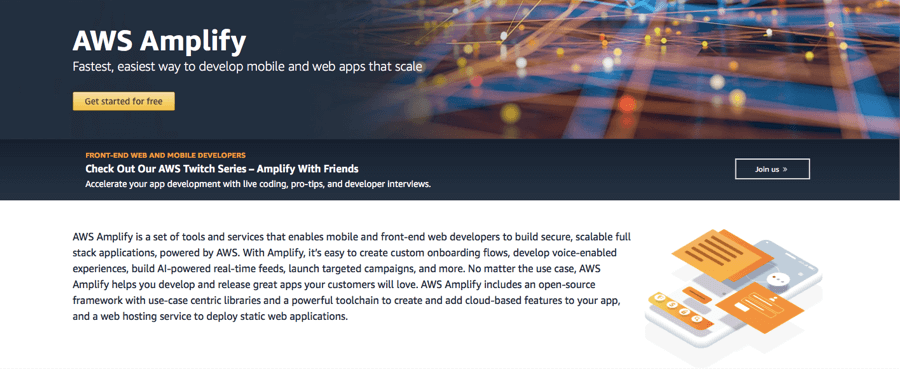 Amplify is an opensource BaaS platform that offers the developer easy integration with tools and resources that enhance backend management. Developers leverage Amplify for serverless app development because it integrates seamlessly with the JavaScript-based app frontends.
Amplify's user interface is intuitive and easy to navigate, with all features for backend management easily accessible. It also offers an extensive library consisting of tools for connecting apps' frontend to the backend without hassles. Developers can easily integrate Amplify services using React, Android, iOS, React Native, and other frameworks. New developers can access a comprehensive style guideline for creating user interfaces compatible with ASW Amplify.
All these features make AWS Amplify a viable Firebase Alternative for app development projects.
Features of Amplify
APIs
Push notifications
Realtime database
Email marketing
Geolocation
The Benefits of Amplify
Offers declarative API and many other cloud services that enhance app development.
Supports multiple frameworks, including JavaScript frontend.
All AWS services within Amplify are scalable.
Amplify is easy to use and manage.
It works great for web and mobile application development.
It works seamlessly with third-party platforms and service vendors.
Pricing plans of Amplify
AWS Amplify offers free version bundles with 5GB of data storage per month. Once you exceed the free benchmark, the service will be priced on a Pay-as-You-Go basis.
Hasura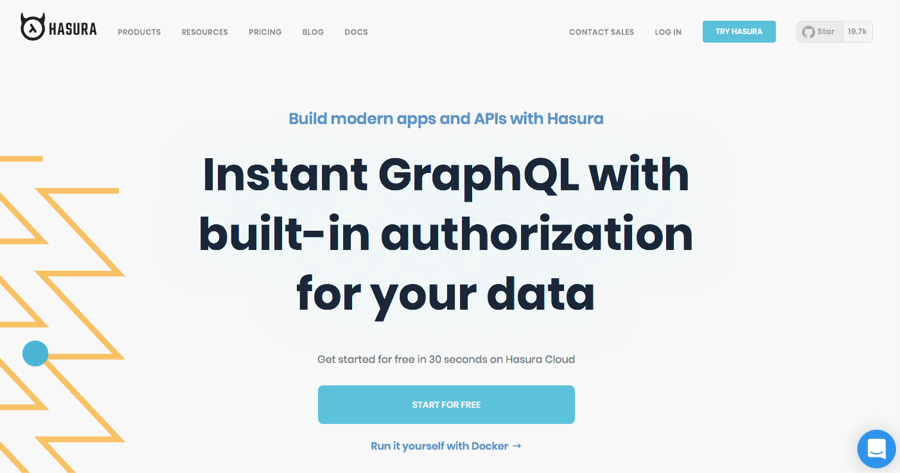 Hasura is another opensource backend framework for app development that integrates GraphQL support out of the box. Developers can deploy Hasura on a local server, Heroku, and other cloud servers.
Features of Hasura
Monitoring / Analytics
Team management
GraphQL backend
Benefits of Hasura
Strong support for GraphQL
Can be deployed on any cloud server
Enterprise-ready platform
Pricing Plans of Hasura 
The opensource version is free.
Quote for the enterprise version available on request
Game Sparks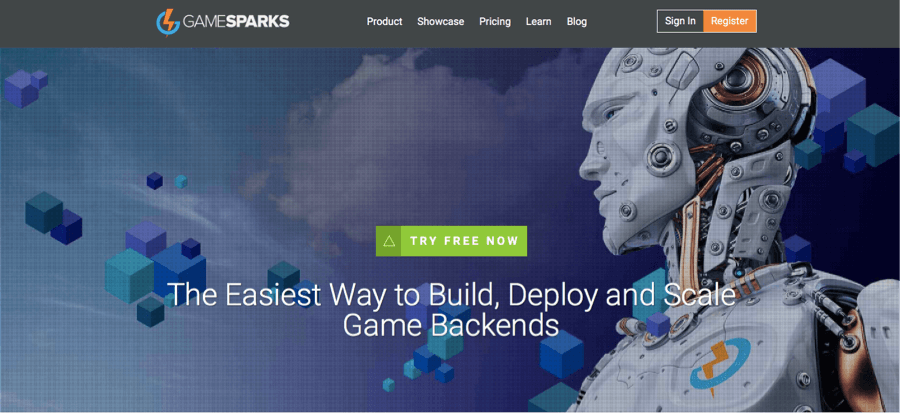 Game Spart is a unique backend service that is designed for game developers. It provides excellent tools for the management of server-side components of games. It offers developers useful resources that make game development faster and easier.
Features of Game Sparks
Social & Multiplayer functions
IT Asset Management
Supports infrastructure & operations
Live game operations
Meta-game & economies
Integration features
Benefits of Game Sparks
An excellent platform for game development
Scalable and flexible
Highly customizable
Impressive social and messaging features.
Pricing plans of Game Sparks
Game Sparks offers a free plan with limited functions. The premium plans start at $299/mo.
Conclusion
The five platforms described above are the best alternatives to Firebase in 2021. The platforms have excellent features such as hosting, app deployment tools, user management, and logs more. However, the cost of using the services may differ significantly. The factors you should consider while selecting a backend platform are features, flexibility, cost-efficiency, and scalability.
Developers seeking alternatives to Firebase can review the BaaS platforms described above. You would likely find one that aligns with your project requirements and budget.
FAQ
What is Firebase?
Firebase, which was acquired by Google in 2014, is arguably the most popular platform for creating apps without extensive server-side programming.  It is a Backend as a Service platform that offers useful features such as a realtime database, push notifications, and many more.  It is an excellent tool for accelerating app development assignments. 
Why look for Firebase options?
– Vendor Lock In
– Lack of SQL databases
– No support for GraphQL APIs
What are the best Firebase alternatives in 2021?
– Back4app
– Parse
– AWS Amplify
– Hasura
– Game Sparks