What is AWS Amplify?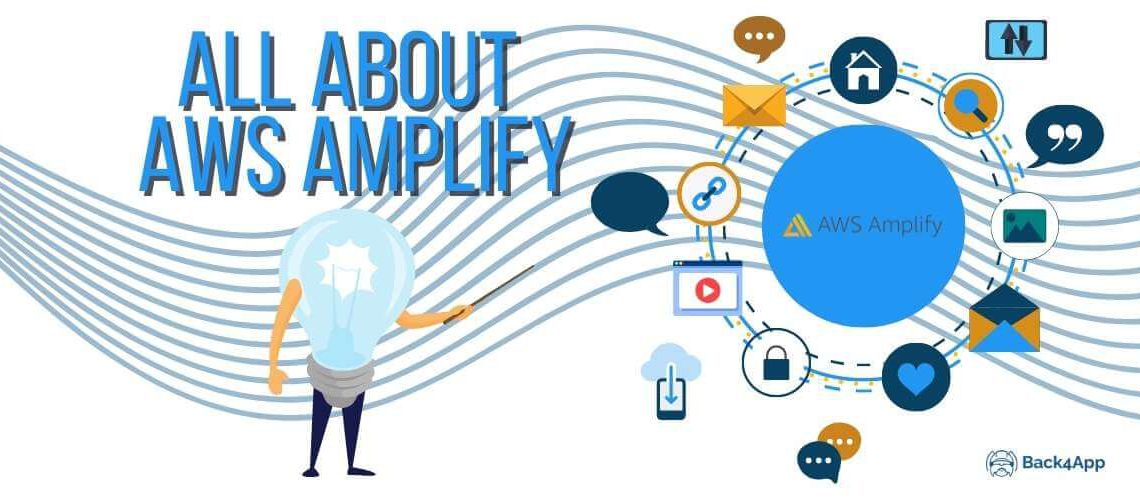 Most businesses nowadays are transitioning to a cloud-based model and are ready to cut the cord. The cloud's pioneer – Amazon Web Services (AWS) cloud platform, takes the lead among the various cloud adoption services available.
Amazon's ever-growing portfolio offers over a total of 90 services and products to cater to developers' needs so they can develop fast, efficient, serverless, and secure web and mobile applications.
One such service that is gaining momentum and has greatly simplified and accelerated developers' tasks is known as AWS Amplify. This article will deep dive into everything related to AWS Amplify – from how it works to its features, integrations, pricing models, upsides, and downsides.
So, let us get started!
A complete guide to AWS Amplify
AWS is a full-suite platform developed to aid web and mobile developers in building full-stack and scalable applications operated by AWS.
The platform comes with a plethora of tools and services that allow users to configure backends, connect apps, deploy static web apps instantaneously, and manage content external to the AWS console seamlessly.
AWS Amplify was launched in 2017 and is a full-suite package of tools and services specifically designed to help developers create and launch apps with ease.
It can also include code libraries, ready-to-use components, and a built-in CLI. This tool's most significant benefit is that it allows you to integrate a myriad of functions quickly and securely for everything from API to AI.
Another reason behind the launch of AWS Amplify is the user experience. User experience on any application is the most integral component that needs to be taken care of. AWS Amplify was built to unify the UX across multiple platforms, including web and mobile.
It provides users with the flexibility to select the platform they are most comfortable building with and is especially beneficial when it comes to front end development. Most Amplify users also claim that it makes full-stack development much more comfortable with its scalability factor.
Now, let us peek into how AWS Amplify works.

How does AWS Amplify work?
You can think of AWS Amplify as a JavaScript library that lets you build and deploy serverless applications in the cloud. It is a full-stack application platform that is a combination of both client-side and server-side code. In a nutshell, AWS Amplify consists of three major components:
Libraries
UI
CLI Toolchain.
All these components work collaboratively to manage the application development lifecycle. Here is a brief look into each element:
The Library: This component lets you add, integrate, and interact with the AWS cloud services. The library also makes it easy to add secure authentication, file storage, data storage, serverless APIs, analytics, push notifications, AR/VR, and multiple other features to your apps.
UI: These are pre-built UI components that are designed around cloud workflows in your application, including the authentication higher-order component.
CLI Toolchain: This last component helps in scaling your application. If you ever need to add more cloud services and features, the easy-to-use CLI commands can efficiently make changes to your AWS-managed backends.
In the next section, let us look at the main benefits of using AWS Amplify.
Advantages of Using AWS Amplify
Easy and UI driven Development
AWS Amplify provides a simple, fast, and modern UI-driven approach to building mobile and web applications. The out-of-the-box UI component provides everything, so you do not have to code one. The design of the CLI processes and workflows is also seamless, which accelerates app development.
Like many other paid AWS Services, the payment model for AWS Amplify is very flexible and cost-efficient as you only pay for the services you use.
AWS Amplify improves app performance by offering built-in support for backend management.
There are many free and impressive tiers with AWS Amplify that offer multiple benefits and zero cost. Only when you reach a high threshold of technical requirements would you need to set up a paid tier.
AWS Amplify comes with a web-based analytics dashboard that is extremely useful for developers, designers, and project managers. It not only tracks user sessions and attributes but also offers in-app metrics. The analytics always stay up to date, allowing teams to manage and track projects.
Now that we know the main benefits of AWS Amplify let us dive into some of its downsides now.
AWS Amplify Limitations
According to the article What is AWS Amplify? Advantages and Disadvantages of AWS Amplify here are some limitations of AWS Amplify.
If you are an AWS Amplify newbie, you might realize that the time you save in writing code will be used towards learning the platform. Sometimes for beginners, it is a bit difficult to find the right method in the documentation, and the multiple methods and versions can sometimes make it difficult to navigate.
This is a continuously changing platform and as such new changes and features are rolled out consistently. This means that an AWS Amplify user must always stay on top of things to keep themselves up to date and to keep exploring the platform.
Since AWS Amplify is a managed service, the end-user has less control over the environment and installed packages that can affect your website and will most likely cost more vs. handling the backend by yourself. You also must contend with other disadvantages that come with managed services.
You cannot use load balancers to distribute traffic when using AWS Amplify. This can be a big drawback in certain cases like managing traffic spikes and latency issues.
How does Amplify integrate with other AWS Services?
AWS Amplify offers the User Interface elements for cloud-connected workflows, CLI toolchain and code libraries.
To integrate with other AWS services, these libraries can be employed mutually or independently without needing to adjust the UI of the existing app. In simple terms, the combination of an existing frontend app with Amplify can be done by adding a few code lines.
There are few approaches when uniting an actual frontend application with AWS Amplify, like doing a complete backend rebuild that can be done by using the Amplify toolchain to rebuild resources. To learn more on how to integrate AWS Amplify with other AWS services, please read:
Integrating Existing Applications Into DevOps with AWS Amplify
The Top Features of AWS Amplify
AWS Amplify provides the capability of building a variety of apps like iOS, Android, React Native, Flutter, React, and Vue that can easily communicate with the AWS services via the AWS Amplify Framework. Let us examine the most popular web hosting features that AWS Amplify currently offers:
It is straightforward to create onboarding flows with a fully managed user directory and pre-built sign-up, sign-in, forgot password, and multi-factor authorization workflows with AWS Amplify. It also supports logging in through social media tools like Facebook, Google, or log in with Amazon. Fine-grained access control to mobile and web applications is also present, which is powered by Amazon Cognito.
Store and Sync Data Securely
AWS Amplify lets you securely sync and store data seamlessly between applications with the help of Amazon AppSync and Amazon S3. It also allows for easy offline synchronization.
Due to the serverless nature of AWS Amplify, making changes to back-end related functions has gotten much easier. This saves time that used to be previously spent on configuring and maintaining back-end features.
AWS Amplify also provides DataStore capability, which offers a programming model for leveraging shared and distributed data without having to write additional code both for offline and online use cases. The result is a distributed and cross-user data, which is as simple as working with local-only data.
Deployment and App Development
AWS Amplify promotes faster app development and is also very useful for continuous deployments.
Machine Learning and AI Requirements
AWS Amplify is very useful in the implementation of Machine Learning and AI-related requirements as it is powered by Amazon Machine learning services like Amazon SageMaker. You can easily create use cases like text translation, speech generation from text, interpretation, and transcribing of text, to name a few. It also enables simplified orchestration of advanced use cases like uploading images for automatic training etc.
AWS Amplify can be used to achieve auto-tracking, which can track user sessions and web page metrics for analytics. You can retrieve real-time data streams and analyze the data to build robust marketing strategies to increase customer adoption, engagement, and retention rates. This capability is powered into Amplify through Amazon Pinpoint and Amazon Kinesis.
With just a single line of code, AWS Amplify lets you build interactive and engaging conversational bots with similar deep learning technologies that run Amazon Alexa. Great user experiences can be created through chatbots when tasks like automated customer chat support and product information and recommendations need to be performed.
Sending messages between your app instances and the backend is now possible with AWS Amplify, giving you the ability to create real-time interactive experiences.
Marketing and analytics capabilities are ingrained in AWS Amplify that let you target customers more effectively. Tailoring your content and communicating through multiple channels like email, texts, and push notifications is now possible and is powered through Amazon Pinpoint.
Storing and managing user-generated content, including photos and videos, securely on your device or the cloud is now possible thanks to Amplify. It provides a simple mechanism for managing user content in three types of storage buckets, namely public, protected, or private buckets.
Also, the capability of scaling your applications in the cloud makes it easy to take your application from prototype to production with ease. Amazon S3 powers this capability.
AWS Amplify Pricing
AWS Amplify comes with the following price structure:
Free Tier: This is one of the first payment methods which can also be called the trial period of 12 months.
Pay As you Go Model: After the first 12 months, the free tier is converted to a pay as you go model which means you start paying for whatever you use.
Here is a pricing breakdown of all the services included in the pay as you go model:
The components and libraries of the framework are free. The good thing is payment is only required for the services you are utilizing to develop and deploy your app. For example, if S3 is your storage model for Amplify, you will only pay for the regular S3 fees and nothing else.
For app development, deployment, and hosting, the AWS Amplify free tier comes in handy and can be used for 12 months, along with a few restrictions. Afterward, you will need to pay $0.01 per minute of build, $0.023 per GB of storage monthly, and for every GB used, the cost comes down to only $0.15.
AWS Amplify vs
S3
To understand the differences between AWS Amplify and S3, please read Amplify vs S3.
EC2
To understand the differences between AWS Amplify and EC2, please read Amplify vs EC2.
Codestar
To understand the differences between AWS Amplify and Codestar, please read Amplify vs Codestar.
Netlify
To understand the differences between AWS Amplify and Netlify, please read Amplify vs Netlify.
Elastic Beanstalk
To understand the differences between AWS Amplify and Beanstalk, please read Amplify vs Beanstalk.
Lambda
To understand the differences between AWS Amplify and Lambda, please read Amplify vs Lambda.
AWS Amplify Alternatives
Do you want to know about some of the top competitors in 2021 of AWS Amplify? Here we have top 3 options for you to know:
Back4app
Back4app is one of the most exciting and best free mobile and web application development platforms you can ever have.
This backend as a service solution brings an impressive range of built-in features ranging from Rest and GraphQL API, email notifications, Geo Queries, cross-platform SDKs, real-time databases, and much more.
To know more, please Sign Up to Back4App.
Backendless
Backendless is one of the coolest backend as a service platform, making the application development process super fast and more straightforward. It comes with tons of useable features ranging from user authentication, enhanced security features, real-time databases to geolocation, caching, logging, and easier user-management.
Firebase
Firebase is known as one of the most leading application development platforms and backed by Google since 2014. Feature range of Google Firebase is including anything from file storage, APIs to cloud hosting, smart analytics, real-time database, etc.
Conclusion
Web and mobile developers could not have asked for more from AWS Amplify. Building full-stack applications with built-in authentication, notifications, and APIs can all be made with a minimum amount of work.
It allows you to focus on your priorities by providing the best value to your customers rather than wasting time maintaining the application infrastructure.
If you are looking to deploy secure and efficient apps quickly without having to manage the underlying infrastructure, then give AWS Amplify a chance – you will not be disappointed!
What is AWS Amplify?
AWS is a full-suite platform developed to aid web and mobile developers in building full-stack and scalable applications operated by AWS. The platform comes with a plethora of tools and services that allow users to configure backends, connect apps, deploy static web apps instantaneously, and manage content external to the AWS console seamlessly.
What's the price of AWS Amplify?
– Limited free tier
– Pay as you Go tier
What are the main features of Amplify?
– Analytics
– Data Storage
– Push Notifications
– File Storage
What are the benefits of AWS Amplify?
– Easier and faster way to develop highly effective full stack and cloud-connected mobile and web applications.
– Fully integrated with AWS
– Free tier available
What are the alternatives to Amplify?
– Back4app
– Parse
– Firebase