What is a BaaS – Backend as a Service?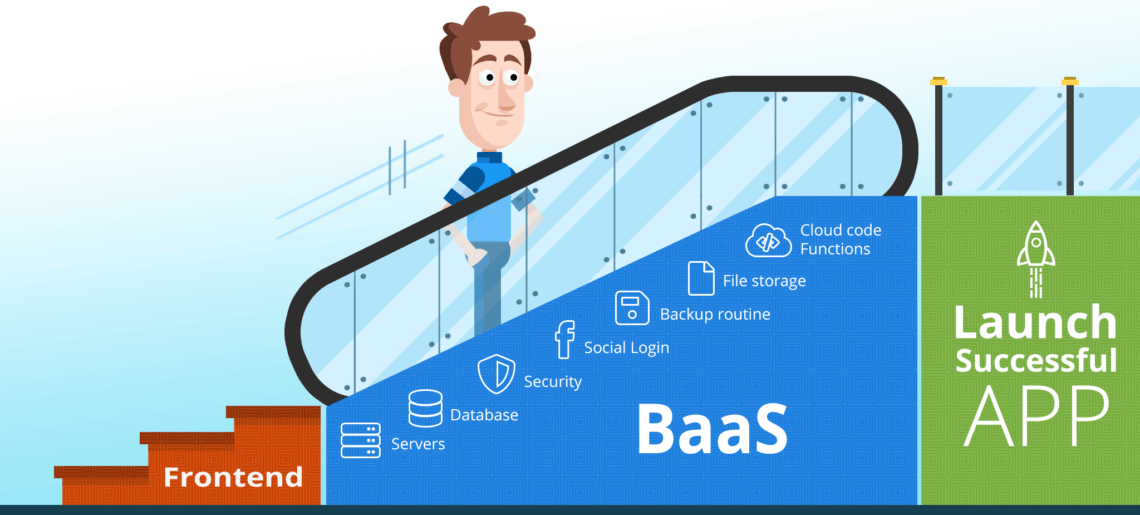 BaaS – Backend as a Service
Mobile users demand more and more from their apps today. From social networking integration to push notifications, an app without these features will not gain as much traction or have as much credibility as an app that does. It is becoming an increasingly uphill struggle for mobile app developers to develop software quickly while also ensuring users get the best user experience (UX) from their apps.
What is required is a way to connect applications to backend processing capabilities that allow developers to ensure maximum performance while meeting the demands of their market.
Introducing Backend-as-a-Service…
What is Backend as a Service?
Each mobile app has a set of services that are powered by a backend. These typically include notification services, cloud storage, and social networking integration, to name a few. Each of these services must have its own API incorporated into the app, a task that is often complicated and time-consuming for app developers.
Backend as a Service (BaaS), also known as mBaaS, is a cloud-based service model that outsources and powers these backend services. providing a bridge between the frontend of the application and the cloud-based backend via a unified API and SDK. With BaaS implemented, all behind-the-scenes application processes such as user authentication, remote updating, database management, and push notifications are handled by the BaaS. This enables app developers to focus on building the frontend app, accelerating the software development process and saving time and money.
Pros and Cons of Using a Backend as a Service
App developers don't have time to worry about scalability, replication or database administration. When deadlines are looming and competitors are hot on their heels, they need the freedom and time to focus on one thing: writing code that incorporates exciting new features and enhances the user experience, and all while reducing go-to-market time.
The Pros of Using BaaS
Saves time: BaaS provides a range of features, such as data storage, user management, search, queries and more, saving you countless hours in backend development. In fact, with BaaS enabled, backend development can be increased up to 4 times. It means you can adapt quickly to market needs and changes that would otherwise take months to implement.
Go-to-market time reduced: With BaaS implemented, you no longer need a full-time backend developer to code your app and connect it to your database. This means you end up writing significantly fewer lines of code and reduce your go-to-market time significantly.
No server required: With BaaS, there is no need to run your own backend server. All backend infrastructure is hosted and managed in the cloud. This not only allows you to get your app up and running faster but also saves you hardware and maintenance costs.
Develop richer apps: BaaS provides data storage, user authentication and search right off the shelf. If you choose the right solution, you can build richer apps in less time that leverage all of the agile functionality that BaaS has to offer. It's like a regular database but with superpowers!
No full-time backend developers required – BaaS is relatively easy to learn and demands no additional knowledge or skills. This means that frontend developers can build an entire project independently without the need to call on the services of a full-time backend developer. The need for a backend developer on smaller projects is eliminated and on larger projects, backend developers can focus their time on high-value tasks.
The Cons of Using BaaS
Less room to experiment: If you are the type of developer that likes to play around with code to "see what happens", you may not have that amount of freedom on some BaaS platforms.
Less control of hosted code: When you host your code with a BaaS provider, you may have less control over your code.
What Type of Projects Are Best Suited to BaaS?
Mobile apps can be developed quickly if powered by a Backend as a Service. If your app uses push notification, user management, file upload to the cloud, BaaS could be a very viable solution. Here's one thing to remember: while every app today may not be utilizing the capabilities of Backend as a Service, any app can.
Here are some examples of projects where BaaS would be best suited:
A smart home app that allows users to control heating in every room– this type of project would require a backend platform that can store structured and unstructured data (hundreds of system parameters streamed every minute by each device), run data mining queries and sync data between devices. Building a backend solution would require significant time and resources while a BaaS would provide much of the required functionality straight out of the box.
A mobile chat app that allows users to chat in real-time – these apps demand a lot from the backend, making numerous API calls such as push notifications, search filters, cloud storage and of course, messaging.
A community social media app– not everything has to be done on Facebook. More and more communities are using their own niche apps that allow them to post new events, marketplace offers and job postings. These apps rely on backend services, such as user registration and login, database management and messaging.
Please access BaaS Projects Examples for more information about this topic.
Backend as a Service Features
Backend as a Service offers a wide range of features. These can be accessed via REST APIs and typically include the following:
Data management, storage and synchronisation
User identity and access management
Social Single Sign On (Apple SSO, Facebook SSO, LinkedIn SSO, Twitter SSO, etc.)
Mobile push notifications
Email verification
Business and third-party systems integration
Cloud code functions
Geolocation
CDN and cache
Logs
Reporting and analytics
Infrastructure
Want to know more about BaaS features? Please read the complete report  The basic BaaS Features you should consider.
BaaS Providers – A Comparison
1. Back4App
Back4App allows app developers to create APIs in minutes without coding. The solution uses Parse Server Open Source technology and offers productivity and integration tools to help developers do what they do best faster and reduce go-to-market time.
It is probably one of the best online backend services for easy data management and API creation. The best feature I like is its scalability, availability. Push Notification and Cloud Code Integration stuff that can make the life of developers easier. – Vishal S, Software Engineer
Built on Parse
Back4App uses the Parse Server Open Source framework. The all-in-one Parse Dashboard offers powerful data manipulation, allows you to view analytics, schedule and send push notifications and create all classes easily and quickly.
An SDK for Everything
No matter which platform you need to build for, Back4App offers all the SDKs you need. Whether you are building mobile, desktop, IoT or web apps, Back4App's SDKs help you to build and market faster than ever before.
Freedom to Experiment without Risk
The REST API offers developers a playground in which to debug issues or play around with the API without writing a single line of code.
Transparent Pricing Model 
With a transparent and predictable pricing model, users will always know what they are paying each month with Back4App.
Custom Plans for Any Business
Back4App offers scalable solutions for any app and any business, regardless of the stage of growth. From non-tech app owners to full-stack developers, Back4App offers custom plans designed to suit the needs of your project.
2. Parse
Before the introduction of Parse, developers had to laboriously build a backend for every single application. The process was time-consuming, hefty and required expertise from multiple disciplines. Parse Server is an open-source version of Parse (open-sourced in 2016) and offers the ability for applications being developed to be hosted locally. Parse Server can also be hosted globally and is constantly being improved through community contributions.
I like the fact the community rose and kept this service-turned-software alive and going, and it remains in active development after the debacle of the shutdown of the Parse services. It provides with a wonderful alternative for Backend use, simplifying a lot of complex tasks. – Javier M, Software Developer
Easy Deployment
Parse Server requires infrastructure that runs on Node.js and supports the Express web app framework. Once your data is ready in your database, you don't need to make any complex coding changes to the client to run your applications.
Reduce Business Risk
Technology companies come and go, and migration from an obsolete BaaS to a new service be complex and expensive. When you use Parse Server Open Source, you can plan long-term projects with confidence.
No Vendor Lock-In
Open Source Parse Server gives you total vendor independence, otherwise known as "no vendor lock-in". Several companies offer Managed Parse Server hosting, including Back4App, Digital Ocean, and AWS. Because there is no lock-in, it means you can easily migrate from one to the other, and often free of charge.
Enhanced Data Storage
Parse Server offers advanced database functionality such as data backup, performance refactoring and indexing. Developers can also select their preferred file system and can also use JSON format as a backup.
3. Firebase
Firebase is a BaaS development platform that offers a range of hosted backend services, including cloud storage, realtime database, user authentication, machine learning, crash reporting, remote configuration and hosting for static files. The platform runs on Google Cloud.
Firebase makes it super easy to set up overhead components like authentication and databases to mobile and web applications. It's also cheap for hobby projects and testing purposes. – Alexander P, Software Developer
Real-time Data Sync
Firebase is designed with a model-observer scheme, making it extremely useful for interactive apps. Any data changes made on the server are almost instantly updated to the client in real-time.
Data Storage
Firebase stores all data in JSON format. This means data is readily available by using client libraries or through REST APIs. Data is stored in the cloud and can be accessed from anywhere.
Data Security and Authentication
Firebase offers robust, cross-platform APIs for iOS and Android apps. Support for Javascript is provided thanks to the highly flexible security API. It also offers validated authentication through Facebook, Twitter, and Google.
Centralized Database
Firebase takes care of all hosted data with a centralized database and can update all app users with real-time data.
4. Kinvey
Kinvey offers a range of developer tools for building robust, multi-channel applications utilizing frontend SDKs and a cloud backend. The platform allows developers to focus on building the components that provide value such as the business logic and user experience of the application. Thanks to Kinvey's pre-built components, higher-quality apps can be built in less time.
Kinvey provides me the opportunity to build hybrid, web and IoT apps using its platform without any need to set up and maintain a cloud-based backend for the apps. It takes care of the connection to the services, and maintenance of the servers on its own. I just need to focus on what the user experience should be when using the app. – Rakesh B, Test Engineer
Asynchronous File Uploading
File uploading is done asynchronously. When you need to upload a file you simply create an object and initiate the file upload to the server.
Easy Backend Setup
Creating a backend with Kinvey is extremely easy and can take minutes. An intuitive graphical interface offers easy-to-follow steps. Simply create tables, identify the type of data to store and download the librate to integrate with your app.
User Registration
Kinvey's user registration is fast and reliable. Simply pass the username and login credentials, etc. to the required method and register a call back that returns whether the registration was successful or failed.
5. Heroku Enterprise
Heroku Enterprise is a cloud application platform that integrates data, compute and workflow with a high productivity development experience. The platform provides a secure, enterprise-grade solution for organizations of all sizes and especially those that have obligations to meet PCI, HIPAA, ISO or SOC compliance.
The ease of deployment and configuration is a big plus. Heroku lets you build and scale your website (and related components such as Postgres database or a Redis cache) with minimal fuss. There are more add-ons such as scheduled tasks and monitoring. Compared to other cloud providers, it's much easier to learn how to use and deploy your first app. – Ariadni-Karolina A, Principal Data Engineer
Data Controls and Privacy
Heroku provides control over which region your customer data is stored in and ensures it remains secure and private.
Build Apps for Regulated Industries
Heroku offers a simple path for development teams that need to build apps that need to meet high compliance requirements, such as PCI-DSS and HIPAA.
Support for Modern Open Source Languages
Heroku can run multiple languages such as Ruby, Node, Java, Go, Python and PHP all on the same platform. This gives developers the flexibility to use the technologies to suit the needs of the application.
Final Thoughts
Using BaaS can help to take many development tasks off of your hands and provide you with features and benefits that accelerate development and improve the customer experience. From faster development times and reduced costs to enhanced service integration and accessibility to different platforms, BaaS can make all the difference to the outcome of your project. With a dependable, scalable and intuitive Backend-as-a-Service in place, you can complete your projects on time and on budget and stay ahead of the competition.
Want to know more about BaaS? Please read the article BaaS – Backend as a Service.
What backend tasks does Baas handle?
Some of the backend tasks handled by Baas are given below.

-User Authentication
-Remote updating
-Database Management
-Push notifications
-Cloud Storage
-Social networking integration

These are some of the main points which make life easy for developers.
Which hosting will you use when opting for Baas?
Well, you won't need any hosting when you are using Baas. It requires no server. It will use the cloud to manage your whole backend.  

Cloud hosting of Baas will make your app faster as well as it will make your app secure from any technical future problems.
How Baas controls everything in the backend?
Baas uses APIs for every backend task it is controlling. APIs development is pretty fast and smooth also. If you have a plan to work on some big apps such as social media interaction apps then Baas should be your choice.

Its cloud hosting and backend APIs and SDks will surely help you do it easily.