Backend as a Service | The fastest way to create mobile and web apps
Backend as a service, which is also referred to as MBaaS (Mobile Backend as a Service), is the modern way of creating mobile and web apps quickly. The advancement that MBaaS brings to app development can be likened to the impact of email at the turn of the last century. Just as email technology is faster and more efficient than postal service, MBaaS brings excellent value to the process of app development.
Mobile Backend as a Service vendors provide top-notch server infrastructure, backend resources, and tools for creating web and mobile apps. MBaaS platforms also have integrated functions for performing common tasks such as social networking integration, authentication, push notifications, location services, and much more.
In essence, developers using MBaaS have privileged access to a serverless environment optimized for creating, running, and scaling apps. Therefore, they do not have to bother about installing backend apps or managing server infrastructure.
Why Use a Backend as a Service?
Developers around the world are switching to MBaaS from different development platforms for good reasons. Below is an overview of three critical reasons why Backend as a Service has become the preferred platform for mobile and web application development.
Reduce Costs
The conventional method of creating mobile apps requires extensive capital investment in acquiring infrastructure and employing human capital. The procurement list includes server machines, network infrastructure, backend applications, among others. After that, the service of a backend developer, network administrator, and security expert would be required to configure the machines and backend applications. Don't forget the additional costs of ongoing maintenance and upgrades. All these combined expenditures make ad-hoc app backend development overly expensive.
However, MBaaS offers an avenue for businesses and developers to access state-of-the-art cloud development infrastructure without making substantial capital investments. Many backend service providers offer a free plan, and the premium plans are available at reasonable costs as well.
Expedite Development Projects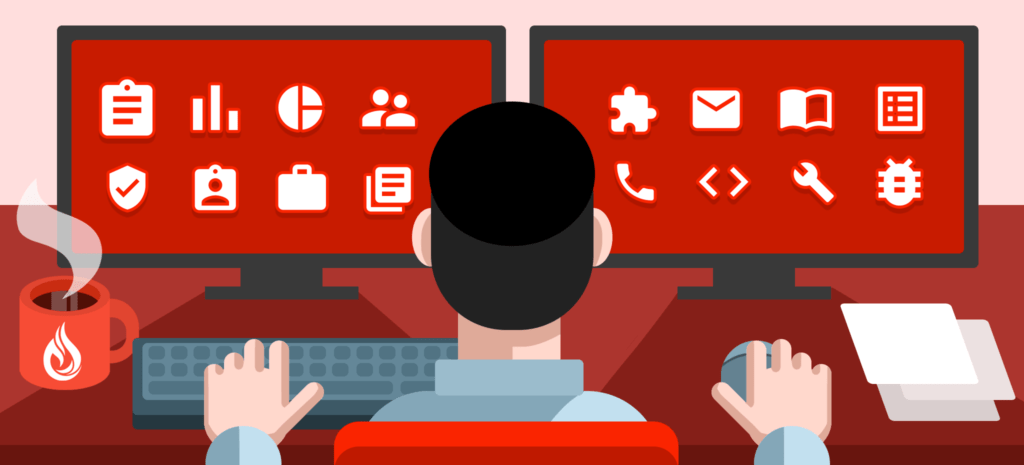 Backend as a Service makes the process of app development faster than ever before due to three crucial reasons. For one, there is no need to waste time acquiring server infrastructure and setting them up in a datacenter. On the second note, the time-consuming tasks of configuring the operating system and the backend apps are no longer required. Lastly, MBaaS vendors offer development tools and code blocks that handle functions such as authentication, push notifications, messaging, social media integration, and lots more. So, the developer can create app functions that require several development hours in a matter of minutes.
With Backend as a Service, the process of app development is shortened significantly. That is why MBaaS powered app projects enjoy a faster time to the market.
Hassle-Free Scaling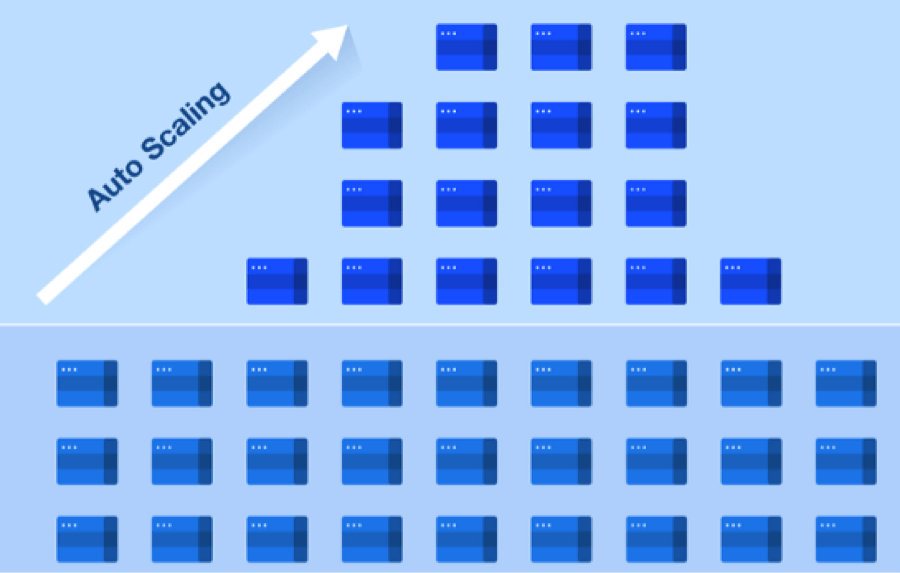 After creating an excellent App, the number of users of the app users would eventually increase significantly. Such success comes with its own challenges because the app backend needs to scale to handle more requests per minute (RPM). Yet, the app users expect top-notch performance and availability, or they would abandon the app. However, factors such as lack of technical skill, limited hardware resources, inefficient database engine, poor query design, and many others can made scaling backend an impossible task.
Backend as a Service is designed to be scalable right from the onset. Most platforms use leading-edge technology that supports cost-efficient autoscaling of app backend as the need arises. That is why MBaaS powered apps hardly experience performance issues despite heavy server loads.
Common MBaaS Features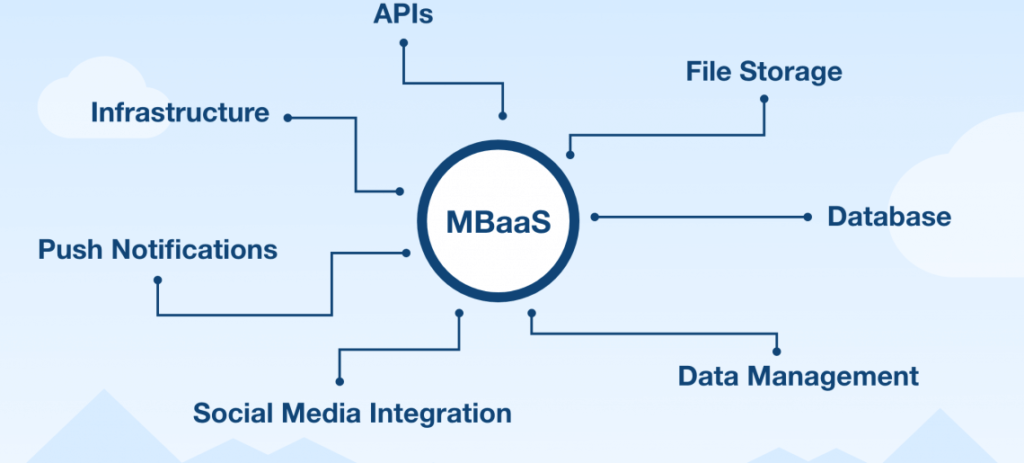 MBaaS platforms offer a wide range of features, which may differ significantly from one platform to the others. However, the list below shows the features that are common to most Backend as a Service companies today.
| | |
| --- | --- |
| Database | SQL or NoSQL |
| APIS | REST or GraphQL |
| Hosting | Self-Hosting or Cloud-Hosting |
| Security | GDPR, HIPAA, etc |
| Notifications | Push-Notifications, Email, etc |
Let's explore each feature:
Database
One of the core features common to all MBaaS vendors is database management. The users get access to ready to use databases to support their frontend development endeavors. The Backend as a Service Company may offer integrated database management service or provide tools that allow the user to manage the database without hassles.
Easily Accessible APIs
MBaaS vendors offers Application Programming Interfaces (APIs) that enable the developer to connect the application frontend to the cloud service backend. APIs allow developers to integrate backend functions such as storage, services, and other integrations available on the vendor's cloud platform.
Hosting
Most Backend as a Service platforms serve the dual function of app development and hosting. The user gets access to cloud storage for hosting backend files, APIs, and user-generated content. MBaaS users can scale their app hosting seamlessly when the need arises.
Security
The integrated MBaaS functions that take care of app security differs extensively from one vendor to the other. Most platforms offer SSL, authentication, and user management, while others like Back4apps provide 2FA authentication and GDPR privacy compliance. In all, MBaaS provides a secure app development and hosting platform.
Notifications
Developers using Backend as a Service have access to integrate a variety of notification functions provided by the platform vendor. The standard channels of notification include Push Notifications, SMS, and email notifications. Some MBaaS platforms support only Push Notifications, while others may allow the developer to configure multichannel notifications that are triggered by server events.
How to select a Backend as a Service?
While all Mobile Backend as a Service offers excellent value for app development, the details of their service delivery differ from one vendor to the other. Therefore, businesses and developers should make due diligence to select the platform that aligns with their development objectives. Here are some of the factors to consider while shopping for the best Backend as a Service platform for your app development project.
Proprietary vs. Open-Source
A Backend a Service platform could either use proprietary or opensource technology. The source code of opensource platforms is available to the public. So, the developer can freely customize the code to achieve the unique need of a development project. The proprietary or closed-source platforms such as Firebase do not give access to the source code. So, if your project requires a high level of customization, you are better off with an opensource MBaaS platform.
Development Tools and Resources
The type of development tools and resources varies from one MBaaS vendor to another. These tools help make app development and management easy and accessible. Look out for tools such as Command Line Interface (CLI) for automating tasks, mobile security, app management features, quick integration with enterprise platforms, APIs, and well-written documentation.
Ease of Use
Backend as a Service cloud platforms are supposed to make app development faster and easier. So, you want to avoid platforms that require extensive study before you get up and running -except you have the time to spare. An excellent MBaaS provide an intuitive interface and visual tools for performing complicated backend development and management tasks.
Supported Technologies
The technology that Backend as a Service platforms support determines the apps you can create as well as its functions. Does the platform support Android, iOS, and Web apps? You would want to select a platform that supports the programming language of your expertise. Also, a modern MBaaS platform should provide the option to use GraphQL or REST for writing queries. GraphQL allows the developer to write queries with a precision that enhances apps' performance and also save costs on data transfer.
Price Point
You cannot afford to overshoot your budget for creating and managing your app. Therefore, your budget is a vital factor that determines the MBaaS platform you can use. However, there are many cost-efficient solutions in the market today. Look out for an MBaaS platform that offers a free plan that lets you get acquainted with the platform and develop your MVP for free. The premium plans should also use a flexible pricing structure that allows your app to scale without overshooting your budget.
Technical Support
Whether it's a company that has a team of experts or just a solo developer, everyone would need technical support once in a while. That is why you must do your homework to ensure the MBaaS vendor you choose offers excellent technical support. In a scenario where you are using a self-hosted MBaaS, select the one that has an active community that can provide support when the need arises.
A Final Note
Backend as a Service has brought the much-needed innovation that allows developers to create modern apps faster than ever. MBaaS also helps reduce development costs and makes the procedure of managing apps seamless. However, it is expedient to make due diligence to select an MBaaS platform that satisfies the unique needs of your app development projects.
FAQ
What is a Backend as a Service?
Backend as a service, which is also referred to as MBaaS (Mobile Backend as a Service), is the modern way of creating mobile and web apps quickly.
What are the most common BaaS features?
– Database
– APIs
– Hosting
– Security
– Notifications
How to select a Backend as a Service?
You need to evaluate the following variables:
– Proprietary vs. Open-Source
– Development Tools and Resources
– Ease of Use
– Supported Technologies
– Pricing